Artist:
Tantric Doctors
Title:
Karesansui
Format:
CD + Download
Label:
Focused Silence
"Karesansui" is Sheffield (UK)-based electronic and jazz musician Adam Woolf's single-track, 45-minute improvised work inspired by Japanese stone gardens. Through a process of overdubbing, he lays up freeform clarinet, alto sax and soprano sax lines over electronic pulses, impromptu and often patternless glitches and lumps of low analogue synth noise.

The jazz elements are cold and largely shapeless, and on their own, might become ingratiating over the course of three quarters of an hour. It's the electronic underbelly of this release, counterpointing the jazz elements and shifting them into an alienating environment full of unexpected punches and whirrs, that keeps things ticking along and keeps you engaged for the most part. Even so, the seeming lack of progression, form or chapterisation across the work does begin to get tiring towards the end. Like sitting in a relaxing garden for a long time, the environment itself is only half the experience of being there.

It's intricate in parts but something of a listening commitment- though I don't mean that as harshly as it might sound. It's an unabashed bit of experimental avantgarde jazz coupled with strong electronic sounds, unashamed to be solely what it is, or to be targeted at people already predisposed to appreciating it. It's unlikely to find a broad audience, but hopefully it will reach enough people who will revel in it.
Ambient / Electronica / Ethereal / Dub / Soundscapes / Abstract
Edit (10472)
Artist:
Glyn Bigga Bush
Title:
Sunken Foal Stories
Format:
LP
Label:
Schamoni Musik / Lion Head Rec.
Glyn Bush's long CV includes Rockers Hi Fi and Original Rockers, but for a release under his own name, he's gone for something a bit bolder and more introspective, concentrating on a very raw and broad-stroked approach to sampling spoken-word broadcast material and musical snippets and building and layering them into short sonic vignettes and brief jazzy grooves.

In a way it's like jumping back to the late 80's or early 90's when wholesale sampling was still a novelty, recalling Negativland works or the interludes in Art Of Noise albums. This is reinforced by details like the speak-and-spell voice on "Theme from The Tincleton Now" and the analogue tape-like quality of some of the spoken word sources.

The strongest tracks include "Teahead Of Time", the TV-sync-friendly "Carnaby Street Caper" and the slightly more conventional electronica formed around string samples in "Speltre Flecks".

The abruptness and edgy construction of these pieces lead to a bit of a patchy experience overall, a release that never really 'gets going' as a half-hour listening experience but which has an endearing energy that will be enjoyed by people with fond memories of those simpler sampling times.
Ambient / Electronica / Ethereal / Dub / Soundscapes / Abstract
Edit (10469)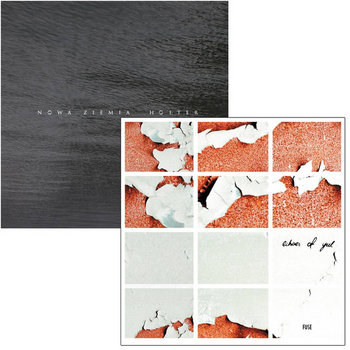 Artist:
Nowa Ziemia / Echoes of Yul
Title:
Holter / Fuse
Format:
CD
Label:
Zoharum
(@)
Distributor:
Alchembria
Rated:
After a while, Zoharum returns with another chapter of their split cd where they collide compatible musical project and present them with separate cover for both project. This time, rather to present obscure projects, are Nowa Ziemia and Echoes of Yul which were already reviewed and well received. This time both project are focused on drone and guitar and seems likely as both sides of the same project.
The half by Nowa Ziemia start with "MW" which is a field recordings introduction to "agiew" which is a slowly developing drone for guitar colored by a sparse feedback and armonics while "MT" exposes resonance over a rolling beat. "Holter" closes this side with distortions and resonances giving a movement to the drone and echoing some metal influences.
The half by Echoes of Yul is completely filled by "Fuse (Version II)" a long, over 35 minutes, track whose first part proceeds by accumulating drone in a slow crescendo intertwining psychedelic parts with noisier ones until the drums introduces the coda with metal oriented guitar lines.
This is an enjoyable release and a split of two project working in the same fields so it doesn't sound as a split but as a cohesive release that could be well received by fans of minimalism or drone metal. It's really worth a listen.
Ambient / Electronica / Ethereal / Dub / Soundscapes / Abstract
Edit (10468)
Artist:
Sverre Knut Johansen with David Helpling
Title:
The Vast Expanse
Format:
CD
Label:
Spotted Peccary Music
(@)
Rated:
Sverre Knut Johansen's third release on the Spotted Peccary label lives up to its title, 'The Vast Expanse,' as it is expansive, but then again the composer is known for his spacey compositions. On this outing he has some help from ambient guitarist David Helpling who has been producing his own albums since 1996. 'The Vast Expanse' is a fairly mellow affair with little in the way of cosmic disruptions or stellar explosions. Nearly constantly in motion, there is a sense of purpose without urgency or impulsiveness in the music. It is as if it was a gradual unfolding of the universe in all its glory. While the opening track, aptly titled "Origins of the Universe" seems tentative at first with a plethora of sounds floating in the cosmic void, it eventually coalesces into a more solid formation, underscored with bass-driven rhythm and a distinctive melody. Nearly half way in, it really gets cooking and develops a theme that's going to have you thinking...Vangelis! That's not a bad thing either. Helpling's guitar adds a bit of panache without overtaking the orchestration. So far things are off to a wonderful start. Johansen stretches synth pads for miles, maybe even light years across title track, "The Vast Expanse" with nice melodic content and effective arpeggios. I found the melody on "Emotion Strata" too repetitious and overbearing for my taste, but the arrangement was nice. "Space and Time" is a cool track because the melody is rather abstract and you can blissfully float along without getting wrapped up in something too tuneful. "The Beginning," the longest track on the album at over 11 minutes begins in ambient space (or space ambient) before it develops any motion. When it did get going I was reminded of the early '70s electronic outfit, Tonto's Expanding Head Band. On this piece a simple theme augmented by arpeggios and sequencers is built upon until it becomes something quite fantastic, then dissolves away into hyperspace. Heavy (and I do mean heavy) pizzicato open "DNA" with probably more echo-verb than needed and become a mainstay of the track. A little much in my estimation. The rest of the album is just good space ambient chill, not particularly exciting or innovative, but enjoyable all the same. I liked 'The Vast Expanse' better than 'Secret Space Program' (Johansen's last album), partly because it isn't trying to be anything it's not, and also because of the universality of the music. Space ambient enthusiasts are guaranteed to have a wonderful trip with this one.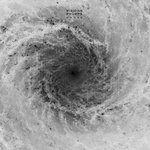 Artist:
Visions & Phurpa
Title:
Monad
Format:
CD
Label:
Cyclic Law
(@)
Rated:
This release is a collaboration between Visions, the experimental project of Frederic Arbour, and Phurpa which is one of the most radical and arduous project of these days. The result is an expanded musical spectrum where time has the property to let all musical resonances express their potential to be a sort of trigger for meditation.
The well known low frequencies which characterize the music of Phurpa opens "Ascendance" but the contribution of Vison is audible after a few seconds as their rather minimalistic approach is evidently filtered and juxtaposed as applying color to a black and white musical picture. The dark ambient form of Visions is more prominent in "Fohat" as only Purpha's percussion are clearly audible in the final part adding a sort of religious mood to an overall meditative atmosphere. "Monad" is based on a frequency separation between the two project: Vision has the higher frequencies while Phurpa has the higher one but instead of be a trivial juxtaposition there's a real dialectic between the two musical streams and this is further enhanced in "Reminiscense" which closes this release with an impressive audio spectrum of rare evocativeness.
This release could be seen as an introduction to Phurpa's music as it's a lot easier listening to their music or as the addition of a spiritual element to the processual framework of Visions. However, it's one of the releases of the year for the genre.