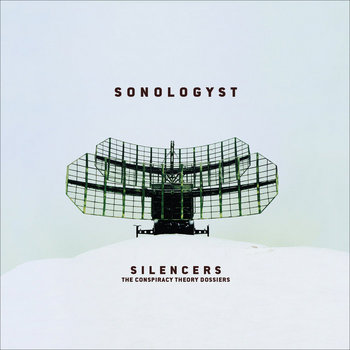 Artist:
Sonologyst
(@)
Title:
Silencers
Format:
CD
Label:
Cold Spring
(@)
Rated:
This new release by Raffaele Pezzella is introduced by the long story of the booklet which informs the listener of the story of the so called "Men in Black". As the underlying theme, the alien invasion, is a canonical topic of sci-fi even today, there's a risk of déjà-vu in the overall project and this is overtaken with recurring structures along the tracks so there's a sense of a concept album which is usually absent in the genre today.
The drone and the loop that are the main elements of "Singularity", the quiet track that opens this release, introduce the listener into an audio space vaguely reminiscent of certain sci-fi atmospheres. A pulsating noise is the glue that tie together the elements of "Monotape" so the transition from drone to noise has a narrative while "Nocturnal Anomalies" begins to have a more structured approach instead of relying on the nuances of sound. "Deep Black Programs" is a guitar, processed to sound like a synth, interlude to "Silencers" whose juxtaposition of drone and loops create an evocative atmosphere which is menacing and quiet while "Close Circuit" with his use of processed string is more oriented towards drama. "Anamorfismo" is a slow but implacable crescendo while "Infrared" with his use of oscillators is a link to the tradition of this sound. With his use of voice declared in the title, "Secret Societies. The Kennedy Speech", is the more stratified and interesting track of this release. "NASA Classified Tapes" closes this release as a coda of the previous track.
The main quality of this release is the use of sound as a function of the message and the imaginary evoked in the booklet of this release. Instead of a relentless research of a cool sound or a sonic special effects, this is a tale. Recommended for fans of the genre.