Experimental / Avantgarde / Weird & Wired / Glitch / Noise / Field Recording
Edit (9689)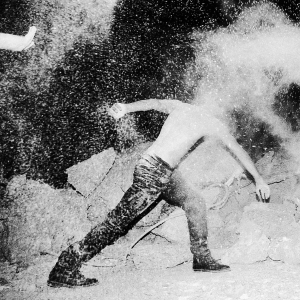 Artist:
Stromboli
(@)
Title:
Volume Uno
Format:
12"
Label:
Maple Death Records
(@)
Rated:
After their remarkable debut, Stromboli returns with an new release whose main characteristic, according to the liner notes, is "the introduction of the Revox A77 tape machine" which means to embrace a music aesthetics. Even if this is a minimalist project, the music is based on a short and concise form, instead of a long and apparently sloppy one, and this is at least a solution for the usual problem of this music which is brushing the boredom.
The rhythmic background of "Drag Phase" starts this release and the listener is suddenly overwhelmed by a barrage of sounds which are however always far from being a dull stacking until all the spectrum is fulfilled while "Downwards" is a sort of crossover between techno and meditative guitar music that has an hypnotic effect. The surrounding echoes of "Haunted" evolve in a sharp rhythmic pattern while "Drop" evolves around sustained tones vaguely reminiscent of early minimal music. The B side of this release is opened by "White Walls" which is even more minimal and abstract as it juxtaposed looping rhythm and drones while "Arrows" is as structurally complex with his many layers of sounds which are obtained with samples, drone and rhythms as it sounds apparently trivial ad a first distracted listening. The rhythmic cage of "Glow" evolves in a sort of drone that introduce the hypnotic mass of sound which is the core of a track like "Basedow Graves" whose final loop closes this release.
This is a release whose coherent development and relatively short duration shows how to obtain the maximum result with the minimum of the means and how a careful writing creates a sense of novelty in a codified form. Simply impressive.
Experimental / Avantgarde / Weird & Wired / Glitch / Noise / Field Recording
Edit (9672)
"Blu Deux" is a collaboration between Philippe Lamy and MonoLogue when they try to find "a deeper and more emotional stability to their dizzying and often cacophonous work" as it's presented in the liner notes. This release is a based upon a form of glitch which uses this aesthetic as a way to explore short sounds as elements for a larger sound form immersed in a quiet sound background rather than underline the rhythmic element.
The first track of this release "Les merveilleuses aventures de il suono misterioso (Hours d'oeuvre)" is a fragmented series of samples which break the quiet sonic landscape of a glitch beat upon a quiet drone. While this first track explores the sound as something unexpected in a familiar context, "Tout est blu" use a structure based in three part: the first uses a beat in the same way the samples were used in the first track, the second part explores small sounds in a quiet environment and the final part juxtaposes noisy drones. While the first part of "Les yeux de mezzanotte" develops small sound grains into larger forms, the second part tries to create a similar forms using large sound grains. "Des oreilles pour voir, degli occhi per sentire" is the quietest track of this release where all sounds are searching the listener's attention rather than impose themselves using volume while "Prime parole, dernière pensée" reverts the form using a large volume to blur the sound detail at least in the first part and, after a short silence, it develops into an humble dialectic between samples and drones. "Il tuo mormorio colora le temps (Dessert)" closes this release with drones at the threshold of silence and a quiet crescendo until the end of the track.
Honestly, it's not an easy listening as for large part of this release the listener has to concentrate or let other sounds enter the sonic environment to deal with the silence which is the glue which ties together the sound elements but it shows how, when a genre pass the stage of being a novelty, develops a discourse from a list of words. It's really worth a listen.
Experimental / Avantgarde / Weird & Wired / Glitch / Noise / Field Recording
Edit (9671)
Artist:
Kshatriy
Title:
Samantabhadra
Format:
CD
Label:
attenuation circuit
(@)
Rated:
The title of this new release by Kshatriy means "Noble in Everything He Does" and is the name for an enlightenment associated with practice and meditation. As it's rarely depicted alone he's seen as a symbol of the freedom form any duality i.e., dialectic, concepts.
The first part of this release, "Samantabhadra", starts as a something between a drone and a loop as the resonances of the drone periodically emerge as in a loop and develops quietly letting all sounds unfold without any contrast but using this predictability as a mean to let the listener concentrate on sound, so even when it starts a sort of noisy deviation from this path after a while it's stopped to let the track end in an almost perfect circle with the start. The second part, "Samantabhadri", uses a small metallic beat as the centre of the track as all sounds revolves around this beat so a sense of time passing became the focus of the track until this beat stops and this release ends in silence.
Someone could say that there's anything new on this release but the idea of composition is not about creating something new but to say something using a known form and this is the key to access this release. Samantabhadra is a deep reflection about mind and time using music and it's something that all fans of drone and meditative music will truly enjoy.
Artist:
Harold Nono
(@)
Title:
Ideeit
Format:
CD
Label:
Bearsuit
(@)
Rated:
Following a plenty of amazing collaborations - I warmly recommend to check the ones with Berlin-based elegant producer Me Raabenstein as Taub and the one with Japanese duo N-quia for the collaborative project Haq -, Edinburgh-based producer Harold Nono (real name David Hillary) comes back by a solo release on his own imprint, the excellent Bearsuit Records. If you've never heard something by this subliminal kid (a quotation), you should say sorry to your brain, as Harold Nono's style manages to combine samples, cinematic suggestions, witty references, neo-classical music, ambient and electronica in a very psychedelic way. The opening "Tahiik" immediately takes listening by a magnetizing carousel where a chattering by an adult and a kid got poured into a sweeping cinematic orchestration (close to the likes of the previously mentioned Me Raabenstein, but they could also surmise something by Murcof, Jan Jelinek or Venetian Snares). Such a perfect attacco prepares the ground for a swirling set of aural pearls, oscillating between the frenzy sentimentalism or the vague nostalgic nuances of tracks like "Dedy", "The King Tree" or "Running Down A Pipe", the lopsided surrealism of tunes like "Otosan" or "Dead Man's Fall", the hinky day-dreaming evoked by pieces like "I'm Disguised As An idiot" or the deeply emotional "Life Under The Lafayette", a track where Harold Nono seems to bare and give voice to the contrast between a majestic and naive elegance and some poisoning feeling of decadence. The final track "Watashi Wa Ie Ni Kaeritai" (Japanese for "I want to go home"!) is just seemingly sad: be patient, and after some minutes of silence, the ghost track will blossom and is going to uplift your soul by a delicate piano melody! Not to be left unlistened!
Artist:
Roman Leykam
Title:
Impressions
Format:
CD + Book
Label:
Frank Mark Arts
(@)
Rated:
As most of you maybe know, Roman Leykam is maybe one of the most incontinent artists belonging to the roster of Frank Mark Arts. He recently enriched the catalogue under this imprint by a series of more or less interesting outputs and the choice of focusing more carefully on the visual framework by the label has undoubtedly a plus for the comprehension of Leykam, particularly if you don't really care about aural details and real sonic pearls, which doesn'ìt lack in the musical explorations of this veteran of experimental ambient music. I could recommend having a check of "The Detection Of Slowness," the collaborative release with Frank Mark himself including an amazing video DVD, which could be a real guide to appreciating the listening more, for instance. "Impressions" follows this editorial strategy as well, as the label attached an internal booklet of beautiful snapshots (portraying natural landscapes or magnified details of plants, flowers, stones, ponds, lakes and so on) to its elegant digipak. You would quickly notice that Leykam's minimal textures of effected guitar, synth guitars and the amazing sounds he squeezed from his equipment (often looking like some other instruments such as a kind of hybrid between a brass and a cello in "Vision", the flute-like whispers in "The Leisure" or "Essence", a sort of alien dulcimer in "Weathered", the metallophone-like hits in "Abandoned" or the bizarre slapped glittering on tracks like "Pleasant Anticipation" or "Point of No Return") are somehow consonant with the pictures of the booklet. If you're searching for some new music for meditations, "Impressions" may be a guessed choice.