Experimental / Avantgarde / Weird & Wired / Glitch / Noise / Field Recording
Edit (10351)
Artist:
Porch Nap
(@)
Title:
Antidot (Selected Works 2007-2017)
Format:
CD
Label:
Fulldozer Records
(@)
Distributor:
Zhelezobeton
Rated:
For this artist and release, I really have to reproduce the lengthy quote from the labels: "During the last ten years this moderately active figure of the St. Petersburg underground has been engaged in acoustic research, almost invisible for most people but passionate in its cosmologic nature. The result of these experiments turned into a fusion of seemingly incompatible genres of modern music – techno and improvised noise. However in the interpretation of Porch Nap this paradoxical combination sounds quite natural. The album features selected tracks of Porch Nap dated 2007-2017, most of which were reworked in recent years. For five compositions additional parts were recorded by honored figures of the Russian experimental scene: Fedor Svolotch, Alexei Borisov, Kryptogen Rundfunk, Brompton's Cocktail, as well as by the famous American noise musician Phillip Klingler aka PBK. And the final track "Intelligent Noise Monday" was remixed live by Alexander Zaitsev, known as a member of the band EU. The edition is released in 2 versions: Regular edition includes: CD in digisleeve with two cards. Limited to 175 copies. Special edition includes: CD in digisleeve with two cards, bonus mini-CD-R in cardboard sleeve with an alternative version of the title track Porch Nap feat Fedor Svolotch "Antidot" and two additional compositions, Porch Nap "Ordo Ordinans" audio-tape (reissue of the 2001 album), all packed in white rag bag with silk-screen printing. Limited to 35 copies."

I will be reviewing the regular edition because that's what they sent me. Yes, this is deep underground St. Peterburg experimental electronica. The techno aspect surfaces more in the rhythms (when present) than anything else, with repetition playing a major role in that regard. A good portion of it could be called industrial. The temperament of the ten pieces on this album ranges from curiously intriguing to excruciatingly annoying. The opening and title track "Antidot" is a subdued exercise in techno minimalism with a soft electronic kick tone carrying the beat while fussy and fuzzy electronic noises fill in the gaps. Fedor Svolotch is featured on this one. Kryptogen Rundfunk's electronic contributions on "Verisimilitude Recurrences" makes for very uneasy listening, and at over 9 minutes you're going to need all the audial stamina you can muster. On "E nego Rework" all sonics seem processed around the beat with liquidy, squiggly bird-like sounds. "Freq Out," a lengthy track at over 10 minutes features PBK and sounds like some automated wire brush scrubber feverishly working over a filthy tank in an alien workshop environment. "Anti-Social Ultra-Pop Pt.1" is a cute little rhythmic number that sounds like processed finger-thrumming with electronic embellishments. It isn't hard to imagine what "Non-Linear Bass Metronome" might sound like for it's title; just add pitched noise and you're good to go. "Signal" is the lengthiest piece on the album at 11:48, and for over half of it, the most difficult one to listen to- a seemingly endless bleep-tone repetition with interjections of squeak and squeals until it morphs a bit into something else but still maintaining the monotonous rhythm. "Cliffhanger' featuring Brompton's Cocktail is my favorite piece on 'Antidot' not only because its the most musical of the lot, but also because it offers dramatic tension and a relentless drive that could easily lend intself to cinematic uses. Alexei Borisov contributes voices, noises and guitar to the monotone beat "Granular Liminal Beat" but you will have to listen pretty closely to catch it as that rhythm overides nearly everything else. Final track, "Intelligent Noise Monday" (Alexander Zaitsev Live Remix) is a scattershot affair that goes through numerous, sometimes awkward changes underscored by a constant beat, but as it was done live, it's really not too bad. 'Antidot' is an uneven album but considering it is representative of a span of 10 years work, that's understandable. Those who enjoy noisy experimental electronics with beat and rhythm will be happy with this one. Those who don't just won't.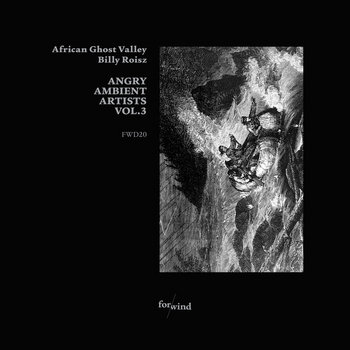 Artist:
African Ghost Valley & Billy Roisz
(@)
Title:
Angry Ambient Artists Vol.3
Format:
Tape
Label:
Forwind Press
(@)
Rated:
This new volume of Angry Ambient Artists is a split release by African Ghost Valley and Billy Roisz and, in spite of the title, is more oriented towards noise and experimental music territories than classic, or dark, ambient ones. Noisy sources are placed in times to variate dynamics and spectrum to create movement so it's not neither ambient nor industrial music but a crossover with a certain level of personality.
African Ghost Valley open their side of the tape with a noisy sound, vaguely reminiscent of certain '80s synth music, of "9732 XE" opens the first side of this tape and introduces the listener to a sort of noise ambient i.e., noise music without the deafening mass of layers but with a layer of quiet drone which sometimes emerges and takes the aural scene. "MM 152" is instead suspended on his oscillation between silence, quiet drones and sharp tones which creates a tension toward the final noisy section. From an initial part close to silence, "OC 154 T" closes the A side with an accumulation of layers which end in the closing mass of noise ending in silence.
Billy Roisz instead occupies her side of the tape with one track, "Hidden Layers", which oscillates between abrasive moments and quiet ones, both developed upon noisy elements asking the listener to follow a musical development rather to be overwhelmed by mass of sounds.
Perhaps a bit too noisy for the usual ambient fan, but it reveals al least a research of personal perspective of the crossover between ambient and noise. Not only for collectors.
Experimental / Avantgarde / Weird & Wired / Glitch / Noise / Field Recording
Edit (10347)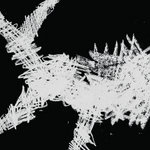 Artist:
Ghost Flute & Dice
Title:
Kropsbygning
Format:
CD
Label:
Attenuation Circuit
(@)
Rated:
The music of Ghost Flute & Dice is based on piano but, instead of being something closer to modern classical and its neo-romantic chichés, has a tie to the intuition of modernity where piano is considered more as rhythmic instrument than a melodic one. Moreover there's an use of effects and tape editing which creates a level of abstraction above the piano line mostly based on chords and looping lines vaguely reminiscent of minimalism.
The framework of this release is immediately exposed in "Emdrup": piano chords and effects creating odd resonances which are a proper layer above the piano creating some similar to the classic accompanying strings, but with a wider spectrum and elements of noise. "Kejser af Kina" is instead more focused with the rhythmic elements using the prepared piano and the reverse effect. "Glasvind" proceeds by accumulation while "Wrong is here" borders ambient territories as it starts with an electronic setup prior to the entrance of the piano. The layers of "Standardlösninger" generate an apparently complex sound but it's instead based upon variations of a fistful of melodic cells. "Pladearbejde" explores the string elements of the piano while "Undersult" the variations of sound masses. "No Name Nr 2" closes this release with a dialogue of the piano with his effect and noises.
Apart for some trivial moments where the experimental layer is a little expectable, the equilibrium within moments tied to tradition and to modernity is remarkable. Practically a release enjoyable by everyone.
Experimental / Avantgarde / Weird & Wired / Glitch / Noise / Field Recording
Edit (10337)
forM is experimental electronic glitch artist Robert Newell, and this self-titled album on the Aubjects label is his debut solo release. Newell has been involved in electronic experimental music since the early 90s, and has been a member of Bob Hallucination, Headless Ballerinas Underwater, and perhaps most notably, Amalgamated. Of those three, the only project I'm the least bit familiar with is Amalgamated, who some passing acquaintance turned me on to some years ago. In taking a brief tour through some of Amalgamated's discography, I can definitely hear the connection, although Newell's forM debut is quite different than what Amalgamated seems to be about. The album is comprised of 14 pieces, all quite different from each other in tone and temperament, but unified by certain factors. One way or another there is a good deal of repetition, but not always. Some pieces seem highly structured while others are chaotic. Opening track "Fr0353" could almost be a sci-fi show theme with it's repeating melodic bubbly space synth over light mellotron chords in the background. The followup, "n30n" is a melodic haze of digital sounding synth pan-echoed to the nth degree. "00n0my" uses a repeating pattern synth melody and drumkit where in spite of a repetitious,rhythm, numerous rhythm embellishments develop as well as a whole lot of synth incidents and events. "Gran35" sounds like a cluster of musical Berbers taking a spin in a psychedelic dark ride, or maybe a Middle Eastern game arcade gone bananas. You could conjure up many different descriptions for these pieces, some wacky, others in a more serious vein, but most of them are quite intriguing, even if you can't really ascribe a theme or motif to every one. Unlike some experimental electronica, forM is pretty easy on the ears, so even if you're not a hardcore experimental enthusiast, you will probably find this very pleasing. I should also mention that Phillip Klampe (also from Amalgamated) is responsible for additional effects and sounds on this album as well as mastering and production. Limited to 75 copies in CDr digipak.
Experimental / Avantgarde / Weird & Wired / Glitch / Noise / Field Recording
Edit (10335)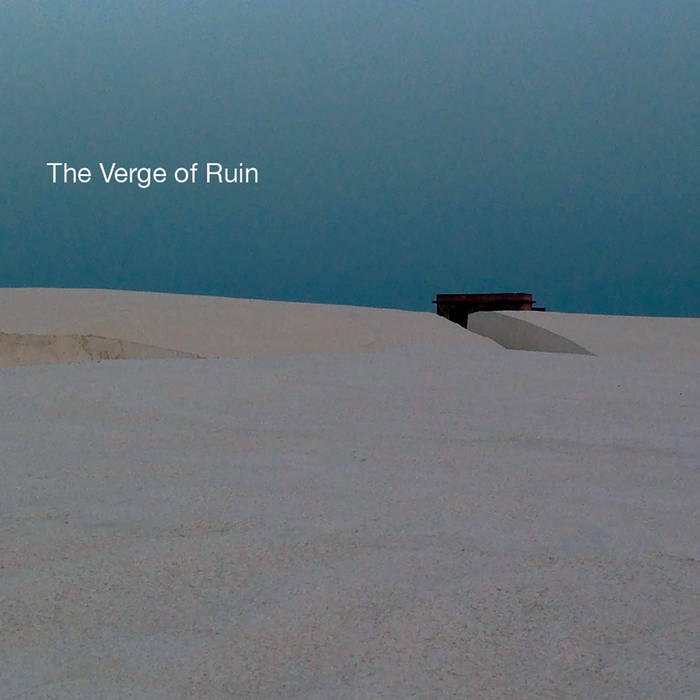 Artist:
The Verge Of Ruin
Title:
Learn To Love Solitude
Format:
CD
Label:
Setola di Maiale
(@)
Rated:
This project is presented by their members, Stefano de Ponti and Shari DeLorian, as "a research in sound and poetry" and, while it's not clear the meaning of this claim after the listening of this first release, sounds as completely focused on a idea of "writing as editing". This release sounds as developed by pasting fragments until the result is more than the sum of the parts.
The track starts in a relatively free form dominated by sparse sound mostly of concrète origin and percussion; after all this movement, there's a part based on drones of long tones searching resonances and juxtaposition. Then, the track begin to oscillates between static and dynamic moments so e.g., after a detailed drone there's an abrupt explosion of noise. Above all, there's the impression that, more than a sound research, there's an idea of musical movement based on short musical moments in direct contrast between them as a sort of dialetic without synthesis.
All those materials compressed in a so short span (the release lasts just over twenty minutes) means a demanding listening asking for a particular concentration. Not exactly a easy listening but it's full of subtle ideas that could have been perhaps more developed. However, it's recommended for fans of experimental music.