Experimental / Avantgarde / Weird & Wired / Glitch / Noise / Field Recording
Edit (10476)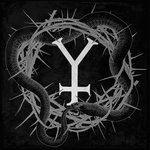 Artist:
MZ.412
Title:
Ulvens Broder
Format:
12"
Label:
Cold Spring
(@)
Rated:
As the last releases of MZ.412 were reissues or live recording, "Infernal Affairs", released in 2005, was considered the creative swan song of the project which has taken Industrial under a more clever use of noise taking inspirations from the most peripheral rivulets of the genre and merging them with a certain personality. Now this EP announces the release of new full length and the first question is how is aged this sound now that the sound which was called 'Black Industrial' has spread its influence.
After an atmospheric intro with almost imperceptible voices "Ulvens Broder" explodes with a monolithic beat and a orchestral loop and a sort of sample from choral music that makes clear that, even without the novelty effect, their craft is able to raise the bar and exhume a sound at the crossroad between surgical precision and physical impact. "The Father Uncreated" starts uninterruptedly and it's more stratified track where noises are juxtaposed not to fill completely the audio spectrum but to create a menacing atmosphere or underline a precise moment of the track where the distorted voice evokes proclaims something until the final crescendo evokes something that rises from the earth. The B side if a reworking of "Algiz (Konvergence Of Life And Death) from "Nordik battle signs" which shows the evolution of their sound as it removes the sharp noises of the original to create more homogeneous passage from the instrumental part to the vocal line of Tomas Pettersson as the musical elements of drones and noises are developed on the whole track while the original was based on the dialectic between the almost silent part of the vocal and the noises of the music.
An event for fans of industrial music as what it could end as a nostalgic reunion reveals itself as another chapter of a journey which has changed the form of industrial. Seems that "Svartmyrkr" is a candidate for album of the year.
Experimental / Avantgarde / Weird & Wired / Glitch / Noise / Field Recording
Edit (10471)
Artist:
Strafe F.R.
Title:
The Bird Was Stolen
Format:
CD + Download
Label:
Touch
Strafe F.R.'s second album since returning from a 20-year hiatus is an exercise in contradictions. Truly experimental, it provides us with 14 unique and hard-to-read environments of metallic noises, heavy filters and tape effects, heavily gated guitar and guitar-like noises, pulses and processing- then crashes into them to various degrees with percussive surprises that are sometimes harsh and unpleasant, sometimes quirky bordering on comical. Even the press release skips from talking about vanilla fudge in coconut trees and finding Liszt sleeping inside a piano to the devoured liver of Prometheus. It's one of those "really don't know what's going to happen next" releases, exemplified by the sudden appearance of heavily processed vocal on "Aconite" with a lyric in which the album title is found.

But among the wilful surprises, there's a rich depth to be found here as well. Though constructed from unorthodox parts, "Prepper's Home" is a fascinating bit of electronica with a truly emotive undercurrent that suddenly breaks into almost Krupa-esque jazz rhythms in its second half. "Pianosmoke", built from an experiment in playing bass and guitar sounds through a loudspeaker inside a piano in order to stimulate the resonance of the piano, ends up being a very coherent and melodic work that with the right electronica remixes would have a lot of crossover appeal, while other pieces like "Flare", though built of similar stock, have a darker layout and a more spontaneous and theatrical flavour. "Violet Sun" is a good example of a sparser approach, in which the processed guitar evokes feelings of some sort of alien road movie, while final track "Towton" throws furthest back towards the band's 80's roots with some very analogue, fuzzy tape flavours and Nina Hagen-ish vocal wails, right down to its abrupt halting end.

It's an unpredictable, fresh-sounding and rich hour-long release which never drops the interest levels, and it's certainly worthy of attention.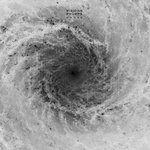 Artist:
Visions & Phurpa
Title:
Monad
Format:
CD
Label:
Cyclic Law
(@)
Rated:
This release is a collaboration between Visions, the experimental project of Frederic Arbour, and Phurpa which is one of the most radical and arduous project of these days. The result is an expanded musical spectrum where time has the property to let all musical resonances express their potential to be a sort of trigger for meditation.
The well known low frequencies which characterize the music of Phurpa opens "Ascendance" but the contribution of Vison is audible after a few seconds as their rather minimalistic approach is evidently filtered and juxtaposed as applying color to a black and white musical picture. The dark ambient form of Visions is more prominent in "Fohat" as only Purpha's percussion are clearly audible in the final part adding a sort of religious mood to an overall meditative atmosphere. "Monad" is based on a frequency separation between the two project: Vision has the higher frequencies while Phurpa has the higher one but instead of be a trivial juxtaposition there's a real dialectic between the two musical streams and this is further enhanced in "Reminiscense" which closes this release with an impressive audio spectrum of rare evocativeness.
This release could be seen as an introduction to Phurpa's music as it's a lot easier listening to their music or as the addition of a spiritual element to the processual framework of Visions. However, it's one of the releases of the year for the genre.
Artist:
Distant Animals
Title:
Lines
Format:
12" vinyl + Download
Label:
Hallow Ground
Daniel Alexander Hignell, as Distant Animals, has created a 34-minute work that's conceptually quite complex, involving a 130 page text-score, the social function of art-making, a land-art intervention enacted in parallel with the composition process, and citing La Monte Young as an influence.

Sonically however it is somewhat less complex, though I wouldn't go as far as calling it simple. Generated mostly from modular synthesis, it's a bit of dramatic drone work (which prior to this listen might have sounded like a contradiction in terms), at the core of which is relentless deep alienating rumbling sounds and thick, distorting textures. Over the top of this are layered some organic percussion noises, higher-pitched synth pads giving off choral-style sounds, noise washes and a variety of clicks and glitches.

In two parts, first part "A Pure Drone" is (as the name implies) the simpler of the two, deep and rich and purposefully uneventful, before "Line Made By Walking" uses the listener's acclimatisation to the drone base as an opportunity to pull in expected directions, systematically becoming louder, more dramatic and dynamic, and with tubular-bell-esque percussive hits and pitch-shifting analogue synth calls that almost border on melody. A couple of well-timed sonic drops have a strong impact that provide real culture shock for those who thought they were still listening to pure drone.

It's interesting to hear how this work morphs itself over time without losing its sonic identity, and while the conceptual origin of it frankly flies well over my head, as a short LP of powerful experimental synthesis, it's absolutely worthy of a listen, contextually or otherwise.
Experimental / Avantgarde / Weird & Wired / Glitch / Noise / Field Recording
Edit (10449)
Artist:
The International Nothing
(@)
Title:
In Doubt We Trust
Format:
CD
Label:
Ftarri
(@)
Rated:
I already talked about this Berlin-based project founded by psycho-acoustic clarinet players Michael Thieke and Kai Fagaschinski almost twenty years ago on the occasion of the release of the nicely titled (and performed) "The Power Of Negative Thinking" on Monotype. Besides showing an appreciable wit in the choice of titles, "In Doubt We Trust" features a format that someone would label as 'epic': no more snippets or short tracks, but just one long-lasting (37 minutes and 37 seconds) track, that follow the same publishing periodicity (they highlighted the fact that The International Nothing drop an album out on the Japanese label Ftarri every four years). Even if it's one single track, "In Doubt We Trust" can be ideally detached into different moments: one of the watersheds of their tonal experimental streams - the whole record got based on almost three years of psychoacoustic research - occurs for instance around the 15th minute, where they play with muted tones and salivation after a crescendo of experiments where they almost reach cacophonous dissonances. They mostly focus on so-called Tartini effect, an aural illusion caused by the combination of two different tones of a similar source: the two players "placed" themselves on the two pans (Kai on the right, Michael on the left) and the combination of the tones they play on the two sides of the listeners renders a sort of ghost tone, a third one that comes from their juxtaposition (you can try listening to the same snippet by balancing the pan of your mixer before playing them simultaneously). The effect is so well exploited that the listener can interpret the title of this record, as a reference to a doubt which sounds more reasonable than the one about the existence of some God that these players cast: is this third tone a ghost tone or a real one? Have a listen to try answering to this puzzling question...