Experimental / Avantgarde / Weird & Wired / Glitch / Noise / Field Recording
Edit (10783)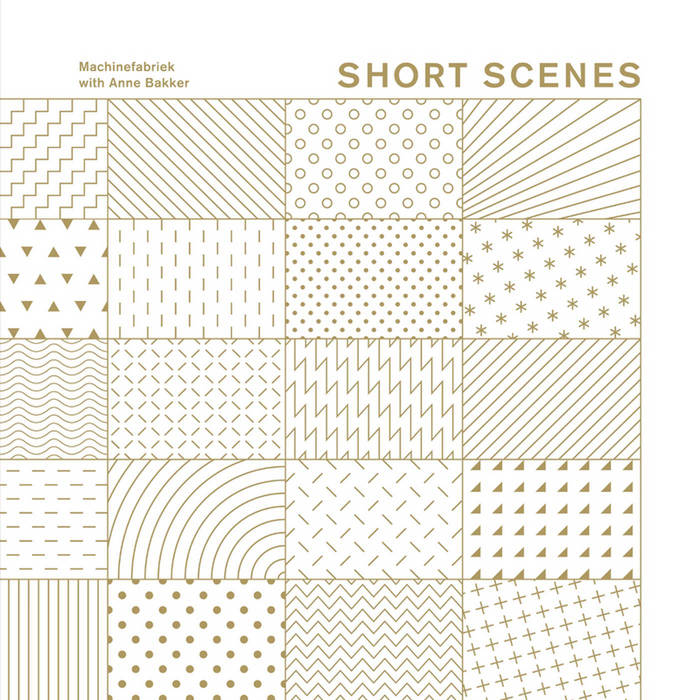 Artist:
Machinefabriek with Anne Bakker
(@)
Title:
Short Scenes
Format:
CD
Label:
Zoharum
(@)
Distributor:
Alchembria
Rated:
While being rather prolific, the average quality of Machinefabriek's is quite high and so it balances the recognizable sound palette of most of his releases with excursion in other territories as this one. This release is based around the reconstruction by Machinefabriek of the musical phrases played by Anne Bakker on violin and viola; reasonably the original music was tonal and almost classical in nature. While this collaboration started for a soundtrack, Rutger Zuydervelt recorded a series of improvisations and then he reworked them to obtain a more concise form.
The twenty scenes which compose this release are very short, usually under two minutes, and the main concern of Rutger Zuydervelt is the arranging of the lines in the aural field and the underlining of the long notes seldom used as a background for the phrases. There's also in many scenes an impressive use of silence to prepare the rise of the notes and something similar to the crackle of the vinyl to give an evidence to the listener that this is recorded music. As the scenes goes by there's a sense of a journey because, with every scene, there's a slight modification in the obviously rather monochromatic sound palette oscillation between drone based moments and more melodic ones.
This is a release that will perhaps be better received by fans of modern classical compared to other classes of listeners, and they will be exposed by far more subtler sounds masked by a rather familiar melodic framework. It's worth a listen.
Experimental / Avantgarde / Weird & Wired / Glitch / Noise / Field Recording
Edit (10782)
Artist:
Switchblade Kid
Title:
Skaro 1963
Format:
Download Only (MP3 + Lossless)
Label:
Silber Records
Throughout January, Silber Records are doing "Droneuary"- putting out a new drone work from a different artist every day, all of them available on Bandcamp with a "name your price" setting- for the sake of good experimental music, here's hoping that enough people don't just type '0' all the time. Some of the drones are only five minute atmospheres, while others are whole extended soundscapes spanning over twenty minutes, or in the case of the Grand Kali Ma offering, almost 47 minutes of deep rumbling sinisterness. It's a series certainly worth checking out.

I've singled out "Skaro 1963" mainly because of the title- I'm a semi-closeted Whovian. Eschewing the famous 'Dalek ship' radiophonic workshop atmosphere, instead Switchblade Kid offers up a dark sci-fi texture with metallic undertones, the constant whirrs of distant grinding alien machinery reverberating into abstraction. It's mentally transformative and rewarding to listen to.

Other highlights so far from Droneuary, which we're still only halfway through, include the wailing relentless alarm call of Subscape Annex's "Shimmer", and the more overtly prog rock guitar noodling of Electric Bird Noise's "Noitatidem". Ocean In A Bottle's "Dawn Chorus" is notably different, building from a long period of layered genuine birdsong into much warmer chords.

Silber say that they've got so many submissions lined up for the series that it might well run into February. Here's hoping that they get more and have to start thinking of puns on the word 'March'.
Experimental / Avantgarde / Weird & Wired / Glitch / Noise / Field Recording
Edit (10779)
While he has already published eight CDs, this is the first time I came across the name of Sebastian Banaszczyk whose project is based upon a method called "100% sound recycling" i.e., all his sound material came from (pre)recorded media. "A.S." is based upon the music of Alexander Scriabin which was at the border between romantic music and atonal one and all the track titles seems taken from the sampled works; instead of hip-hop based forms where the source if reasonably identifiable, he stands along the path of heavily modified samples so there's a vague reminiscence of Skriabin's music instead of a citation.
The first track, "Rêverie", change a piano sonata into an abstract track where notes are prolonged and riverbed until a small fragment of the original track emerges. "Nocturne" uses silence to separate quiet moments, isolated notes and loops. "Fantaisie" has a great dynamics in its reassemblage of piano and forte moments. "Ballet acoustique" sounds almost as a piece for synthetic sources as the original moterial is heavily effected to obtain remarkable sound effects. "Poème" is a short track with isolated piano samples while "Poème 2" creates a continuos piece from similar sound sources. "Miniature" uses subtle sounds moving in space while "Élégie" uses a drone with isolated notes and melodic lines. "[r.c.]" is a meditative track where the piano samples are drowned in a quiet background noise and "Noir chamomile"closes this release with a beat obtaining something at the threshold between a dance piece and an ambient track.
Based on coherent sound sources and with a rather limited number of manipulations, the overall cohesion of writing ensures that it's perceptible how it was thought as a single release rather than a collection of tracks. Perhaps it lacks a real moment of sonic fascination as it's more oriented towards structure, but it will be enjoyed by a lot of fans of experimental music anyway.
Experimental / Avantgarde / Weird & Wired / Glitch / Noise / Field Recording
Edit (10774)
Artist:
XAH (@)
Title:
North Road
Format:
3" MiniCD
Label:
Inner Demons Records
Rated:
I could not find much on this artist, but the email address on the liner notes is the same as the one for ShchYL-Records, a label out of Ukraine which has also released several XAH albums, so I suspect that they are the same person. Now on to the music. This disc consists of one track that comes out of the gate swinging. Screeching noise heavy on the high end of the spectrum is quickly joined by a nice balance of low-end rumble. There is a good mix of things happening that keep this from getting too dull, but not enough to sound disjointed. This is enjoyable, chaotic noise that has the feel of listening to a tape on fast-forward in a wind tunnel. Great feedbacked ending. If this sounds like the kind of thing you like, this is one to pick up. This album weighs in at around 17 minutes and is limited to 42 copies.
Experimental / Avantgarde / Weird & Wired / Glitch / Noise / Field Recording
Edit (10773)
Artist:
Conure
(@)
Title:
Making Way For The Future
Format:
3" MiniCD
Label:
Inner Demons Records
Rated:
I have known Mark Wilson for two decades now, and have enjoyed his music over the years. He was in the now defunct Imperial Floral Assault Unit, which then spawned the wonderful 15 Degrees Below Zero, and Wilson's solo project Conure, which he describes as "ambient noise and other varieties of sound art." All of this to say that Wilson is by no means a newcomer to the scene, and if someone deserves a box set, his work would be a great candidate. This comes in a jewelry box with a ton of velum inserts describing the origins of each track, and 12 3" CDs. If you have a lot of Conure, you probably don't have a lot of what is in here, since it encompasses compilation tracks, unreleased works, and live performances. One of my pet peeves is when artists have a box set that has almost everything previously released and easily accessible except for a couple of new tracks. This is not the case here. With this preliminary work out of the way, let's move onto the music itself. The 3" format is great because it is short and easily digestible, with about 24 minutes of music. But putting 12 of them into a box presents the reviewer with almost 5 hours of work to review, so my approach in the review here is to write my thoughts on each track as I wade through the box. So let's get into it.

1. "Better Things": Bit of a sporadic beat with noisy ambience. Nice.
2. "23 More Seconds Of Your Life": 23 seconds of sound. Remember the band Chemlab? They would often have little snippets of noise that they titled "Suture." These function in a similar manner throughout the set, many having been taken from the 23 Seconds Ov Time series by the Autonomous Individuals Network. Because these are short snippets of sound, I will just note these with "23 Seconds."
3. "Heartbeats And Mold": "Heartbeats and Mold" is fitting, as the opening sounds like a thudding heartbeat as it becomes increasingly distorted and staticy. A hint of high-pitched feedback peeks through the dense rumble. eventually shifts to the sound of shaky static, like a sander gone awry.
4. "Farewell To The Beginning": A lot of heavily reverbed percussion opens this one. The reverb takes over and everything gets washed out. It shifts to much more heavily distorted bass as the reverb continues, then mellows out to a bubbly ball of scraping metal and low end rumble.
5. "23 Seconds Of Drama": 23 seconds.
6. "City Life": Nice, pleasant rumbling noise, with a good mix of high and low end.
7. "The Repetitive Nature Of Being": Pulsing waves of noise and static.
8. "23 Seconds Of Minimalism": 23 seconds.
9. "Juxtapositions": Processed field recordings. Like walking through a city in your dreams, overhearing conversations here and there.
10. "Whistles In The Wind": Rumbling low end noise mixed with someone whistling and what sounds like someone tuning, then playing a guitar.
11. "23 Seconds To Abandonment": 23 seconds.
12. "Screaming Jays": Hypnotic waves of static and bass drone.
13. "Merely As Psychic Zero Stations": Collaboration with Nux Vomica – Much more subdued and minimal than previous tracks. More ethereal, like incidental score in a soundtrack. Interesting use of dynamics with headphones.
14. "In 23 Seconds The Time Will Be": 23 seconds.
15. "Ein Conure Über Berlin, Part One": Excerpts of a live performance – opens with birds chirping and raw electronic sounds crashing together. Gets more grinding and dissonant as it progresses. A lot going on here – everything that a live performance should be.
16. "23 Seconds Of Oblivion": 23 seconds.
17. "Territories": Noisy dark ambient that grows increasingly noisy over time. Cinematic feel to it.
18. "Over The Shoulder": Collaboration with Daniel Blomquist of 15DBZ fame. And no, it bears no relation to the Ministry song of the same name. Pleasant, droning track with a lot of high-end warbling.
19. "Regression": Like one minute in a factory. Pleasant, droning noise.
20. "Monsoon": Collaboration with Moz. This is quiet, restrained gritty rumbling. Like listening to a noise show from outside of the venue. Almost peaceful, like a thunderstorm in the distance.
21. "Aggravated Listening": Slowly accelerating looping noise. Short track.
22. "Secondary": Another short track of raw, overdriven noise. Lot of somatic sounds.
23. "Untitled Ways": Collaboration with Hypnotic Injection. Longer track with a lot going on when you listen to it with headphones. Hiss and line noise give this an interesting atmospheric feel, with a lot of moments of quiet throughout. I really enjoy the restrained moments in Conure's oeuvre, which put the "artist" into "noise artist." Give this to someone who likes the idea of experimental music, but hates noise and feedback.
24. "Saboteur": Collaboration with Mindgerb. Opens with processed spoken word, but hard to understand. High pitched analog noise throughout. I really like the sound of voice (who I presume is Mindgerb). Has a flat sound to it that sort of reminds me of Warm Leatherette in style.
25. "Stampede": Another collaboration with Mindgerb. This is a bit more aggressive musically, with more spoken word, but this is somewhat buried by the overlying music. The voice suddenly switches in the middle to be more processed. Really enjoying the poetic feel of the voice.
26. "Secondary Way": One minute of chaotic noise, with a lot of distorted breathing and static. Similar in style to the track "Secondary."
27. "Rolina": Another collaboration with Mindgerb. Similar style, with minimal noise backing with processed spoken word (in this case with a lot of echo). I would have liked to hear Conure do more with these tracks, because the noise is not as interesting as the voice. Perhaps this is by design, so as not to distract from the vocals.
28. "Dead Soul Battery": Collaboration with Imperial Opera Company. Thudding bass opens this up. Spoken word in a language I do not recognize with an almost poppy feel to it. The closest thing I can come up with as far as the music goes is The Residents. Simple synth lines with a lot arpeggiated synth throughout. Way different in feel, but quite enjoyable.
29. "4/4/10 #1 (Extract 1)": Collaboration with Andre Custodio. At 16:21, this is one of the longer tracks. At the beginning, this has the feel of listening to a noise track in the middle of a subway tunnel. Layers upon layers of sound keep it from getting dull, as it continually evolves and shifts. As the track progresses, it gets increasingly harsh, with a lot of analog noise. This is my kind of noise – the kind you can just sit back, listen to it, and let your mind wander as you are enveloped by a wall of rumbling noise with bits and pieces of different sounds peeking through to catch your attention.
30. "Aftermath": Short track, just over a minute of feedback, crackling static, and 60 cycle hum.
31. "4/4/10 #1 (Extract 3)": Another collaboration with Andre Custodio. Pulsing, squeals of noise. Barely understandable voice that becomes increasingly distorted as the music lurches along.
32. "Void": Another short track of just over a minute. Crunchy wall of noise.
33. "4/4/10 #1 (Extract 2)": Another collaboration with Andre Custodio. Lots of noisy atmospheric noise. Like standing outside of a machine shop during a gale-force tropical storm.
34. "4/4/10 #2 (Extract)": Another collaboration with Andre Custodio. Another longer track, at over 12 minutes. Rumbling bass that eventually gives way to high pitched warbling noise. Not really in-your-face noisy, but just enough of an edge to take it into noise territory.
35. "23 Seconds Of Mooer": 23 seconds.
36. "12/23/10 (Edit)": Collaboration with Karl A.D. Evangelista. Pleasant, organic soundscape that at times sounds like a clock gone awry. According to the insert, this is part of a live performance, and it definitely has that feel to it. Sounds like it would have been a good show.
37. "12/23/10 (Extract 2)": Collaboration with Rent Romus. More live documentation, with low bass drone and presumably Romus improvising on the saxophone.
38. "7/28/10 (Edit)": Collaboration with Jennara Santurio and Michael Mersereau. Here's the cinematic side of Conure, with the low sawtooth drone giving the whole thing an ominous feel. I could definitely see this as part of a film score. Wondering who Jennara Santurio is? That would be Wilson's spouse. Nice to see that noise is a family affair.
39. "12/23/10 (Extract 1)": Another collaboration with Rent Romus. Almost minimal by comparison. Sparse saxophone with really quiet bass.
40. "5/21/11 (Edit)": Collaboration with Rent Romus and CJ Borosque. Opens with some processed breathing, which then opens up to a slew of different sounds. From static tones to synth washes to feedback to saxophone improvisation. As with the others, this would have been an interesting show.
41. "12/23/10 (Edit)": Collaboration with Phillip Greenlief. At the beginning, we have reverbed squealing sounds that give the impression of hearing a car race one floor above you in a parking garage. Add to this the sounds of a modem gone totally berserk and you have the makings for an interesting track. Towards the end, it calms down and gets increasingly quieter.

So, in the final analysis, is it worth it to get this box? Yes. There is a lot going on here, and Wilson has assembled a formidable group of collaborators with whom to showcase his work. There are interesting live performances that show a different side of Conure, and plenty of noise to go around. Indeed, the live collaborations are where Conure shines the most, and one could easily make the case that this box is worth it for those works alone. Like any set of this magnitude, there are tracks that stand out and others that are not as strong, but Wilson has done a good job of curating these works and keeping it interesting. Overall, this showcases the continual evolution of this project and gives us some hints on where he is heading. Like all of the Inner Demons releases, this is limited to 42 copies, so get yours while you still can.