Cyclic Law Newsletter – February 18 2015
After some delays the Northaunt "Istid I-II" 2LP version is now available and
they look amazing, get them while you can!
All pre-orders have now been shipped, thank you for your patience.
We also have some new releases announcement below!
NORTHAUNT "Istid I-II" 2CD / 2LP (72nd Cycle)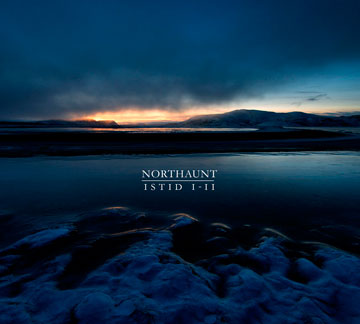 9 long years after the release of the seminal album "Horizons", we are finally greeted to a new opus by Norway's most unique craftsmen of cold, desolate and deep nordic ambient. Not only is this completely new material, crafted from recordings made from 2003 up until 2014, but we are offered about 1h20 min on a double CD! Constantly tapping into the singular northern landscapes of his native Norway for inspiration, Hærleif Langås transposes his views and feelings of the great white north into intricately deep and poignant soundscapes. Northaunt's sound can best be described as landscapes transformed into aural emanations, enabling the listener to in turn be able to journey through those barren and foreign lands through the minds eye. Quoted from the linear notes is the idea behind this new album: "Once the world was alone, the landscapes had no names and there was no one to see them. An endless number of ice age dawns came and went unseen. The idea of this world, the world as it was before man, inspired me throughout the composition of these tracks. Roughly separated in two parts, one representing the light, the unburdened world before man, the other a much darker side of the same place." Be prepared to embark on a journey to the world before the world, a journey you might not want to come back from..
2CD Edition of 700 copies in 8 Panel Digipack. 8 Tracks. Running Time 1:19.
UPC: 765857849355
2LP Edition of 300 copies in Gatefold Sleeve. Features 1 White and 1 Black vinyl + Download Code. 8 Tracks. Running Time 1:19. Co-Produced with Tesco-Organisation.
UPC: 765857849379
APOCRYPHOS "The Prisoners Cinema" CD (73rd Cycle)
After the dissolution of Psychomanteum, Apocryphos was slowly formed by now sole member Robert C. Kozletsky and continues further down the pathways charted by Psychomanteum. The Prisoner's Cinema is a duality in concept, exploring two separate paths that intersect each other through out.  The first path revolves around sensory deprivation, isolation and the frightening, yet spiritual aspects of these experiences. The second path is that of a personal nature, bearing a literal interpretation of the title "Prisoner's Cinema" where you play the prisoner locked away in the confines of your own conscious mind standing alone against your own darkness.  This is the troubled soundtrack to a soul starving for catharsis, a release from the chains that hold us down in this uncompromising world. The Prisoner's Cinema is graced with the signature haunting imagery of Simon Heath (Atrium Carceri) and also features a special guest collaboration by Frederic Arbour (Havan / Visions…) on one track.  Psychomanteum may be dead, but out of its ashes, Apocryphos has risen to expand one's soul. Listen and release…
Edition of 500 copies in 4 Panel Digipack. 8 Tracks. Running Time 1:02
Upcoming Releases Scheduled for end of March / Early April 2015
Pre-Orders starting soon
KAMMARHEIT "Unearthed 2000-2002" (75th Cycle) 6CD Box Set/Book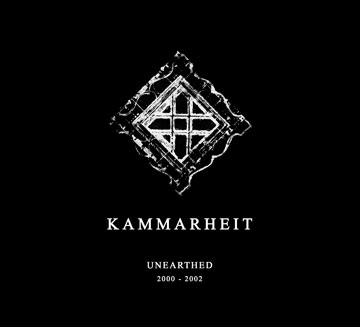 Finally, 15 years after it's first inception, we've painstakingly gathered the very first self released recordings of Sweden's Pär Boström amazing project.
Kammarheit started in early 2000 after a field recording session in an abandoned factory. Inspired by the atmosphere of that special place the first album "Shockwork" was recorded that very same night and this marked the beginning of one of Dark Ambient's most respected act. The awe felt from these first field recoding ventures translated into a concise sonic vision. Over the course of the next 2 years, five more albums were to be recorded; "At The Heart Of Destruction", "Among The Ruins", "Somewhere Concealed", "The Downfall And The Arising" and "The Northern Hymn". These were not initially intended for official release, but created as a sleeping aid for Pär's then incessant insomnia. With time these works were spread to close friends and contacts as very limited CD-R editions and have since been long sought after items. We're proud to again present these historical works in a proper, deluxe format. All 6 albums were carefully remastered while keeping the original imperfections of some of the releases, keeping true to the original work.
Edition of 800 copies in Cloth Bound Book format with 12 pages booklet.
UPC: 765857849393
KARJALAN SISSIT "…Want You Dead" (74th Cycle) CD/LP/CS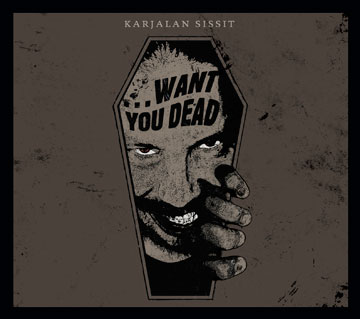 Now 6 years since their last opus, we present to you the new masterpiece from one of Sweden's most notorious act. So, Karjalan Sissit wants you dead, and after going through these new tracks you might not cease to exist but will definitely feel the blow sheer brutality these exude. Intense, bitter and heavier than ever, this new work is to us the epitome of the Karjalan Sissit sound. It's all still there, the pounding metallic percussions, deep angst ridden atmospheric passages and all held together by Make Pesonen's angrier than ever vocals. Karjalan Sissit is back, and more pissed off then ever, and we wouldn't want it any other way.
CD Edition of 1000 copies in 4 panel Digipack. 8 Tracks. Running Time 42:00
CD UPC: 765857849386
LP Edition of 300 copies in Gold Vinyl.  8 Tracks. Running Time 42:00
LP UPC: 765857849430
CS Edition of 75 copies. 8 Tracks. Running Time 42:00
CS UPC: 765857849447