PROMISE KEEPER
"ENDLESS MOTION"
_________________________________________________________________________
​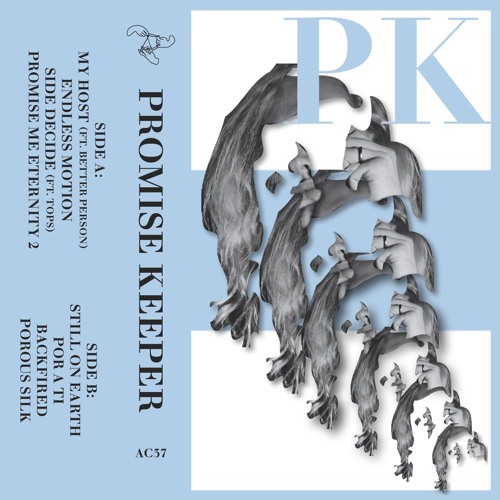 SOUNDCLOUD + FACEBOOK + TWITTER + INSTAGRAM 
CLICK HERE TO LISTEN TO "ENDLESS MOTION" by PROMISE KEEPER
I wrote and recorded "Endless Motion" at Dean Street Studios in London's Soho in the spring of 2015. It is part of a collection of songs that I have been working on over the past two years since moving to London. The song my juxtaposition of mathematics and sexuality.
Bio:
Promise Keeper is Atlanta transplant William Fussell. Formerly principal songwriter of the band Mood Rings, Fussell relocated to London in 2015 where he first released the two singles "Side Decide" ft.TOPS and "Porous Silk" on the new London-based label Fnord Communications (Shame/The Rhythm Method).
After road testing new material across Europe in 2016, playing shows with like-minded pop weirdos Sean Nicholas Savage, Vesuvio Solo, and Better Person, he has committed these slinky night-time songs to record. The self-titled debut mini-album will be released through the French label Atelier Ciseaux on cassette on May 16th.
Tracklist:
MY HOST ft. Better Person
ENDLESSMOTION
SIDE DECIDE ft. TOPS
POR A TI
PROMISEME ETERNITY 2
STILL ON EARTH
BACKFIRED
POROUS SILK
You can catch Promise Keeper this spring on his European tour with the dates listed below:
08.03 London, UK – The Waiting Room w/ GENTS
13.03 Brussels, BE – Chaff
16.03 Groningen, NL – De Gym
17.03 Amsterdam, NL – s105 (De School)
19.03 Rotterdam, NL – Wunderbar
22.03 Zurich, CH – Bar 3000
23.03 Cologne, DE – Britney
28.03 Berlin, DE – IPA Bar
30.03 Copenhagen, DK – Jolene Bar
01.04 Stockholm, SE – Cantina Real
07.04 Warsaw, PL – Pogłos w/ Black Marble, Evvolves
08.04 Kiev, UA – Closer *
09.04 Khmelnytskyi, UA – Monotheatre KUT *
11.04 Oradea, RO – Moszkva Kávézó * (TBC)
12.04 Budapest, HU – Központ *
13.04 Brno, CZ – Kabinet Múz *
14.04 Prague, CZ – Klub FAMU *
17.04 Paris, FR – Espace B*
* w/ Better Person
PHOTO CREDIT Laura Coulson