"Oscillator Bug's strange sound exists at the previously unforeseen axis of Dan Deacon's maximal brainiac pop and Gary Numan's arty synthetic dream." — SPIN
Chicago analog synth psych-pop outfit Oscillator Bug premiered the first track from their forthcoming full length recently via SPIN. The infectious mind-melting/melding track "Feel Rif" is available to listen to and share HERE. 
Oscillator Bug is like a force of nature in the age of climate change: unpredictable. Borrowing from the revolution-minded mass hallucinations of 60s psych as well as weirdo bedroom pop and several decades worth of avant-garde synth experimentalism, Oscillator Bug is a wild, infectious and occasionally disturbing rendering of 21st Century popular music.
Oscillator Bug's Zaid Maxwell has been making music in the Windy City for several years, playing in various bands (including Shapers with The Hood Internet's Steve Reidell) and recording others. While currently playing in a couple of more explorative and caustic outfits, Maxwell was compelled to extract these 10 auditory earwigs of pop goo that had taken roost in his brain. The resulting Bursts of the Million is tunefully fun and twisted Candyland passage through someone else's fever dream that pulls listeners ever-inward.
Album opener "Enavasion" kicks things off with one of the more jagged tunes, reminiscent of Ween's finest post-funk colliding with early Devo and driven by Maxwell's jaw-dropping falsetto vocal acrobatics. The title track pits a delicate lullaby vocal melody over a Suicide-style organ rhythm loop. Elsewhere, the hook-laden "Feel Rif" sounds like a frenzied march of warbling synth creatures and guitars that Maxwell tries desperately to keep under control, like the Sorcerer's Apprentice, singing in alternating falsetto and baritone as a shimmering melody leads into a cathartic eruption of electro-euphoria reminiscent of Of Montreal's glammy artrock. Other tracks like "Glimmi Gloe" and "Don't Go To Sleep" further emphasize the album's primal, hallucinatory glory. At times it's like "Raspberry Beret" era Prince gone lo-fi, other times a Tangerine Dream nightmare, and elsewhere a godhead rendering of Future Islands in the sky with John Lennon. Point being: buy the ticket, and take this ride.
Bursts of the Million will be available on LP, CD and download on September 9th, 2014 via Dymaxion Groove. 
OSCILLATOR BUG TOUR:
09/08 Portand, OR @ Doug Fir Lounge *
09/09 Seattle, WA @ Neumos *
09/11 Salt Lake City, UT @ Urban Lounge *
09/12 Denver, CO @ Larimer Lounge *
09/13 Lawrence, KS @ Bottleneck *
09/14 St Louis, MO @ Off Broadway *
09/16 Minneapolis, MN @ Triple Rock *
09/17 Chicago, IL @ Lincoln Hall *
09/19 Columbus, OH @ Skully's *
09/20 Ferndale, MI @ The Loving Touch *
* w/ TOBACCO (Black Moth Super Rainbow)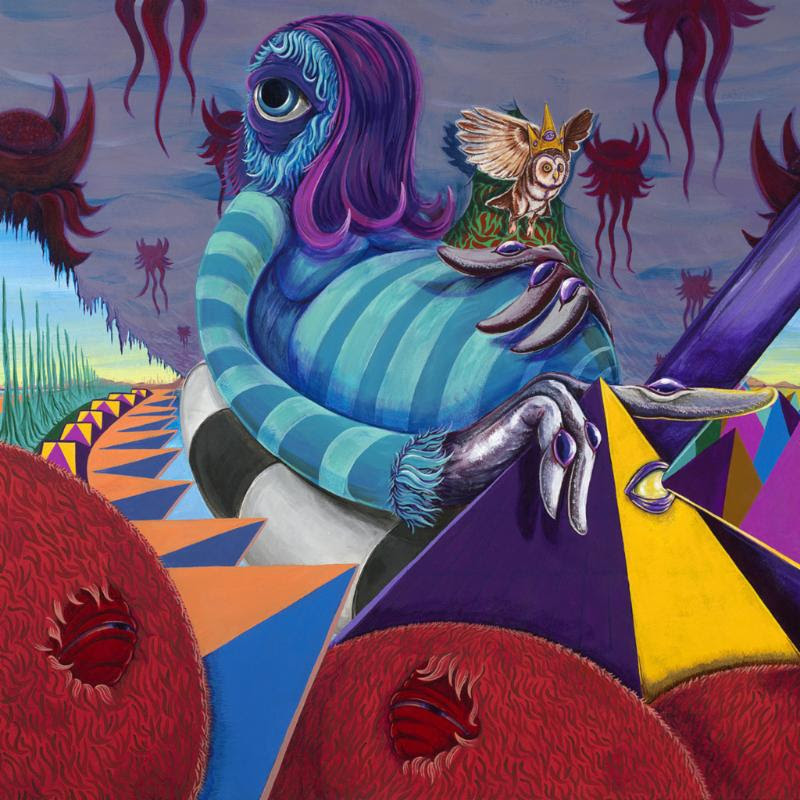 Artist: Oscillator Bug
Album: Bursts of the Million
Label: Dymaxion Groove
Release Date: September 9th, 2014
01. Enavasion
02. Bursts of the Million
03. Giimmi Goe
04. Big Snow
05. Feel Rif (STREAM)
06. Don't Go to Sleep
07. Dearest, Arthur
08. Nadya Lyons and the Imposing Peril of a Brave New World
09. Cilycada
10. Solo
On The Web: