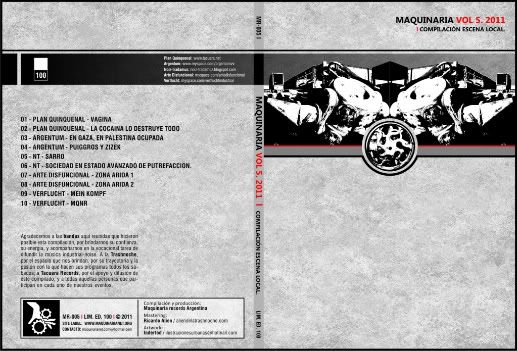 Maquinaria Vol 5  Artist V/A
Argentina 
Maquinaria Records
Listen and Buy it at WWW.TACUARA.NET
Like every year, Maquinaria Records Argentina presents his new album: Maquinaria Volume 5, 2011, build local scene.
As its subtitle indicates, the compilation approach is brewing between some bands most important bands in
compositional and conceptual in the industrial-noise scene Argentina. Make up this volume, with two tracks each, five bands: Plan Quinquenal, 
Argentum, Noiz-tradamuz, Arte Disfuncional and Verflucht, each representing their sonic universe in a 
very direct and forceful, resulting in, if you will, heterogeneous disk with many edges and structural 
drawings that exploit the resources of experimentation, in this great creative world, rustic and dynamic as is the industrial-noise genre.
FORMAT CDR
PACKAING DVD  10 TRACKS
MAQUINARIA RECORDS
BUY IT AT WWW.TACUARA.NET
PRICE 10 USD PLUS SHIPPING COST
FORMAT CDR
PACKAING DVD  10 TRACKS
MAQUINARIA RECORDS
BUY IT AT WWW.TACUARA.NET
PRICE 10 USD PLUS SHIPPING COST
XCesar Canali 
Produccion Tacuara Records
Gaona 2353 Piso 6 Depto 1 Ramos Mejia Cp 1704 
Provincia de Buenos Aires