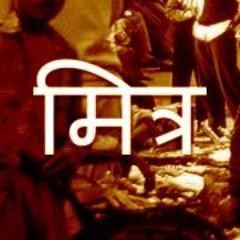 'MITRA Music for Nepal' is a project co-founded by musician Anni Hogan and climber Cathy O'Dowd. They joined forces because they really wanted to help a reconstruction project in Nepal. As you may know Nepalese people are still needing all the possible help to recover from the earthquake of 25 April 2015.  Anni and Cathy met through an artistic collaboration on a multi-media project 'Mountain'  culminating in a film and soundtrack release and several live performances (you can read the review of the CD/DVD here on Chain D.L.K.).  Cathy suggested the name 'mitra' – meaning 'friend' in Nepalese and so the 'MITRA Music for Nepal' project was born, with the mantra: friends helping friends.
They set up a Facebook page where you can get news about the project.
The compilation should be out on July the 7th on Bandcamp and a lot of artists are supporting it.
Just take a look to the box below to have an idea of how great it will be!
So, you'll get great music and you'll help people who are living difficult times… a double win!
Connect to:
https://www.facebook.com/MitraMusicForNepal