Hi everyone! First 3 releases are still fresh, and more will come after the summer.
OUT NOW:
[SR _ o1 / handw001 ]
RUTH VELN KISS I was 21 Yrs old and now no more
| CD | Ltd 3oo copies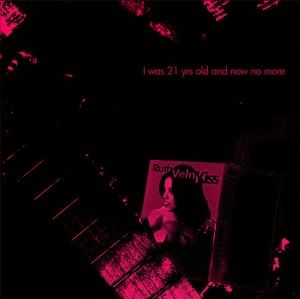 First amazing noize/wave/noize bedroom project from our dear long-time friend Paolo Miceli
[formerly KINSKI, MY VIOLENT EGO and now at GTR W/ SEA DWELLER].
He started it in the late '9os releasing several demo tapes, -mainly fixed on a 4 trx cassette recorder called Desiderio.
Now 3o of those songs are gathered in this CD.
RVK today sounds very-9o's but also still fresh at the same time. A clear Passion for Distorted Pony, MBV, Sonic Youth,
Christian Death, Unsane & The Cure, but w/ a unique touch.
Highly recommended also if You like modern lo-fi noisy wave.
This is Sometimes Records # 1 and we're really glad about that – we're also happy it's ready, at last.
CD in jewel case + 8 pag booklet w/ pics from the original k7s inside. Co-produced W/ friend label HANDWRITING REC .
€ 13,00 [shipping included]
:::::::::::::::::::::::::::::::::::::::::::::::::::::::::::::::::::::::::::::::::::::::::::::::::::::::::::::::::::::::::::::::::::::
[SR_o2]
STARFUCKERS – Ordine '91-'96
| CD | Ltd 5oo copies
No need to tell much about 
Starfuckers
. This essential band from Bologna is one of our favorites from the teenage days, and that's why we're really honoured to have them on our label. This CD is something we dreamt from years: it gathers Their 1991's long time deleted mini-lp BRODO DI CAGNE STRATEGICO [now on CD for the very first time] plus the album SINISTRI (maybe their masterpiece) – originally released in 1994 on Underground Records. And again : 2 songs taken from 2 comps + 1 unreleased one.
'91/'96 was possibly the best Starfuckers phase. After the primal post-Stooges noise in the late '8os, They created their own way for noise rock in Italy [in the early 9o's, Bologna also spawned Massimo Volume and Splatterpink, just to name a couple] taking inspiration from NY no wave + noise rock, but keeping their own attitude and personality. After that, they choosed to follow even more radical paths and the result was an exciting form of noise/experimental Muzik that also paid its tribute to '9oo avant-garde (Maderna, Cage, Xenakis), altought it seemed to have the only aim of killing its own ego until a sort of rock'n'roll tabula rasa. It's all here, in these 16 historical trx. Everything is been remastered by Giuseppe Ielasi, and, in our opinion he did a great work – songs details are much more focused now, but respecting the initial spirit / sound.
And after a while, They'll be touring Italy again, soon.
CD in jewel case w/ 12 pag booklet full of unseen pictures, original covers and credits.
€ 14,00 [shipping included]
:::::::::::::::::::::::::::::::::::::::::::::::::::::::::::::::::::::::::::::::::::::::::::::::::::::::::::::::::::::::::::::::::::::
[SR_o3]
SOHO WHAT – The First Impression Last
| CD | Ltd 3oo copies
This crazy new project is the brainchild of Rudi Van Mad, cult figure of the well known exp-collective called Larsen Lombriki.
This debut album plays w/ genres – with huge attitude and very little respect for musical integralism. Ranging from Pop music —> to less FM-oriented things [Snakefinger, Swell Maps, The Fall, Neu and The Residents] in a sort of bizarre work-in-progress. 1o great songs of un-classificable stuff, combining a "free form" approach to more structured parts in sort of dada weird-wave. The review that Julian Cope wrote _on his site 
Head Heritage
_ about a promo copy of this record, said: "Singular in a very Electro-Buzzsaw manner is THE FIRST IMPRESSION LAST by 
Soho What
, whose catchy bastard post-punk toons blaze along Chrome-esque shock corridors into intertwining cul de sacs of 39 Clocks- and Metal Urbain-isms, while Transatlantic Faust-style lead vocals conjure up Electric Manchakou sub-sub-French Detroitisms, know wharramean? Imagine A Certain Ratio's classic 'All Night Party' 45 performed over a rhythm of Devo's 'Satisfaction', or maybe the autobahn'n'ice-rink motorik of the Stones' 'Shattered' and yooz reaching the Soho What pleasure centre. Top marks, however, go to the snarling epic 'She Said', with its snidey Howard Devoto-meets-Barney Albrecht matter-of-fact vocal and hectic HALF MACHINE LIP MOVES-style Cleveland No Wave machine gun riffing. Hailing from Italy, 
Soho What
is run by one Rodolfo Borsella, who has very little presence on the 'worldwide', but – for his classy hybrid of Cleveland, No York, De Twat and London – really should be searched by those interested souls".
€ 13,00 [shipping included]
WRITE US BACK TO ORDER YR COPY[/COPIES] NOW.
DISTRIBUTORS / MAILORDERS / SHOPS interested, write us for wholesale prices please.
***********************************************************************
SOMETIMES RECORDS is a mailorder too:
basically we like punk and waves, noise, industrial and related stuff.
We sell CD/LP/7"/DVD etc
You can check out our new arrivals thru our discogs page + website  + myspace + blog or writing us.
(yes, not just clicks)
Thanks everybody,
cheers!
A + E