Aidan Casserly release ebook "A place for the Skulls"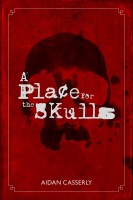 https://www.smashwords.com/books/view/470507
Aidan Casserly, vocalist of Empire State Human and KuBO, releases his first poetry ebook
"A place for the Skulls" today. Released through Smashwords, it is Aidan Casserly's second collection of poems ("Chasing Vapours" being his first). Covered design by Haiminh Le at Fontpusher, London.
If you enjoy intimate, personal and slightly darker themes to your poems, then look no further than "A place for the Skulls". Influenced by the likes of Christina Rossetti, Anais Nin, W. Blake, Edgar Allan Poe, and E.E. Cummings.
There's a tender and sensitive narrative at work within these works. Aidan peels back the layers within, to expose his most personal thoughts, delivering tender and heartfelt poetry, that encapsulates ideas in the minimum of words. Lifting the reader out of the ordinary, to give glimpses of a more illumining reality.
Where prose may seek to explain, poetry merely states, convincing the reader through its own power. Poems that engage the heart of the reader, and at times, when necessary, offer hope from seemingly painful experiences.
If you want to feel a oneness with your poetry, than look no further than "A place for the skulls".
Aidan Casserly:
[vocalist, songwriter, electronic artist & producer]
http://www.facebook.com/aidancasserly
http://www.facebook.com/thewazp
http://www.soundcloud.com/houseofanalogue