Dark / Gothic / Wave / New Wave / Dark Wave / Industrial Gothic
Edit (5467)
Artist:
STELLAMARA
Title:
The Golden Thread
Format:
CD
Label:
Prikosnovenie
Rated:
THE GOLDEN THREAD is the newest and third album for Stellamara. Released after four years from their previous album "The Seven Valleys" the new CD sees Stellamara detaching a bit from their previous Dead Can Dance like style to develop an intriguing set made of nine new tracks which take inspiration from ethnic music coming from Turkey, Hungary, Bulgaria, Croatia. The band used traditional songs' music and lyrics (or only one of the two) of the countries I mentioned and created a charming album developed on the concept of the thread that Ariadne gave to Theseus, assisting him in his heroic journey into and out of the Minotaur's labyrinth. As the band explains: "The golden thread is a symbol of the inspiration, intuition, and guiding light that graces us throughout our lives. It is that which we follow, knowing that it will, in some mysterious way, guide us on our true paths in life. As we travel through literal and figurative labyrinths in our lives, the golden thread may easily go unnoticed, yet when it is recognized and followed, we may find that this archetypal strand of gold connects us to our true selves, to our beloveds, and to that which we discover to be home". Take a deep breath and follow the beautiful voice of Sonja Drakulich leading you through mysterious Eastern melodies.
SACRIFICE FOR PARTY is the debut album of Capacocha. Coming from Holland, Capacocha is a one man band who describes its style as "electro rock n rolla outta controlla". To be honest this album offers something more of mere rock'n'roll or electro: the first thing that is popping out while listening to the album is that its nine tracks are high energetic distorted up-tempos where Capacocha blends in many influences. If "To make you fell better" sounds like Franz Ferdinand with a boost, the opening "Monster" is an electro punk anthem, "Follow me" recalls me LCD Soundsystem, "Neoconjerkative" starts with a bit of techno just to steer to electro punk with bouncing bass lines, "Shake it" is the sum of garage punk, punk blues (remember the Oblivians or other bands that were making records for Crypt during the 90s?) and a bit of funk. We have the best mix of genres in "Leave me" where 70s disco synth lines meet dissonant punk funk guitars: try to imagine a mix of Gang Of Four and LCD Soundsystem with dueting synth leads. The album won't let you down for a second and if aren't afraid of a bit of sane craziness mixed with punk, electro and more, Capacocha is the one to try.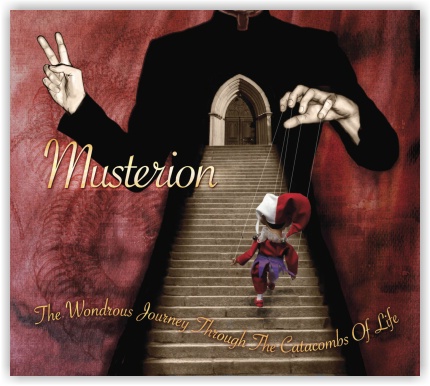 Artist:
Musterion
(@)
Title:
The Wondrous Journey Through the Catacombs of Life
Format:
CD
Label:
Horus CyclicDaemon
Rated:
Swedish-born composer Simon Kölle has been touted as one of the most significant Scandinavian musicians of his generation and genre. Mostly known for his work with Za Frûmi but he also did a fantastic solo album under the name Musterion. That was 2005 and the album titled "The Black Lodge". Now Simon is back with his second album with Musterion.

The first thing to praise with this album is the outstanding artwork laid out as great work of art on a multi panel Digipack. The artwork is truly clever and honestly I cannot think about any artist in the genre of dark ambient that released an album as beautiful as this.

The story, which is laid out in a deep and impressive booklet, is wonderful and reminds me of masters such as Devil Doll, Pink Floyd, David Lynch and Lovecraft. The music is so unique and cinematic I nominate it to be the best dark ambient album this year for sure. From the opening moments of the first piece "Elevator Down" it becomes evident that Musterion possesses a special demeanor via his ferocious line of attack, spiced with verve and a robust tone. Coupled with fluent lines and a few technical nods to the psychedelic years of the 60s, the artist snags your
attention, and sails through these largely, original pieces with equal doses of fire and grace!
Only great poetry can describe the music on "The Wondrous Journey through the Catacombs of Life" and Horus CyclicDaemon, the Czech label, has outdone themselves with this diamond release.

There is a slight Eastern European accent to the underlying rhythms and their instrumentation but also hints and pieces of the puzzle that breath art music as much as dark ambient.

The most remarkable aspect of the album is its ability to tell the story with the help of the music, text and art. The album takes you on the wondrous journey with masterful precision, embodying the heart-wrenching emotions and memories of the man we inhabit while listening. He makes a discovery and finally a downfall with strange circus themes and marvelous sound elements never restrained. In terms of the actual music, not much is different from Musterion's previous album, though a significant role is given to the violin and to the very fact that specific keys offers dual representation of both the innocence of the main character and the dark setting of the catacombs, lending a music-box style to the album that accentuates the bedtime storytelling ambience. The Piano is important but not as much as with the "The Black Lodge".

When I listen to a song like "The Dollmaker" I get so into the music I get back from a trip when it ends. I cannot even describe half of everything what is happening but I feel a lot. First I thought that maybe some songs would be overly stuffed with great ideas but not really creating a red thread. Oh, I was so wrong. The thread is there and the songs are not stuffed with other than greatness.

I love this album.


Dark / Gothic / Wave / New Wave / Dark Wave / Industrial Gothic
Edit (5444)
Hiya (that's how people greet each other in Scotland). It is Xmas time! It goes for the goths too. I don't know whether any of you expected a gothic/electro compilation from Black Rain Records for Xmas or not, but it is out there. But it is not just another random compilation of songs thrown together from already released albums. No! This one is special.
Almost all bands covered songs from the 40s and 50s. I guess the only exception from these decades is "Hava Nagila" (let's rejoice) covered by Hioctan. The original was written way before the 40s. I tend to interpret the presence of a traditional Jewish song on a Xmas compilation as a social statement celebrating the contemporary European cultural diversity. Besides, Jesus was Jewish and Xmas is his alleged birthday. So the Christians say.
Feindflug don't sound that intense and militaristic as we know them, but rather atmospheric and mid-tempo danceable. No lyrics on this one.
"I Want a Hippopotamus for Christmas" by Dandelion Wine is sheer entertainment. I enjoyed every tact.
Novalis Deux offer another Hebrew title "Halleluja" (let's praise?). A classic Xmas song people know not only in Christian countries. Great lyrics and Novalis Deux's performance bears no signs hinting that this song too much for the band's talents. Truly well done!
DyM's "Little Drummer Boy" sounds like a disturbed radio transmission from a 50s heavy industry factory.
Jabberwock offer a number of extraordinary ideas what to do on a Xmas party.
What would be Xmas without cinnamon? Killed by Candy celebrate this spice in the lyrical, eh... "Cinnamon". Cookies and a cozy fire place. Awwww.
This Vale of Tears has a military, rhythmic touch for "Frozen Zone". Those guitar riffs will keep you listening, let me assure you.
Oil10 contributes a retro-oriented version of "Christmas Machine". Panic Lift sound like they are surely on Santa's naughty list with their "Hourglasses". Very goth-danceable and yet evil sounding. Plane to Pia play a German classic Xmas song "Tousend Sterne sind ein Dom" in a very festive and truly Christmas-like manner with an electro touch to it. You could listen to it with kids without scaring them away.
Tyske Ludder made a mini medley of "Fairytale Of New York" and "Fairytale Of The North" with some criticizing lines like "Fuck your Christmas".
The Pussybats with Meli (Livid Halcyon) close the album with "A Wish". Kind of sad. May remind you of things that happened to you and touched you emotionally and make you think of what you could do to make the world a little better. It is not just about wishing, but also about doing.
A very very good and unusual Xmas compilation. I'm not going to wish you happy Christmas, Chanuka or Yule; this winter time should not be about dividing, but about uniting people, hence simply happy holidays!

Dark / Gothic / Wave / New Wave / Dark Wave / Industrial Gothic
Edit (5439)
image not
available
anymore
The reissue of Attrition's vast discography keep on being issued by Two Gods and that's the time of one of the most interesting ring of their long chain of releases. Previously released on the glorious Hyperium in 1993, The Hidden Agenda is maybe the album of maturity, the first one completely assembled in the Cage, Martin Bowes' personal recording hyper-technological studio where he begun working as remixer and producer, which could be considered as a sort of bridge between the past (oriented to industrial and dark styles) and the future (whose imprinting is definitively gothic-oriented) of Attrition's sound , which begun to appear more orchestral and based on a guessed balance between voice sharpening (Julia Waller's consolidated collaboration and her ethereal whispering voice heavily influenced this peculiar direction taken by Bowes' exquisite project as well as the tenebrous and narrative one by Martin) and electronic layering of cold sounds. From those four walls, which Bowes symbolically baptized with fire naming it The Cage, a lot of innovative sounds came to the scene.

You could easily recognize its refined hits on some UK projects and bands coming later (Vomito Negro, Full Dynamic Range and even Bourbonese Qualk) in the perfectly razor-cut percussive sounds of The Silent Mind, whose lyrics seem to forerun a certain techno-pagan nihilism which was going to inspire a lot of artists today, or in the orchestral deviations on the industrial-infected declinations of The Cage and The Mercy Machine. An important transitional album and a precious dowel not to be missed if you want to better appreciate Attrition's great artistic mosaic rich in nuances. Other highlights of this re-release are the trance-inducing A Wing and a Prayer, the re-visitation of The Next Day and the creepy repreise of the introductive Lip Sync.

Kneel to the Mercy Machine!