Artist:
Za Frūmi
Title:
Legends act 4 - Orders
Format:
CD
Label:
Waerloga Records
(@)
Rated:
It took almost four years between "Legends act 2 - Vampires" and "Legends act 3 - Cults". "Legends act 4 - Orders" is released on the same day as act 3 and it gives you even more in depth and varied music. Both albums are creating a smorgasbord of a total (11 on each) 22 delicious songs and the ones on this album impress me even more than on act 3 and that says a lot as I loved that album.

This release is a revelation. Za Frûmi is of the highest artistry. Fully in control of this difficult material, Za Frûmi has the technical equipment to let the music speak without impediment.

It is obvious how passionately the duo are with their music and how much of perfectionist´s they are. With this amazing album, Za Frûmi fully takes the plunge into the heady mix of musical traditions. Calling it"haunting" and "atmospheric" barely scratches even the initial surface of the album's power.

Za Frûmi evokes emotional esoteric and mystical life from nothingness. Deeply rooted in several historical traditions raging from (as far as I guess) Western European middle age, Eastern European folk and even Middle eastern intonations and incantations, Simon Kölle's voice draws the music up from a somber state, giving birth to an almost emotional drama.

The song titles are names of secret Orders in the world of Za Frûmi, a world the band seem to build up more and more which in itself is kind of unique, references to Latin, choirs, and other touches that make the album sound like it was recorded in an immense ancient cathedral. Or maybe in great mystical halls of the orders themselves.

While the elements being drawn on are certainly of an older range, the results owe as much to the technologies of arrangement, mixing, sound effects and production and a consciously cinematic feeling as much as they do antique pasts. Similarly, the feeling is not simply European but worldwide, with Kölle´s glossolalia intentionally reaching beyond easy understanding.

The overall feeling is of an great dark ancient religious service come to life with all kinds of dark soundscapes, strange instruments and some electronic , has stunning results.

If you already know Za Frûmi you must buy this CD. If you don´t know its music, try to imagine the best among fantasy film soundtracks such as LOTR with a varied instrumentation and with even more depth than the soundtracks. With the help of this magnificent album you create the"film" with your imagination.

I go so far to say "Legends act 4 - Orders" is the album of the year 2008 (so far).

This recording gives new hope to the continuance of Za Frûmi´s rich legacy.



Artist:
Za Frūmi
Title:
Legends act 3 - Cults
Format:
CD
Label:
Waerloga Records
(@)
Rated:
The first thing that strikes one when hearing this album is how at home Za Frûmi is with the music. There is a palpable affinity with the rhythmic complexities, an ease with the difficult shifts of mood and tempo. The Vocals are very intimidating and sometimes (such as on "The Cult of Helzichor") beautiful. The music is harsh but not all the tracks. Some are complex and filled with extraordinary sound effects and intriguing music techniques.

The mood is constant and the always present dark fantasy feel is as good as it gets at times. I really enjoy the tracks that break off from the obvious apocalyptic sound like for an example with "The Cult of Mortalis". That´s when you hear the depth of Za Frûmi!

"Legends act 2 - Vampires" was all about the vampire and all what those stand for. The music this time out is much more aggressive...and more engaging. In comparison to the former albums in the series the music on "Cults" features a darker, more intense, and more fully developed "personality"... as well a greater number of action/suspense pieces. Apocalyptic moods, murderous sects of blood are what this album is all about!

"Legends act 3 - Cults" descends sometimes from the duo's usual nether atmospheres into a realm of tribal percussion and chant, casting a comprehensive net over various world music traditions. The tribal drums and the various interesting world music instruments used (as it seems it´s most of all not electronic instruments) are great.

One of the best surprises of the albums is the previous mentioned song "The cult of Helzichor" as it completely changes the style but yet feels true and not at all wrong. Very good.

Low male choir, deep percussion erupting with rambunctious brass and horns are present in many tracks. The album is more than action and tension as some of the tracks are creating "worlds" with the help of sounds, moods, chanting and invocations which Za Frûmi is so incredibly good at doing.

This is a must for all of you into dark ambient and all you who like world music bands such as Dead Can Dance.



Dark / Gothic / Wave / New Wave / Dark Wave / Industrial Gothic
Edit (4494)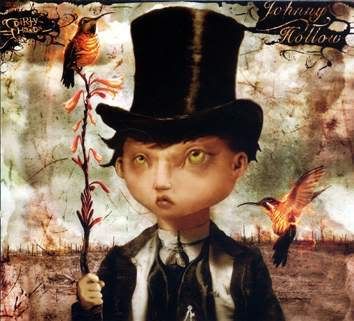 Artist:
Johnny Hollow
Title:
Dirty Hands
Format:
CD
Label:
The Organge Record Label
Rated:
Toronto-based Johnny Hollow is a very unique and interesting band for you to check out. I recall the name from years ago as one of those bands who left a good impression but from whom I haven't heard anything in a while. They are very hard to describe because they are a mixture of dark, electronica and orchestral arrangements, beautifully performed on piano and cello by the two main musical members (there is a third member who does all the graphics and video work live). This is not one of those average sounding goth mock-ups around, instead Johnny Hollow are a very original blend of what it would sound like if Dead Can Dance, Tool, Faith and the Muse, Depoche Mode, Portishead and Conjure One were to merge into one entity. Of course this is in no way a definitive nor accurate way to describe them, there's a lot more to it and there are many other influences one could mention. The fact is Johnny Hollow is so many things but not just one thing in particular: some call that originality! "Dirty Hands" is a very mature and great sounding record, thanks to Grammy winning mixer David Bottrill and Skinny Puppy member and producer Dave "Rave" Ogilvie.
So go ahead and do your research and your illegal downloading and once you figured out that this band is really cool and worth supporting, make an effort and buy their CD, you will enjoy a beautifully packaged digipack with gorgeous Tim Burton-esque art work and a folded poster and lyrics inside.
image not
available
anymore
A new DCD compilation set by the German SkullLine mail order service, which is pretty much dedicated to present you a wide-ranging overview through different rather underground-based music styles. Even if this compilation and ist participants follow pretty much a mutual main and Military-based theme (dedicated to document the loss of women during the world wars), the music remains diverse. Be it Military, Neo-Folk, Minimal, Electronica or Dark Ambient – you'll get it all and complete. And almost all of the signed label artists of SkullLine are featured on here, too. One of them, GRABSTEIN opens this comp with a Dark Ambient-tune, which follows after a sampled classic introduction. IN SCHERBEN stands for clear Neo-Folk music, while PARA-DIOXIN offer harsh and minimal Electro-Powernoise music. CHAOTICUM, a newcomer to SkullLine offer an extra-ordinary mix between Ambient, Experimental and Psychedelic elements and that rather on DIVE-related tune of BLEIBURG featuring Russian voice samples is one of the best tracks this act has produced so far! AYWASSCREAMING convinces with a staccato-like rhythm work wide driven in the stereo field and voice samples related on a battle at WWII at Sewastopol. The productive duo of TRITON 83 is still one of my personal favorites of the SkullLine roster, this new track "Alptraum" reminds strong on some classic recordings by PIERREPOINT for example. GENOCIDE LOLITA, well behind the cool band name hides a US-based project offering an Ambient/Experimental tune featuring a harsh and overdriven vocal performance. CD 2 starts with the Italian ZR.19.84 project with a new tune, and that harsh Japan-Noise-like tune of KADAVER – "Heart-Shaped Torture" doesn't take prisoners. Dark and ominous growling Dark Ambient pieces you'll get offered by both MANIFESTO and ZYANKALI, while the international known act FORTHCOMING FIRE offers a smooth and danceable Electronica tune. More and more Ambient tunes are following, some with Noise infiltrated (NOCTURNE, B-MACHINA, but all of them with that thematically fittig Military thing. Last but not least also KREPULEC, an act we had presented on here with an interview is featured as well und closes this satisfying DCD set. Nearly 150 minutes of exclusive music out of this wide field of different styles – this compilation reminds a lot on the last years "New World Order" compilation by the German collegues of Thonar Records. As usual it comes out strictly limited and only available at SkullLine directly, be it a normal 200 exemplar-edition, or the strictly limited release to 100 exemplars (including a special bag).

Track list:

CD1:

01. Grabstein - Kraft durch Freude
02. In Scherben - Ein letztes mal
03. Para-Dioxin - 1942
04. Kenji Siratori - Nietzsche Girl
05. Chaoticum - Occultique
06. Bleiburg - Mirogojske Svijece
07. Aywasscreaming - Sewastopol Bunkerlinie
08. Riccardo Z. - Einsamkeit
09. Triton 83 - Alptraum
10. Melek-tha - Le triumphe de la volontée
11. Waffenruhe - Todgeweihte (BDM Version)
12. Hybryds - White Snow (excerpt)
13. Heiliges Licht - Crime Against Humanity
14. Stormfagel - Mitt Hat (Fritz version)
15. Genocide Lolita - Bilderberg Silent Order
16. SnowWwhite - Der Fruehling

CD2:

01. Zr19.84 - Non Un Passo Indietro! (CCCP)
02. Kadaver - Heart shaped torture
03. Kammer Sieben - Altes Lied (piano) Musik: Butow Maler. Text: Heinrich Heine.
04. Rose Rovine E Amanti - False Priests and Homo Nazi
05. Manifesto - Discipline
06. Zyankali - Evakuierte Zone
07. Forthcoming Fire - Achtung Achtung (wir kommen wieder)
08. I Hatt einen Kameraden - Feilds of Honor
09. Der Feuerkreiner - Sie gehen daher wie ein Schemen
10. Nocturne - Winifred Wagner
11. B-Machina - Willkommen zur Gewalt
12. Lifes Decay - Orguanium
13. B.L.O. feat. The 120 Days - End Of The Game (Baader-Meinhof_Mix)
14. Exemtum - Infestus
15. The Pride of Wolves - Will you?
16. Fourniersches Gangraen - Steyrermühlener Klangdruck
17. Krepulec - Warschauer 1944


Artist:
VESTIGIAL
(@)
Title:
Translucent Communion
Format:
CD
Label:
Cold Meat Industry
(@)
Distributor:
Audioglobe
Rated:
After releasing a self produced mini CD-r and a split EP with Penjaga Insaf the Italian dark ambient project, Vestigial is releasing through Cold Meat Industry its first full length album titled TRANSLUCENT COMMUNION. Thanks to the beautiful six panels digipack package (designed by Vestigial himself), you'll be able to start to experience Vestigial inner world. Evoking different kind of cultures and painting shades of a decaying world, the images are a perfect visual counterpart to the six tracks contained into the album. Based on light subtle melodies, few percussion parts, humming sounds, hisses, organ sounds, sampled vocals and synth pads the album creates an oneiric effect where titles like "Anthropic Uncreation", "The Coming", "The Geometry", "The Void", "Primordial Communication" and "Anthropic Resonance" make you think of a plan or of a presence of a re-creation process after the fall of the modern society. We'll try to discover something more into the upcoming CHAIN D.L.K. interview to Vestigial.