Artist:
Alberto Nemo (@)
Title:
6x0
Format:
CD
Label:
Dimora Records
(@)
Rated:
When you pull the CD out of his case for the minimal limited edition (150 copies only) of "6 x 0", you can read a sentence "etsise non ehc otrebla nu otama oh", the reverse for "ho amato un alberto che non esiste" (Italian for "I loved an Alberto who doesn't exist"). The Alberto, who surely exists, has a distinguishing mark/natural gift, a remarkably piercing voice, whose trembling timber on high tones is not that easy to find between male voices, the Alberto who shouldn't exist or the one existing within an imaginary mirror is the one you can listen on this interesting album, where the Venetian vocalist recorded six track (played on reverse -!-, the style fluctuates between contemporary classical, sacred music, minimal electronica and drone music) before recording their reverse on the studio. A guessed precedent he quoted to render an idea of what you're going to listen is the extraordinary soundtrack of Stanley Kubrick's "Eyes Wide Shut" by British composer Jocelyn Pook as well as some experiments by notorious bands such as Dead Can Dance or Coil (and I'd also add the first outputs by Enigma as well as the ones by many intimistic modern Greek singers). I won't label this output as a merely formal exercise, as I think it's consistent with the intrinsic duality of the sound where his voice, encrusted like a shining diamond reflecting unnatural obscure beams, such as the last track "Emama" (a sort of reversed invitation to love him...), a breaching palindromic counterpoint to the above-mentioned assertion.
Dark / Gothic / Wave / New Wave / Dark Wave / Industrial Gothic
Edit (10542)
Artist:
Nox Interna
(@)
Title:
A Minor Road
Format:
CD EP
Label:
Echozone
(@)
Rated:
Nox Interna is back, this time with a 3-track CD titled 'A Minor Road' after the first cut on it. You could call it a maxi-single or a brief EP, whichever you prefer. For the unfamiliar, Nox Interna is a goth-industrial metal bilingual band from Germany led by Richy Nox. The bilingual aspect is not German-English as you might surmise but Spanish-English. Although that's probably not unique in the Goth/Industrial genre, it's still different. My last experience with them was their 'Spiritual Havoc' album, and if I recall, I was kind of on the fence about it. The three songs on this CD are less metal and closer to pop, more commercial sounding and that ain't a bad thing as long as you're true to your sound, which is the case here. The title track I suppose was envisioned as the hit single, and while the song is competently arranged and produced, and has a good chorus hook, I think something about it lacks hit single potential. It just doesn't have the oomph, drive or memorable aspect that would put it over the top. Second track- "Doomed Generation" has a lot more drive and oomph, and strives for the anthemic but has a problem with the chorus when Richy sustains these low notes low notes they just sound...well...off. The rest of the song is pretty good, but vocally those low notes are hurting it. Perhaps the best track is the last, - "Entre Dos Tierras" sung in Spanish of course, originally done by Spanish rock band Heroes Del Silencio back in 1990. Nox seems much more comfortable here in his own language, which is only natural. For my money I like Nox Interna's take on it which is actually much stronger than the original. So that leaves us with the summation- not a bad showing by Nox Interna overall, but I wonder who is going to plunk down $5+ for the CD ($3.50 for the download) in spite of Richy's cool artwork (and printed lyrics) besides rabid fans of the band. Perhaps 'A Minor Road' is a more apropos title than they thought.

Dark / Gothic / Wave / New Wave / Dark Wave / Industrial Gothic
Edit (10515)
"Your lips are cold 100 years/frozen deep inside your fear/a touch of stone my disease/buried deep inside of me" are the sung words on the galloping opening track "L'appel du Vide" (French for "the call of the Void") by this Vancouver-based band for this debut album, a reanimator for the listeners (primarily) but also a way to revive some good old synthwave sonorities within a masterfully amalgamated jelly of post-punk, disco and glittering rock. The more important recipes of this (close-to)explosive jelly are undoubtedly the thunderous basslines twisting on the acute attacks of guitar and the vocals coming from the screaming lungs by the band leading voice Jason Corbett, but the professional setting of each resounding element and instrument in every single song combined with the stunning immediacy of their sound is the real distinguishing aspect of the drama played by these Actors. Except of the dark postmortem lividity of some songs like "Crosses" - sounding like a rock cover of some track by Boards of Canada, where Jason's falsetto almost mockingly repeats "It's a long way down / hide your crosses" - and some stylistic deflections such as the one of the instrumental theme of "Bird in Hand" or the dirty deranged disco of "Let It Grow" (very similar to some relatively old tunes by Fischerspooner), most of the songs wink at dancefloors by putting a swing on the tree of the growling sonorities of modern crossbreds between dance and rock and swiffered findings in the mausoleum of synth-wave, instead of the choice of "We Don't Have To Dance" to one of the brightest uplifters of the album. I'm curious to know how (and if) Actors are going to upgrade their palatable sound.
Artist:
Zanti
Title:
Broken Hearted City
Format:
CD
Label:
Downwards Records
Rated:
When I received the Zanti CD I didn't know what to expect from the music composed by two guys who were really famous in the 80s and which are still rockin'. Anni Hogan played with Marc Almond, being part of the Mambas, La Magia and The Willing sinners and in the years did several solo records where her piano was the main instrument. Three years ago, I reviewed "Millions Of The Mouthless Dead", album she did with Attrition's Martin Bowes where they composed an imaginary soundtrack that was focused on the dramas of the WWI. The album before that, "Mountain", also was a particular one: it was a CD/DVD where she performed on her piano some tunes, Itchy Ear manipulated them on pre-production and then Robert Strachan re-imagined and remixed. The other guy of the Zanti duo is Derek Forbes. He played bass guitar with Simple Minds from day one until 1985 and again in the album "Neapolis". After Simple Minds he joined Propaganda and from 2012 he's playing bass with Big Country. Well, after listening to the eight tracks of "Broken Hearted City", I can say that I'm amazed. Every song is a potential single. When they sing solo or duetting, they are able to create a magical atmosphere where you can feel how much of themselves they put into these songs. The opening "Scream Machine" is a powerful tune where Derek's voice is upfront. The surprise is that he has a really good voice and he's a good performer too. On This tune, guitar and rhythmical loops form a psychedelic vortex where bass and piano are like brushes which enrich a rough canvas. "Lonesome" is a perfect song where the dualism of the couple create a really nice contrast. When Derek is singing we have light distorted riffs and his voice which is almost recitate. When is Anni's turn, the song is turning into a ballad where a trumpet, strings, acoustic guitar and the piano soften the atmosphere. Really a great effect. "Will You Be Mine" has a great melody, so 80s but the arrangement is modern, with a distorted bass going in and out and orchestral openings where the piano and the strings change everything. With "Head Sounds" I couldn't believe my ears… the bass sounds like "Theme From Great Cities", from the "Sister Feelings Call" album but this time all the other sounds are different, even if the atmosphere can recall that jewel recorded in 1981. "Head Sounds" starts with a melody that recalled me Great Britain's folk songs but in the background Derek's vocals is treated recalling me the sound of a didgeridoo. Distorted guitars in the background, spare piano chords and Anni's vocals make of this a song that you will want to listen again as soon as it's over. "Planet Sweet" recalled me Marc Almond's songs of the "Enchanted"/"Tenement Symphony" era and it's really nice. "Broken Hearted City" is a piano ballad so touching that Derenk's vocals would be enough and you would be mesmerised anyway. "Paris Vortex" is Anni's moment. Into this one she's a real diva. If this song would have been released back in 1985, it would be in the charts, you have my word! The piano, the strings, the robotic minimal rhythm are building the base of the track where her is singing a melody that will be stuck into your head for days, along with Derek's simple chorus. "Universe Of Love" closes the album with a sort of dreamy coda where all the other songs go to rest quietly until the next listening… and be sure, you'll do many of them. Check it now! You won't be disappointed!
Dark / Gothic / Wave / New Wave / Dark Wave / Industrial Gothic
Edit (10505)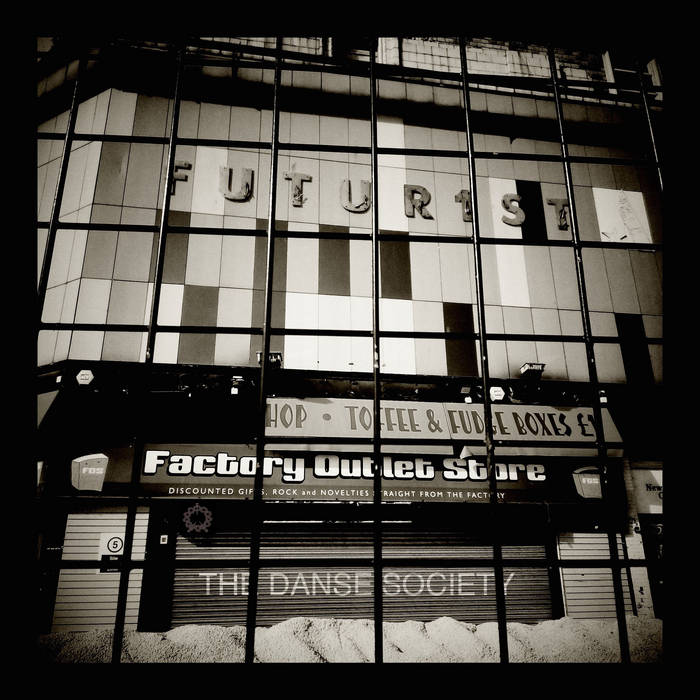 Artist:
The Danse Society
Title:
Futur1st
Format:
Download Only (MP3 + Lossless)
Label:
Society Records
Rated:
Released as a digital only single, "Futur1st" is the newest release for The Danse Society. While waiting for the conclusion of their seventh album's recordings, this single is available on Bandcamp to help raise funds for The Sophie Lancaster Foundation and contains the cover of N.I.N's most famous song "Hurt", plus " One thought in Heaven" and "Scream". Being covered also by Johnny Cash, who did an incredible version which in my opinion is better than the original, it was difficult to top that. The Danse Society did a good job with their version taking a bit of inspiration from the Cash's one by starting with a whisper and then exploding in the final part. Maeth reached her darkest memories of abuse and gave a good performance on the song. A curious note, Danse Society choose not to follow exactly the melody of the verse and this is giving a distinctive character to the track. The following two tunes are really nice: "One Thought In Heaven" is a classic song in the style of the reformed band which is redefining their dark sound adding somehow a bit of rock and "Scream" is sounding a bit new wave and has echoes of Siouxsie And The Banshees with some 00s flavour. Nice release that you can find at the band's Bandcamp page (https://dansesociety.bandcamp.com/album/futur1st) and at a the main digital stores.