Artist:
VON THRONSTAHL
Title:
Conscriptum
Format:
2 x CD (double CD)
Label:
Cold Spring Records
(@)
Rated:
Is reissue time for Von Thronsthal. Cold Spring the last year reissued "E Pluribus Unum" and "Imperium Internum", Trutzburg Thule has just printed a 2 CD deluxe edition of "Return Your Revolt Into Style" and Eternal Pride "Bellum, Sacrum Bellum!?". Into this flow of releases, Cold Spring issues CONSCRIPTUM, a double CD of hard to find, remixed, collaboration and unreleased tracks which didn't match the concept of any album. With a total of twenty eight tracks, the casual listener could have a good idea of the different sounds the band covered during these years as well as the fan could have into his hands a bunch of unreleased tracks and unfinished ones which could satisfy the curiosity of who would like to hear what a work in progress sounds like or a track that has been thrown away was. We could find martial classical tunes with powerful upfront choirs, neo-folk tunes with punk/electro influences (like the new "Deutsche passion", born from a collaboration with Spreu & Weizen), different versions of classic tunes (like the opening "Reisswolf", "Junges Europa" and "Domovino"), punk industrial folk songs that sounds like Dead Kennedy's "California uber alles" ("Zerstört Und Auferstanden"), collaborations ("Nem Nem Soha" is a dark martial industrial track born from a collaboration with Sturmast) and new tracks like "Patientin, 25 Jahre", "Götterdämmerung In Ruinen" or "Flut, Trance, Traum" which fortunately didn't get lost (I liked their dramatic touch where choirs, industrial percussions and melody blend). There's also a nice fast version of Death In June's "Runes & Men" (a sort of country folk song with guitars, flutes and tambourines), one of the Skid's "The Saints Are Coming" (an upbeat industrial goth version) and of Leonard Cohen's version of "The blind partisan". "Mars Macht Mobil III" sounds like a bit unfinished (it has an hip hop distorted rhythm with a synth line and different vocal lines) but you have 140 minutes of music to enjoy!
Artist:
Andreas Gross
(@)
Title:
Stone Thrower
Format:
CD EP
Label:
Echozone
(@)
Distributor:
Masterpiece
Rated:
Since the very first notes of the new EP by Anders Gross and his ensemble ' both the masked and the unmasked! -, you'll maybe perceive a nostalgic and dreamy atmosphere: the sparkling sound pearls surrounding the ghostly and childish voice by Tabitha Anders, which looks like a crossbreed between the most depressed tones by Meriel Barham (the voice of the English alternative band Lush, launched by the glorious 4AD) and the entranced and tenuous ones by Slowdive's Rachel Goswell and the melodic steadiness of Anders' musical whirls in the introduction of this good example of 'oneiric shoegazing', giving the name to the whole EP. The preface of the following track, 1847, maybe is what could be considered closer to the unconvincing and partially improper classification of gothic trip-hop, used by someone to describe Anders Gross' music, even if the light distortion on the bass, reminding to me some treatments on the basslines Massive Attack used to spread, is soon replaced by a cradling folk-tinged movement. The only track with no voice, At The Edge, seems to be nothing but a puzzle of some sounds which deeply marked 80s ' I even recognized a reference to U2's With Or Without You'¦ -, but it's really well crafted! Tabitha's soft and feeble tone of voice stands out again in the hesitating False Prophets, a track whose programming is not exactly that kind of food sating the hardest-to-please listeners and even the techno-trance remix of this track by Phantoms of Paradise is nothing special, even if I've found quite funny to hear Tabitha's voice under disguise turning into a robotic creature, while I definitively don't understand the Avoid-a-void remix of Stone Thrower, maybe because the original track is good enough to be treated. The final track, Relief, could let you think someone has seated on the remote controller of your hi-fi system or you could even argue your neighbor is joking with you after buying a powerful universal remote controller'¦no prankster or heedless sitters indeed! Just a sweet pop ballad written by Tabitha, you'll appreciate anyway! There're maybe some slight flaws in this EP, but I couldn't say that I've not been positively impressed by the well balanced sound exhibited by Anders Gross on this occasion. Measured rhythms, lovely melodies, peaceful sound, intimate lyrics'¦ I feel that nemesis should sound out of place!
Dark / Gothic / Wave / New Wave / Dark Wave / Industrial Gothic
Edit (5950)
Artist:
Denight
(@)
Title:
Human Reflections
Format:
CD
Label:
Echozone
(@)
Distributor:
Masterpiece
Rated:
Human Reflections is the second full-length album by Denight (nice word-trick underlining the paradox of the light-in-dark imbuing their songs, mainly dealing with intimate and emotive themes such as human defects, greed, fear and soul depths, even if there're some themes closely related to contemporary history as confirmed by some words in the title-track ' 'We wage war for the so-called freedom/But where is it for those who lose?/Most times we fight for no reason/For land, profit or an evil we choose' -) this 6-members German gothic metal band, born from the sudden flash after the meeting of the auditory canal of the guitarist Tim Hochstetter (former member of Diary of Dreams) and the deep and velvety voice of the singer Stephen, playing under the Saturnian dim light, as suggested by their own sygil. They maybe doesn't add anything particularly innovative to the scene and I think that comparing themselves to similar bands such as Dreadful Shadows (especially in the use of voice inside the compositional structure, which is definitively very similar to the one by Sven Friedrich, even in his more electronic-oriented side project Zeraphine), Love Like Blood, Lacrimas Profundere or The Cascades (especially for the frequent inoculation of energetic and solid guitar riffs in each track'¦) is an appreciable act of intellectual honesty, but their technical skills as well as their sound, based on a mixture of gothic metal standards, metal ballads and even some slices of Wagnerian epic majesty, is quite convincing and the listener will easily admit Denight are some steps upwards if compared to similar bands. If I should say which tracks are better, I'll definitively suggest the smoother and slower ones (I particularly appreciated the delicate use of instruments and the guessed intertwining between rhythm and melody in Sorry and the melodic skin in The Core), but the up-tempo tracks are wisely forged and performed. Maybe they should dare more experimental musical solutions in order to tower above the scene in a more ear-catching way (the eye-catching graphic workout deserves to be mentioned for some nice choices such the opened eye printed on the bricks on the cover artwork, closing just under the cd'¦), but these first sprouts look promising'¦
Artist:
White Pulp
(@)
Title:
Lost Inc.
Format:
CD
Label:
Echozone
(@)
Distributor:
Masterpiece
Rated:
If you are asking who could be the moneyed partners of Lost Incorporated, the Italian band White Pulp which could potentially act as their supervisors seems depicting just their traits and their ways without naming them. Politicians, disco bitches, drunkards, drug addicts and even cliched dark or goth followers seem to crowd the rich imaginary inspiring their lyrics, even if the band created by Nuke and Sonny ' the bassist and the anti-hero looking front leader respectively - after a long and satisfactory experience playing covers from Marylin Manson's arsenal looks not so interested neither in celebrating summary executions nor in toadying the mentioned categories. Starting by some impetuous and scornful invectives of a track entitled Malediction (it seems referred to some fashion victims "drinking cups of rum and coke until their brain is afloat'') could belie such a consideration, but the general impression is that they are lenient towards sinners as they maybe partially feel as a part of them!

From the stylistic viewpoint, they improved the music formula they exhibited in their first full-length Ashamed of Yourself by filling the furrows traced alongside their artistic pathway up with more electronics - sometimes surrounding the classic goth-rock line up - and therefore I personally appreciated more those tracks whereas this electronic vein pulses stronger (such as Full Time Bitch - it's really funny the parodistic incipit based on the usual techno-trance tune turning into a solid goth-rock movement, highlighting the pitiless portrait of...you know what...just read the title! -, STFU - an attempt of invective against mass media frightening strategies -, A Lie In Everyone or Misunderstood Sweetnes - being definitively my favorite 'intimate' moment as well -), but it's undeniable they should work more on a really personal music language, too influenced by the mentioned experience as a Marylin Manson cover band as it seems they reprise its music which appears just filtered by fashionable eletropop soups a-la-Depeche Mode or slightly scratched by some industrial-rock clutches, but I argue they're on the right way. Paradoxically some listener could even appreciate more the 3 bonus tracks, which are just 3 acoustic versions of songs previously issued on Ashamed Of Yourself, revealing the melodic skeletons of White Pulp's composition. Maybe we should be patient and wait till the moment the value of Lost Inc. shares goes up...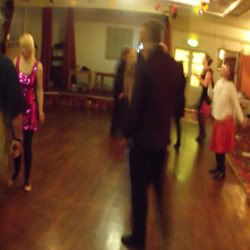 Artist:
Taub
Title:
The Wrong Path
Format:
CD
Label:
Bearsuit Records
(@)
Rated:
Project of Harold Nono (Bearsuit) and Me Raabenstein (Nonine), Taub just released their second album titled THE WRONG PATH. It contains seven new tracks that sound really interesting because of two main points: the complex sound structure and the atmosphere created. One of the tracks that is indicative of their sound is "Badlands": it blends jazz bass lines, keyboards/piano and strings with tiny treated sounds (short guitar distortions or noises) which also sound melodic. About the atmosphere, I liked the way they are able to build melancholic pop experimental songs making them sound as they were simple when they are a sort of ambient / jazz / pop / i.d.m. mix. I know that this could sound like they are making artsy pretentious tunes but try them and, in case that was your thought, you might change your point of view...