Dark / Gothic / Wave / New Wave / Dark Wave / Industrial Gothic
Edit (6143)
image not
available
anymore
Artist:
The Birthday Massacre
Title:
Pins and Needles
Format:
CD
Label:
Cellar Door / Dependent - Metropolis Records
(@)
Distributor:
Alive
Rated:
And there's once again that violet-black colored phenomenon, which hasn't reached the end of rope on its trail of victory and international reputation. THE BIRTHDAY MASSACRE offer us a new album musically pretty much in that style of Alternative-Electronica/Goth-Rock music, which has a serious chance for unexpected high album chart entries. The music sounds perfectly arranged enough, so that the matter of success only belongs on the amount of bucks investigated into promotion. At least for this point, no one is able to argue against the actions especially in Europe with efforts of different promotion agencies to take care of a functional mass-promotion. In times, when grandpa and 'mom start to whistle those chart-breaking tunes by UNHEILIG or HURTS, why shouldn't there a higher interest in TBM? For the track 'In The Dark' they've produced a professional video clip, and the current tour through diverse countries should be another milestone for this project. Musically their formula between classic Goth-Rock, Electropop-like Synthesizer-arrangements and Mrs. Chibi's brilliant and angelic vocal performance offers them all possibilities of entertainment, no matter, which of the mentioned styles has your personal preference. This ingredients completed by crafty and heart-felting composition qualities and of course supported by a top-notch studio production, should be enough reasons to give this project some respect. Die-hard Goth-Rock fans may will find their sound outfit quite too smooth arranged and their compositions a bit too far into the area of the Pop-/Alternative-music genre, but who cares? It's relative foreseeable, that TBM will reach and receive more new fans and friends, instead to loose too much of their supporters of the early hours of the band. Outstanding tunes asides 'In The Dark' I tend to name with their rather smooth and melodic tracks, 'Alive' and 'Pale' are worth a mention. Fans of the harder, a bit more driving tracks will find in 'Control' an ideal tune to share some movement on the dancefloors of the dark clubs. Good in all, although some tracks are sounding a bit too comparable to each other. TBM also leave out any unconventional musically surprises as all of their tracks on this album are turning out into a relative similar style.


Dark / Gothic / Wave / New Wave / Dark Wave / Industrial Gothic
Edit (6139)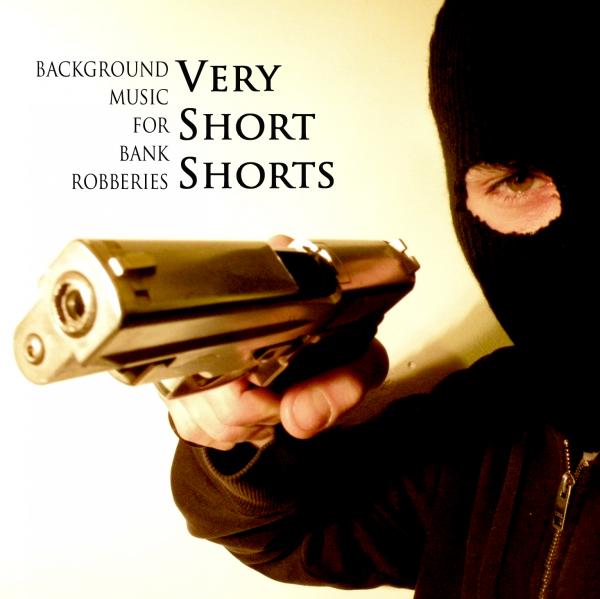 Artist:
VERY SHORT SHORTS
(@)
Title:
background music for bank robberies
Format:
CD
Label:
Bar La Muerte
(@)
Rated:
An unconventional band and record even for an heterogeneous label like Bar La Muerte, can you imagine a power trio of jazzy-soundtrack punks? Ok that's the case. The line up consists of a piano, a violin and a drummer, while that may suggest a variation to the original Dirty Three modus operandi, the result is much closer to some John Zorn's filmworks and to a jazzy, post-cabaret mix, all-you-can-mix salsa. I'm sure some of you may wonder if they work softly on slow atmospheric themes but I'm sorry for you, that's wrong since the drumming is solid, the piano follows firmly and the violin sails on and with them. Far from sounding depressive, ambiental or atmospheric in someway these guys made me think to some balcanic crossover band not for the style that here is quite different but basically the spirit is the same. What do I mean with that, this music can be played in a club, during a party and in a squat without being afraid to be out of place and that's what really makes this band "punk rock". Maybe the record is just ok and it still lacks of the intensity of some sountrack or of some unconventional bands from playing with genres but given the fact they have a goddamn technical skill and a hell of a taste it's just a matter of time. The cd is long enough to let you enjoy their music but it keeps far from boring repetitions. This' the music you should hear while watching a movie or just a tv-spot, or while losing sobriety with some friends. Can you imagine a punk answer to Stefano Bollani's sense of humor in music? Here it's!! Can you imagine something your mom and dad can dig as much as you?...here it is!!...so: keep it in the family!. Simple, perhaps nothing new under the sun, but really enjoyable: "let the music play...Barry!"
Dark / Gothic / Wave / New Wave / Dark Wave / Industrial Gothic
Edit (6136)
Artist:
Stoneman
Title:
Human Hater
Format:
CDS (CD Single)
Label:
TWILIGHT ZONE RECORDS
Distributor:
TWILIGHT DISTRIBUTION
Rated:
Stoneman is no anonymous band at all and that goes not only for their home country Switzerland. Those who are no newbies to the metal scene know that Switzerland has more to offer than overwhelming views, peculiar dialects and Samael. 'Human Hater' is a third album of this prime league Dark Metal act and is marked by '¦ hmmm'¦ hatred. Mikki Chixx (not an evil twin of Nikki Sixx), Iron Chris (must be a bodybuilder nickname), Mr Fly (for a white guy) and Rico H play traight forward and in your face Metal. The good thing about this album is that it offers certain diversity. More than most metal bands normally come up with. I guess this comes with musical experience and artistic growth. Stoneman has already toured with acknowledged acts such as Deathstars, Impaled Nazarene, Xandria and Wednesday13.
'Trail of Destruction' demonstrates how a metal band can tastefully incorporate keyboards into their song without sounding like a popish version of Dimmu Borgir. 'Built of Anger' is a really angry song with lotta screaming and not one of my fave compositions on the CD. Something like Alice Cooper gone Black Metal on cocaine. ,Sugar Mama' has got some Mötley Crew to it, only darker. I mean it in a positive sense. 'No Sweet November' is a very untypical composition for Stoneman. It sounds as if it had been written by Jyrki from The 69 Eyes. That dark rock romance with clear deep male vocals and it features Wednesday 13. No soft rock really but sounds very unmetally pleasant and suitable for mainstream radio.
All in all a very solid metal album with a number of interesting musical developments and ideas.


Dark / Gothic / Wave / New Wave / Dark Wave / Industrial Gothic
Edit (6126)
Artist:
Mystigma
(@)
Title:
Andagony
Format:
CD
Label:
Echozone
(@)
Distributor:
Masterpiece
Rated:
In musical terminology, the Italian word "andante" is normally referred to a moderate pace. A part of being the title of Mystigma's new release, following the appreciated Universal Surrender, Andagony could be considered a new way to introduce the conceptual score of the new album coming from this German gothic-rock band, formerly known as Tears of Mystigma, and could maybe refer to the general stepping of mankind as the musical tempo looks more like a brioso one, more vigorous than andante one, going ahead towards agony in the dark-tinged imaginary of its inventors. Well, don't expect to listen something astonishingly revolutionary from the somewhat seraphic hooded character presumably coming into a crypt and possessing the souls of the players, as even if Andagony is a collection of genuine and efficacous pearls of melodic gothic-rock, Torsten Baumer (singer and frontman of Mystigma) and his musical fellows rarely manage to ford the stylistical torrents already waded by big names of the German scene such as Dreadful Shadows and some attempts of spotting their formula with Depeche Mode-like nuances whose pulsations seem to be more perceivable in tracks such as Vision Incomplete or I Don't Need You could increase accessibility to the masses (or just bikers club or pool tables' goers...they will surely be entertained by the essential melodic structures, the rockish hooks watering the whole album as well as the faultless rolling guitar riffs - whose peak in power has been reached in Close To You, maybe the best track of the album -), but it doesn't really add anything new to the scene. That's why in my modest opinion Andagony, produced by Dieter Steffan at Lunatics Studios and audio-mastered by Vincent Sorg at Principal Studios, is a pleaseful and well-intentioned release and shows out some skills, but Andagony seems to be nothing but a good collagist manufact with appreciable cut'n'paste puzzles.
Active from the end of the 80s until the first years of 00s (but recently reformed and touring again), Starfuckers were an Italian band that started playing following the Stooges / MC5 revival that in Italy had different followers with bands that started as garage bands just to increase their distortion level (Monks, Sick Rose and Mouse Blasters were some of them). Their first album "Metallic Diseases", followed that style but soon after they changed everything by starting to experiment with guitar noise and lyrics. Writing their lyrics now in Italian language and singing them into a declamatory style, Starfuckers with their new MLP "Brodo di cagne strategico" could had been filed under the "conceptual noise" folder. The new detached vocals along with layers of guitar feedbacks often coupled to sax solos made of them a sort of Bukowski transposed to music. The following album "Sinistri" (available on this CD along with "Brodo di cagne strategico", two compilation tracks and another unreleased one) was even more conceptual and if on the previous MLP, guitar still had some Stooges influences, on this album improvisation and noise play a big part. Jazzy guitars and drums along with noise and theatrical vocal lines are the core of these recordings and only "Ordine pubblico" sounds like a sort of post rock track. ORDINE '91-'96 gathers this material and if you missed it, this is a good way to discover it.