Artist:
HUNTER COMPLEX
Title:
Hunter Complex
Format:
CD
Label:
Narrominded
(@)
Rated:
Hunter Complex is the project of Lars Meijer, guy already involved with Living Ornaments and Psychon and also one of the people who run the Narrominded label. HUNTER COMPLEX is his debut album under this moniker and contains twelve songs that find their roots into 80s electronic / synthpop music. Lars' songwriting recalled me the electronic wave of the last decade of 70s and the first three years of the 80s when people like John Foxx, Paul Haig and Thomas Leer were producing their hits. If you're questioning yourself if there is a reason why I picked up these three names, well for sure there is one: Lars, in my opinion, is looking for the right blend of electronic analog sounds and personal songwriting and for this reason we have intimate song like "Chinese restaurants" and "Fashion street" (with an upfront piano/organ duet that remind me of some Scritti Politti atmospheres), cold wave tunes like "Here is the night" (the last year Lars issued an E.P. with three mixes of the song, the original and the instrumental versions which is available as free download and as MCD) and "Kerosine". If you love all the kind of 80s wave bands, from Human League to ABC passing from A Flock Of Seagulls, Ultravox, Dalis Car or obscure cold wave bands, I suggest you to check Hunter Complex.
Dark / Gothic / Wave / New Wave / Dark Wave / Industrial Gothic
Edit (5858)
image not
available
anymore
Artist:
CLAUDEDI E NEMICI
Title:
S.P.Q.R.
Format:
10"
Label:
HauRuck! S.P.Q.R.
(@)
Rated:
After his recent collaborations with Malato, Circus Joy, Silent Pistols and The Sentinels, the ex Ain Soph's member Claudio Giammarini is back with a 10" recorded under the monicker Claudedi E Nemici (ideally giving in this way his tribute to a record he loves recorded by Boyd Rice And Friends). Produced and recorded by Ain Soph's member Marcello Fraioli and with the collaborations of Ain Soph live members GP Cioni ( P38Punk ) e Steve Stroll (Malato), Claudio split the two sides of the record giving to the lovers of minimal folk'n'roll three original songs "L'inizio di una nuova fine", "Immobile sul freddo marmo" and "Lacrime e santi" (song he composed originally for Ain Soph and released in a limited CD-r given free at one concert they did in Rome back in 2002). Mostly played with acoustic guitars and a bass drum/snare drum set, the three tracks aren't focused on musical virtuosity (deep in his heart Claudio has always been a punk rebel) but are able to talk to the heart. On side B you'll find two covers of Italian music legends: Decibel (band that recorded only two albums of which the first has been one of the first punk records) and Faust'o (Roman songwriter, Fausto Rossi gave life to great songs based on true life lyrics like the ones of "Benvenuti Tra I Rifiuti" or "Suicidio"). "Lsd flash" is a punk song picked up from the debut Decibel album and "Il lungo addio" is a new wave electronic originally recorded in 1979 and played by Claudedi E Nemici keeping true its original arrangement. Nice!
Dark / Gothic / Wave / New Wave / Dark Wave / Industrial Gothic
Edit (5857)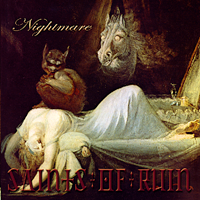 Artist:
Saints of Ruin
Title:
Nightmare
Format:
CD
Label:
Echozone
(@)
Distributor:
Masterpiece
Rated:
This release is the debut album from a californian goth/glam rock band. Just to be clear: they sounds good, probably they are a good live act, but they lacks songwriting. Goth rock is not a simple matter these days, or there's some original ideas so there's something important or, simply, there's great songs. This album is a collection of rock songs without a production able to emphasize the quality of the band, sometimes it sound like a good demo. It sounds cold, digital while they needed a more warm analog, live sound.
This is a good record only for collectors of the genre.
Dark / Gothic / Wave / New Wave / Dark Wave / Industrial Gothic
Edit (5853)
image not
available
anymore
Artist:
KEIKI
Title:
Waltham Holy Cross
Format:
CD
Label:
Cheap Satanism
(@)
Rated:
Presenting themselves like a satanic pop duo, the Brussels' band Keiki are bringing to the attention of our readers their second album titled WALTHAM HOLY CROSS. Dominique Van Cappellen-Waldock (voice and theremin) and Raphael Rastelli (guitar, programming and theremin) packed their album with noisy guitars, drum machine beats, theremin screams and above all, the distinctive Dominique's vocals which will make you recognize Keiki into a bucket full of CDs and not only because for how it sounds but also for what she sings. On WALTHAM HOLY CROSS you'll hear about Andy Warhol's mother ("Andy's Candy"), homosexual love between a mouse and a dragon ("Rainbow Cheese"), an English seaside town for the elderly ("Skegness)", the love of a butcher for a prostitute in an US mining town ("Lottie Johl"), cancer ("Forest Fire"), stalking ("Glue") or dissection ("Vital" ' a tribute to Japanese film-maker Shinya Tsukamoto). Musically Keiki mix 80s punk, 90s noise and alternative pop. If you like early Sonic Youth and early Siouxsie & The Banshees and you aren't afraid of a bit of originality out of control, you can check some tunes at their myspace page.
Artist:
VOIDWORK
(@)
Title:
Horror / Forsaken
Format:
CD
Label:
Black Drone
Rated:
Released by the Australian label Black Drone, HORROR / FORSAKEN is the first proper CD album for Voidwork, musical project composed by Xavier De Schuyter and Ann-Mari Thim (member also of Arcana and Seventh Harmonic). Inspired by early 20th Century horror literature and modern horror cinema, Voidwork is willing to create haunting atmospheres and by listening to the double feature album HORROR / FORSAKEN, I can only record that they succeeded into their aim. The first part (the one that sounds more immediate also for an occasional listener) is focused on folk melodies but without proposing the usual guitar / percussions based sound, the duo, mixed dark ambient atmospheres with chants and litanies creating a sort of dark ambient version of early Dead Can Dance. Tracks like "Marble steps" or the obsessive cyclic melodies of piano and percussion duet on "The serpent's lullaby II" and on "The descent" for sure will convince you. The second part (FORSAKEN), starts with "Akhenathon", an acoustic song that sound like a malediction and follows with "Ghostlight", "Forsaken", "Pillars", "Circle", "Nightmare" and "Crave", tracks which are focused on cinematic dark ambient atmospheres with piano inserts here and there and minimal melodic lines. Personally I found the first part really great (various, personal and enchanting), while the second creates a good hypnotic ambience but a bit usual for dark ambient music.