Artist:
øjeRum
(@)
Title:
Stilhedens Strømmen I Fuglenes Blod
Format:
CD
Label:
KrysaliSound
(@)
Rated:
The title "Stilhedens Strømmen I Fuglenes Blod" (it should be Danish for "the flow of silence in the blood of the birds") could fit to the sound you'll meet in this release by Danish visual artist (I guess he made the meaningful collage of the cover artwork) and musician Paw Grabowski aka øjeRum: initially issued in a very strictly limited edition of 30 self-made cassettes in 2016 and recently re-issued by Italian label KrysaliSound, which kept the hiss of the tape during the mastering, the sound gets unrolled over a one single 30 minutes lasting track, based on repetitive loops of a slightly pinched acoustic guitar, sparse elongated sounds, abstract field recordings and other evanescent resounding entities (including birds, of course!). Paw shows he learnt the minimalist lesson by the way he stacks identical chords through unperceivable (the tonal ones) or clearly (the length of the whole phrase or of single tones) listenable variations, but besides some insertion like the hits on glass (following the same speed of the guitar chords after 7-8 minutes), the fading of music overwhelmed by almost silent field recordings in the middle of the recording and an unexpected flooding of an ambient ghostly pad in the last minutes, the composition is quite flat. It can match a vague sense of loneliness, a romantic (in the authentic meaning of the word...) dazed melancholy or a merely hermetic detachment, but a mushrooming of this dark-tinged ambient-folk in the music (more or less independent) market is getting closer to those cliches, that should maybe have been antithetical in the guise of many musicians orbiting around these sonorities.
Dark / Gothic / Wave / New Wave / Dark Wave / Industrial Gothic
Edit (10575)
Artist:
Ghost Painted Sky
(@)
Title:
Flightless
Format:
CD + Download
Label:
Restless Grey
(@)
Rated:
Ghost Painted Sky is a goth/darkwave band from Northampton, Mass., and 'Flightless' is their first full-length release after a few EPs going back to 2014. GPS stated out as the solo project of David Strong but now includes vocalist Lisa Wood. 'Flightless' consists of 13 tracks full of melancholy atmosphere. There's a lot of old school flavor updated with a modern sensibility. Opening track "Liminal" is drum-heavy tribal in which we get a hint of Lisa's prowess with wordless vocals. The music still continues along tribal lines on "Cleansed" with the addition of doomy guitars and Lisa's vocals take center stage with a touch of the shamanic. Okay, I'm impressed now, but can they keep it up? Well, not really. Most of the rest of the album kind of sags and drags with mostly David on vocals. I'm getting rather bored until Lisa returns on the 12th track, "A Fleeting Moment" which is refreshing. She also appears on the final, and title track "Flightless". It's obvious to me now that without her vocals the songs sound lackluster. It seems to be a typical case of too much too little too late, but I've always been a picky goth when it comes right down to it. I wouldn't pass this up out of hand, but I would recommend listening to it first. Maybe you'll have more of a taste for David's vox than I did, and maybe you'll be less critical about the songwriting too.
Dark / Gothic / Wave / New Wave / Dark Wave / Industrial Gothic
Edit (10574)
Artist:
Guillotine Dream
(@)
Title:
A War on the Passage of Time
Format:
CD + Download
Label:
self-released
Rated:
Finally Guillotine Dream has a new full-length release, titled 'A War on the Passage of Time,' the followup to 2016's 'Lemuria' mini-album. For the uninitiated, Guillotine Dream is a UK goth band under the leadership of Ian Arkley (known as Arc in this project), who is better known for his Gothic Doom Metal band My Silent Wake. Guillotine Dream is really nothing like MSW, with a much more trad gothic rock sound along the lines of Fields of the Nephilim. While 'Lemuria' opened strong with its title track and showed much promise, it did sound a bit self-indulgent at times. The first two things I noticed about 'A War on the Passage of Time' is how atmospheric it sounds, and also how comfortable the band sounds with the material. Not to say that the songs sound "comfortable"; they're generally a bit more malevolent and darker than those on 'Lemuria'. Arc sets the mood right off the back with the fast-paced "Primitive," surely an attention getter. It's the medium-paced "Code" though that really draws you in. Even more atmospheric is "Succubus Sigh," a gothic love song devoid of sentimentality. "Signs" picks up the pace again in near breakneck fashion racing towards the edge of some unfathomable precipice and sailing over the cliff of doom with aplomb. I should mention that although Guillotine Dream often gets compared with FOTN, there's none of that undead ZZ Top vibe the Nephilim were so prone to. Arc's voice is not unlike McCoy's so that's why comparisons are often made. Title track "A War on the Passage of Time" is less dynamic than I expected, but it does ooze dark atmosphere. Even more effective though is "Darklings Rooms," a song that is Goth 101, but done perfectly. "Number 16" is about a house that you really don't want to visit; a place with a reputation for unspeakable evil. ("They say it's a house of death...nobody's welcome here...") "Dead Genius" is an agonizingly slow crawl that even with vocals is 90% atmosphere. The album ends with a reprise of "Lemuria" from the first album, but it's done a little different this time out- a little lengthier, dispenses with any acoustic guitar, and has a less goth-pop sound fitting in more comfortably with the other material here on this album. Which is better? (you may ask), to which I'd reply, they're both good in their own ways, but it's almost like a different song. While the former version is stronger, the latter is more atmospheric. In total, Guillotine Dream have managed to put out an uncompromising goth album to be reckoned with; one that does not sacrifice one iota of dark gothy atmosphere for the sake of commerciality. In these times, that's to be commended. (CDs are limited to 333 hand-numbered copies.)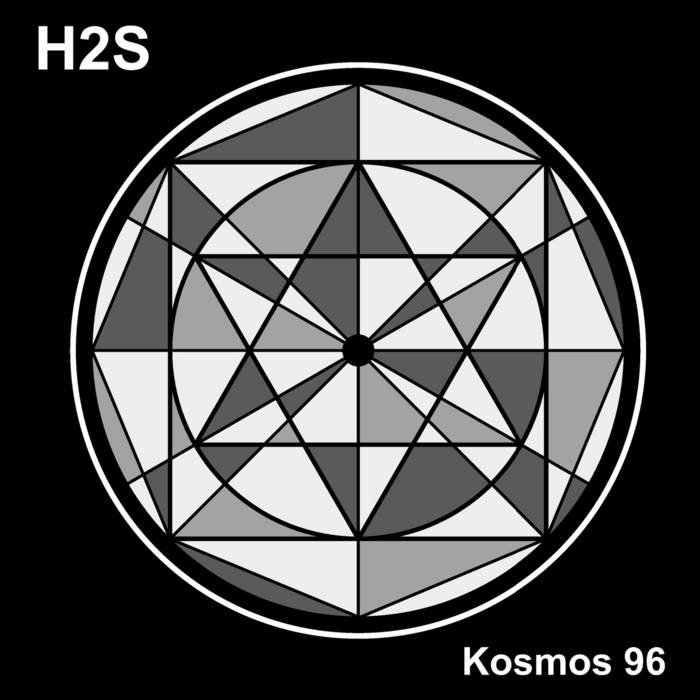 Artist:
H2S
Title:
Kosmos 96
Format:
MCD (Mini CD)
Label:
Biotasi Records
Rated:
Eleven years after the latest album titled "Proteus Soundtracks", H2S, solo project of Fabio Degiorgi, is back with a new mini album and a new sound. In 2007 we left Fabio dealing with "tracks always in balance between experimental intuitions, industrial sounds and also a bit of post punk/new wave", quoting my own review I wrote back then. What we have now? For "Kosmos 96", Fabio composed five new instrumental tracks which are sounding more cinematic and melodic. Somehow is like on this new release he gathered all his past musical experiences (he plays bass guitar with the wave band Vidi Aquam and played for the hardcore band Crash Box, for the garage psychedelic band Four By Art, etc.), packed them and decided to take a trip to Venus (the title track is inspired by the Soviet space probe part of the Venera project which was shoot into space in November 1965, just to fall back to earth in pieces two weeks after). Fabio in the presentation sheet named as main references the 70's cosmic travellers coming from Germany (Cluster, Tangerine Dream, Popol Vuh, early Kraftwerk, etc.) and also the most experimental wave bands of the 80's of the likes of Tuxedomoon or Eyeless In Gaza. Well, with "Il terrazzo di Glottertal", "Fontange De Donis", "Organia", "Kosmos 96" and "Kopli" he succeeded into creating his personal soundtrack which is not only able to lead you to an imaginary travel through melancholic landscapes but it's also able to allow yourself to let you loose into synth suites enriched by clean guitar arpeggios and treated bass guitar lines... no drums allowed! Really nice release which can be yours for 5€, if you want to own one of the fifty CDrs or only 2€ for the Bandcamp download!
Artist:
Alberto Nemo (@)
Title:
6x0
Format:
CD
Label:
Dimora Records
(@)
Rated:
When you pull the CD out of his case for the minimal limited edition (150 copies only) of "6 x 0", you can read a sentence "etsise non ehc otrebla nu otama oh", the reverse for "ho amato un alberto che non esiste" (Italian for "I loved an Alberto who doesn't exist"). The Alberto, who surely exists, has a distinguishing mark/natural gift, a remarkably piercing voice, whose trembling timber on high tones is not that easy to find between male voices, the Alberto who shouldn't exist or the one existing within an imaginary mirror is the one you can listen on this interesting album, where the Venetian vocalist recorded six track (played on reverse -!-, the style fluctuates between contemporary classical, sacred music, minimal electronica and drone music) before recording their reverse on the studio. A guessed precedent he quoted to render an idea of what you're going to listen is the extraordinary soundtrack of Stanley Kubrick's "Eyes Wide Shut" by British composer Jocelyn Pook as well as some experiments by notorious bands such as Dead Can Dance or Coil (and I'd also add the first outputs by Enigma as well as the ones by many intimistic modern Greek singers). I won't label this output as a merely formal exercise, as I think it's consistent with the intrinsic duality of the sound where his voice, encrusted like a shining diamond reflecting unnatural obscure beams, such as the last track "Emama" (a sort of reversed invitation to love him...), a breaching palindromic counterpoint to the above-mentioned assertion.