Artist:
VV.AA.
Title:
Wave Earplug No. 2
Format:
12" vinyl + Download
Label:
4mg Records
A ten-track collection of pan-European synthwave music, the second volume of "Wave Earplug" is a worthy sampler of a variety of dark-edged alt-synthpop you may not have already encountered. For the most part it's a variety of artists revelling in old-school analogue synths and some quite lo-fi and industrial production values, as though the 90's and beyond had never happened, but it's none the worse for it. Tightly-constructed under-four-minute pop songs of vocoded vocals and bright melodies over simple proto-techno grooves pervade.

Strong tracks include Staatseinde's driving and squelchy "Repa" (particularly the surprisingly operatic finale), the heavier-kicked rumbles of ImiAFan's "Sekundenzeiger" and the early-Depeche-Mode-like "Moonlighting" from Arsenic Of Jabir. Noisebrigade's "X-Rays" wraps things up with a nicely dark twist.

A couple of tracks, like Machinepop's "Integrated Circuit", perhaps have too much of a homegrown bedroom demo feel to their production.

It's well curated in that there's a lot of consistency- save for the vocals it would be easy to believe that most if not all of these tracks had been produced from one source- but it's perhaps lacking in real standout highlights that would make you reach for this compilation for frequent repeats. For wave fans though, this is a healthy dose of new material and could well open your door to some new artists worth further inspection.
Dark / Gothic / Wave / New Wave / Dark Wave / Industrial Gothic
Edit (10384)
Artist:
Sweet William
(@)
Title:
The Early Days 1986-1988
Format:
CD
Label:
D-Monic Records
(@)
Rated:
Sweet William are back with something new that's old, or something old that's new. These are songs from the band's earliest days (1986-1988) when they were more post punk than goth, and certainly sound like it too. Unfortunately there were no good studio recordings of the band's songs from this time so they did the next best thing- went into the studio (2016-17) and recorded them. No jazzed-up, modernized production here- Sweet William wanted to make these tracks sound like their late '80s album that never was, and to their credit, they succeeded. Maybe the band is more polished now than they were back then, after all, being together for so long will do that. Still, the songs speak for themselves, short (for the most part) simple and to the point. There are shades of Joy Division, Wire, The Birthday Party, The Chameleons, Killing Joke, Red Lorry Yellow Lorry, and perhaps most notably- Bauhaus. Although I'm sure Oliver Heuer and the band had other influences (such as Dylan on "An Impression of Life," and the Stooges elsewhere) but vocally if you took equal parts of Nick Cave, Peter Murphy and Ian Curtis, with a slight dash of post-Japan David Sylvian it might sound something like this. The eleven songs on this album are as good as anything those aforementioned bands were producing in their early days, perhaps with the exception of their most iconic song(s), but it took a decade of hard work and evolution for Sweet William to achieve a decent measure of success. While this album is more or less a time capsule, I believe it stands on its own as a remarkable achievement. If it was released in 1988 and I had heard it at the time, I definitely would have bought it, and likely played it a lot. There is plenty of atmosphere and attitude here, and you can tell where this band would eventually be heading. Interestingly, there is only one song sung in German ("Gelb Und Grun") and that's pretty short. Fine by me though, as it adds a bit of 'tude. It was certainly a worthwhile endeavor for Sweet William to reproduce these songs without bastardizing them as some groups might have been tempted to do. Recommended!
Artist:
Cesium_137
(@)
Title:
Rise To Conquer
Format:
CD
Label:
Metropolis
(@)
Rated:
The saddest thing of this seventh album by FuturePop band Cesium137 is the fact that this soufflé that didn't arise is a dedication to Matt Cargill, co-founder of the band together with Isaac Glendening when they were students at high school, who left it to pursue a military career (firstly in the Army and then in the Navy) before his death for natural causes at the age of 22, occurring on April 2017. The baffling aspect of this album is the combination of uplifting EBM/EDM sonorities (a way to cheer them up by themselves?), memory-loaded lyrics and clues of "eschatology" that are clear since the intro of the opening "Tempest" (sounding like the soundtrack for a Baptist funeral oration...), but sadly (as I said) there are too many (genuinely musical) aspects of this release, that make me feel really perplexed. Lyrics are quite poor from the literal viewpoint and the flat vocals (often out-of-tune) don't really help to make them up; forthermore the synth-driven choruses and the celestial artificial fanfares, that sometimes resurface in the tracks of this "Rise to Conquer" (someone couldn't really understand why flaunting a feeling of militancy while reminiscing a dead friend, even if he was a soldier...), don't counterbalance a certain lack of stylistical originality and a couple of good tracks ("Diver" and "Consequence") are not enough in my opinion. Maybe the worshippers of the band could find other reasons to buy and listen to it...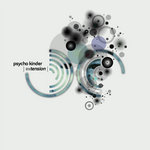 Artist:
Psycho Kinder
Title:
ExTension
Format:
CD
Label:
Alienated Records
(@)
Rated:
This new release from the project by Alessandro Camilletti is not the proper follow-up of the well received "The Psycho Kinder Tapes" but is a collection of remixes framed by two tracks based on spoken word by Valerio Zecchini and Andrea Chimenti upon the evocative background by Giovanni Leonardi. As almost all these kind of releases, it's a multifaceted release where the choices by the remixers makes the differences.
While the first remixes are roughly dance floor oriented and are a little addition to the framework of this project which, as based on new wave, is reasonably catchy even if it's sometimes experimental. However with the remix of "Oltre il tempo" by Deca there's at least a link to the frame of this release as it takes the voice in the framework upon a dark rhythmic pattern evolving in a final quiet part based on synth. Then two remixes raises the bar: the remix of "il tramonto dell'evidente" by Carnera which add a martial and noisy element to the music and has a audio spectrum of remarkable quality at the cost of almost erasing all the lyrics, and the remix of "Vivo e invisible" by Miro Snejdr which underline a layer of piano and a rhythmic structure to a track originally almost austere in his construction.
As it could be expected, this is essentially a release for fans and collectors and its best moments (Miro Snejder and Carnera) were already present in the previous release. Fans of this project will have some enjoyable track to listen and the others a simpler approach to Camilletti's music which has an uncommon depth, but the best moments are elsewhere.
Dark / Gothic / Wave / New Wave / Dark Wave / Industrial Gothic
Edit (10253)
Artist:
My Silent Wake
(@)
Title:
There Was Death
Format:
CD
Label:
Minotauro Records
(@)
Rated:
'There Was Death' is the 10th studio album from Somerset, UK Gothic Death/Doom Metal band My Silent Wake. In the not too distant past I've reviewed a couple of their more experimental non-metal albums ('Eye of the Needle,' 'Invitation to Imperfection') and was really impressed by what I heard. Now I wouldn't count Gothic Death/Doom Metal among my favorite genres, but that doesn't mean I don't appreciate it once in a while. The ringleader of this outfit - Ian Arkley (lead vocals & guitar) is not one to sit idle, and I probably should have expected a new MSW album by now anyway. On this album the rest of the band is comprised of the usual suspects - Addam Westlake (bass), Gareth Arlett (drums), Simon Bibby (keys & vocals), also with some guest growls and screams by Esoteric's Greg Chandler, who also recorded, produced, mixed and mastered the album. (Nice job Greg.) I briefly went back and listened to MSW's 2015 'Damnatio Memoriae' album to get a feel for the band in their GDDM mode, and also to see how they progressed in the genre. In some ways it's a step beyond, in some others not so much. 'There Was Death' is 9 tracks, a sort-of concept album (on death, obviously) which opens with 'A Dying Man's Wish.' This is a morose mass of sludge that crawls along like the dying man in the title. Arkley's typical guttural growly vocals seem more like they're narrating a story on this one than singing a song. Plenty of doom and gloom, but it sound very indulgent and fails to ignite the spirit. Oh boy, if the rest of the album is like this, it's gonna be a bumpy ride. Fortunately the next track "Damnation Memoraie" (btw, not on the album of the same) redeems the opener quite nicely. It give you nearly everything you might expect from a great Goth/Doom/Death Metal band- good catchy riffs, momentum, forceful vocals, nice changes, and excellent playing all the way around. "Killing Flaw" rips it up for 2 1/2 minutes before Arkley even gets a gruff word in. It also happens to have a spooky gothy organ break. "Ghosts of Parlour Lives" is my favorite track on the album. It begins like a darkwave number, with a lighter touch, but turns somewhat metal a little ways in. Kind of balladish, but not what I'd call a true ballad. Nice chorus of voices, and I'd swear there's an (uncredited) female in the mix. Although I've heard only a fraction of MSW's albums, this song may well be the best thing Arkley's done in this genre. There's a sensitivity too it that is often lacking in this kind of music. It also sports some very cool changes. "Mourning the Loss of the Living" is only a 36-second transitional piece of just Ian's voice and guitar in non-guttural, non-metal mode, and it sounds pretty good too. Title track "There Was Death" is a bit disappointing not having anything outstanding going for it other than speeding up toward the end. "Walls Within Walls" is a hard-charging number with more oomph, and it just might appeal to metalheads of any stripe. "No End to Sorrow" sounded like a completely different band at first with acoustic guitar and Arkley's non-growling vocals which turn growly on the second verse. And uh, yeah, this is a goth doom-death metal ballad. The album ends with "An End to Suffering," at first an atypical track for the GDDM My Silent Wake, sounding more like it belongs in their experimental camp with quieter acoustic string instruments and harmonium, until the anthemic metal buildup at the end. The vocals are (mostly) gruff but it's a nice mood piece anyway. I can see Gothic Death/Doom Metal fans going nut over this album in spite of what I believe are some shortcomings. Definitely worth a listen anyway even if you're not a big fan of the genre. It hits the market in February exclusively on the Italian Minotauro Records label (Music from the Labyrinth). BTW, the album cover is by the renowned Finnish artist Juha Vuorma.