Artist:
Zanti
Title:
Broken Hearted City
Format:
CD
Label:
Downwards Records
Rated:
When I received the Zanti CD I didn't know what to expect from the music composed by two guys who were really famous in the 80s and which are still rockin'. Anni Hogan played with Marc Almond, being part of the Mambas, La Magia and The Willing sinners and in the years did several solo records where her piano was the main instrument. Three years ago, I reviewed "Millions Of The Mouthless Dead", album she did with Attrition's Martin Bowes where they composed an imaginary soundtrack that was focused on the dramas of the WWI. The album before that, "Mountain", also was a particular one: it was a CD/DVD where she performed on her piano some tunes, Itchy Ear manipulated them on pre-production and then Robert Strachan re-imagined and remixed. The other guy of the Zanti duo is Derek Forbes. He played bass guitar with Simple Minds from day one until 1985 and again in the album "Neapolis". After Simple Minds he joined Propaganda and from 2012 he's playing bass with Big Country. Well, after listening to the eight tracks of "Broken Hearted City", I can say that I'm amazed. Every song is a potential single. When they sing solo or duetting, they are able to create a magical atmosphere where you can feel how much of themselves they put into these songs. The opening "Scream Machine" is a powerful tune where Derek's voice is upfront. The surprise is that he has a really good voice and he's a good performer too. On This tune, guitar and rhythmical loops form a psychedelic vortex where bass and piano are like brushes which enrich a rough canvas. "Lonesome" is a perfect song where the dualism of the couple create a really nice contrast. When Derek is singing we have light distorted riffs and his voice which is almost recitate. When is Anni's turn, the song is turning into a ballad where a trumpet, strings, acoustic guitar and the piano soften the atmosphere. Really a great effect. "Will You Be Mine" has a great melody, so 80s but the arrangement is modern, with a distorted bass going in and out and orchestral openings where the piano and the strings change everything. With "Head Sounds" I couldn't believe my ears… the bass sounds like "Theme From Great Cities", from the "Sister Feelings Call" album but this time all the other sounds are different, even if the atmosphere can recall that jewel recorded in 1981. "Head Sounds" starts with a melody that recalled me Great Britain's folk songs but in the background Derek's vocals is treated recalling me the sound of a didgeridoo. Distorted guitars in the background, spare piano chords and Anni's vocals make of this a song that you will want to listen again as soon as it's over. "Planet Sweet" recalled me Marc Almond's songs of the "Enchanted"/"Tenement Symphony" era and it's really nice. "Broken Hearted City" is a piano ballad so touching that Derenk's vocals would be enough and you would be mesmerised anyway. "Paris Vortex" is Anni's moment. Into this one she's a real diva. If this song would have been released back in 1985, it would be in the charts, you have my word! The piano, the strings, the robotic minimal rhythm are building the base of the track where her is singing a melody that will be stuck into your head for days, along with Derek's simple chorus. "Universe Of Love" closes the album with a sort of dreamy coda where all the other songs go to rest quietly until the next listening… and be sure, you'll do many of them. Check it now! You won't be disappointed!
Dark / Gothic / Wave / New Wave / Dark Wave / Industrial Gothic
Edit (10505)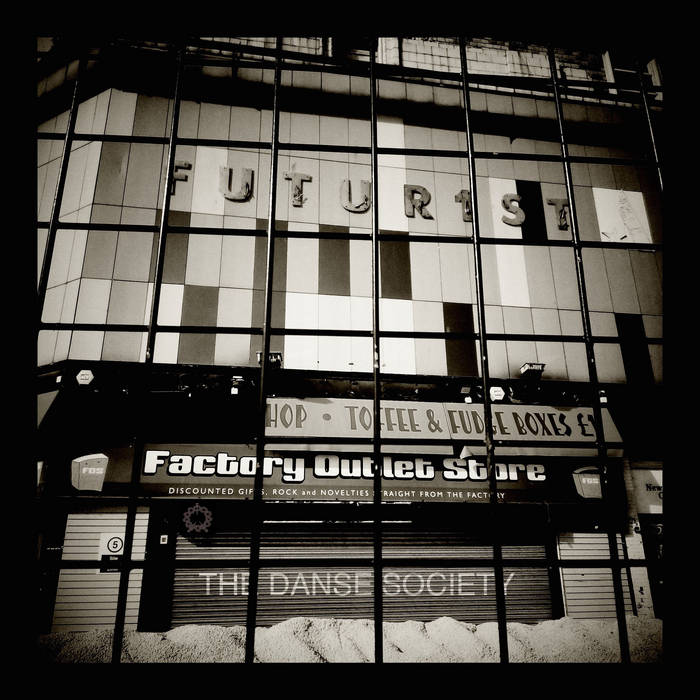 Artist:
The Danse Society
Title:
Futur1st
Format:
Download Only (MP3 + Lossless)
Label:
Society Records
Rated:
Released as a digital only single, "Futur1st" is the newest release for The Danse Society. While waiting for the conclusion of their seventh album's recordings, this single is available on Bandcamp to help raise funds for The Sophie Lancaster Foundation and contains the cover of N.I.N's most famous song "Hurt", plus " One thought in Heaven" and "Scream". Being covered also by Johnny Cash, who did an incredible version which in my opinion is better than the original, it was difficult to top that. The Danse Society did a good job with their version taking a bit of inspiration from the Cash's one by starting with a whisper and then exploding in the final part. Maeth reached her darkest memories of abuse and gave a good performance on the song. A curious note, Danse Society choose not to follow exactly the melody of the verse and this is giving a distinctive character to the track. The following two tunes are really nice: "One Thought In Heaven" is a classic song in the style of the reformed band which is redefining their dark sound adding somehow a bit of rock and "Scream" is sounding a bit new wave and has echoes of Siouxsie And The Banshees with some 00s flavour. Nice release that you can find at the band's Bandcamp page (https://dansesociety.bandcamp.com/album/futur1st) and at a the main digital stores.
Dark / Gothic / Wave / New Wave / Dark Wave / Industrial Gothic
Edit (10494)
Artist:
Råhypnos
(@)
Title:
Do We Want It?
Format:
CD
Label:
Heptown Records
(@)
Rated:
Råhypnos is a darkwave band from Gothenburg, Sweden, consisting of Nadja Virgé and Pablo Rautenberg formed in 2015. Their debut was a self-titled EP in 2016. Both members sing and likely play all the instruments (guitars, bass, drums, keys) on the album although there are no individual credits. Something about the songs and their delivery reminds me of the more commercial side of The Swans, although one could hard call The Swans commercial; perhaps just the more accessible side of their music. Although there are other aspects that might be comparable to other (more darkwave) bands, it's just the way these two work together that reminds me of Gira and Jarboe. Granted, Råhypnos is generally less abrasive and depressive, but I think if Gira and Jarboe had stuck together they might have ended up sounding something like this. So with that in mind, I think Råhypnos sounds a bit more American than Nordic, although there are practically no American bands doing music like this now. Even Pablo's vocals have a sort of flat midwestern ring to them. Nadja's voice is strictly Euro though. (Sometimes reminds me of Claudia Brücken.) It's hard to pick a standout track on 'Do We Want It?' because it's one of those albums that has a certain flow to it and all the songs work well together in something like a song cycle. Brooding and melancholy but not hopeless, and brief with only 10 tracks at 32 minutes total. It way take a few listens to really get into, but worth putting the time in to do so.
Dark / Gothic / Wave / New Wave / Dark Wave / Industrial Gothic
Edit (10493)
Artist:
Florian Grey
(@)
Title:
Ritus
Format:
CD
Label:
Echozone
(@)
Rated:
Florian Grey is a German gothic rock band fronted by vocalist Florian Grey, with bandmates Von Marengo (guitars); Yannik "Rage" Bockelmann (drums); and Simon Zlotos (keyboards/bass). Hell Boulevard Frontmann Matteo Vdiva Fabiani also provides some guest vocals. 'Ritus' is their sophomore album after 2015's debut, 'Gone'. Mr. Grey was previously with the band Eve's End, and although he started this new enterprise as a solo project, it's developed into a regular full-time thing. One listen to 'Ritus' and it sounds like these guys have been around a lot longer than 2015. There's a professional quality to it that bespeaks lots of experience, and although some of that may be due to producer Hilton Theissen, it's Florian and the band that are doing the heavy lifting here. The first thing that makes this band stand out is Florian's strong, distinctive, melodic baritone vocals. Nothing gruff, screamo or harsh here, just an excellent voice. Next thing you may notice is the plethora of hooks, and while not all equally potent, there are enough standouts to make you want to hear them again, and that's a really big plus. Third is the musicianship and arrangements, both of which are impeccable. With all three going for the band, this is a killer combo. And it's not just the songs, but also the atmospherics which are important in gothic rock. Although the band does occasionally sound more alternative than goth (owing to a more pop-commercial than arcane appeal) there is enough dark matter to pull the listener back to the black. While I wouldn't call the band goth metal, Von's guitars have plenty of edge that often lean in that direction giving the band a certain toughness, especially on "Blucifer" (which opens the album), and "Relief," two of the best rockers on the album. Another song that deserves mention is "My Babylon," perhaps the real hit single off this album. From song to song there is plenty of variety- up, down, and mid tempos that keep the listeners engaged. And of course, all songs are sung in English. You know, some of the best gothic stuff is coming out of Germany these days (Such as the band The Cascades) and with Florian Grey's crossover appeal, they really should be popular in America as well. (Why can't we have talented bands like this here instead of the crop of whiney-ass millennials that always seem to be in the spotlight?) Unfortunately it's expensive to tour (especially in the States) and unless there's a big pile of money behind a band, it just can't happen. For my money though 'Ritus' is an excellent album, well worth purchasing, especially in an age of hit-or-miss efforts. You should visit Florian Grey's website too because it's very well done, better than mnany I've seen and that's another plus.
Artist: Semiotics Department Of Heteronyms
Title: s/t
Format: 12" vinyl + Download
Label: Avant! Records

When reviewing recent single "Tell Them", I praised the 3-pack of slightly hard-edged synthwave-synthpop, saying "if an SDH album appears I will definitely check it out". Now that the album's here, my expectations are met, but perhaps not exceeded.

Here you get eight strong bits of synth songwriting, some pop-radio-edit length, others allowed to breathe a little more but never straying too far from conventional song structure. There's a slightly lo-fi, proto-techno analogue feel to the warm analogue low end sounds and the sometimes rather echo-heavy vocal treatment that gives everything a gently raw flavour. Firmly rooted in the sonic values of the synth 80's, it rolls along nicely but a little predictably at times, and by the time you reach "What Did I Come For", you do begin to wonder whether more synth sounds might have been available.

The vocals are quite velvety and confident, but never really pushed very hard, tending towards whispered and even spoken-word vocal lines rather than anything bolder. The PR sheet's comparison of the vocals to Dolores O'Riordan is a little ambitious, though you do hear the same celtic twang in "She Uncovers Before Me".

Perhaps predictably for a first album there's a feeling of defining a sound rather than pushing it here, epitomised by tracks like the strong "Guilty And Gifted". "Mean" is the most ambitious track, a pulsing seven-minute affair with quite a cinematic feel.

A strong, relatively compact bit of dark synthpop with more than one foot facing to the past, SDH's self-titled first full-length album is steady rather than amazing.