Dark / Gothic / Wave / New Wave / Dark Wave / Industrial Gothic
Edit (6186)
Artist:
Sophia
(@)
Title:
The Collective Works 2000-2003
Format:
4 x CD (quadruple CD boxset)
Label:
Cyclic Law
(@)
This box collects the early works of the band formed in 2000 by Peter Bjärgö of ARCANA fame and well known for their mix of martial rhythms and ambient-like soundscapes. The press release, however, is a ten track selection from this box and, supposedly, a sort of best-of because the quality of the sound material is truly remarkable. The level of detail of "Aus der Welt" is able to evoke a tragic atmosphere of decadence. The "Herbstwerk" titletrack is a militar anthem probably inspired by images of battles between good and evil. "Strenght Through Sorrow" seems to deal with all the cliche of the genre, the lyrical-like chorus, the emphasis of the horns etc. but escapes them with the measure in the juxtaposition of the musical elements. "Watching it drown" is characterised by the use of a harsh distorted vocals that introduce a noise element in the musical structure. "Winterflame" is a battle between the loops that construct this track.
In some sense this album is not rankable because is only a relatively small selection of the entire work, but, supposing this is the quality level of all the box, this is a sure pick for fans of martial industrial music. A remarkable release.
Dark / Gothic / Wave / New Wave / Dark Wave / Industrial Gothic
Edit (6174)
Artist:
Tranquilatwist
(@)
Title:
Down About the Ceiling
Format:
CD
Label:
self-released
Distributor:
Trouble Street Records
Rated:
Seldom do I go out of my way looking for trouble, er, I mean new music to review but every once in a while something comes to my attention that I can't resist. Such is the case with Tranquilatwist. I was thumbing through the glossy pages of a well-known Goth zine when I came across a small review of this band. It sounded interesting enough to check out so I headed to their MySpace page to give them a listen. Liking what I heard, I decided to request the CD from the band for a full and proper review.

Tranquilatwist is an outfit Rochester, NY, only a hop, skip, and a jump from where I'm at. It's a delight to find a band in this neck of the woods doing something different as most Upstate NY bands seem to be fairly conventional. Tranquilatwist is a female-fronted gothy-dark trip-hoppy group'¦think sort of Portishead, Hungry Lucy, Collide, Tapping the Vein, and the short lived Violet Indiana. Yet, Tranquilatwist seems to take some of the best elements of this style and fuse them together. The main reason it really shines is due to the amazingly emotive and soulful vocals of Karlie Cary Lanni. In some places she's as smooth and placid as Sarah McLachlan and others as over-the-top as Siouxsie Sioux. (It doesn't hurt either that she looks the gothic chanteuse.)The other two band members, Anthony Lanni and David Michael provide a solid and varied musical backdrop for the moody songs on this debut outing.

'Down About the Ceiling' is 8 tracks (well, seven really since one is only a 46 second interlude) that falls somewhere between an EP and a full album. Overall, there is a dark and melancholy tone to this collection of tunes; more moody than depressing. Sometimes Lanni's vocals are bluesy, perhaps in a simlar vein to Beth Gibbons, but less fragile. The musical arrangements are spot-on for the material- a good blend of guitar, keyboard and electronic work, bass and rhythm tracks; inventive and ominous enough but never overwhelming. The perfect foil for Karlie's vocals. The songwriting is solid too. (I occasionally hear shades of Kate Bush.) There really isn't a bad track on the CD, although some may grab you more than others. Perhaps the most commercially accessible tune is 'Grounded,' but if I had to pick a favorite, it would probably be 'Charade' for its gut-wrenching drama. I even like the artwork on the CD ' cutesy surrealist goth courtesy of Abril Andrade Griffith. And the CD itself looks like a little black vinyl record. (You can find it at their website, CD Baby, iTunes or Amazon.)

This is very worthy debut effort from Tranquilatwist, and you're sure to hear more about them in the future, most certainly if and when they tour. In the future I'd like to here them stretch their musical boundaries even further afield. But who knows what the future has in store'¦

image not
available
anymore
Artist:
Swans
Title:
My Father Will Guide Me Up A Rope To The Sky
Format:
CD
Label:
Young God Rercods
(@)
Rated:
At this point I'm sure everyone has heard that Swans is back. They've been touring and selling out venues all across the US. Unfortunately I missed them when they played in New York but everyone who's attended described it as an amazing and intense show (and one of the loudest ever!). Judging by the opening track of their new CD, I think I know what they are talking about. The sound of tracks like "No Words/No Thoughts" or "You Fucking People Make Me Sick" is just massive! The sonic attack perpetuated across the album is relentless and only at times it eases off to create more diluted and less aggressive, but still somber and intense, atmospheres.

Founding member Michael Gira on guitar and vocals is joined by original member Norman Westberg on guitar, mid period member Christoph Hahn on guitar, Phil Puleo on drums, percussion and dulcimer (who had been on the final swans tour and most angels), Chris Pravdica on bass and gadgets (flux information sciences / services/ gunga din), Thor Harris on drums, percussion, vibes, dulcimer, curios, keys (angels, now also with Shearwater).

The record also features a bunch of guests including Bill Rieflin (long-time Swans and Angels of Light contributor, also worked with Ministry and currently drummer for REM and Robyn Hitchcock) on piano, synthesizer, organ, acoustic and electric guitar drums/percussion and more; Grasshopper's (Mercury Rev) Mr. Grass on mandolins and Devendra Banhart on lead vocals (accompanied by Gira's 3 year old daughter too!)

Ater 5 years of Angels of Light albums, this should be the most welcome addition to any Swans fan's recprd collection and a great introduction to the band's wall of sound, regardless of whether you ever even heard one of their earlier records.

Available as Digipack CD, LP + MP3 download card or MP3 download only from Gira's lable YoungGodRecords.com
Dark / Gothic / Wave / New Wave / Dark Wave / Industrial Gothic
Edit (6143)
image not
available
anymore
Artist:
The Birthday Massacre
Title:
Pins and Needles
Format:
CD
Label:
Cellar Door / Dependent - Metropolis Records
(@)
Distributor:
Alive
Rated:
And there's once again that violet-black colored phenomenon, which hasn't reached the end of rope on its trail of victory and international reputation. THE BIRTHDAY MASSACRE offer us a new album musically pretty much in that style of Alternative-Electronica/Goth-Rock music, which has a serious chance for unexpected high album chart entries. The music sounds perfectly arranged enough, so that the matter of success only belongs on the amount of bucks investigated into promotion. At least for this point, no one is able to argue against the actions especially in Europe with efforts of different promotion agencies to take care of a functional mass-promotion. In times, when grandpa and 'mom start to whistle those chart-breaking tunes by UNHEILIG or HURTS, why shouldn't there a higher interest in TBM? For the track 'In The Dark' they've produced a professional video clip, and the current tour through diverse countries should be another milestone for this project. Musically their formula between classic Goth-Rock, Electropop-like Synthesizer-arrangements and Mrs. Chibi's brilliant and angelic vocal performance offers them all possibilities of entertainment, no matter, which of the mentioned styles has your personal preference. This ingredients completed by crafty and heart-felting composition qualities and of course supported by a top-notch studio production, should be enough reasons to give this project some respect. Die-hard Goth-Rock fans may will find their sound outfit quite too smooth arranged and their compositions a bit too far into the area of the Pop-/Alternative-music genre, but who cares? It's relative foreseeable, that TBM will reach and receive more new fans and friends, instead to loose too much of their supporters of the early hours of the band. Outstanding tunes asides 'In The Dark' I tend to name with their rather smooth and melodic tracks, 'Alive' and 'Pale' are worth a mention. Fans of the harder, a bit more driving tracks will find in 'Control' an ideal tune to share some movement on the dancefloors of the dark clubs. Good in all, although some tracks are sounding a bit too comparable to each other. TBM also leave out any unconventional musically surprises as all of their tracks on this album are turning out into a relative similar style.


Dark / Gothic / Wave / New Wave / Dark Wave / Industrial Gothic
Edit (6139)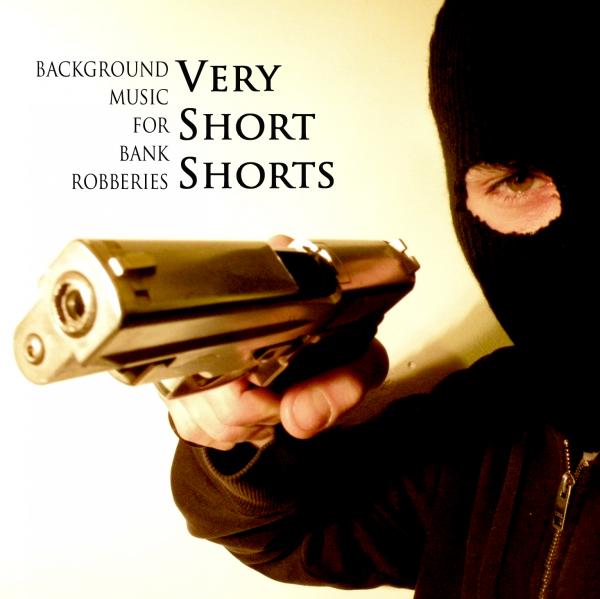 Artist:
VERY SHORT SHORTS
(@)
Title:
background music for bank robberies
Format:
CD
Label:
Bar La Muerte
(@)
Rated:
An unconventional band and record even for an heterogeneous label like Bar La Muerte, can you imagine a power trio of jazzy-soundtrack punks? Ok that's the case. The line up consists of a piano, a violin and a drummer, while that may suggest a variation to the original Dirty Three modus operandi, the result is much closer to some John Zorn's filmworks and to a jazzy, post-cabaret mix, all-you-can-mix salsa. I'm sure some of you may wonder if they work softly on slow atmospheric themes but I'm sorry for you, that's wrong since the drumming is solid, the piano follows firmly and the violin sails on and with them. Far from sounding depressive, ambiental or atmospheric in someway these guys made me think to some balcanic crossover band not for the style that here is quite different but basically the spirit is the same. What do I mean with that, this music can be played in a club, during a party and in a squat without being afraid to be out of place and that's what really makes this band "punk rock". Maybe the record is just ok and it still lacks of the intensity of some sountrack or of some unconventional bands from playing with genres but given the fact they have a goddamn technical skill and a hell of a taste it's just a matter of time. The cd is long enough to let you enjoy their music but it keeps far from boring repetitions. This' the music you should hear while watching a movie or just a tv-spot, or while losing sobriety with some friends. Can you imagine a punk answer to Stefano Bollani's sense of humor in music? Here it's!! Can you imagine something your mom and dad can dig as much as you?...here it is!!...so: keep it in the family!. Simple, perhaps nothing new under the sun, but really enjoyable: "let the music play...Barry!"