Dark / Gothic / Wave / New Wave / Dark Wave / Industrial Gothic
Edit (5048)
Artist:
Dope Stars Inc.
Title:
Criminal Intents/Morning Star
Format:
CD EP
Label:
Trisol/Metropolis
Rated:
The Roman cyber rockers Dope Stars Inc. are in the final stages of preparing their third full-scale cyber attack (to be unleashed via Trisol). As a trial of strength a double feature EP Criminal Intents/Morning Star is due to be released in April. The EP features four absolutely new songs, two of which will be on the forthcoming album, furthermore one cover version of Clan of Xymox' classic "Jasmin and Rose", a cover version of "Can You Imagine" by Spiritual Front, a demo version of "Vyperpunk" and numerous remixes of older DSI songs by such renowned artist as Mortiis, Gothminister,KMDFM and others. The EP was produced by Victor Love at Subsound Studio. Fifteen tracks altogether is a rather unusually high number of songs for an EP. A value for buyers' money.
The new material is just what the fans expect from the dopies; it's cyber rock/metal/punk as we know it from band's previous releases. Quick, ass-kicking and energetic. From the line-up that recorded Neuromance only Victor and Darin have remained on board.
A choice of a title to cover occurred rather unexpected to me; Clan of Xymox is not a band one would normally expect DSI to cover, especially since they played Motorhead's "Ace of Spades" on their concerts. I can only say that the cover turned out really well. It is quicker than the original and sounds more up to date. A better choice than a screamo-like version of "Ace of Spades" would have been.
Mortiis had already a shot with remixing DSI for the Neuromance bonus CD. The Norwegian hotty elf did a good job again remixing "Braindamage" this time. As it was to anticipate the most original version was a cover of "Can You Imagine" DSI's country fellow men Spiritual Front. They re-recorded this emotional song providing it with a sort of 1920s French atmosphere. An accordion is not really an instrument you would associate with DSI, would you? Gothminister added some choir parts among other to "Can You Imagine" making it sound more sinister and dramatic, just in his vain.
In the end it can only be added that the EP makes you keen to hear more of the band's new album which is planned to hit the streets this summer.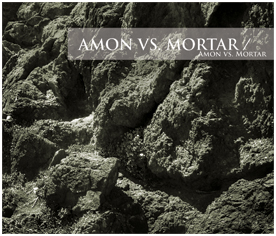 Artist:
AMON VS MORTAR
(@)
Title:
s/t
Format:
CD
Label:
Afe
(@)
Rated:
Given the fact this release came out on Afe you have Andrea Marutti squared and that would be enough to give a strong identification to this product. This cd features material from Mortar coming from late 1996, some went to compose its Oktagon lp plus some previously unreleased materials, everything has been molded and reshaped by Marutti with his Amon moniker and if you've confidence with his previous work with such a project you don't have to expect something that different. It's misty-ambient, dark-ambient music with an incredible amount of mid-low frequencies and keyboards/synths' sounds. I think the original sound source for some of the tracks were synths but don't expect those post-black metal releases with cheap ambient keyboards sounding like a third rate horror movie soundtrack. If you strain and work with your imagination I think here and there you can also guess the cut of some of the original sources is someway old-school, but as you can guess Amon has reshaped the whole recordings to give it a new tissue and here you have it, thus don't consider it as old despite it betrays that old school touch lot's of you may appreciate. Sometimes I've been quite surprised by the fact Marutti has gone quasi-melodic, like in the passage where he used an organ sound to play a sad melancholic harmony that breaks into the wall of misty clouds you can cross for the whole length of the cd. For those of you who already had the chance to taste some of his Eibon materials, here Amon tends to diversify a lot some of the passages even though the global sound of the work is quite uniform but you have more sounds suspended in the background, sometimes lost in reverb, sometimes something strive to get to the surface, the impression is there's something beyond the steam. this effort also reminded me of Amon collaboration with Nimh in the occasion of Sator, just a bit less heavy and less powerful, but something brought to my mind that monolithic feeling. At the end of the day it's a really quiet and introspective cd and I think the desolated rocks Abby Helasdottir/Gydia has put on e the cover tell us much more of this release than the majority of the words I've written.

Dark / Gothic / Wave / New Wave / Dark Wave / Industrial Gothic
Edit (5031)
Artist:
THE MOON AND THE NIGHTSPIRIT
Title:
Ösforrás
Format:
CD
Label:
Equilibrium Music
Rated:
Two years after "Regõ Rejtem", the Hungarian The Moon And The Night Spirit are back with a new album titled OSFORRAS. The nine songs of the album, since the first listening, show a slightly different side of the band's music as this time Agnes Toth and Mihaly focused their songwriting on mystic/magic themes. OSFORRAS, which stands for "the source pristine", represent the primordial womb where everything born. As on their previous albums they used folk instruments (violin, acoustic guitar, woodwinds, percussions, zither, fujara, etc) but this time the atmosphere is less dreamy as the tracks often have upbeat rhythms and "in crescendo" sections with strings, guitars, chants and percussions. Songs like "Fénybe Térö" and "Tüzben Születö" are a mix of joy and darkness where the male/female chants are able to make spirits arise. Tribalism and paganism are the key elements of this album and often you'll find yourself surrounded by wood's creatures dancing around you and tempting you until you'll find yourself running free through the trees, smelling the scent of wet leaves. P.s. The album will be released in two formats: Digipak CD with booklet, and collector's edition hard-cover 19,5cm x 14cm Digibook (limited to 1000 copies), with full-colour booklet including large reproductions of several paintings created for this purpose. The collector's edition also includes one exclusive bonus track featuring guest appearances by Catarina Raposo (Dwelling), Saskia Dommisse (Poets to their Beloved) and Alessandra Santovito (Hexperos).
image not
available
anymore
Artist:
RISING SHADOWS
(@)
Title:
Found In The Cold
Format:
CD
Label:
Twilight Records
(@)
Rated:
Active since 1996 the Swedish band Rising Shadows are releasing for the Argentinian label Twilight Records their latest album titled FOUND IN THE COLD. Formed by Fredrik Klingwall (founding member, keyboard player and orchestrations composer), Linda-Li (she joined in 2004 on vocals) and Guillaume Le Huche (he joined in 2008 on bass), the band, with their second release is delivering a charming mix of fairy/dark atmospheres. In balance from neo-classical/goth melodies and instrumental compositions based on mysterious/dark ambient atmospheres played with synths and strings, the trio succeeded into reaching a great mix of the various elements. This capability make sound Rising Shadow's compositions sincere and inspired. Linda-li sings and vocalize enrapturing the listener and carrying him through the dark realms created by Fredrik and Guillaume. If you are into early Dead Can Dance but you are tired of lookalikes without personality, try this album.
Dark / Gothic / Wave / New Wave / Dark Wave / Industrial Gothic
Edit (5017)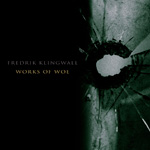 Artist:
FREDRIK KLINGWALL
(@)
Title:
Works Of Woe
Format:
CD
Label:
Last Entertainment
(@)
Distributor:
Plastic Head
Rated:
Inspired by Edgar Allan Poe's poem "The spirits of the dead", the latest Fredrik Klingwall album WORKS OF WOE is a real masterpiece of classical piano music. With the nine tracks of the album Fredrik created a convincing dramatic soundtrack where piano is the only instrument. Dissonance is still the way to go and every track convinced me totally. If you ever watched movies like "The cabinet of Dr Caligari" you should be aware of the kind of atmospheres that "The sleeper", "Alone", "Spirits Of The Dead", "An Enigma", "The Conqueror Worm", "The Valley Of Unrest", "The City In The Sea", "For Annie" and "A Dream Within A Dream" are able to rise. The mid tempo tunes pass to piano to pianissimo just to explode with a dark blast. Check some of them at www.reverbnation.com/klingwall