Artist: Pharoah Chromium
Title: Jean Genet- Quatre heures à Chatila
Format: 7"
Label: self-released

This is a bold and powerful political 7" in which Elli Medeiros reads French-language extracts from Jean Genet's essay "4 Hours In Shatila", describing the massacres Genet encountered in Beirut in 1982. Underneath Medeiros' straight and emotive reading, Pharoah Chromium lays down a pair of uncomfortable but not intrusive electronic drone environments, with gritty rumbles, odd whispers, occasional heavily processed guitar plucking and oddly plinky, almost stylophone-like improvised high melodic notes. It melds together into a powerful modern take on beat poetry without very much beat. It's an expressive release that could easily have merited a longer exploration on its own, instead forming part of a larger project "Eros & Massacre" that, on the strength of this, is certainly worthy of attention for fans of politically emotive experimental electronica.
Dark / Gothic / Wave / New Wave / Dark Wave / Industrial Gothic
Edit (10716)
Artist:
Buzz Kull
Title:
New Kind Of Cross
Format:
12" vinyl + Download
Label:
Avant! Records
With this solo album, Marc Dwyer, using his smart I-wish-I'd-thought-of-that 'Buzz Kull' alias, has offered up a compact pack of synth darkwave that follows a reliable formula- pulsing arps and bass squelches, fairly fast synth-rock drum patterns and gritty and distorted vocals. The closest comparison might be Depeche Mode, but it also sounds like, or at least influenced by, a variety of other dark electronic and synthwave sounds.

A slightly lo-fi and decidedly 80's manner continues throughout, though it's not an overtly retro release. It's epitomised by tracks like "Existence". When slowed down a touch, such as on "The Garden", it starts to recall early-era Human League, while the slightly more techno-ish edge on "New Kind Of Cross" ends up being a highlight.

It's book-ended by a couple of nice instrumentals, with "Flowers Have No Meaning" hinting at a more cinematic and sinister style that could maybe have been explored at more length.

It's a half-hour that's richly produced, for sure, and sounds rather personal, but it maybe lacks the special twist or the catchy hook that would make it stand out from the crowd. Dwyer is gigging around Europe at some length and it's one of those releases that might sound better in a live context than at home.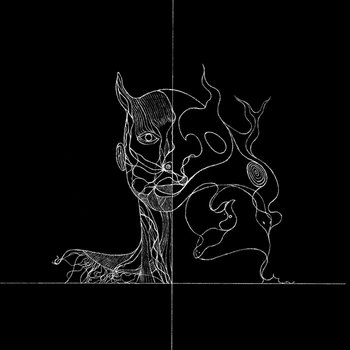 Artist:
Sphyxion
(@)
Title:
2
Format:
CD
Label:
Zoharum
(@)
Distributor:
Alchembria
Rated:
Apparently it's a new name but Sphyxion is the minimal wave project of Frédéric and Olivier Charlot, better known as Maninkari. While their main project it's at the crossroad between classical and experimental influences, this one is more enjoyable as it makes heavy use of rhythm box while the drones frequently evolves in melodic lines and the use of female voices gives a pop touch to the whole. As the tracks are untitled, they will referenced by their number.
The first track opens this release with a structure centered a rhythmic cage and a buzzing background; as a voice is looping the effect is hypnotic. The melodic apertures of "2" reveals the influence of minimal wave and "3" inverts the canonical form of this genre as the synth is almost metronomic while the rhythm is slightly variated. The vaguely middle eastern pattern of "4" are matched by a rolling beat and "5" borders IDM with its complex but sonically skinny beat. "6" is catchy with its sort of glockenspiel used to expose the main melody. "7" is the first track not using a beat while creating a minimal lied with repetitive, but slowly variating, string melody. "8" use the amplitude enveloper to create a rhythm out of a oscillating melodic cell. The synth melody "9" emerges after misleading the listener with its introduction hinting a static track based on loops. "10" closes the release with a minimal wave track almost canonical but avoiding triviality.
With a more easy listening framework, it will probably attract more listener than the average Maninkari's release but they could be disappointed if they won't be patient enough to capture the subtle nuances in a apparently static form. Listen with care.
Dark / Gothic / Wave / New Wave / Dark Wave / Industrial Gothic
Edit (10711)
Artist:
The Cascades
(@)
Title:
Phoenix
Format:
CD + Download
Label:
Echozone
(@)
Rated:
Well here it is, finally - the new album by The Cascades. I've been touting this band for a while now, and their double album 'Diamonds & Rust' last year could only leave me and their fans wanting more, more more. True, 'D&R' did have a couple new tracks on it (most of it was a compilation of previously released and older, previously unreleased material) but that was hardly enough to satisfy our collective vampiric tastes. On 'Phoenix' as the title implies, the band rises from the ashes, spreads its wings and soars high. If for some strange reason you're still unfamiliar with The Cascades, they are old-school gothic rock updated into the modern age. Often have they been compared to Sisters of Mercy, partially due to M.W. Wild's dark baritone vocal similarity to Andrew Eldritch. Lately though, Wild's voice seems more baritone Bowie than strictly Sisters. On 'Phoenix' the band really comes into its own with a polished product, skilled songwriting, assiduous arrangements and perfect performance that any gothic rock band would envy. There is a track-to-track unity here that really solidifies the band's identity. The opener, "Avalanche" (subliminally named for SOM's Doktor Avalanche drum machine?) isn't the strongest track on the album but it does set the tone for what's to come. The melodic hooks flow like lava running down the mountainside, filling every crevice and emblazoning them indelibly in your psyche. Some of them might seem a little more subtle than you'd expect, but they'll settle deep in your subconscious all the more. There are so many great songs on 'Phoenix' that it's hard to rate one over another. Favorites of mine are "Blood is Thicker Than Blondes," "Dark Daughter's Diary," "Phase 4" (a more fully realized version then the one on 'Diamonds & Rust'), "Station No. E,," "Ihr Werdet Sein" (a superb uptempo rocker), and "Diane". The latter is a cover of a Hüsker Dü song about the murder of a West St. Paul waitress Diane Edwards by Joseph Ture in 1980. The Cascades version of the song is the best I've heard and they really make it their own. For some odd reason they put it on the CD twice (the second time as the untitled track 14) and I'm not sure why as there seems to be little difference in between the twotracks. Once again Canadian singer Esther K. Widmann guests on backing vocals and she really adds a lot of depth. Most everyone who has heard the album when I've played it in my shop has been impressed with it without me even asking or drawing attention to it, which is a very good sign. The team of M.W. Wild (vocals), Morientes daSilva (guitars), and Markus Muller (keyboards & programming) has much to be proud of with 'Phoenix' and I can only hope that this opens doors for the band in the U.S. that previously were only small windows.

Dark / Gothic / Wave / New Wave / Dark Wave / Industrial Gothic
Edit (10699)
Artist:
Indifferent Dance Centre
Title:
Flight & Pursuit
Format:
7"
Label:
Outer Reaches
Though it's hard to believe this was really "Chichester's first homemade single" as the promo blurb claims, it does help to frame the decidedly lo-fi 'messthetic' re-release of Indifferent Dance Centre's only release, which dates back to 1981 and which has now been dusted off to be a 7" again second time around.

Grungy guitars, lo-fi synth washes, half-buried melodica drone and raw, simply-recorded drums pound out the quite upbeat title track, over which the vocal meanders with almost wilful and name-appropriate indifference. The second track "Release" is more downtempo and atmospheric, exposing the recording quality more starkly but in other ways working more successfully with the sound sources.

The most worthy point of this release is the digital-only and brand-new C.A.R. remix of the title track, which reimagines the vocal into a brand new and brighter-sounding synthpop world that seems like a homage to two generation's worth of electro.

An interesting little timepiece, but devoid of any sense of Indifferent Dance Centre's musical context or consequence, it's hard to see this as anything other than a nostalgia piece and a little bit of an oddity.