Dark / Gothic / Wave / New Wave / Dark Wave / Industrial Gothic
Edit (7161)
Artist:
Survive
Title:
Survive LP
Format:
12"
Label:
Mannequin Records
(@)
Distributor:
bandcamp
Rated:
It is always so refreshing to the soul, when one is presented with music so pure and real that transcends genre boundaries and limitations. A fine example is the 'SURVIVE LP' by the Austin,TX based full - analogue - synth quartet S U R V I V E (out now on vinyl via Mannequin records). Of course, the use of analogue synthesizers is obvious throughout and essential to the overall character of the sound. The nine tracks of the album managed to captivate me and lift me up into a floating state, and i would say the album is better experienced through headphones.
Starting off with 'Deserted Skies', a heavy weight synth introduction that sets the pace for what follows. 'Floating Cube' comes in with a driving bass and gradually builds up with beautiful pads leading to the third track 'To Light Alone I Bow' which is a mellow synth interval. 'Hourglass' is the first highlight of the album with a heavy dark dreamwave vibe with 80s drums and atmosphere that heightens the feeling even more when 'Omniverse' kicks in. Beautiful little sequences drive the track, building up with arpeggiators and lush pads into an almost epic fade out of SIDE A.
Moving on, SIDE B, opens with the stunning 'Black Mollies' and drives the listener down a deep 'dark italo' path that marks the second 'highlight track' of the album, with beautiful synth sequences and lush pads as it goes along. it is followed by 'Scalar Wave' a dreamy creamy 'synth wave' of a track that carries the listener along, enhances and underlines the impact of 'Black Mollies'. 'Shunting Yard', come in next which feels like a minimal synth introduction to 'Dirge', the last track of SIDE B, a reverb - drenched synth epic that seems like a perfect way to finish the album. The lo-fi feel of the whole production and the 80s vibes that flow throughout, make it a timeless piece of work with references to the past and the future. It feels like floating in space on your own... lonely but wonderful.
After playing the album many times, i would say that it is an elegant work of art, that leaves the listener wanting more.
Dark / Gothic / Wave / New Wave / Dark Wave / Industrial Gothic
Edit (7159)
image not
available
anymore
Artist:
Aidan Casserly & Pawel Lopatka
Title:
That Man from Berlin
Format:
Download Only (MP3 + Lossless)
Label:
House Of Analogue
Rated:
Aidan Casserly is always keeping himself busy making new music. It could be with his main band Empire State Human, with The Wazp (his new dark synth solo project) or with different collaborations. This time, for the third House Of Analogue release, he made a three tracks digital download single in collaboration with Pawel Lopatka, a Polish-born translator and songwriter who has written the Polish translations of books by Mary Shelley, Paul Theroux, Nick Hornby, David Mitchell, John Boyne, Armistead Maupin, to name few. For "That Man From Berlin", Aidan wrote the music and Pawel, the lyrics. Try to imagine a spy story picturing a foggy club where instead of having Greta Garbo (Mata Hari) or Rita Hayworth (Gilda) we have Aidan (well, try to focus on the vocals and not on other stuff, this time) passionately singing on a jazzy based music that on the main title is mixing a sensual sax melody with a contrabass. "Just This Once" recall me the Sade atmospheres thanks to the sax echoes and to those sparse piano chords. The closing track "Aura", melodically recalls me Ultravox's "The Voice", but Aidan's vocal melody is different. On this one we have only piano and vocals with the add of light synth strings building a dreamy melancholic atmosphere.
Dark / Gothic / Wave / New Wave / Dark Wave / Industrial Gothic
Edit (7155)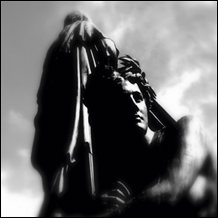 Artist:
Engel Der Vernichtung
Title:
Engel Der Vernichtung
Format:
2 x CD (double CD)
Label:
Oltre La Nebbia Il Mare
(@)
Rated:
Active in Rieti, Italy, from 1985 to 1990 circa, Engel Der Vernichtung took their name from an Einsturzende Neubauten track but without embracing their noise industrial path (even if I read that "L'art De La Mort", their first demo was a mix of "religious noise" and romanticism). They released only two vinyl 12", "L'amour Fou" (a MLP containing six tracks, released thanks to the Roman record shop Disfunzioni Musicali and to their Angel record label) and "Angeli Di Polvere", their only full length which is their most ambitious project, as it was developed on different levels as it was comprehensive of a record and a book, both focused on the same theme: drugs. The intention wasn't to talk about it under a social profile, but as a link to describe feelings or experiences born from its use. Initially the book should contain poems by Antonio Veneziani but they choose to extend the invitation to ten different poets and used their text as lyrics. Along with those poems, the book had more poems of the same poets plus writings about angels by Michelangelo Billi, Francesco Italiani, Sara Italiani and Giancarlo Susanna. About drugs they included a writing by Alberto Abruzzese, an interview with William Burroughs, a short writing by Giancarlo De Cataldo and two Paul Klee paintings donated by his son Felix. Musically the first MLP was in balance from piano suites and energetic but still romantic new wave moments (the long opening track "En Dansant La Fin De La Vie" had them both). Inspired by Wim Mertens and This Mortal Coil music, the trio formed by Daniele Arisi, Roberto Feliciangeli and Federico Festuccia were succeeding into making an interesting record that was showing their potential. This potential, in my opinion, blossomed into "Angeli Di Polvere". The ten songs of that album succeed into express fully the band's ideas and from a trio, they became a quartet with Paolo Campanelli. Tracks like the opening "A Elsa Morante" or "Frammenti" make understand also to the casual listener that this was a quality album where players were expressing their feelings through songs full of energy, melody and passion. Piano, accordion, hard drum beats and vibrating bass lines are the key elements of the first track, while "Frammenti" is more based on seducing/mysterious atmospheres, strings and recitative vocals that deliriously talk about morphine. As I told you, this album was their best. Anyway'¦ Why am I talking about Engel Der Vernichtung? Well, Oltre La Nebbia il mare just reissued their releases on a double CD which, along with the releases I just mentioned, contains eleven tracks which have never been issued. It's a fortune that these tunes aren't being hidden no more, as these could have been issued as their second album. An album which could have been a perfect night album for its atmospheres. The band created a mix of wave, electronic ambient, neo-classic, like it was a sort of mix of David Sylvian, Wim Mertens and Clan Of Xymox (check "Theme I" and "Theme II" on their "Medusa" album) and succeed into creating something that gently rock you and makes you feel anxious at the same time. Really nice release!
Dark / Gothic / Wave / New Wave / Dark Wave / Industrial Gothic
Edit (7141)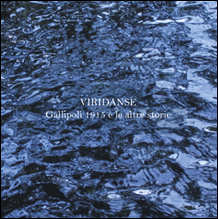 Artist:
Viridanse
Title:
Gallipoli 1915 E Le Altre Storie
Format:
2 x CD (double CD)
Label:
Oltre La Nebbia Il Mare
Rated:
I think that the first time I listened to Viridanse was thanks to the fanzine Amen and to the split tapes they were selling with their issues. Viridanse were on one of their tapes along with The Art Of Waiting (band coming from Bari that did only a MLP and that I hope someone will reissue soon). Viridanse were coming from Alessandria, Italy and they were active from 1983 to 1987. They did only two releases, both for Contempo: a MLP titled "Benvenuto Cellini" and an LP "Mediterranea". This double CD compilation "Gallipoli 1915 E Le Altre Storie", gathers both of them plus seven songs recorded live in Alessandria in July 1984 (unfortunately it wasn't possible to get a decent copy of the Amen tape to use) and a selection of four songs coming from the "Psycho Session" recorded in 1987. The first CD is the one that will please new wave and post punk lovers as on tracks like "Benvenuto Cellini" or "Vaso Cinese", the band was giving form to a personal mix made of razor blade guitars, punching bass lines and tribal drums. Another cool track is "Ultimo Canto": on this one, they used an atmospheric piano intro just to start a great energetic post punk song with drum, bass and guitars building a wall of sound. Lyrically the songs of this EP talk about freedom of expression (the title track), freedom of choice ("Ultimo Canto"), frailty of human relationships ("Vaso Cinese") and the fear of diversity/prejudice/marginalization ("Justine"). The seven live tracks are a historical document of their first years and are sounding like the ones of "Benvenuto Cellini", as they have been composed on the same period. The recording isn't perfect as the vocals are a bit low, but they testimony the energy and the impact Viridanse had on live gigs. "Dolce Vita", for example" recalled me band like A Certain Ratio and "Gallipoli 1915" is so aggressive that on some parts it seems a punk song. For "Mediterranea", the band changed slightly their approach to songwriting. The vocals are now more melodic and sustained at the end of the words (if you know early Litfiba, you know what I'm talking about), the rhythms are always upbeat and rich, also the bass lines are more sophisticated (Flavio Gemma was playing a second melodic line which enriched a lot the final result) and help sustaining the rhythm line very well. The overall atmosphere is less tense and here and there you can hear middle-eastern melodies. Recorded in Torino and produced by Marziano Fontana, "Mediterranea" is the natural consequence of a process of a band that wanted to grow, detaching themselves from the post punk spontaneity, creating a music that was also a challenge as songwriters. On this album they focused their lyrics on freedom like on "Sulla Strada", "Terra Di Sempre" (this one talked about the Palestinian people and about the feeling to being part of a stolen land), "Frontiere" and "Notte Chiara" or generally on a feeling of peace that could be felt on particular places or situations (like the sun warmth and the breeze of "Mediterranea"). The four closing tracks "Morgana", "Guarda La Balena", "Fronte Del Porto" and "Al Centro Del Mondo" were part of a recording session for an unreleased album. On these ones Viridanse recalled me the latter Denovo or Diaframma: the tracks were more influenced by Italian 70s music rather than post punk and I think that Antonello De Bellis, Enrico Ferraris, Flavio Gemma and Paolo Boveri could have joined the I.R.A. label hands down, with this kind of sound, but this never happened and you can only enjoy these tracks on this nice double compilation.
Artist:
Sagittarius
(@)
Title:
The Kingdom Come
Format:
CD
Label:
Cold Spring
(@)
Rated:
Another intellectually stimulating release from Cold Spring has been signed by one of the most active memebers of the open cultural association "Die Neue Runde"- a group of artists, musicians and poets whose fellowship stands on the research of a new form of "spiritual art", whose starting point seems to be the refusal of the most opprobious products of the crossbreed between modern secularism and popular culture -, German 4-piece ensemble, founded by Cornelius Waldner, Sagittarius, whose third album "The Kingdom Come" focuses on the "intellectual milieu" around German poet Stefan George, who was erroneously considered a miliar stone and a sort of national poet till the subjugation of his poems to propagandist aims by Nazi regime (for instance, "wer je die flamme umschritt/bleibe der flamme trabant!", the opening lines of his "Der Stern des Bundes" became a sort of mantra for the Hitler Youth ) - even if his poetry emphasized heroism, power, self-sacrifice, sublimation of eternity, rejection of middle-class values and Ancient Greek culture's glory and his poetizing was based on a form, which was rich of obscure symbolic references and arcane, but rigorous and neat at the same time, he rejected awards and public offices by Nazis and decided to settle in Switzerland in order to assert his extraneousness to German National Socialist government's distorsions of his poetry -. The title itself refers to this eminent poet's project: Stefan George considered himself a sort of prophet of a kingdom that would be led by cultural elites and founded an intellectual circle of acolytes who considered him a sort of messiah, called George-Kreis, which attracted important people such as Rainer-Maria Rilke, Ernst Kantorowicz, Karl Wolfskehl, Klaus Mann and Claus von Stauffenberg - who was supposed to plot the murder of Hitler indeed! -. Musical wrap for recitation of a carefully selected bunch of poems - I particularly appreciated the duet between Fraulein Konig and Her Twiggs for Yeats' "The Song Of Wandering Aengus" as well as the melting recitations of Ernst Morwitz's "Grabgedicht III" and Karoline von Gunderrode's "Ist Alles Stumm Und Leer", Uuno Kailas' "Uni Ja kuolema", Goethe's "Der Konig In Thule" and George's "Das Wort" - is quite similar to the style they got into shape on "Songs From The irony Tower", an entrancing crossbreed between neofolk, classical and medioeval music with simple but well-built melodies. many listeners could find them quite monotonous, but it would be a stock feedback, as it could come from that consumeristic concept of entertainment they probably disgorge whereas the only real obstacle for a complete appreciation of their work could stand on the troublesome understanding of German language.