Artist:
Steven Severin
(@)
Title:
Vampyr
Format:
CD
Label:
Cold Spring
(@)
Rated:
Also known as "The Strange adventure of Allan Grey", Vampyr has been considered one of the miliar stones and cult classics of the whole vampire-related cinematography together with Murnau's "Nosferatu" and Browning's "Dracula", even if it's the only one which was not inspired by Bram Stoker: when Danish film director Carl Theodor Dreyer planned it together with its financial backer and leading actor Baron Nicolas de Gunzburg under the screen name Julian West, they preferred Sheridan Le Fanu writings to the ones by Stoker, so that Vampyr's plot contains a mixture of references taken not only to the sapphic vampire Carmilla, but mainly by Dr Hesselius, the first occult detective in literature, which after his debut in the pages of "In A Glass Darkly", quoted on this musical issue by the first track "Though A Glass Darkly", clearly inspired the portrait of Allan Gray and his most visionary moments of the movie, whereas the boundaries between real and unreal looks blurred. If you have the possibility to watch that movie, beyond the quotation of the Charon-like character appearing in the very first minutes of the movie by Arban on the sleeve design, you'll notice that Steven Severin, whose legendary past as bassist for Siouxsie and the Banshees doesn't seem to be eclipsed by his solo project as score composer - I've already introduced his previous soundtrack for Cocteau's "Blood of a Poet" -, perfectly follows the "rhythm" of the original movie by avoiding any temptation related to contemporary horror soundtracks so that the evoked scenes have been vividly called back by an evocative and sometimes stern dark-ambient suite. Sinister tolls, ectoplasmic atmospheres, haunting voices and other dusky imaginative suggestions are so catching that can fit a theme park focused on ghosts or haunted houses beyond its close connection to Dreyer's art.
Dark / Gothic / Wave / New Wave / Dark Wave / Industrial Gothic
Edit (7168)
image not
available
anymore
Artist:
Rapido De Noir
(@)
Title:
Equidistant Lonelinesses
Format:
CD
Label:
15 Degrees Records
Rated:
Two years after their first EP, the French band Rapido De Noir are finally facing what represents the main step for each musician: the first album. Pat, Samag, Fab and Wil on "Equidistant Lonelinesses" packed ten new tracks that sound fresh and interesting. Influenced by 80s new wave (sometimes I thought that this album won't exists without the Cure album "The Top"), by English psychedelia (well, some people told that "The Top" was the most psychedelic album of the Cure to date) and a bit by electro, but only because of the use of synth sounds, Rapido De Noir on these tracks show their songwriting ability. There are tracks like the "He Could Be" or "Shaun" that are immediate and will make you wish for more. The sound is well balanced thanks to bouncy synth bass lines, dry upbeat rhythms, clean melodic guitar riffs and energetic vocals. The band mix dark atmospheres and pop melodic intuitions succeeding into creating, as I already wrote, a fresh mix. Out the 11th of September "Equidistant Lonelinesses" isn't an album which fits only 80s nostalgics as, in my opinion, could catch also fans of bands of the likes of Editors, Muse, The Killers, etc.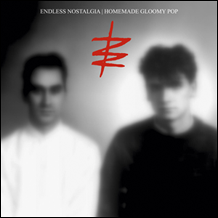 Artist:
Endless Nostalgia
Title:
Home Made Gloomy Pop
Format:
2 x CD (double CD)
Label:
Oltre La Nebbia Il Mare
(@)
Rated:
Endless Nostalgia are one of those bands that had an hard core following but that were unknown to most of the new wave followers of the 80s. The fact is that they released for Anemic Music (IRA Records) only one 12" in 1984, it was containing two tracks ("Me & My Alter Ego" and "Words And Silence") and they didn't exactly show what the duo was really. Those two were two nice italo dance tracks but Endless Nostalgia were also pop, electro and wave. Coming from Verona, Italy, Luca Rigato a.k.a. Bi Nostalgia and David E.H. (I don't know his surname, I only know that his name is Davide), run also their personal tape label called The League Of The Gloomers. With this label they released several Endless Nostalgia tapes as well as a Litfba live tape, an alternative soundtrack to Kenneth Anger's "Lucifer Rising" performed by Thelema, a tape by the Italian counterpart to Psychic TV, Rosemary's Baby, Hat Hat, etc, but most of the label's releases were dedicated to their own projects Endless Nostalgia and Bi Nostalgia. Recording their tracks at home, the duo was free to explore their melancholic feelings by giving an intimate touch to their sound. Using tiny synth sounds, upbeat drum machine rhythms and guitars here and there, they were able to channel their emotions building a particular sound. Sometimes they were recalling me Altered Images, sometimes Scritti Politti, then Paul Haig or Minny Pops. They also experimented Italian and English language mix on tracks like "Some Parts Of Me" or "The Correct Use Of Monuments". This double CD compilation released by Oltre La Nebbia Il Mare give to the band justice and to the listener offer tracks that span from 1982 and 1989 which include tracks from the aforementioned 12", others from "Two Days of Light", "Memories In Heaven", 'Lost" and "The Art of Nothing" tapes plus some unreleased ones. On some tracks you'll appreciate the cold wave atmospheres (check "Life Without Cushons" or "The Advance"), on some others the pop sophisticated approach to sound (see the late Associates) like on "Yellow Leaves Recover To Die", "Write A Letter" or "Tragic Beauty" or the dance freshness of "Memories Of The Night Before" or "Hidden In The Kitchen". This compilation will satisfy your will of sophisticated pop songs and it will do it helped by a nice package and a nice price!
Dark / Gothic / Wave / New Wave / Dark Wave / Industrial Gothic
Edit (7161)
Artist:
Survive
Title:
Survive LP
Format:
12"
Label:
Mannequin Records
(@)
Distributor:
bandcamp
Rated:
It is always so refreshing to the soul, when one is presented with music so pure and real that transcends genre boundaries and limitations. A fine example is the 'SURVIVE LP' by the Austin,TX based full - analogue - synth quartet S U R V I V E (out now on vinyl via Mannequin records). Of course, the use of analogue synthesizers is obvious throughout and essential to the overall character of the sound. The nine tracks of the album managed to captivate me and lift me up into a floating state, and i would say the album is better experienced through headphones.
Starting off with 'Deserted Skies', a heavy weight synth introduction that sets the pace for what follows. 'Floating Cube' comes in with a driving bass and gradually builds up with beautiful pads leading to the third track 'To Light Alone I Bow' which is a mellow synth interval. 'Hourglass' is the first highlight of the album with a heavy dark dreamwave vibe with 80s drums and atmosphere that heightens the feeling even more when 'Omniverse' kicks in. Beautiful little sequences drive the track, building up with arpeggiators and lush pads into an almost epic fade out of SIDE A.
Moving on, SIDE B, opens with the stunning 'Black Mollies' and drives the listener down a deep 'dark italo' path that marks the second 'highlight track' of the album, with beautiful synth sequences and lush pads as it goes along. it is followed by 'Scalar Wave' a dreamy creamy 'synth wave' of a track that carries the listener along, enhances and underlines the impact of 'Black Mollies'. 'Shunting Yard', come in next which feels like a minimal synth introduction to 'Dirge', the last track of SIDE B, a reverb - drenched synth epic that seems like a perfect way to finish the album. The lo-fi feel of the whole production and the 80s vibes that flow throughout, make it a timeless piece of work with references to the past and the future. It feels like floating in space on your own... lonely but wonderful.
After playing the album many times, i would say that it is an elegant work of art, that leaves the listener wanting more.
Dark / Gothic / Wave / New Wave / Dark Wave / Industrial Gothic
Edit (7159)
image not
available
anymore
Artist:
Aidan Casserly & Pawel Lopatka
Title:
That Man from Berlin
Format:
Download Only (MP3 + Lossless)
Label:
House Of Analogue
Rated:
Aidan Casserly is always keeping himself busy making new music. It could be with his main band Empire State Human, with The Wazp (his new dark synth solo project) or with different collaborations. This time, for the third House Of Analogue release, he made a three tracks digital download single in collaboration with Pawel Lopatka, a Polish-born translator and songwriter who has written the Polish translations of books by Mary Shelley, Paul Theroux, Nick Hornby, David Mitchell, John Boyne, Armistead Maupin, to name few. For "That Man From Berlin", Aidan wrote the music and Pawel, the lyrics. Try to imagine a spy story picturing a foggy club where instead of having Greta Garbo (Mata Hari) or Rita Hayworth (Gilda) we have Aidan (well, try to focus on the vocals and not on other stuff, this time) passionately singing on a jazzy based music that on the main title is mixing a sensual sax melody with a contrabass. "Just This Once" recall me the Sade atmospheres thanks to the sax echoes and to those sparse piano chords. The closing track "Aura", melodically recalls me Ultravox's "The Voice", but Aidan's vocal melody is different. On this one we have only piano and vocals with the add of light synth strings building a dreamy melancholic atmosphere.