Artist:
Distorted World
(@)
Title:
Between The Strophes
Format:
CD
Label:
Artificial Sun
(@)
Rated:
What a nice surprise provided by the Russian Artificial Sun label: after having started with two rather more Metal-inspired projects (Type V Blood / Bog ~ Morok), they now provide us a real, Moscow-based Dark Electro music-project called Distorted World. It is a solo project by Ivan 'Unbekannter', who is known for his involvement in Anthracitic Moths, a Dark Electro-project signed to Gravitator Records. Distorted World as being his solo effort shows here and there some comparable sound-ideas, but generally it sounds quite different to Anthracitic Moth. Musically Ivan reanimates several ideas and influences of some veteran and international renowned projects like Calva Y Nada, yelworC, and/or Splatter Squall. 'Between The Strophes' comes out as the debut release of this project and it leaves an impressive impact, that this band is easily capable not to fall too deep into the repetitive phrases of the young Harsh-EBM generation. This album balances well between newest studio techniques - the end mastering of Jan L. (X-Fusion) rather stands for the idea to join the path of current times ' and the omni-present influences by above mentioned idols being mostly active in the second half of the 90s. After an ominous, nightmarish-sounding 'Intro' tune, the rough and pummelling 'Mysterious World' storms mighty in your stomach and your legs. The mood of this track is pretty much related to some earlier yelworC works ('Blood In Face'-like) and it is one of the most appealing tracks to storm the dancefloors. 'Dream' differs in its mood and allows a slight Dark Wave-/Goth-influence to take part. It could be also related to the movie 'The Beauty and The Beast', because Angelina L., the second official band-member of Distorted World, picks up the microphone for her vocal part to be the smooth and sweet companion to Ivan's mostly rough growling. Next comes the pounding tune 'Hexentanz', surprisingly provided in German lyrics, plus it features some raging Metal-guitar riffs. You see this band-project is able to deal with different music styles and it all sounds still quite well mixed together. 'Devil Worship' then stands for another highlight, pretty much as strong as 'Mysterious World' and in a comparable vein. With another instrumental 'Outro ' Birth Of Chaos', this album then switches over after 11 tracks into the remix section. 5 different remix contributions by Type V Blood, Freaky Mind, Bleak Freak, Desmodus and Kos Klimenko are rounding up this promising debut release of this talented Russian music-projct. While especially Russia's Dark Electro/EBM/Industrial scene is pretty much influenced by the Harsh EBM / Hellectro-youth, it does so good to get the chance for checking out here and there more valuable artists ' and Distorted World are surely counting to be one of the revelations. A good and crafty produced debut, more of this please!
Dark / Gothic / Wave / New Wave / Dark Wave / Industrial Gothic
Edit (7627)
image not
available
anymore
Artist:
Scortilla
Title:
Fahrenheit 451
Format:
12"
Label:
Synthetic Shadows Records
(@)
Rated:
Formed in Genoa in 1979 Scortilla officially released only a 12" in 1984 which contained their hit "Fahrenheit 451". That song gathered into one danceable catchy tune, new wave and synthpop influences and brought the band to the attention of the media but that was also the thing that made them disband, because Scortilla were much more than a one catchy single band. In 2006, Pivio, their singer, who now is a movie soundtracks composer, released a CD/DVD compilation about them and watching their performances or only their rehearsals, you realize that they had a huge potential. Influenced by Devo and generally by the post wave sounds, Scortilla's sound was amazing: they used synths for noises or melodies, sax to enhance the nervous tense atmosphere of certain songs, guitar as a sharp knife, bass like a sensual funky weapon and above all, Pivio's vocals that was able to give power to their tracks while giving the impression to be about to have a nervous breakdown. They performed different times at the Psycho club in Genoa as well as at the Verona's arena at the peak of their career. Their live performance was near to art rock and it was an experience to live. This Synthetic Shadows Records album, reissue most of their first tape "Box", originally released in 1981, "Climax " recorded live in 1983 and a version of their hit "Fahrenheit 451" recorded on 1984. That tape contained live and studio tracks recorded in 1981 and since from the first song that opens this record, "Ribellione Programmata", you can agree with me that their sound was a blast! You can find irony, experimentation, energy and tension, all into one song! This is a release to have, definitely! Scortilla should be gone but they won't be forgotten...
Dark / Gothic / Wave / New Wave / Dark Wave / Industrial Gothic
Edit (7620)
Artist:
I Signori Della Galassia
Title:
Iceman
Format:
12"
Label:
Medical Records
Rated:
Active between the end of 70s and the very beginning of the 80s in Italy, I Signori Della Galassia (The Lords Of The Galaxy) were a band coming from Savona, Liguria. Formed by six members Franco Delfino (keyboards, voice), Gigi Mosello (keyboards, voice), Manuel Gustavino (guitar), Bruno Govone (guitar), Sergio Babboni (bass) and Beppe Aleo (drum), recorded two albums: "Qualcosa Si Crea Nulla Si Distrugge" in 1978 and "Iceman" the year after. Their main hit was "Archeopterix", track released on single with "Vulcano" and released on their second album. This album, thanks to Medical Records, has been reissued after thirty-four years! Originally containing nine tracks, on this new version, the album has eleven tracks ("Luce" and "Eliane" have been released on single in 1980 and they were sounding a bit different from the album's songs as they were more pop like I Cugini Di Campagna). The music of I Signori Della Galassia is really multifaceted as it gathers elements of 70s space disco (check the opening "Proxyma Centauri", the particular gipsy melodies of "Oltre Il Cristallo", "Iceman", "Archeopterix" or "Tutankhamon") as well as 70s Italian prog rock (check the beautiful fluid atmospheres and the melodic arpeggios of "Sub") and 70s Italian pop (see Pooh or Latte E Miele for both). Initially they were seen as the Italian answer to Rockets (do you remember the silver space men coming from France that had different major hits like "On The Road Again", "Electric Delight" or "Galaxy"?) but their style was also referring to bands like Goblin (see the tracks "Puoi Sentirmi", "Fermate La Reazione" and "Vulcano" with their dark baroque atmosphere). Using only analog synths, guitars and drum the band created a unique sound which was kinda cinematic and powerful where catchy melodies, great space sounds and inspiration were the key elements. This is a great reissue!
Milano, early 80s, the punk movement was at the beginnings and yet another movement was moving its first step: new wave and post punk were born and nervously shaking into their cradles. Other Side and Jeunesse D'Ivoire were both two bands that wanted to leave the sign of their passage. Unfortunately the first one produced only a demo tape where echoes of Bauhaus and Joy Division were loud and alive and the latter had a beautiful track in the second compilation produced by Rockerilla magazine. Their "A Gift Of Tears" has been reissued in different compilations since, also in the U.S., enchanting all the lovers of new wave sounds with its dreamy atmospheres. Both bands didn't last long and they left only few songs which have been gathered five years ago into the compilation issued by Spittle Records titled "Milano New Wave 1980-83". Thirty years after those recordings, we are still here talking about them because Patrizia Tranchina (Jeunesse D'Ivoire's singer) and Danilo Carnevale (guitar and electronics with Jeunesse D'Ivoire and guitar player/singer with Other Side, plus producer during the last fifteen years) are back with Francesco Sindaco as Ivories. Their first EP has just been released digitally and will be out soon on CD. It contains four songs that stand out thanks to their energy and melodies. Put into a blender a bit of post punk, post wave, 90s guitar noise (anyone named Touch And Go?), modern electronics of the likes of Burial or the Triangle bands and a little of synth pop melodies'ÃÃæ turn on and serve cold! On "Landed", for example we have bass and noisy guitar lines in front (do you remember Girls Against Boys), with upbeat drum machine beats and Patrizia's vocals giving that certain new wave flavor. Another track which shows well another side of the band is the following, "Humdrum". It gathers dance bass lines arpeggios, filtered seducing vocals, sparse guitar noises and 4/4 hard beats. Both production and sounds are convincing and catchy and Ivories show themselves as lions who still roar! You can preview all the tracks at their Soundcloud page http://soundcloud.com/ivories_it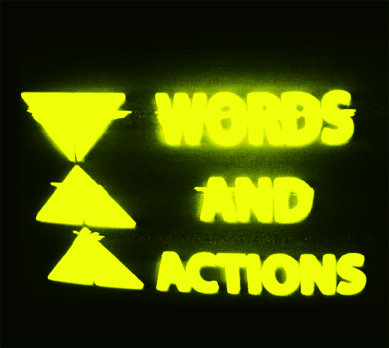 Artist:
Words And Actions
(@)
Title:
Time Can't Be Turned Back
Format:
CD
Label:
Final Muzik
(@)
Rated:
Coming from Alessandria, Italy, Words And Actions are a duo that in the last couple of years released two tapes (one album and a mini) and a video EP (you can check all the videos at their youtube channel http://www.youtube.com/user/cantfeelmyflesh). They recalled me some Italian bands I knew in the 80s (L.A.S.'s Crime that had a compilation of their stuff recently reissued and Thanatou Melos), a bit of DAF as well as nowadays bands that are influenced by those sounds (Martian Canterel, Staccato Du Mal, to name a few). "Time Can't Be Turned Back", issued by Final Muzik, is the first CD release by the duo and it gathers all the tracks from the two EPs ("Life Of Farewells" and "Imperfection") plus six out of ten from the album "Can't Feel". The tracks tend to mix few melodic elements (usually two or three catchy synth lines are alternated) with obsessive drumming and bass lines (they use long distorted synth lines) with the add of filtered cold vocals. Unfortunately I can't tell you more about the project, because also their website is kinda focused on few visual elements which remember me the solarization effect used on early 80s videos. Even if the sound and the visual are deeply linked to the 80s I can't tell that Words And Actions gave me the feeling to be mere revivalist. I think that their fascination isn't fake because if you check on their youtube channel the short video of a live they did at Ligera in Milan about a month ago, you can understand what I'm trying to say as they are able to create a dark atmosphere with few synth lines without sounding naive. It's like they are turning their influences into something new without being poseurs. Anyway, I enjoyed this compilation and it's worth your attention if you dig 80s cold wave.