Dark / Gothic / Wave / New Wave / Dark Wave / Industrial Gothic
Edit (7479)
Artist:
Siculicidium
Title:
Keringők
Format:
7"
Label:
Sun & Moon Records
(@)
Rated:
This short, but condensed listening experience which is going to delight not only followers of black metal-oriented stuff, due to the most immediate association of musical references and its "occult" symbolism on "Keringok" (Hungarian plural for "waltz"), but also lovers of more sinister declensions of industrial and dark, comes from the Transylvanian band Siculicidium, named after the atrocious mass massacre of Madefalva (nowadays known as Siculeni, a village belonging to Harghita County in Romania) by the Habsburg army, whose memory is still vivid in the collective memory of that community. As you can imagine they're not certainly making fox-trot or happy techno, but they managed to be somewhat original in spite of the relative stalemate of that scene by a couple of macabre waltzes. The first one, "Valse Triste", comes from the idea of replacing the hieratic and ironically iconoclast sermon by legendary Michael Gira's Swans on their hit "The New Mind" with the icying words of a poem by Hungarian avantgarde and surrealist poet Weoress Sandor, while the second one, "Valse Ende", the half I prefer, drag aged sonoroties from 80ies doom and 90ies black metal (particularly Bathory, Mortuary Drape, Barathrum) up while the stunned sepulchral male voice manages to amplify the preposterous and morbid lyrics, which make live the disquieting vision of Armageddon after the disinternment by Bauhaus.
Dark / Gothic / Wave / New Wave / Dark Wave / Industrial Gothic
Edit (7467)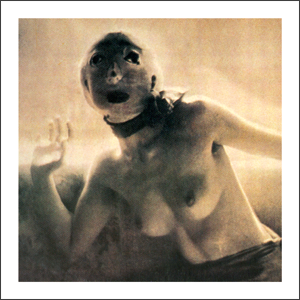 Artist:
Militia
Title:
Folk XII
Format:
CD
Label:
Oltre La Nebbia Il Mare
(@)
Rated:
Perugia, Umbria, Italy. Early 80s. Even if that was a relatively small city, on those years, there, two bands and a club had an important role for the new wave/post punk scene. The two bands were Militia and Aidons La Norvege and the club was the Suburbia. Four years ago Antonella Guerrini, Augusto Croce (member of Militia and Aidons La Norvege), Giovanni Romualdi wrote a book titled "Quelli del Suburbia - Storia di un'amicizia e di un sogno londinese nella provincia umbra" (The people from Suburbia - a story of a friendship and of an Umbria's country London dream) to tell the story of their youth, their bands and their places. Also on places where it was really difficult to have foreign bands playing gigs, a group of kids succeeds into creating something unique. Now, allow me to focus on Militia: the band formed by Dario Bavicchi, Andrea Conversano, Fabrizio Croce and Giovanni Romualdi, recorded some demos and a MLP titled "Folk II" which has been released by Contempo Records in 1985. On late 80s they changed musical direction from post punk to something more influenced by Tuxedo Moon (they also collaborated with Blaine L. Reininger on their first album "Dunnarobba"). "Folk XII", finally reissue the four tracks of "Folk II" adding other seven demo tracks recorded during the 1985/87 period. This material, probably, ends the band's archive of that period as we already had reissued the demo "Scene di caccia" plus other stuff on the "Dathu" CD (bonus CD of the "Namu/Namasthe" album printed by Materiali Sonori back in 2008). "Folk II" contains four gems that after almost thirty years, to me, sound as beautiful as I listened to them the first time. "In Trionfo", "Echi", "Mare Crudele" and "Ritmi" are tracks where tribal drumming, bouncing bass lines, guitars sharpened like razors (balanced by acoustic guitar riffs) and deep sounding vocals where creating scenarios made of despair, echoes of old wars or cries coming from asylums. All this sung in Italian language and sounding like no other band. Already these four track would convince you to purchase this reissue printed by Oltre La Nebbia Il Mare, but also "Giardini Luminosi", "In Disarmo" or "Anaformismo" are tracks that show a band that was willing to experiment with atmospheres by mixing tension, energy (powerful drumming and bass lines where a band's distinction) and dreamy sounds. If you don't know them you must check them and if you already know them, you already know why you should purchase this CD!
Dark / Gothic / Wave / New Wave / Dark Wave / Industrial Gothic
Edit (7436)
image not
available
anymore
Artist:
Dystopian Society
(@)
Title:
Cages
Format:
CD
Label:
Af Music
Rated:
Dystopian Society are a three members band coming from Florence, Italy. Forming in 2010 they had their demo ready the year after. The five tracks of their self named demo showed very well to the audience that their sound is deeply rooted into the early 80s post punk scene referring to bands of the likes of U.K. Decay, early Christian Death and the Italian band Rivolta Dell'Odio, to name a few. The last year the trio went to the studio and re-recorded those tracks and added other seven and released their first album "Cages" thanks to the German label Af Music. Better recorded and produced, "Cages", is a good album which the fans of these sounds will appreciate for sure. You know, even if the sound is what you would wait with influences like I told you before, Dystopian Society sound fresh and they are honest about what they do. They have a clear band concept as their moniker might you think and as their bio reports. There you can read: 'A dystopia is the idea of a society in a repressive and controlled state, often under the guise of being utopian. Examples of dystopias are characterized in books such as "Brave New World and Nineteen Eighty-Four". Other examples include "The Iron Heel", described by Erich Fromm as 'the earliest of the modern Dystopian', and the religious dystopia of "The Handmaid's Tale". Dystopian societies feature different kinds of repressive social control systems, and various forms of active and passive coercion'. They have lyrics that talk about the feeling of being trapped into that sort of society ("Fighting in a prison since the day I was born / Sharing my cell with corpses on the floor" from "Dystopian Society"), about leaving for war ("Don't waste your time at home / We know that you are bored / Just shoot on the infidels / They're good just when they're dead" from "The Last Crusade") and about the feeling of getting crazy ("Behind this curtain / Nothing is real / Don't know who I am / Nor who I was / All these faces in my sleep / Drive me crazy / Paralyzed in myself / Reacting slowly / A cursed path / Of dreary wishes" from "The Spiral"). You can check the whole album at http://dystopiansociety.bandcamp.com/album/cages... I enjoyed it!
Artist:
Sum Of R
(@)
Title:
Ride Out The Waves
Format:
12"
Label:
Storm As He Walks
(@)
Rated:
On the occasion of his remarkable self-titled album on Utech Records we already introduced this skilled Swiss project by Ural Mambo (together with Steven Hess from Locrian, On and Haptic) and Pendulum Nisum (together with Mike Reber) member Reto Mader aka RM74, a polyhedric musician and composer who alternate on bass, drums, percussion, piano, effects and synthesizer. Some of the most attractive aspects of Sum Of R's sound lies in the combination of a sort of ominous apocalyptic imminency, one of the most recurring and reasonable leitmotiv in the range of sources for inspiration, with a certain gore, which gives forth from sometimes unpredictable combustions of doom metal, industrial, instrumental rock and drone. On "Ride Out The Waves", which come out on a very limited edition of 300 copies printed on clear crystal vinyl for Storm As He Walks imprint, Reto Mader co-operates with guitar player Julia Wolf, who already performed with him in many venues by means of her heavy strokes on strings, and emphasizes the ritual aspect of the project, which according to their own words describes "a Rite of Passage, a complex way to go through any common idea of genres using a living and dynamic approach to find a balance between darkness and light, powerful riffs and subliminal melodies, ritual drums and rarefied atmospheres". To be honest, their sound looks like more obscure than bright, even if it got settled on remarkably sturdy stylistical grounds. The isolationist temperament of the initial "Growing Into Something Special", which soom turns into a sort of burdening sepulchral advance, curdles in the following doom-oriented "In The Fields Of Trust", where the typical sinister pace of doom sound (I could mention OM or Sunn O))) in order to give you an idea of the stylistical field they cross) got partially conjugated by unexpected flashes of exuberance which connotes many Swiss band (think about Swamp Terrorists or Alboth!) and captivating harmonic deflections. After the compressed agonizing pitched piano strokes of the saddening "Mist Of Tears", desolation, anger and baleful fibrillation chorally coalesce in the coupled track "Echo" and "Captured Ligthning", which clear the ground for the final harbinger of disaster and shellshocks on the shambling "Alarming", where they make their sound even more hypnotic by means of a screaming rough theremin and warning sirens.
Artist:
The Slaves
(@)
Title:
Ocean On Ocean
Format:
2 x 12" vinyl
Label:
The Helen Scarsdale Agency
(@)
Rated:
There's a wide generation of musicians who are hanging on that idea of frail and fleeting beauty, whose inflection points ideally build an embankment against a supposedly decadent and invasive reality as well as safe mental abodes which could correspond with distant sidereal cleft, vivid remembrances of childhood or maidenhood and other aesthetical escape hatches. The possible stylistical terms for comparison such as Grouper, Cocteau Twins, Cranes or Barn Owl of this likable release by Portland-based duo The Slaves, made up of Barbara Kinzle and Birch Cooper, liaise with many different musical languages for the translation of this mood such as dark, post-rock or math, while it seems The Slaves don't turn their noses up at some sonic hints of witch-house and drone-ambient as the recurrance of quadruplet of bi-tonal based slow lines and the way they transfigure guitars and pads which often sound like equipped with organ-pipes. A sort of self-induced hypnotic suggestion permeates their sonic ravelling so that the pleating of original sound seems to turn into a gust of wind slamming on the doors of crystalline cages by reaching remarkable qualitative peaks and entrancing afterglows in tracks like "Sweet High", "Shadows II", whereas songs like "I'm In Heaven" or "Wild Ride" sound like attempts of reawakening buried alive bacchanals.