Milano, early 80s, the punk movement was at the beginnings and yet another movement was moving its first step: new wave and post punk were born and nervously shaking into their cradles. Other Side and Jeunesse D'Ivoire were both two bands that wanted to leave the sign of their passage. Unfortunately the first one produced only a demo tape where echoes of Bauhaus and Joy Division were loud and alive and the latter had a beautiful track in the second compilation produced by Rockerilla magazine. Their "A Gift Of Tears" has been reissued in different compilations since, also in the U.S., enchanting all the lovers of new wave sounds with its dreamy atmospheres. Both bands didn't last long and they left only few songs which have been gathered five years ago into the compilation issued by Spittle Records titled "Milano New Wave 1980-83". Thirty years after those recordings, we are still here talking about them because Patrizia Tranchina (Jeunesse D'Ivoire's singer) and Danilo Carnevale (guitar and electronics with Jeunesse D'Ivoire and guitar player/singer with Other Side, plus producer during the last fifteen years) are back with Francesco Sindaco as Ivories. Their first EP has just been released digitally and will be out soon on CD. It contains four songs that stand out thanks to their energy and melodies. Put into a blender a bit of post punk, post wave, 90s guitar noise (anyone named Touch And Go?), modern electronics of the likes of Burial or the Triangle bands and a little of synth pop melodies'ÃÃæ turn on and serve cold! On "Landed", for example we have bass and noisy guitar lines in front (do you remember Girls Against Boys), with upbeat drum machine beats and Patrizia's vocals giving that certain new wave flavor. Another track which shows well another side of the band is the following, "Humdrum". It gathers dance bass lines arpeggios, filtered seducing vocals, sparse guitar noises and 4/4 hard beats. Both production and sounds are convincing and catchy and Ivories show themselves as lions who still roar! You can preview all the tracks at their Soundcloud page http://soundcloud.com/ivories_it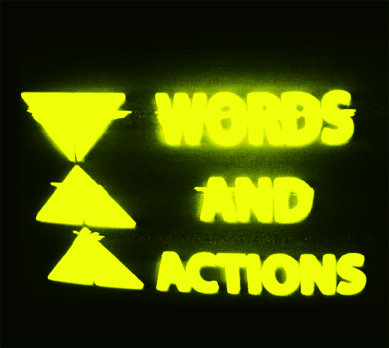 Artist:
Words And Actions
(@)
Title:
Time Can't Be Turned Back
Format:
CD
Label:
Final Muzik
(@)
Rated:
Coming from Alessandria, Italy, Words And Actions are a duo that in the last couple of years released two tapes (one album and a mini) and a video EP (you can check all the videos at their youtube channel http://www.youtube.com/user/cantfeelmyflesh). They recalled me some Italian bands I knew in the 80s (L.A.S.'s Crime that had a compilation of their stuff recently reissued and Thanatou Melos), a bit of DAF as well as nowadays bands that are influenced by those sounds (Martian Canterel, Staccato Du Mal, to name a few). "Time Can't Be Turned Back", issued by Final Muzik, is the first CD release by the duo and it gathers all the tracks from the two EPs ("Life Of Farewells" and "Imperfection") plus six out of ten from the album "Can't Feel". The tracks tend to mix few melodic elements (usually two or three catchy synth lines are alternated) with obsessive drumming and bass lines (they use long distorted synth lines) with the add of filtered cold vocals. Unfortunately I can't tell you more about the project, because also their website is kinda focused on few visual elements which remember me the solarization effect used on early 80s videos. Even if the sound and the visual are deeply linked to the 80s I can't tell that Words And Actions gave me the feeling to be mere revivalist. I think that their fascination isn't fake because if you check on their youtube channel the short video of a live they did at Ligera in Milan about a month ago, you can understand what I'm trying to say as they are able to create a dark atmosphere with few synth lines without sounding naive. It's like they are turning their influences into something new without being poseurs. Anyway, I enjoyed this compilation and it's worth your attention if you dig 80s cold wave.
Artist:
Vulgar Fashion
Title:
s/t
Format:
10"
Label:
Handmade Birds
(@)
Rated:
This intriguing self-named debut release by Vulgar Fashion is one of the most interesting proposal by dynamic label Handmade Birds, who shed chrism on their amazingly contaminated style, which some lucky listeners already tasted during their somehow quirky live exhibition where frontwoman Kubic Zirconia sings and dances on a mist-shrouded (by a portable artifical smoke machine) stage while she smears herself with fake blood and keyboardist Slush numbly maneuvers (seemingly analog) machines in the dark. The initial "Krystal Liez" could let listener imagine that kind of sexy female vampire, who could easily gain liters of blood and a plenty of juicy necks with no efforts due to her allure, so that they immediately respect expectation which could rise from the reading of the official introduction (according to Handmade Birds, "Vulgar Fashion uncovers what heterosexual men think about when they see sexually provocative advertising and stokes the flames of public panic and profit on paranoia over global contagions, extreme weather events, and food contamination scares, while mining our digital footprints to target us with ads and offers that appeal to our psychological profiles"!), which got invigorated by the plastic prurience of the following "Golden Showers". While "Nite Yacht" hovers around that sound which has been succesfully reprised by so-called witch-house, Miss Zircnoia turns into a sort of bad girl who nurtures the hobby of black art on the rabidly riveting "Pact With The Devil", which precedes "Krystal tearz", the most romantic and nostalgic peak of this release, where some mysterious hints made me thought about some stuff by The Electronic Circus, Visage or Crystal Castles. Promising debut!
Artist:
Pavla Mikulasova
(@)
Title:
Mirror
Format:
CD
Label:
Decadance Records
(@)
Rated:
Even though I cannot say it's original at all, this debut release by Czech-born and Italy-based singer and pianist Pavla Mikulasova is quite palatable and the main reason is the element the entire album has been focused on, Pavla's voice, which sounds mellow, emotionally intense and evocative enough. She decided to graft her vocal cords on a stylistical soil which is not virgin at all and this is maybe the main defect of this record, despite the fact that she manages to resemble some worthy past experiences, such as some stuff from the most seraphic part of the repertory by In The Nursery or Ophelia's Dreams (for instance, songs like "Black Out", "Anonymous day" or "The little angel" could evoke ITN's songs like "Poema", "Hallucinations?" or "Duality"), and sometimes smoke music with blurry reminiscences of folk from Eastern Europe. The persistence of themes like the obsession for the passing of time, which has often been recalled by samples of clockworks and various references in the lyrics, the ephemeral essence of beauty, the melancholic coziness of memories (one of the best song has been dedicated to her grandmother, like the whole album) wink at typical listeners of the genre, but walk on the dangerous edge of hackneyed cliches and even the contribution by guest musician Roberto Conforti (Pulcher Femina), who duets with Pavla on "Overdose" and additional vocals by notorious actress Nastassja Kinski on the meaningful song "The Magic Mirror" don't downsize the above-mentioned risk. Anyway there are both premises and skills for further improvement of the musical framework and I'm pretty sure that many musicians who will discover Mikulasova's voice by means of this record could pursue her for a musical partnership.
Dark / Gothic / Wave / New Wave / Dark Wave / Industrial Gothic
Edit (7558)
image not
available
anymore
Artist:
Diaframma
Title:
Demos 1982 / Live 1983
Format:
12"
Label:
Synthetic Shadows Records
Rated:
November 1982, on that year Diaframma released their first single for Italian Records and they were rehearsing for their first MLP that they released the year after for Firenze's main indipendent record label, Contempo. That time in studio they recorded the session and now, thanks to Synthetic Shadows Records, we are able to listen to those versions of their early songs. None of the nine songs are totally unreleased: "Xaviera Hollander", "Pop Art", "Effetto Notte" and "Altrove" have been originally released on the "Altrove" MLP, "Pioggia" and "Illusione Ottica" on their first 7", "Circuito Chiuso" on a 7" released along with the magazine Free on December 1982 and "In Una Finestra Nera" plus "Sdoppiamento", even if haven't been released on albums or singles, have been included on the compilation "Live And Unreleased". This demo session offers to the fans of early post punk and Diaframma the chance to check, in a better way, the primitive urge of expression the quartet had (don't forget that later Federico published "Neogrigio", a collection of his poetry) . Nicola Vannini, Federico Fiumani, Leandro and Gianni Cicchi play their instruments like in trance, sometimes they have some uncertainty but perfection isn't the aim of this release. You can listen to those tracks like you see a man naked to the bone: they are essential and true. There aren't double bass lines, choruses or else. The same goes for the second Diaframma record Synthetic Shadows Records released. This one contains two concerts the band did back in mid 1983 in Rimini and Bologna. Ten songs performed by the original line up and we have Nicola singing two songs he didn't recorded in studio as Miro Sassolini took his place and sung "Neogrigio" and "Specchi d'Acqua" on their first album "Siberia". The quality of the recording is really good, basically I think they've been recorded from the mixing desk. The closing track isn't from a concert, is titled "Federico's Dream" and it's a sort of arpeggio note for a possible track. Nice releases that aren't for fans only.