Dark / Gothic / Wave / New Wave / Dark Wave / Industrial Gothic
Edit (1390)
Postmortem Past's "Injesting the Jacket" is a pretty unique dose of what is essentially very subdued but at the same time very aggro (in attitude if not technical sound) and very ominous. The artist's intent was to blend goth rock and industrial and revitalize what Postmortem Past sees as a limp genre whose best sound was on hiatus. The band here presents its take on the end of the hiatus. Like other dark industrial acts, the vocals are very distorted and this makes them a little hard to understand (coupled with the overall deepness musically - you'll have to turn this CD up a little), however, this is typical of the genre (one of the few things typical about this band, I imagine) and you can't really complain about that. It's a staple of the sound. Deep bass and synth creep along at a deliberate pace that only enhances the darkness. The beats are fairly industrial in the purest sense of the word, featuring a semi-klankiness that enhances the grim ambience of the proceedings. This CD is very dark and very goth and therefore Postmortem Past has achieved what it set out to achieve. Comparison wise, the closest band I could think of in terms of what this reminds me of is Pig on his slow, non-loud, dark and gothed out days (think his remake of Smashing Pumpkins' "God"). Postmortem Past is as industrial as hell but is definitely a dark Stygian molasses river of goth forbodings. The production could stand to be a little crisper but a well done release nonetheless.
Dark / Gothic / Wave / New Wave / Dark Wave / Industrial Gothic
Edit (1385)
Artist:
COUP DE GRĀCE
(@)
Title:
Place Of No Return
Format:
CD
Label:
EQUINOXE Records
(@)
Distributor:
MASTERPIECE Distribution
Rated:
BUY from
HERE
This is the first album for the German band COUP DE GRÂCE, showing a mixture of Gothic Rock, metal riffing, and neoclassic/neofolk influences, with the use of bagpipe and violin. The first song "Until the End" is more metal oriented, with somethings that reminds me of TIAMAT's "Clouds", involving and rhythmical. Both the second track "Untitled", with a neofolk opening with violin (à la ALGIZ) and "When You Are Gone", with acoustic guitar intertwining with bagpipe, start softer to explode with harder metal electric guitars and a rocker attitude, with sometimes growling voice. The chorus of "When You Are Gone" is really good, such as the melodies of "Running Away", probably, in my opinion, the best chorus in all the album. "Deathbed" is like a Gothic Metal song, orchestrated and powerful, but it's not "doom" because of a jumping and shaking rhythmic section. What is, I think, the lack of this album is the rough sound of the violin, not giving the right sweetness and atmosphere to songs, and above all the unripe use of vocals: English pronunciation is too "deutsch" and, even if probably this is the singer's strongest feature, the voice is nearly always whining, and it could be annoying at last. It's a pity because the singer Martin Krauß has a good timbre and could surely do better in the future.
So, a good album showing an interesting new band, but they have to dedicate more time to smooth some roughness, both in sounds and composition.
Dark / Gothic / Wave / New Wave / Dark Wave / Industrial Gothic
Edit (1380)
This is the third album by Libitina, a UK goth band, Libitina. As one of the rising goth acts of our time Libitina combines elements from the more traditional goth-rock sound with modern rock and synth elements. This album sees a bit more focus on the electronics but without losing any of the traditional goth heart and soul. Late 2002 saw the retirement of their previous frontman Peter and this is the first album to feature Phill (Thank the gods it's not Paul) as the main vocalist. Libitina would sit nicely next to bands like Behind the Scenes, Cruxshadows, Bella Morte, and Written In Ashes. I've always liked that Libitina is never too mainstream yet easily accessible while at the same time brings in elements of dark spirituality while not being overt and takes the subtle approach much like Faith & The Muse might. Goth music has always been that which approaches the darker sides of humanity while at the same time being unafraid to inquire about the unknown and Libitina does this nicely. Great to listen to in your bedroom, private dungeon, or stomp on the dancefloor to. The mixing of electronics into traditional goth-rock has somewhat blurred the lines between Darkwave and Goth but it seems to be suitable when bands like Libitina can maintain the more traditional sounding elements of the Gothic genre without losing it to the coldness of electronics. Nicely done!
Dark / Gothic / Wave / New Wave / Dark Wave / Industrial Gothic
Edit (1376)
Artist:
Lilac Ambush
(@)
Title:
Arsenal
Format:
CD
Label:
Twisted Spinach
BUY from
Lilac Ambush is definitely a unique project from Gloucester, Massachusetts formed in 2001. They define themselves as Dark Pop however so far all their reviewers have defined them with post-punk bands like Soft Cell, Joy Division, Red Lorry Yellow Lorry, and even Clan of Xymox. To that I'd like to add Jesus and the Mary Chain while the first, second, and third are pretty on the mark but don't expect the clarity of Xymox here. With a sound that is very hard to describe, very raw and guitar driven yet dark, neurotic, and electronic driven at the same time and vocally apathetic. It's amazing that they are a new millinium band as their sound is derived mainly from the post-punk late 80's and early pre-grunge 90's. While they are neither Gothic nor Industrial they will most likely attract the attention of both groups due to their experimentation with sound structure and style as well as their overall dark and melancholic overtones. This album will be considered either rock-n-roll brilliance or complete crap! I'm still undecided, give it a listen!
Dark / Gothic / Wave / New Wave / Dark Wave / Industrial Gothic
Edit (1368)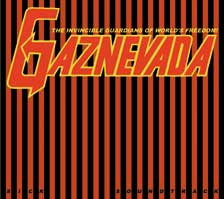 Gaznevada adventure started at the end of the seventies when Billy Blade, Bat Matic, Andrew Nevada, Chainsaw Sally and Robert Squibb decided it was time to give a form to their social / sonic hysteria. At that time alternative foreign records weren't that much distributed here in Italy, so it wouldn't be that correct to link Gaznevada sound to the one of The Contortions, Lydia Lunch and generally to those bands who took part to the no wave movement in USA (maybe they had been more influenced by early Talking Heads from what I can hear on "Oil tubes"). You've got to know that Italy and especially Bologna had a musical developement on its own, just like Pordenone and Firenze. Anyway, the first recordings of the band were gathered on the homonymous tape released by Harpo's Bazar on 1979 (tape that will be released sometimes soon). On this reissue you can find "Mamma dammi la benza" from that tape along with every track coming from their very first album SICK SOUNDTRACK (Astroman also included the track recorded as Billy Blade And The Razors which was given free as a one side single on the first press), the MLP DRESSED TO KILL and their single NEVADAGAZ. Musically you can hear a certain developement that brought the band from the punk impetuosity of the first single ("Blue TV set" is a real punk anthem) to the experimental jazz new wave of the first album where you can find gems like "Going underground" (really memorable its melody and the powerful sax parts), "Japanese girls", "Shock antistatico" (here it seems really to listening to the Contortions of "Designed to kill" mixed with the astonishing band's personality), "Tij-u-van" (a weird opening part that seems coming right from the "united states of middle eastern drunken land" just to turn into a upbeat post punk track). Punk turn back with the live recordings of "Now I want to kill you" where Gaznevada use all their energy for a straight punk song. Listening to this you'll releaze that the band was able to do direct songs with particular structures. With DRESSED TO KILL the sound is a little more elaborated even if there aren't so many differences from the first album. Tracks like "A. Perkins", "Dressed to kill", "Frogs on the phone", "Going underground (2)" (a two minute eccentric reprise of the song coming from the previous record), "D.J." and "When the music is over" (yes, it seems to be twisted experimental cover of the Doors track) are less direct respect the first album but they define a little more the sound of the band adding to it some lush light with those crawling rhythms and cold vocals. This is the second CD released by Astroman and it could be useful to tell who's behind this label. Well, you won't never tell, but it's the same person who was running Italian Records then who decided that it was time to make people discover a part of our musical past that no one should forget. See you soon with he's next reissue: Freak Antoni. I suggest you to don't miss these reissues, you'd regret it! P.s. Get your copy at http://www.sonicrocket.com