Dark / Gothic / Wave / New Wave / Dark Wave / Industrial Gothic
Edit (2394)
Artist:
The Moon and the Nightspirit
Title:
Of Dreams Forgotten and Fables Untold
Format:
CD
Label:
Equilibrium music
(@)
Distributor:
audioglobe
Rated:
The Moon and the Nightspirit is a musical project formed in 2003 by Agnes and Mihaly. To share their experiences gained in worlds arcane with others, Agnes and Mihaly recorded a promotional EP in 2004, then signed to Equilibrium Music for their first full-length album. With the help of a guest musician (Gabor Vegh) on percussions, they released "Of Dreams Forgotten and Fables Untold"
The album is a mystical journey into the amaranthine realm of dreams and beauty, inspired by pagan fables and ancient Hungarian folk music. 9 songs filled with enchanting female vocals, violins, woodwinds and piano, accompanied by acoustic guitars and percussion. This fusion of neo-classical and mediaeval music and the emotive singing give to the listeners some melodies immediately memorable.
Their sound remains to Ataraxia, Hagalaz' Runedance but also to the mainstrem like Enya or Loreena McKennitt. A nice release

Dark / Gothic / Wave / New Wave / Dark Wave / Industrial Gothic
Edit (2393)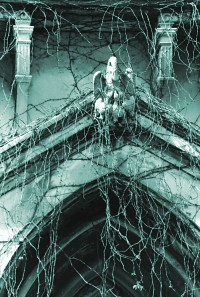 Artist:
ataraxia
Title:
Arcana Eco
Format:
CD
Label:
Ark
(@)
Distributor:
masterpiece
Rated:
Ark Records is an Italian music label that has produced Argine.Now Ark Records has produced Arcana Eco of the Italian neoclassical masters Ataraxia. Ataraxia is a neo-classical group with a number of releases under their belt and Arcana Eco is a book+cd that describe the complete discography of ATARAXIA with black & white and color photographs that include live shots of the band in concert, photographs of the band members posing in natural settings, and several images of band members dressed in medieval.The CD is packaged in a DVD pack, and the book and the CD are packaged together in a slipcase. BOOK : 164 pages,six chapters developping through Livio Bedeschi's photos, Ferruccio Filippi's reflections and Francesca Nicoli's writings; an exhaustive interview; a full discography and the 'Arcana Eco' Cd lyrics.CD : 7 exclusive tracks recorded and mixed between April and July 2004 (total length35 mn), four of them are new, the other three are older songs revisited with a todaysensibility.Cobalt(exclusive new song)Astimelusa(new key-chimes version)Mirsilo(exclusive new song)Fire in the Wood(exclusive new song)Nossa Senhora dos Anjos(new studio version)De Pourpre et d'Argent('A baroque divertissement' version)The Island of Docteur Moreau(exclusive new song)Arcana Eco is a an impressive job and an excellent guide to the vast offerings of Ataraxia .
Dark / Gothic / Wave / New Wave / Dark Wave / Industrial Gothic
Edit (2372)
Artist:
HANA MIYA
Title:
Hank! The Herald
Format:
CDS (CD Single)
Label:
Sonic 360
Rated:
"Hank! The Herald" is a classic X-mas carol and Hana Miya make of it a tortured soul's song. Her internt was of playing a three minutes forty one seconds song that makes everyone stop listening to classic lyrics and whishing for peace on earth. The song is arranged with piano, voice and few lines of strings and it is very touching. A sort of female Nick Cave version of a carol that is brought to you by Sonic 360. P.s. As always this is a download only release.
image not
available
anymore
Artist:
FATHER MURPHY
(@)
Title:
Six musicians getting unknown
Format:
CD
Label:
Madcap collective
(@)
Rated:
"C'mon brothers and sisters, it's sermon time with Father Murphy!!", don't worry this' a band and their only religion is music, for God sake it has nothing to do with any kind of church. "Six musicians getting unknown" is full of indie/alternative folk influences, when playing acoustic they have a lot of Modest Mouse (track 6) or remind their side project called Ugly Casanova. As you can imagine the equation is: "folk-rock", "alternative-rock" with an eye open on american roots. The songwriting sometimes is incredibly good and arrngements such as backing vocals, violins, keyboards don't hide too much the genuine "acustic-rock" style of the tracks. Father Murphy (aka Federico Zanatta plus some boys and girls from the Mad Cap collective) knows pretty well where he's coming and above all where he's headed, despite the songs pass from the depressed ballad to the rock hit, the sound is tight and homogeneous. Probably I'm boring but one of my favourite track of the lot is the last one (I'm talking about the hidden one) that's probably the weirdest track of the record: a real acid pearl a la Radiohead (Pink Floyd!?), that means an effected vocals that floats on a of single note reverbed drone with feedbacks fading distantly. Father's sin is indie music.
Artist:
FORETASTE
(@)
Title:
Beautiful Creatures
Format:
CD
Label:
Boredom Product
(@)
Rated:
Announced about a year ago, finally BEAUTIFUL CREATURES, the debut Fretaste's album is out. A year ago I postponed my judgement about the band, waiting for the release of this CD. Well, I must say that the duo formed by Sylvie and Pierre refined their style and they produced twelve tracks of electro wave that really convinced me. I didn't remember their music to be that seductive, so just to give a good judgement I checked the MCD that already was containing four tracks that have been re-released on BEAUTIFUL CREATURES and I was right, because now they sound amazingly better: I think that the production of the album helped so much giving a new life to "Discordance", "Victim's heart", "For your own good" and to "Re-love". The vocals are better mixed with the instruments and the music sounds well balanced. In this way the band's skills are better shown and you'll will appreciate the catchy melodies and the electro wave style they deal so well with. The album doesn't sound retro even if you can hear the '80s influences. Melancholy is well balanced with the energetic arrangement and, in this way, the calm and mysterious Sylvie's voice find completion into the beating drum and the synthesizers programmed by Pierre. Tracks like "That smiling man" or the main title "Beatiful creatures" sum really well the new band's style and the whole album is a convincing one that prove that in one year the band did a wonderful job.