Dark / Gothic / Wave / New Wave / Dark Wave / Industrial Gothic
Edit (726)
Coming from Slovakia, Frown produced over the years two self produced demos and two albums for Moonstorm, a German label dedicated to dark goth and metal music. After two years from their first album "Features And Causes Of The Frozen Origin" Frown produced this LUNARY BRIGHTSHINE AND FIERY SPLENDOUR, which gathers into its twelve tracks clear influences of two bands which headed the dark metal and goth movement of the last decades: Type O Negative and Sisters Of Mercy. While the Sister Of Mercy influences aren't that evident, Type O Negative music echo during the whole album, under many forms: melody arrangements, vocals, etc. Sometimes there are also little punk moments a la Misfits but withouth any doubt Peter Steel has been the main influence of the band (maybe a little too much). Without being clones (even if we aren't too far) and producing good goth metal, Frown album is powerful and contains good tunes but in my opinion they've got a certain unused potential they could explore to detach themselves from their heroes. Check their website and make your own opinion listening to some mp3s.
Dark / Gothic / Wave / New Wave / Dark Wave / Industrial Gothic
Edit (725)
image not
available
anymore
Artist:
GOTHICA
(@)
Title:
The Cliff Of Suicide
Format:
CD
Label:
Cruel Moon
(@)
Distributor:
Audioglobe
BUY from
THE CLIFF OF SUICIDE is the second CD for this Italian band which found home in the realm of Cruel Moon, the Cold Meat Industry sister label devoted to folk dark sounds. The CD opens the feast with "Nel Buio", a track which immediately shows to the listener what he's about to listen: ten tracks full of pathos and love, influenced by Dead Can Dance and by medieval atmospheres. If you listen carefully to the music it can easily reminds you Brendan Perry's arpeggios as well his taste about strings arrangements. In this case it's not a mere copy and if you loved that band you can easily appreciate Gothica. Stefania's vocals can't be compared to Lisa Gerrard's one but we are talking about different styles because as you can easily guess from their name, Gothica gathered on their music all the influences dear to the Italian gothic movement filtering them with their cultural background. If you already read my reviews you know that I don't like that much this style of singing (I preferred Roberto's) but I definitively appreciated the atmospheres and the music of the band. Check it out if you love dark and medieval tunes with good musical pieces. P.s. The CD contains also the video clip of the main title which you can watch with your computer.
Dark / Gothic / Wave / New Wave / Dark Wave / Industrial Gothic
Edit (724)
image not
available
anymore
After two albums, two mini cds and a line up change, Scream Silence produced an intense and melancholic album. The ten tracks of this new release sound gothic with a little bit of metal and tons of melody, while Hardys' vocals paint desolate landscapes of love delusions. Being romantic and powerful at the same time, SEVEN TEARS with tracks like "Timid Try" (beautiful melody with energic riffs which convinced me since the first listening), "Morphosis", "Asylum" or the powerful "Consolation" is a good album with at least five beautiful tracks. Sometimes the tracks sounds similar but the general atmosphere is compact and pleasant and you'll find yourself playing some tracks over and over. Scream Silence with this album remembered me also a rock version of the new Covenant musical path. Germany is discovering itself romantic and energetic at the same time and it seems to like it...
Dark / Gothic / Wave / New Wave / Dark Wave / Industrial Gothic
Edit (723)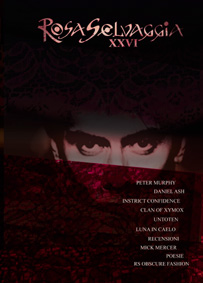 ROSA SELVAGGIA IV is a compilation which is sold with the glossy magazine of the same name. Into this issue 26 you can find interviews with: Peter Murphy, Daniel Ash, Clan of Xymox, Untoten, Luna in Caelo, GOR, Mick Mercer, In Strict Confidence, dj Franz, Simone Arcagni, Mouth of Indiffernce, Pleasure and Pain plus articles, writings and reviews. The CD contains unreleased tracks or rare ones of the following Italian bands: Gothica, Spiritual Front, Lily's Puff, Northgate, Vidi Aquam, Runes Order, Etoile Noire, Hysterie, Rose Rovine e Amanti, Enigma Eden, Daniele Brusaschetto, Psycho D-Vein, Aenima, Siking With Love. The sound goes to goth/post punk/new wave (Sinking With Love, Psycho D-Vein, Vidi Aquam, Aenima, Etoile Noire, Northgate), folk/dark (Gothica, Rose Rovine E Amanti, Lily's Puff, Spiritual Front) to electronic/industrial/dark (Runes Order, Hysterie, Daniele Brusaschetto, Enigma Eden). I don't have the magazine but I think that it's in Italian language. These are the rates to get a copy in Italy: 10.oo Euro + 1.86 for the CD version or 5,oo Euro + 1.86 for the magazine only. Write them or send the money to Rosa Selvaggia, via Venezia 10, 2003 Cologno Monzese (MI).
Dark / Gothic / Wave / New Wave / Dark Wave / Industrial Gothic
Edit (720)
image not
available
anymore
One of the strangest, most alluring and yet challenging of all the metal bands is Greece's Septic Flesh. If you expect traditional anything with this group, you're abound to get spit on right then and there. Spitting directly in the face of metal elitism, this Greek group incorporates heavy elements of gothic rock such as Fields of The Nephilim (with no lack of their mysticism) and especially Paradise Lost (whom they have recorded covers of), dark ambience ala Megaptera and Das Ich, dark classical and industrial into their already strange brand of doom/gothic metal. The beginning track, "Behold The Land Of Promise," is as cold and unforgiving a landscape as it gets, draped with foreboding opera vocals drenched over unsettling chimes and bells, all coated with some of the darkest synth work this side of Antigen Shift. I'm glad as hell they were lying about getting rid of all those classical and goth influences in their music, as it does effectively add to it. Next comes the lo-fi tornado "Unbeliever", which blends together a strange brew of dark speed metal and goth rock, only to switch off into a dark neo-classical structure very soon afterwards. Many will note the Paradise Lost influences on the songs "When All Is None" and "Virtues Of The Beast", with it's distinctive riff laden gothic metal. To even more spit in the face of metal elitists out there who say it's wrong to experiment, they even blend some slow death folk and industrial on "When All Is None", all with those menacingly low growls of the singer. All this CD is a journey into a very bizarre and unsettling occult world, and the lyrics in part reflect that. Covering such subjects as space travel and the overall subject of how man's base nature is behind every piece of technology, the lyrics are anamorphous and fluid at the same time, foreboding and inspiring all at once. And the artwork is sure to delight any Gieger nut like me. The artwork, all done masterfully by band member Seth, is something that you'll surely be looking at as the music dares you to dig just a little deeper. Pictures of the singer with a bloody hole in his hand with a coachroach in it, along with pictures of some otherworldly inhuman figures in many tortured poses is something to keep you guessing. Not to mention the Hellraiser-esque pictures of the band. I'm echoing the sentiments of many metalheads and Goths I know who have heard this CD: It is a fucking masterpiece, hands down. But it is also a crowning example of how genres can be blended seamlessly and not even be noticed until you pick it apart in the end, bringing together hardcore Goths, Rivetheads and Metalheads in the end perfectly. This CD is not just for one of those, it is for anyone who appreciates music that defies idiot ideas such as crowds and genres. There is no genre for this... ... ... ... ... ..It is simply Septic Flesh. Rating: 10Also recommended are Rotting Christ and of course Paradise Lost. Also of note is Chaostar, which is Septic Flesh's dark ambient and classical project. But I'd heavily advise that only those truly into dark music listen to it, it's not an easy listen otherwise.