A contemporary of the likes of Nite Jewel and Ariel Pink on the productive and cultish LA art-pop scene, Geneva Jacuzzi here presents a new collection of brazen, leftfield synthwave numbers called Technophelia. With the deliberately muddy, lo-fi fad now out of fashion for 80s appropriators, Geneva follows suit with most of the scene's continuing practitioners on their recent efforts, turning up the cutoff on her authentic analogue hardware and investigating the clarity of the upper spectrum.

In contrast with something like the rather straight-faced role-play of Nite Jewel's One Second of Love, Technophelia is less even, more lyrically and sonically adventurous and wackier in general. Take the lead single and album centrepiece 'Cannibal Babies'. The rhythm is an Italo strut, over which Geneva lays a very potent, jagged synth lead riff and a lot of delayed vocal play beneath the main lines. She makes lively lyrical references to vorarephilic hookups, apparently complete with absurd suggestions of starting a cannibal bloodline. "Try to remember / You're dancing with your dinner / You don't wanna get me thinner", she warns. A couple of lines later, as a brilliantly lush chorus prepares to drop, she exclaims "I'm gonna eat your - eat your sex. Ugh!" It's loopy, and great fun from the start. As a single, it's delivered complete with a decent video that brings together fitness dancing, revolting black teeth and nifty datamoshing.

Unlike 'Cannibal Babies', which passes five minutes, most of the album consists of short tracks. There are grimy, flattened motifs that could've been lifted from tacky slasher films, as in 'Technophelia (Intro)' and 'Technophelia' (naturally, the intro is longer than the main song). There's flirtation with darkwave, such as in 'Casket' and 'Squid Hunter'. There's a decent noodling vignette with the delicate title 'Biogasms in Babyland', as well as a more straightforward pop diversion in 'Macho Island'. 'I'm a TV' either draws parallels between voyeurism, objectification and physical manipulation/touch, or indulges in a retro sci-fi narrative about machine sentience - or perhaps combines the two.

Altogether, as with most synthwave, there's nothing especially surprising on the record, and a few of the tunes don't really stick. More inclusions on the spectacular level of 'Cannibal Babies' would have been nice. That said, Technophelia is a very confident effort, and gleefully, irresistibly tacky.
The first seconds of "Final" - in spite of its name, it's the first track of this awesome album - could vaguely resemble the strings of "Yfirum" by Hilmar Ãrn Hilmarsson, but the direction that this output by Italian musician Andrea Gastaldello after dilutions of strings, that got wisely delayed and diluted over a metallic scratchy noise which could evoke the image of a painful laceration, is completely different and somehow unpredictable, even if the way by which he modelled his sound keeps on recalling some "deep" stuff of the Nordic scene that became remarkably popular in the first decade of the new millennium. The subterranean clicking, the ephemeral string-like whispers and the gradually ignited trigger of "Afterdark", the faint anxiety of the piercing narrow dynamics of the following "Words" and the almost chilling title-track "Static" wisely push listeners towards a sort of idle soul-scanning and such an introspective dimension doesn't really shows signs of subsidence during the first electro-mechanical subtle assault of the labyrinthine "Sevi Lwa", named after the branch of Voodoo which focuses on love spells. The thin air that sounds like getting excited by a crescendo of electronic percussions and sonic glare on "Dummies" and the temporary lukewarm quiet of "Slow" (featuring a sound which seems to come from old rotary dials) are the watersheds of "Static", whose temporary peace got definitively disturbed by the gloomy electrical throttling of "Conditions", which managed to hook some past listening memories such as Ltd.Noise, the almost unknown project by Paul Fishman - one of the founding members of Re-Flex - and Peter Gill - former drummer of Frankie Goes To Hollywood, or Danny Almonde. The cathartic defrosting on the beautiful "Solitude" and the humoral post-industrial traces on "Too Late" prepare the ground for the extremely catchy tones of "Fate", where the achieving of new insights seems to find a sort of sonic mirroring. Masterfully mastered by Eraldo Bernocchi.
Dark / Gothic / Wave / New Wave / Dark Wave / Industrial Gothic
Edit (9113)
Artist:
Aidan Casserly & Kriistal Ann
Title:
Muse
Format:
CD
Label:
Werkstatt Recordings
Rated:
Released in a limited CD run and in digital format, "Muse" is a particular album born out of the mutual respect of two artists of the modern underground synthpop scene: Aidan Casserly (singer of the now disbanded Empire State Human and The Garland Cult, member of Kubo and solo artist as Figaro and Aidan Casserly) and Kriistal Ann (singer with Paradox Obscure and solo). With their projects they are well known in the synthpop scene for the quality of their music and for their performances as lead singers. "Muse" is a project born because Aidan loved Kriistal Ann as an artist and they already collaborated together. He wanted to propose to her his idea of sharing an album that was different from everything they already did but somehow he was afraid to propose that to her. When he did, she gladly accepted, they went out from their comfort zone and they were the muse for each other. The nine tracks of "Muse" are folksy, jazzy, pop tunes based on acoustic instruments. If you want me to compare these tunes with something, I can say that if you like the solo Marc Almond stuff, for sure you'll like also these tunes as they sound classy and full of phatos. It's impossible to stay impassible listening to songs like "Steal Into Symbols" or "Mortals To The Underworld". Well done! You can give it a listen here: https://synthesizer.bandcamp.com/album/247-aidan-casserly-kriistal-ann-muse
Dark / Gothic / Wave / New Wave / Dark Wave / Industrial Gothic
Edit (9109)
You know I really feel for new artists trying to make it today in music. Most all acts start out as unsigned, unappreciated and pretty broke. Some get lucky and through the magic of the Internet manage to gain a sizable following, and maybe even a recording contract with some good promotion. Many more though don't, and get lost in the shuffle. Sometimes that's a shame because a lot of talent gets just plain ignored. Then again, some just aren't ready for prime time, and others never will be. Last Snow is an alternative/goth rock band from St. Paul, Minnesota consisting of Kay Trust - vocal, guitar and bass; Dave - lead guitar; Trey - bass; and Matt- drums. 'Guardian of the Threshold' is an EP that seems to be their debut release. They claim that it's a concept piece based on the writings of esoteric philosopher Rudolf Steiner concering "Spiritual Science". Hmmm...potentially deep stuff. It consists of 5 tracks - "Ascent," "The Darkness," "Comfortably Numb," "Through the Veil," and "Carnation". And yes, "Comfortably Numb" is a cover of the Pink Floyd song.

The opener is an innocuous, someewhat mellow, medium tempo instrumental number with guitar, bass and drums and what sounds like a little keyboard. Have you ever seen the hippie/acid cult classic "Psych Out" ? There's a part in the movie where Stoney's (Jack Nicholson) band is rehearsing playing a meandering psychedlic instrumental tune. This reminds me a little of that. "The Darkness" has a bit more motion and direction, steeped in a gothy sort of psychedlia with reverb-swathed gravelly vocal. Not too bad but it definitely sounds like a home recording. Things take a different turn though with "Comfortably Numb". It sounds more like a band on this track but...the vocal is definitely painful. It's not too obvious until you get to the chorus. That's somewhat symptomatic of the song; in the Floyd, Roger Waters (not a great vocalist) sing the verse, and David Gilmour (a pretty good vocalist) has the lead on the chorus. You can get away singing the verses on this number without a really good voice, but not so much on the chorus. It sounds like a bar band that got a spur of the moment request to play the song. This isn't a short song either at over seven minutes. One had better be comfortably numb to put up with it until the end.

"Through the Veil" which follows is another instrumental. With a little more polish (and decent mellow vocals) it sounds like something that might come out of Brian Eno's latter-day ouevre. As an instrumetal though, it meanders a bit too much for my taste. Final track "Carnation" is pretty much along the same line. The problem with Last Snow is that they haven't yet developed an identity in their music, and I doubt they want to be known for the worst ever cover of "Comfotably Numb". This band sounds a lot more alt than goth, and if they ever want to get a review here again, they need to cultivate their goth side. 'Guardian of the Threshold' seems to indicate that Last Snow isn't quite ready for prime time yet. Their next release should tell if they ever will be.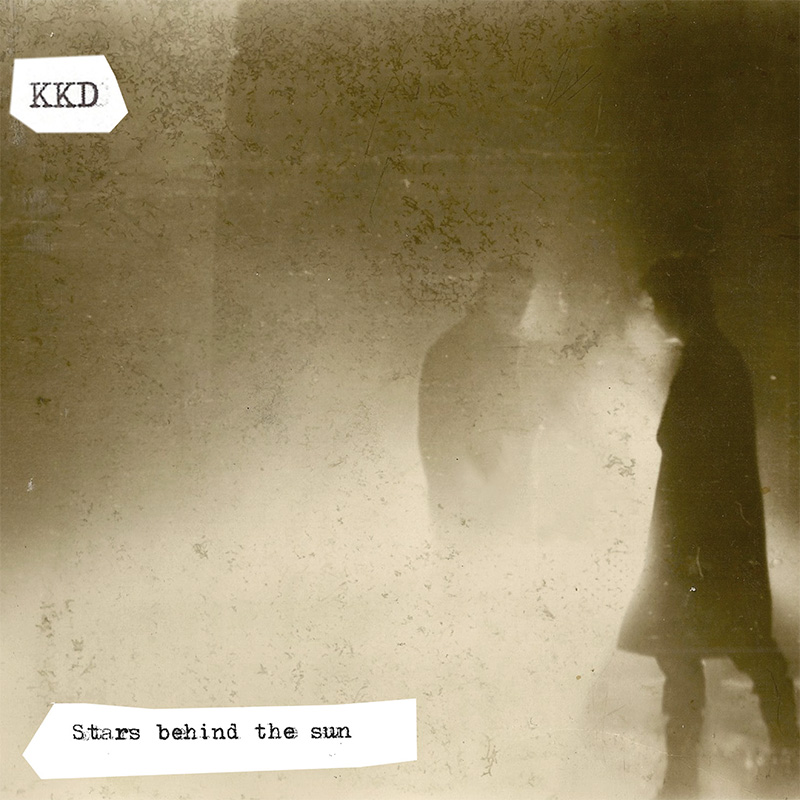 Artist:
KKD
Title:
Stars Behind The Sun
Format:
12"
Label:
Synthetic Shadows
Rated:
Active at first in the late 70s/early 80s and now alive and kicking again, KKD were coming from Modena (Italy). Taking an ex hotel as headquarter where experimenting with sounds and graphics, they took the post punk / new wave sounds as a starting point just to let their imagination run free. If tracks like "Sound From The Universe" were sounding quite standard for that period, others like "I Need Help", "Stalin Strategy" or "Kippur" were examples of their will to break the boundaries of genres. Even if they were using bass and guitars, they were filtering them through the Korg MS20 synth, creating in this way a post wave hybrid. The sign that their intuitions were good was showed also from the fact that Ralph Records appreciated them but, unluckily, we had the chance to check only two of their songs on the ultra rare compilation "First Relation" released in 1983 by Lisfrank's label Man Mask: "House TV" and "And In Your Mind". Now, thanks to Synthetic Shadows, a wider audience is able to check KKD music by purchasing the LP "Stars Behind The Sun", a compilation album that gathers fourteen tracks composed from 1979 to 1983. On this album there's no rip off track and you'll have the chance to have a glimpse of their music. Prepare yourself for dark post punk, minimal wave experimentations, new wave catchy melodies and more!