Dark / Gothic / Wave / New Wave / Dark Wave / Industrial Gothic
Edit (9421)
Artist:
Batalion d'Amour
(@)
Title:
Fenix
Format:
CD
Label:
Echozone
(@)
Rated:
Polish band Batalion d'Amour has been around since 1989 and has five previous albums since 1998. They're kind of a goth/darkwave outfit fronted by the gorgeous Karolina Andrzejewska who has been with them since their previous (2005) album 'Niya'. One good reason why you (and I) may not heard of them before is Karolina sings mostly in Polish. (Well, to be fair, there is one song with English lyrics, and a version of one other song in English later in the album.) For me, this proves to be quite problematic; if I can't understand the songs without the translated lyrics, they're not going to resonate much with me. Be that as it may, Karolina has a beautiful voice (way better than their previous vocalist) and the band is also quite adept instrumentally.

Opening track "Bez Nas" ("Without Us") is a memorable one with a Spanish lilt to it. Second song, "Charlotte" seems to be the band's choice for a hit single, especially since tracks 12-14 are four different versions of it, and one version in English as I mentioned above. Funny though, as nice a melodic song as it is, I'm not getting "hit single melodic hook" out of this one, even in English; it's much too wordy for that. I'm not even getting a distinctive guitar part, or anything else that grabs the attention like a hit single should. Third song, "Miedzy Slowami" ("Between the Lines")seems to have more going for it, with a Fields of the Nephelim style guitar riff, strong verses and melodically memorable chorus. Good song for the dancefloor too. Throughout the album songs are done with dark romantic flavor, but I'm detecting a move away from traditional goth, and more towards a kind of progressive alt-metal sound. There is still a sort of gothy overtone, but not like they used to sound; steeped in it. On one level the songwriting seems to be getting better, but having found their niche, Batalion d'Amour seems to be heading for a more commercially accessible sound overall. Occasionally they do surprise though, as in the odd-timing instrumental break in "Zawroceni" ("The Way Back") and the acoustic "The Lost Diary" in English, a sentimental duet with John Porter. The song with Tomasz Grochola from Agressiva 69 adding some vocals with Karolina did nothing for me. On numerous occasions Karolina's voice is multi-tracked in harmonies, and although it's effective on the album, I'm not sure how that's going to translate live unless they add backing female vocalists. No doubt though that her lyrics are quite poetic; even in English (translated in the accompanying booklet) they have a certain charm to them. The band also adds some nice arrangement touches, especially in the keyboard department. As for the remixes of "Charlotte," the slowed-down acoustic version with violins is the best, and most different, and the English version is nice because it's in English. Pawel Penarski's remix clubs it up with a strong dance beat, but that's about it, and the "Radio Edit" is just superfluous.

'Fenix' could have been a lot better album if it was sung entirely in English, or perhaps two versions- one for the Poles and the other for the rest of us, because after all, English is the universal pop song medium, like it or not. Assuredly, there are those who would disagree, feeling that Karolina's words and voice are better, more expressive or even more exotic in her native language, but if you want to get anywhere in the world of popular music, English is a necessity. There are some few exceptions (Industrial in German for one, as it has that harsh guttural inflection and tone that conveys a certain sternness you can't get in any other language) but for what these folks are doing, the English language would serve them well. If they record their next album that way, I'll be all ears.
Dark / Gothic / Wave / New Wave / Dark Wave / Industrial Gothic
Edit (9401)
"Autark" is a 4-track EP and a 6-track remix package bundled into one 10-track, 41 minute product.

Lyrically, this is as dark and gothic as the artwork suggests. "Autark", "Zuse" and "Magnetar" are German-language, while "Communion" is an English-language lyric using a church Sunday service as a metaphor for sex in a way that's bordering on the comedy lyric ("swallow me like communion"...), seemingly performed with a totally straight face.

Production-wise though, things are a bit lighter. Describing itself as "German-American Industrialpop", they're not ashamed of the "pop" element. This is synthpop, with a few discordant notes and jangles. You could easily take replace the metal vocal with something lighter and poppier and have something mainstream-radio-friendly. There are strong shades of bands like Empire State Human in the arrangements.

Of the four original tracks, "Zuse" is the most interesting, with its unusual, glitch-influenced groove, twangy country-guitar-like sounds and the most memorable hook of the bunch.

The remixes are generally on the short side- in fact they're all shorter than the original version, which is unusual- and keep a firm eye on the original audience, rather than trying to bring the track into mainstream clubland or any other different realms. The Leipzig and Boston remixes are the band's own, and it shows- stripping back but thoroughly respecting the original, polishing the synthpop credentials.

Artists Against Pop's "Halle" remix demonstrates that they aren't against pop at all and are seemingly rather partial to a bit of a power-pop-ballad, which is what the track becomes. Fakzility's "St Eval" remix brings heavier breakbeats and guitars. Ninetwelve's three-minute "Philadelphia" version is a dramatic, film-score type arrangement full of string stabs and percussion, while 11gram's "Adelaide" mix gives it some Depeche Mode-like flavours.

This is two single's worth of material rolled into one ten-track release that's polished and sincere, but without having all that much of a "wow" factor.
Dark / Gothic / Wave / New Wave / Dark Wave / Industrial Gothic
Edit (9377)
Okay, I admit it. I'm a sucker for dark pop bands with female lead vocalists, especially pretty ones with great voices. On that criteria Eilera already has my full attention. Eilera (given name: Aurélie Potin Suau) is originally from France and now resides in Finland. In France she was a guitarist and vocalist in a progressive death metal band called Chrysalis formed back in 1995. Apparently she got tired of that, changed her name to Eilera and has been releasing music under the name of Eilera since 2003. 'Face Your Demons' is her fourth full-length album. For all of Eilera's experience, she doesn't look very old. Having no prior experience with this artist, I checked out some of her previous material, and it was good, but not what I'd call compelling. 'Face Your Demons' is a whole 'nother story. This is one slick album, no doubt because it was mixed by Tero Kinnunen (Nightwish producer) and mastered by Mika Jussila in Finnvox Studios (used by Nightwish, Avantasia, and Amorphis). While Nightwish is still Finland's most successful rock band, Eilera's definitely knockin' on the door with 'Face Your Demons'.

Eilera has a somewhat exotic, ultra-melodic voice, simultaneously channeling Bjork, Tori Amos and Kate Bush into one hell of a charismatic potion. The music on 'Face Your Demons' straddles Goth and Pop, dark and light in an uber-appealing melange. The album opens potent and gothy with the title track, and you can tell right off the bat Eilera's aim is true in targeting the dark pop market. Great hook, great band, great arrangement, great song...what more could you ask for? Speaking of the band, Eilera has assembled quite a crew of musicians for this album - Roni SeppÄnen and Jani Luttinen (The Wake, The Scourger, Survivors Zero, Bleeding Harmony): guitars; Lauri Salomaa: keyboards; Toni Paanzanen (Malpractice and Hevein), Waltteri VÄyrynen (Hypothesis, Paradise Lost, The Ghost I've Become) and Mirka Kiril Rantanen ((Thunderstone, Warmen, Kotipelto, DO Messiah): drums; Emilia Lajunen: fiddle; Lily Neill: celtic harp, and also the Jousikaiku String Quarter.

There is no letdown with the second track, "Your Way," full of urgency, a relentless beat, and an amazingly powerful hook comprised of nonsense syllables. The atmospheric "Deadly Together" changes the pace exploring a strange, possibly destructive relationship. A beautiful song, "Angel Made Temptress" follows, with its ultra-memorable chorus. "Frozen Path" keeps the great hooks coming and the bittersweet fiddle is a nice touch too. This song epitomizes the stellar production; the band that's powerful when it needs to be, and demure when the music calls for it. I thought there might be a mid-album slump with "Polynia," a kind of standard mid-tempo rocker but Eilera's engaging vocals and melody save it from the doldrums. The same is true for "Cure," where you can't but help being drawn in. Time for a power ballad, Eilera-style with "Into the Sea." The chorus isn't particularly strong in my estimation (in light of previous songs) but it's nicely done. "Male/Female" Balance" might be taken by some as filler, borrowing the chorus melody from
"Your Way" in the background, but I like its ambiance. It's too bad that the album closer, "Protect You" lacks some punch, but is otherwise a good song. There is more though- Finnvox versions of "Frozen Path" and "Into the Sea." I don't think these versions are any better (or worse) than the originals, just slightly different; seemed a bit superfluous to me. I would rather have had a longer epic track to end the album, and I'm sure Eilera could have pulled one off.

I think most music critics (myself included) are way too harsh, and almost nobody turns out a perfect album. Still, there is so much to love about this darkewave effort, with great songwriting and arrangements and compelling vocals superbly blending drama, pathos and joie de vivre. Some are going to say it's not Goth enough, not dark enough, not metal enough, too pop-oriented, whatever. For me, the mass appeal of an artist who can engage a wider audience with this kind of music is just fantastic. I want to see Eilera make it big where she's not very well known, particularly in the U.S. of A. That's going to take some $$$$, and if Echozone has any vision and a decent promotional budget, they'd pony up and spring for a U.S. tour. I'd see that show in a heartbeat.
Dark / Gothic / Wave / New Wave / Dark Wave / Industrial Gothic
Edit (9361)
Five furious tracks, five minutes.
Raw, unpolished, like five demos.
Grungy teenage garage band ethos.
Jarring extracts yet no surprises.
Not long enough to explore.

As part of Silber Records' ongoing 5in5 series, where an artist creates five one-minute-long tracks to create a five-minute-long mini-release, post-punk M is We's contribution is a echo-ey, primitive-sounding collection of what feels like five potential introductions to interesting works, unfinished. The abrupt ending on some of the tracks adds to the sense of these being extracts.

Music with such a languid pace and immersive drone-like aesthetic doesn't squeeze all that nicely into a 5in5 concept perhaps better suited to higher-tempo pieces, making this feel more like a free promo sampler than a complete mini-album as others have managed.
Dark / Gothic / Wave / New Wave / Dark Wave / Industrial Gothic
Edit (9356)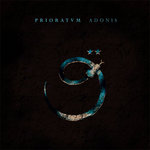 Artist:
Prioratvm
(@)
Title:
Adonis
Format:
CD
Label:
Final Muzik
(@)
Rated:
Prioratvm is the project by Mirko B. based on a form of neofolk in the vein of the gothic oriented form. So, while the classical guitar is often the main instruments used, the synth are mostly used to obtain atmospheres as sentimental as solemn which are far enough from being mawkish. As the genre's code imposes, the album is based on an ancient myth revolving around beauty.
After an initial atmospheric part, the opening track of this release, "Chajat", focuses on an almost oriental melody. "Belus at Biltis" is closer to some gothic or neofolk music as the classical guitar has the role to expose the main theme of the track. "Adonis" features an apparently different track structure as the synth is the main element instead of having an accompaniment's role. The voice of Maria Cristina Anzola on "Didusch" is able to carry all the musical content as the guitar does in "L'Age D'Or". The spoken words of "La Chute D'Adonis" marks an incursion into more experimental and evocative territories based on the used of more sustained tones as "L'arbre Interdit" partially continues with his hypnotic melody. While "Esvaba L'Usurpateur" partially continues on the same path, the return of the guitar marks the return into more neoclassical path so "Le Serpent Et La Sagesse" closes this release with a guitar melody.
Obviously it doesn't make sense to talk about any innovation when genres as neofolk or chamber are used, instead the quality of writing and the equilibrium of musical elements are the main points for the critical discussion. Adonis is a solid release, probably due also to the sonic equilibrium obtained by the mastering work, and the brilliant tracks make Prioratvm a name to keep an eye on for all fans of this musical genre.