Dark / Gothic / Wave / New Wave / Dark Wave / Industrial Gothic
Edit (9164)
problems
with image
availability
Artist:
Rendez-Vous
(@)
Title:
Distance
Format:
CD & Vinyl
Label:
Avant! Records
Distributor:
Backwards, Solo Vinili & Libri, Ultrasuoni (TO)
Rated:
Francis Mallari, Elliot Berthault, Maxime Gendre, Simon Dubourg here are the name of the confirmation of the undoubted fact that WAVE is a French stuff in the present time. The synth bass, the guitar, and the effects warping the voice are the pillars of this Ep which drags us slowly in a humid and stinky night in the slums of Paris searching for a gig of the same band and then to get lost like an early movie of Luc Besson, Subway. It's not rare in wave music that the music itself is the perfect soundtrack to tell about it. Rendez-Vous has the energy, the skills, the rage, the elegance to tell again about the soul of Fad Gadget and so to sacrifice on the shrine of the god of post-punk their talent. The track which struck: Euroshima is brilliant lively and dirty as the Wave must be.
Dark / Gothic / Wave / New Wave / Dark Wave / Industrial Gothic
Edit (9162)
Artist:
Koban
Title:
Abject Obsession
Format:
CD & Vinyl
Label:
Avant! Records
Rated:
The Art to make Music and to make it interesting is a job that Avant! Records knows very well. This music work of the post-punk due from Vancouver gives a perfect demonstration of the cure and skill of this label. The music of KOBAN is an hidden black pearl in the memories of the audience which still is yearning for punk-wave soundscapes. Smoothly ready to be a sound track for SM acts Abject Obsession flows in the stream of an eternal memento of vinyl and distorted guitar, pulsing bass and weird french voices seized and flogged by harsh synths. What is amazing for a terminal wave-lover like me is how this proposal so traditional and sadistically observant of the punk-wave rules is never boring and it thrives perfectly in its eerie garden.
Dark / Gothic / Wave / New Wave / Dark Wave / Industrial Gothic
Edit (9151)
Artist:
Nervous Curtains
Title:
Low Defender
Format:
CD EP
Label:
medical-records
Rated:
It's a sound work thriving under the sign of Apocalypse blessed from the past by a legendary and elegant band like "A Certain Ratio". Low Defender of the Nervous Curtains has a sound rich in texture and thinking and it tells us about a universe without hope, a collapse of what we call modern civilization. Even if the dark synth wave is present what we listen and feel is a strong and vivid intelligence in this fresco, the human culture is not disappearing is reacting. The band is from Dallas, the capital of a reign very unique and dense of icons and strange memories of the near past. It's again a sign of how much complex and powerful is the American counter culture and its sensibility in the scan of reality. They tell us that PARANOIA is a cultural commodity and how to deny this insight in the era of conspiracy we live. Remarkable is the video of the track DEVASTATOR an endeavor that for sure will got attention from the Walking Dead fans even if there are no flesh eaters but something definitely more interesting: https://www.youtube.com/watch?v=TDrWYd758CE&feature=youtu.be the star of the video is the talented actor Dean Wray.
Dark / Gothic / Wave / New Wave / Dark Wave / Industrial Gothic
Edit (9135)
Artist:
Asylum Sisters
(@)
Title:
A Faith Called You
Format:
CD EP
Label:
self-released
Rated:
Asylum Sisters is a band from Melbourne, Australia and 'A Faith Called You' is their self-released sophomore EP after 'Educate Consciousness' (2015). This duo contains no "sisters" per se, but consists of Caitlin Mary Cunningham (vocals) and Martin Pike (instruments - synths, beat programming, guitar) who seem to be kindred spirits. They're a young band, but a savvy one from what I'm hearing on 'AFCY'. The EP is seven tracks, and takes you through a variety of moods and motifs. Beginning with "Chaos," there is a solid techno influence here in the music with Caitlin's processed vocals riding over the top like a valkyrie. On "Push" Caitlin alternates between rapping and speak-singing over abrasive synths about the futility of the work ethic, while vocals and music pick up in psychotic intensity. "Your Mind" adds in industrial guitar as Caitlin's voice turns neo-punk, Brutally danceable for the most part, yet somehow seductive. Track four has a symbol for a "triangle" (I don't have the font to show that) and is a bit of a glorious mess, incorporating dubstep, electro-rap, industrial, and even some pretty electric guitar. Caitlin's vocals range from lovely (processed) melodic to raging screamo. There are moments of Nine Inch Nails dark moodiness, especially in the sparse piano of "Sequel," showing the band has depth and introspection. "The Prophecy" was the first song that played up the goth element in Asylum Sisters' music, likely due to the guitar. Finally, "Safest Space II" is different in tone and temperament than previous tracks, the anger and turbulence absent, Caitlin's voice near ethereal, and ending with a blazing guitar solo courtesy of Timmy Klein. Melancholy, but maybe hopeful?

This is an EP that really has the scope of an album. While there were some things that didn't particularly tickle my personal fancy (rap and screamo aren't my favorite forms of vocals style), there is no doubt that 'A Faith Called You' is very well done, and should garner the band some attention if they can capitalize on it.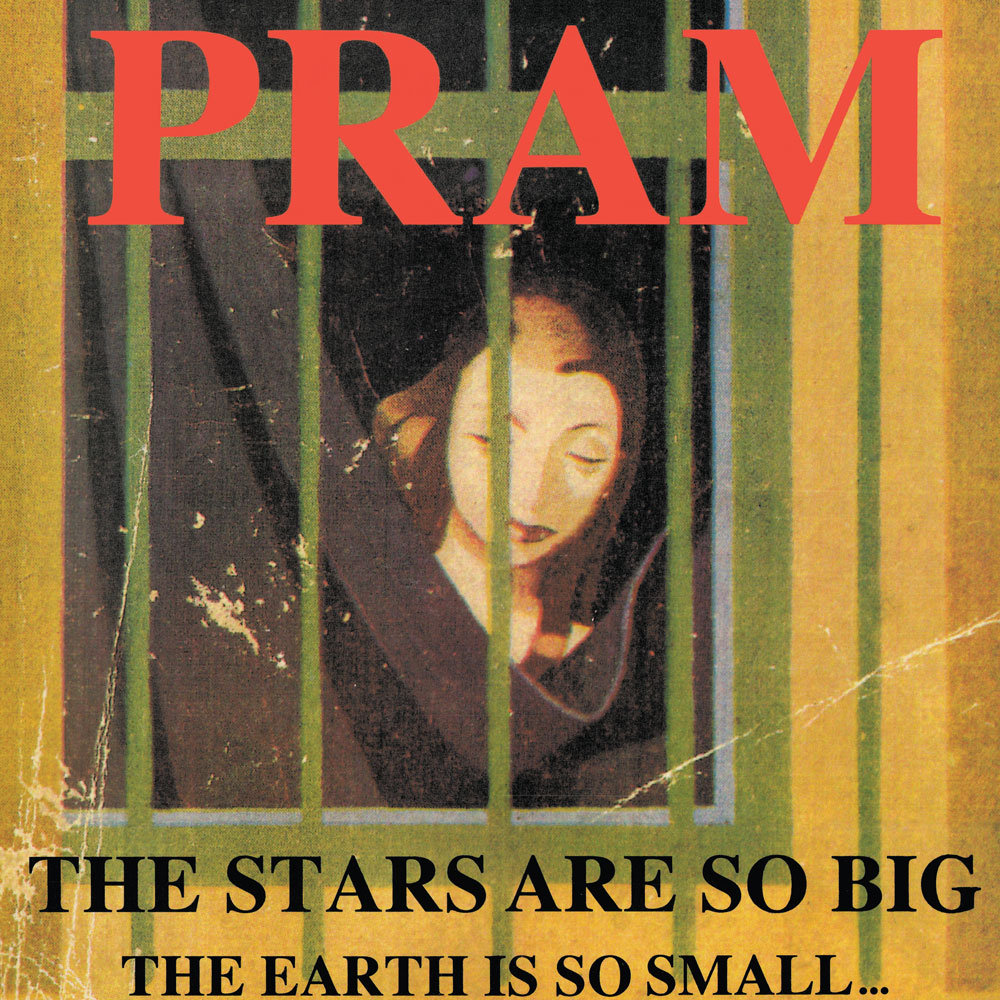 Artist:
Pram
Title:
The Stars Are So Big... The Earth Is So Small... Stay As You Are
Format:
12"
Label:
Medical Records
I missed this album the first time around, being four years old, and managed never in the years since to come into contact with the works of Pram at all. Now, thanks to present circumstances, I can at last get to know and enjoy this English band, who have turned out to be pretty superb.

First released in 1993 by Too Pure (also home to Stereolab and PJ Harvey), The Stars Are So Big... The Earth Is So Small... Stay As You Are was Pram's second LP. It's the first of two to have been reissued this year by Seattle's Medical Records, as part of a continuing project by the label to celebrate "seminal works" put out by Too Pure in the 1990s. In the case of The Stars Are So Big..., this reissue project takes the form of a red 180g vinyl repress, which I have not yet seen, but expect is a worthy labour of love.

Immediately evident when listening to this reissue is that it has not been remastered. This is distinct from some of Medical Records' other reissues, whose remasters have even been laudably restrained and clearly sensitive to the production of the original audio - showing taste and trustworthiness on the part of the label.
However, in this case, somebody involved decided a remaster wasn't necessary. The timbre of The Stars Are So Big... sounds soft and dated, muffled and a bit flat. It's possible that this sound was intentional even at the time, and that retaining it now is a conscious goal of the band's. I must agree, in any case, that there is no need to modernise these recordings. And this is likely true in most cases of reissuing music, however it was supposed to sound originally, unless we admit to participating in this period's fetishism for loudness and reappropriation, or devoting excessive energy to our commercial interests (if there's a difference). There is no 'right' way at all to do these things. But a listener's active acclimatisation to different kinds of recording and production styles, with their distinct historical and other kinds of grain, can be of great significance to the basic analyses and pleasures of musical experience. Both the process and any respect for it carry with them aesthetic as well as ethical importance.

To get to a more pertinent matter - the music itself - this album feels like a faintly twee, but rather opaque, mixture of dreamy art rock, kraut-like psychedelia and a little shoegaze. Through a filter of what sounds like no-budget, living-room production, the band's attention to detail and sonic experimentation are quite evident. Most generally, the album comprises distinct articulations of bass, guitar, electronics and drums, as well as the voice of Rosie Cuckson. On the opener 'Loco', she is nearly drowned out by noisy guitar and a throbbing, stop-start bassline. For the next tune, 'Radio Freak in a Storm', she spends the verses competing with a brilliant, metallic mallet synth motif; the guitar, this time, manifests as muted plucking. The sixteen-minute "In Dreams You Too Can Fly" is a splendid, relaxed jam. It falls quietly somewhere between jazzy stoner rock and what would later become known as post-rock, with horns provided by a guest musician known only as Verdigris. 'Milky' and the final piece 'Cape St. Vincent' are sweet and dreamy numbers, with Cuckson accompanied by cute melodies on glockenspiel, sprightly sinewave synth and, in the latter track, furry filtered piano.

Cuckson is often quite low in the mix on this record, a feature vaguely reminiscent of Belinder Butcher on MBV's Loveless. Another similarity is a prevalent emotional ambiguity, which at times Pram seem to take into outright obfuscation. Cuckson sings with an airy, aloof and shy manner, as if murmuring absently to herself. Particularly on 'Loredo Venus' and 'Dorothy', she conspires with the rest of the instrumentation to produce a beguiling, awkward and unsettling tone. It all feels fun and heartfelt, but also wry and quite uneasy. Somehow impenetrable, but deeply varied and enjoyable altogether.