image not
available
anymore
Artist:
YENDRI
Title:
Malfunction
Format:
CD
Label:
Mental Ulcer Forces / Metropolis-Records
Distributor:
Soulfood / Nova Media
Rated:
Once a time there was a tiny Goth-inspired girl hailing out of Hamburg to teach fear to the international Electro/Industrial scene... Well, that was the impression I had from the info sheet of the label Mental Ulcer Forces, leaded by our almost beloved Rudy Ratzinger aka :WUMPSCUT:. Listed under ULC14 here comes out a new :W: recommendation, maybe a bit in the shadow to the coming same-time release new :W: full-length CD "Body Census". That YENDRI will already release her sixth full-length album speaks for her experience and her musically abilities in this scene. And her experience can be heard on almost all of the featured 16 tracks presented here. While it is hard and near to suicide to release music which needs a wider horizon, which is produced non-linear to some overrated trends, YENDRI seems to have a favor for the unusual. This album needs some more spins for sure and isn't at all designed for the intolerant short-haired UNTER NULL supporters. A rather silent tone brings in some magic to this release on which you'll may don't find an entrance to. It's a bit to categorize the music – Electro? Yes, for sure and rich available. Goth? Well, some pieces really are really floated with a very sad message and she also knows how to integrate some rather acoustic guitar sounds. The vocals are maybe the point on which the tastes differ. Some may can really find it enjoying, when YENDRI offers her cherry-flower-like fragile voice, while some others could find it disturbing to use too much reverb and delay effects to support some weaker parts. Although this release gets the fully DJ support through Germany's Hardbeat Promotion and a license deal to Metropolis-Records, I have my doubts that it will take the hearts of the audience by storm. This stuff is rather capable to enjoy under a pair of headphones with some candle lights instead designed for some dancefloor action. YENDRI works in her very own world with a solid result, while not outstanding at all...
Dark / Gothic / Wave / New Wave / Dark Wave / Industrial Gothic
Edit (3371)
Artist:
Sophya
(@)
Title:
Third Wish
Format:
CD
Label:
Mutantjasz
(@)
Rated:
Darkwave Israel band Sophya is back with their release that's amazing, impressive, and ripe enchanting. After releasing two cds for Clan of Xymox Ronny Moorings label Stitching Xymox, the band signed with Mutantjasz Records owned by legendary Dutch post-punk band members of Mecano in Holland. "Third Wish" have the more common trappings of great songwriting and go straight to its cerebral and sensual core. This cd is splendid brilliant with deeply emotional female and male vocals, smooth and nice laidback basslines, simple crystal clear synthesizers and electronic melodies with guitar layers that will tranquilize you like a drug. The overall feeling of the cd is its essence of beauty paralleling that of the best recording and production quality for 2007. Sophya can be described as the most original Middle Eastern/European trio band around who can take you to another time, place, and give you something to think about. The cd contains the single "More", a video they shot for, which featured on Europe's MTV and reached number 2 on the chart. Other interesting outstanding tracks includes "A New Life Story", "Orchidea", "Faith", "Stare", "To Tears and Flowers", "Sixteen Rings (For A Memory)", and the superb well done job re-make of Joy Division "Transmission" . Sophya shines because of their impressive range of ideas, moods, and the sheer musicality of the finished whole. This Israel/Holland band got it going on!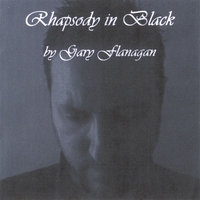 Artist:
GARY FLANAGAN
(@)
Title:
Rhapsody In Black
Format:
CD
Label:
self-released
Rated:
BUY from
It's quite some time that I handn't the chance to listen to something new from Gary Flanagan. If you aren't new to Chain D.L.K. you know that we kinda grew together as we talked about his music since day one. The last time I checked his music was with his album "Future fashion" released by Cohaagen in 2002. After that he released some stuff for his own Flying Saucer but the "Licorice" EP seemed to be a demo and the following "Drunk", I don't know if it has been distributed or not. Anyway... The new album RHAPSODY IN BLACK sounds different from the synthpop we were used to listen from Gary. It gathers different atmospheres and solutions that are still sounding '80s but instead of being influenced by electronic pop Gary on this one seemed to be more into the guitar melancholic new wave pop of China Crisis or The Lotus Eaters (with some New Order influences here and there). In this way the new tracks are sounding more intimate but without sounding mellow and someway he didn't lose his dark vein. You could still find his characteristic songwriting but this time the big part is played by guitar and by synth sounds different from the the old analogue sounds he was using on his tunes. On this album you can find 16 songs that include also few folk influences along with pop wave. By recording at home and changing slightly his style, Gary found a new creative vein that is sounding fresh and personal. The next work seems that it will see him back to electro and to darkest sounds but meanwhile we have RHAPSODY IN BLACK.
Dark / Gothic / Wave / New Wave / Dark Wave / Industrial Gothic
Edit (3358)
Artist:
Tears For Fears
Title:
Tears Roll Down-Greatest Hits '82-'92
Format:
DVD
Distributor:
Universal
Rated:
This dvd is a collection of all Tears For Fears videos from 1982-1992. Watching some of these classic videos make me feel like I'm a teenager all over again. Nothing like watching good old videos from the 80's that you grew up seeing on MTV and other video stations and programs. The collection of videos includes "Sowing The Seed Of Love" that have that Beatle-esque feel, flying buddhas and other special effects going on make the video more quite interesting and fun to watch. In "Everybody Wants To Rule The World", Curt Smith looks so cool driving in a convertible, which was filmed in California. And of course, another favorite scene I like is when the two black guys who's all dressed up in a white shirt, black tie, a two piece suit, and wearing dark shades came out of the outhouse and start dancing. Who can forget "Head Over Heels", which was shot in a library. In teh beginning of the video, Roland's arms and hands filled with a bunch of books and barely could walk and finally made it to the librarian at the desk, who supposed to play his girlfriend. Curt plays the janitor who sweeps up the floor. "Mad World" shows Curt singing while sitting in a desk by the window and Roland outside on the patio staring at the trees and somewhere with his hands in his coat pockets. Then later on in the video he starts dancing. I like the hundreds of paper airplanes flying everywhere at the British new wave duo while walking and one of the paper planes hits Roland in the eye in "Pale Shelter". "Laid So Low (Tears Roll Down)" have that animated visual effect. The black and white video "Woman In Chains" feature r&b artist Oleta Adams who Roland discovered at a night club bar. This video is six minutes long and have that powerful drama catch. The characters in the scenes feature a woman who is a stripper and a man portrays as a boxer and they're having a problem in their relationship. Later, both worked out the problem. Relive the memories of Tears For Fears by buying their 12 videos collection. A collector item to have to store in your 80's memorabilia.

Video Tracklistings:

Sowing The Seeds Of Love
Everybody Wants To Rule The World
Woman In Chains
Shout
Head Over Heels
Mad World
Pale Shelter
I Believe
Laid So Low (Tears Roll Down)
Mothers Talk (UK Version)
Change
Advice For The Young At Heart
image not
available
anymore
Artist:
VV.AA.
Title:
Berlin Insane IV
Format:
2 x CD (double CD)
Label:
Pale Music Int.
Distributor:
Neuton
Rated:
This fourth volume of the Berlin Insane series has been a real surprise. Pleasant? Somehow, dunno if for you it will be the same. It depends how much are you fond of r'n'r/punk sound. To cut a long story short, the fist CD opens with the beautiful "Gott sei's getrommelt" by N.U. Unruh, a track made using metal percussing sounds that reminded me Polynesian folk sounds (if not from Polynesia you have understood what part of the world I am referring to) but after that you find a crescendo of r'n'r'/punk tracks/bands that make you question if you are listening to the right record. Some bands like Electronicat, Mount Sims (his new track sounds a little different from his previous ones but it don't changes his style. It is a little more r'n'r because of the melody chosen) or Boys Of Scandinavia have a oblique approach to the r'nr' verb (i.e. they use a lot of electronic stuff and in the case of B.O.S. the singers remember a little Jonny Rotten). The same goes with the following bands but little by little their sound is more and more based on the bass/guitar/drum sound and it surprised me to see Kid Congo Powers (ex Cramps or Gun Club) on Pale Music. A little exception is T.Raumschmiere Vs. Motor which uses samples from an old Cypress Hill song (it is "Insane in the brain"). Wow, man, listening to these tracks it was like listening to a particular Crypt Records compilation. There's also space for indie a la Bloc Party with Rich & Kool's "A 13". Also Neonman sound different from the album they released... I'll write it again: wow. This is innovating a genre, for sure. It is all about audience: if you plays to techno/electro guys, danceable punk rock this is something new for them... Anyway. The second CD is opening with a semi rap track, "Crime scene" by Stinkmitt and at this point I thought: "No! I'm not ready for this!". He, he. Luckily enough the following tracks are top electro tracks thanks to Glamour To Kill, Jake The Rapper, Mark Moore & Kinki Roland, Waldorf (their "a touch of glass mix" of "Get ready for your last dance" sounds like a 70s/80s mix. Do you remember the early Phoenix songs?). Also on this CD there are little exceptions like The Scandals or Crack Whore Society, Pink Grease and Grizzly that mix r'n'r/punk and a little of electronics. Noblesse Obliges is something totally different, because you must mix a chanteause with a bass guitar and a cool atmosphere. It was a surprise also to see Punx Soundcheck (featuring Gene Serene) dealing with a semi punk tune a la Suzi Quatro. The CD closes with Jammin' Unit's "Ich bin punk", a track that sounds like a drunk ragamuffin playing a rock song (the track I like less). Approaching to these 38 tracks compilation you have to remember that this is the document of an event that take place each year in Berlin and that shows that many faces of a city and of its music. Don't take it as an electro compilation of cool tracks as you won't be satisfied...