Artist:
ATUM / ROTO VISAGE
Title:
Syndrom Cotarda
Format:
CD
Label:
Beast Of Prey
(@)
Rated:
Split of two exponents of murky sounds. Well known from dark ambient labels project ATUM in cooperation with american dark project ROTO VISAGE created over 40 minutes disc which presents heavy and funeral dark ambient as title syndrome. It seems like a concept album; infact People with Cotard's Syndrome believe that they do not exist. Cotard's sufferers complains of having lost everything: possessions, part of or entire body, often believing that he or she has died and is a walking corpse. Paradoxically, being "dead" often gives the patient the nation of being immortal. This form of depressive disorder was described by psychiatrist, Jules Cotard, in 1880. The sound is intense, dramatic, utterly dark and decadent and the listener is slowly drowning in a wet and depressive nightmare. The six moments are very caustic, dark minimalist and claustrophobic and the mix between the two exponents is very intensive and well done. A good work for the genre's lovers and a good starts for the beginners. Have a look and a hear at the whole 'Beast of Prey's catalogue... you'll be very surprised!
Artist:
NEKYIA
(@)
Title:
Slowmotion Downhells
Format:
CD
Label:
Beast Of Prey
(@)
Rated:
Nekyia are a kind of neo-folk / dark wave crossover act with black ambient leanings. The band comes from Lubawa and was formed in 1999. They use the electronics sparingly acting as a device for the music and voices to bloom and flow. What we get is dark ambient with industrial and folk bits. The fourth album from Nekyia finds them producing ritualistic dark ambient in the vein of Coph Nia, Atrium Carceri and Ain Soph, starting from dark ambient, whic dominates, up to neofolk and industrial, skilfully combining numbers of styles in their music. The material is well recorded and produced; it's clear that the band is purposive as far as their sound is concerned. What distinguishes Nekyia from these bands is that the music of SLOWMOTION DOWNHELLS features actual lyrics (in English) and singing, mostly in a world-weary monotone, such as a purely instrumental dark ambient suite. The music is strongly keyboard-based, although "Waters Of The Elysian Fields Are Strongly Caustic" features muted drums and acoustic guitar. The clear, spacious production creates an effective soundstage on which the deep sonic rumblings of the album are presented. Slowmotion Downhells comes done up in a parchment envelope with various inserts. The 100-copy deluxe limited edition of the album (maybe yet available) also come with two reproduction ancient Greek obulus coins. Who do they sound like? Let the music speak for itself!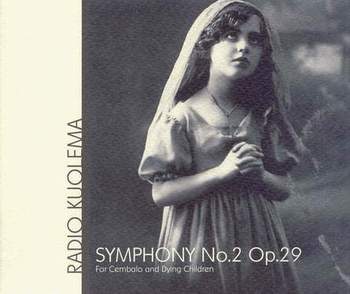 Artist:
RADIO KUOLEMA
(@)
Title:
Symphony No.2 Op.29 For Cembalo And Dying Children
Format:
CD
Label:
Ars Benevola Mater
(@)
Distributor:
Masterpiece Distribution
Rated:
SYMPNONY No.2 Op.29 is the third Radio Kuolema release. The CD openes with a couple of minimal ambient tracks ("Overture" and "Allegro") which alternate their ambience from melancholic orchestral movements to more dark industrial moments where subtle drones are coupled with harpsichord or violins. On these ones I must say that the melancholy was overwhelming but the musical score was a little simple (it was based on a couple of sounds only). On "Adagio" the industrial part starts to take a hold and the magmatic noises start to paint the picture you have finally with the fourth movement "A gothic romance". On this track we have a good dark ambient tension where different kind of drones (hisses, treated synth pads, etc) are layered to form a good moment. This scheme is followed also for "La muse venale" where there's alternation of dark industrial moments and calm orchestral spots just to end with the sum of the two. On "Nocturnal" Mauro worked on industrial ambient sounds composing an isolationist track which is able to create a good effect. The last one "Der wille zur macht" is the only track with a rhythmic section (even if distorted and treated) but, just like the other tracks, it turns into something different when the rhythm stops and a treated guitar sounding like a distorted wind blow take its place. The track changes again when the orchestral sounds starts its calmly melody just to turn into an industrial minuetto when the orchestra is joined by the guitar. The track ends with a chaotic suited performed by guitar and distorted/treated drums. I appreciated the dark industrial moments and some moments of tension where Marco was able to create the most effective ambience but there were also some other moments when I feel he lost the point and the melancholy or the nihilist approach took his hand.
Dark / Gothic / Wave / New Wave / Dark Wave / Industrial Gothic
Edit (3660)
Artist:
DAEMONIA NYMPHE
Title:
Krataia Asterope
Format:
CD
Label:
Prikosnovienie
(@)
Distributor:
Audioglobe
Rated:
KRATAIA ASTEROPE (the great lightning) is the third album of the Greek combo whom target is to recreate the ancient music and themes of their ancestors. On this album they changed slightly their sound as along with the traditional instruments (lyra, varvitos, krotala, pandoura, etc) they now use conventional instruments. The eleven tracks see the three woman and the three men of the band tell tales of ancient Gods such as Hecate, Zeus alternating male and female vocals representing, in this way, the two sides of human nature. The lyrics are coming from Orphic and Omeric hymns or are selected from Sappho's poems. Compared to their first album "Eponymous" the tracks sound less dark even if the charm they were able to create on that one is still intact and there to be discovered. As guest singer the band invited Psarantonis (Antonis Xylouris) a legend for Cretan music.
Dark / Gothic / Wave / New Wave / Dark Wave / Industrial Gothic
Edit (3657)
Artist:
VIOLET TEARS
(@)
Title:
Cold Memories & Remains
Format:
CD
Label:
The Fossil Dungeon
(@)
Rated:
VIOLET TEARS is a band from Bari, Italy that has been on the scene for a long time. Often they've been compared to THE CURE and I think that, on the instrumental side, maybe it's a reasonable comparison. As Robert Smith's band, VIOLET TEARS likes quite long songs, with dilated and rarefied atmospheres, where guitar, bass and keyboards are plaited and create a sad and passionate landscape. Apart from this and some influences in riffs, the Italian band has a different approach and I think they've a personality of their own. The female (and male in some tracks) voice is profound and intense: Carmen De Rosas sings with a rich timbre, warm and deep, preferring slow melodies and never opting for commercial or easy lines, in this fully respecting the lyrics speaking of inmost feeling, a sense of desperate uselessness, a hopeless vision of life and reality, where dreaming and never waking up is the only key to escape. Lyrics may appear at first glance as the usual cliché Gothic music imposes, but the band's words are instead throbbing of literary and artistic references ("The Submerged and the Saved" is the first coming to my eyes) and they deserve to be read – so go out and buy this CD instead of only downloading if from the net! I'm not speaking in particular of any of the tracks because I see them as river where no one lives without the others, and you must listen to this album from the beginning to the end with your eyes closed, to fully appreciate the atmosphere, the visions it evokes, and to discover every note you could miss distractedly listening to it, hidden by the entangling fusion of the instruments.
A very good band that should be known here in Italy (where people often look at foreign band just because they're foreign) and abroad. Hope to see them live soon, and I'm sure their forthcoming new album will confirm VIOLET TEARS as one of the best Italian dark bands.