image not
available
anymore
Germany's special mail order service and underground Powernoise-label SkullLine releases only a few month after "Document A" another compilation. This time they like to celebrate their 1st anniversary of the SkullLine label and for this event they've invited besides the complete own roster several acts musically based in the wide field between EBM, Powernoise, Minimal, Ambient, Martial Industrial and Neo-Folk. Of course and thanks to the rich amount of acts joining this compilation, this release comes out as a double-CD packaged in a huge DVD case. Also – as usual – it is limited to 200 hand-numbered copies, from which 64 exemplars will be released as a box-set including a T-shirt.
Giving CD1 a first spin, it is already conspicuous how diverse the musically playing field of this compilation will turn. SkullLine's very own act TT provides an intro-track which comes unusual dark, while KALIBER 9 storming merciless in your brain with a hefty Powernoise tune, a remix of their track "Neurotoxin". Neo-Folk-inspired works musically supported by acoustic guitars you'll get with the appearances of BERKANA ("Sehnsucht Nach Dem Frühling" – lyrics originally written by August H. Hoffmann, a well-known traditionally German text) or ROSE ROVINE E AMANTI. Rather sedating comes the Dark-Ambient tune of EINHEIT 731, while BLEIBURG surprises once again with an outlook to a coming new album, "Der Meldereiter" comes out as a straight rhythmic-oriented track featuring some amusing German voice samples. In between we have STANDGERICHT, another project new signed to SkullLine, offering Minimal textures with a slight noisy ingredient. Something new also from SHIFT 69, the track "Arbeit" features retro-EBM structures and sampled and vocoderized vocals – WELLE:ERDBALL can be named to be a quell of inspiration. The term "Noise" in a rhythmically form returns with the appearances of both ZYANKALI and TRITON 83, and with LIFE'S DECAY one of the international better known artists joins this comp. MANMACHINE, last but not least, ends this compilation with a rather dark Ambient-tune, also from this act a new release out on SkullLine is in the works.
CD2 got opened by MARK LANE offering a moody Dark Electro/Ambient-driven track entitled "Atomium". Other striking appearances have to be named with LADY MORPHIA ("Widerstand" – something between Goth and Neo-Folk, well-done male vocals and a orchestral-like musically building.), NEJET NOK ("Singen, Lachen, Töten", minimal retro-EBM structures with pitched vocals and German lyrics which cause a smile...) and SCHALLGEWALT ("Electrocabinette", a minimal but speedy rhythmic piece remixed by BLEIBURG). Also a positive point is the fact that especially the second CD of this set doesn't forget to include some more or lesser known acts like MELEK-THA, HYBRIDS, CONTAGIOUS ORGASM or KENJI SIRATORI, all providing stuff in their representative styles.
Although the second CD out of this set may features the better-known names, the favorites can be mostly heard on CD1, at least to my personal preferences. SkullLine-chief Harald Jarosch has once again concentrated to collect a very diverse and wide-ranging music compilation, on which no appearance sounds like any other on here. Some surprises drifting in unexpected musically regions seems to become more and more a trademark of his work for the SkullLine label as well, so let's listen and see what the coming months will bring until we've to celebrate the 2nd year anniversary.

Tracklist:

CD 1 :
01. TT – WHW (intro)
02. Kaliber 9 – Neurotoxin (RMX)
03. Berkana – Sehnsucht nach dem Frühling (Lyric of August H. Hoffmann)
04. Einheit 731 (S.T.A.B ELECTRONICS INC.) – Last Glint
05. Rose Rovine E Amanti – Noi Ritorneremo
06. Von Thronstahl – Returne your Revolt into Style (Boss / Lagerfeld Mix)
07. Standgericht – Total Discipline (V2)
08. Bleiburg – Der Meldereiter (RMX)
09. Shift69 – Arbeit
10. Heiliges Licht – Untitled (only for WHW)
11. Zyankali – Zyklon
12. Triton 83 – Insolent Ungodliness
13. Life's Decay - Regimental
14. MDMA – Vengeance
15. Bonemachine – Rhythmus der Einsamkeit
16. Manmachine – We Love in Still

CD 2 :
01. Mark Lane – Atomium
02. Genocide Lolita – Haganah Whores
03. Lady Morphia – Widerstand (symphonic version)
04. Melek-tha – Complaint de la Terre Brulee
05. Nejet Nok – Singen, Lachen, Töten
06. Hybryds – Resistance
07. Von Liebenfels – Sailing Homeward
08. Zhark – Eisenzeit (C-64) Dedicated to Josef Maria Klumb/Von Thronstahl
09. Kenji Siratori – Rebirth
10. Exemtum – Tribute to Club Moral
11. Camisole – Recycle the Dead
12. Contagious Orgasm – The Fall
13. Iron Youth feat. The 120 Days – White Comfort (Re-2007)
14. Lonsai Maikov – Coup de Grace (demo)
15. Schallgewalt - Electrocabinette (RMX by Bleiburg)

Dark / Gothic / Wave / New Wave / Dark Wave / Industrial Gothic
Edit (3939)
Well, Spain's Caustic-Records label has besides the rough EBM-related outputs like PAIL, TANNHAUSER or the fine and latest release "Electronic Manifesto" compilation also a nose to bring out talented Neo-Folk artist, like this Spanish duo. Consisting of the both musicians Norax and Falke, and by adding 4 additional musicians, they like to present their tunes mostly leaded by acoustic guitars and charismatic up to dramatic sounding male vocals. The right musically support designed for the faint of hearts due to the starting darker autumn days. I see and recognize the term "art" behind this act, but this definitely isn't that kind of music, which I am able to handle and rate fair. Therefore I avoid it to add some stars, because this won't be a fair report.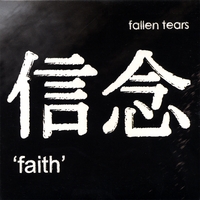 Artist:
FALLEN TEARS
(@)
Title:
Faith
Format:
CD
Rated:
BUY from
Coming from Liguria, Italy, Fallen Tears born in 1999 and since then produced only one album titled "The drowned world". Formed by Giorgio Bormida (already active in the 90's with Sense and FEM), Elio Isaia and Jean Paul Braghin (he's also active as Architect's Eye, an industrial project which released two albums for Darkcell Decline label) the band is distributing their latest album titled FAITH. The album is a sort of hazard the band wanted to pursue because if the title recalled you the third The Cure album, well, you guessed it right, because the Fallen Tears' second album is their version of that album. The band knew that it was impossible to re-create the same atmospheres and they could had died by The Cure's fans hands into the attempt. Fortunately their covered it without being true to the original album but being true to the sound of the bands of that period. So, "The holy hour", "Primary", "Other voices", etc. have being recorded like they were covered by bands such as My Bloody Valentine, The Jesus And Mary Chain, etc but keeping always in mind the band's personality. I listened to this CD four times before talking about it because it is a risk to tell to people if it is a good album or not and I must admit that it is. The trio did a good work into giving their version of those tracks without trying being clones or without sounding ridiculous. Good atmospheres and good arrangements (with the cool use of some electronics) are doing the rest. It is available through CD Baby for 11$ and there you can check the first three tracks. P.s. There's also a brief original track after 40 minutes of silence but it sounds like a dark atmospheric ambient outro and it isn't indicative of the original songwriting skills of the band...
Dark / Gothic / Wave / New Wave / Dark Wave / Industrial Gothic
Edit (3928)
Artist:
Must Have Been Tokyo
(@)
Title:
Insects Ep
Format:
CD EP
Distributor:
mhbT
Rated:
Must Have Been Tokyo is band hailing from Lucerne-Switzerland, and the "Insects" ep collects songs written beetween 2003 and 2006. It sounds great and basically in all the 8 tracks the rhythm guitar and percussions curl around minimal postpunk basslines - less is more following Gang Of Four's shaolin. There are compelling hybrids like the track "Aah" which has some fearless eurowave analogue synths embedded into an all-English postpunk tune - possibly my favourite here and surely a killer track when played live. In seeking a way forward with Wave and Postpunk, mhbT have come up with something both bizzarre and danceable. They say "dance music for people who can't dance", but even "dance music for rainy days" would fit nicely. Contact the band through their website or myspace for a copy of the ep.


Dark / Gothic / Wave / New Wave / Dark Wave / Industrial Gothic
Edit (3918)
Artist:
CORDE OBLIQUE
(@)
Title:
Volonta' D'Arte
Format:
CD
Label:
Prikosnovenie
(@)
Distributor:
Audioglobe
Rated:
Project of Riccardo Prencipe, born while he was still playing with Lupercalia, Corde Oblique is a personal place where he gathers different guests with the intention of create something magical. VOLONTA' D'ARTE sees Riccardo on classical guitars and medieval lute and guests coming from Ashram, Spiritual Front, Dwelling, Argine and Lupercalia at vocals, piano, clarinet, violin, percussions, etc. The thirteen tracks are in balance from medieval atmospheres and melancholic acoustic ballads. Usually I'm not keen to this kind of music but I have to admit that Corde Oblique is a different thing. Tracks like "Before Utecht" (a piano/acoustic guitar duo) or the tense and energetic "Kaiowas" (the less classical inspired track) create a strong atmosphere where with the undoubted professionalism is half of the recipe's ingredients, the other half is into the heart of the people who created it.