Dark / Gothic / Wave / New Wave / Dark Wave / Industrial Gothic
Edit (4047)
image not
available
anymore
Coming from Sweden, Phanatos started its activity in 1999 when a guy whose name remain a mystery decided to give form to his melancholic but still romantic side. During the years he composed nine tracks of what he call his first "Opus", releasing three CD-Rs. After this effort he started to work to OPUS 2. This brought him to the composition of eight new tracks which are in balance from goth metal melancholic ambience (because of the kind of composition and because for the drum sounds chosen) but with no use of guitar sounds and classical compositions. The tracks of OPUS 2 are based on piano, orchestrations and Phanatos vocals on four of them (with some help of Karin Ljunberg for the female vocal parts) and listening to them you have the sensation they have been created as a movie score (see also "Phantasm of reality" which sounds like a ""The girl in the mirror" reprise as well as "Goddess" of "Life elusive, death intrusive"). In our case, instead of a movie, we have a booklet titled "Tales of Love and Mystery" which is the poetic counterpart of OPUS 2. Epic, romantic but not much dark as I wished...
image not
available
anymore
Artist:
STEVE MOORE
Title:
The henge
Format:
CD
Label:
Relapse Records
(@)
Distributor:
Masterpiece Distribution
Rated:
BUY from
As a half of the duo named Zombi, Steve Moore already had a certain background talking about movie soundtracks (he did the scores to "Simulations", "Home Sick" and "Murder-Set-Pieces" with Zombi and "Horror Business" and "The Redsin Tower" as solo) or tracks written with a certain cinematic atmosphere/approach. THE HEDGE is his first release as a solo project and here you can find five tracks ("Introduction", "Infinite resignation", "The henge/Ascension", "Dead tide" and "Cepheid") where Steve mixes the atmospheres of Italian and American sci-fi and horror B-movies (see movies of directors such like Lucio Fulci, Umberto Lenzi, Larry Cohen, etc) of the 70's and 80's. He took as reference John Carpenter (the director and the score writer of "Halloween"), Goblin (the Italian band who scored "Profondo rosso", "La via della droga", "Suspiria", etc). I enjoyed his style which takes also classic atmospheres a la Vangelis, Tangerine Dream and Popul Vuh and mix them with ambient/drone solutions, dub (see the drums on "Infinite resignation") and a little bit of doom (see the guitars and the drums on the final part of "The henge/Acension"). Steve switches atmospheres passing from ambient moments where keyboards and guitars create a thrilling ambience to soaring ones where synths drones are shaken by guitar thunders. Your movie for the ears is ready!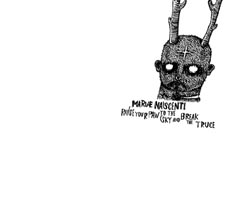 Artist:
MARIAE NASCENTI
Title:
Raise Your Paw to the Sky and Break the Truce
Format:
CD
Label:
Final Muzik
Rated:
After some spins of Mariae Nascenti's second full length cd, I must say I'm a bit disappointed. I've always found his live sets truly engaging, and the "Morituri Te Salutant" debut was promising, though probably not fully mature. The same thing could be told about "Raise Your Paw...", but as a whole, the album is much less energic and captivating to my ears. Coming with a lavish booklet and lengthy titles (Constellation/Mt. Zion-style), it is fairly varied in a very short time (10 tracks, less than 33 minutes), which is a double-edged sword, since it sounds too eclectic while many potentially strong ideas are not developed. The original industrial-ambient element is reduced to a minimum, and when the ninth track, "Amavo addormentarmi...", opened with a bass-heavy drone, I was hoping that it could lead to some darker territory - but it was only a fragment. The Coil influence is still strong in some spoken passages, like the opening "Blood Runs through My Veins...", or in the obsessive, beat-driven "These Giddy Memories..." (alas, with some over the top opera vocals), but then you find a piano sonata, a sort of drunken ballad ("Everything is Fine..."), an anaemic pop-rock instrumental ("Remember to Forget..."), and a good final melodic piece with more flat spoken vocals I could do without ("The Story of the Sad Bear..."). My favourite track is the cover of Slowdive's "Dagger" sung by a massive church-like chorus, but the song is so beautiful that you can hardly go wrong with it. I have nothing against even wildly varied works, but here one feels the lack of a strong binding theme, or atmosphere, and half of the tracks are just nothing special.
image not
available
anymore
Artist:
DIRGE
(@)
Title:
Wings Of Lead Over Dormant Seas
Format:
2 x CD (double CD)
Label:
Equilibre Records
(@)
Distributor:
Masterpiece Distribution
Rated:
BUY from
or BUY from
After several line-up changes, sound adjustments and a new signing for Equilibre Music (they reissued the band's third album "And shall the sky descend") Dirge are bringing to the audience their first proper album for the label, a double album titled WINGS OF LEAD OVER DORMANT SEAS. The promo packet I received is missing the second CD which contains the one hour long title track, so I'll focus my review on the first one, which contains five tracks. I'm kinda new to Dirge but on their particular mix of drone guitars, post HC and doom metal I felt like home since I'm an early fan of Godflesh, Scorn and Slint. Dirge are really good at dilating atmospheres/sounds and they have no problem at merging guitar drones with noise intuitions and post hc singing. You know, on tracks like the opening one "Meridians" it could be really easy to understand if a band is faking a genre or they are really into that kind of sound/emotions, because it is really easy to get bored with a 20 minutes track if you have a mishmash of genres and a band with no arguments. Dirge span from instrumental moments with thick ambient sounds to loud noise industrial ones with tribal atmospheres with ease and I enjoyed them.
Dark / Gothic / Wave / New Wave / Dark Wave / Industrial Gothic
Edit (4026)
image not
available
anymore
Artist:
A Place To Bury Strangers
(@)
Title:
A Place To Bury Strangers
Format:
CD
Label:
Killer Pimp
(@)
Rated:
New York's Loudest Band says the sticker on the cd - A Place To Bury Strangers are a trio hailing from Brooklyn, born on the ashes of the brilliant Skywave. Musically it is a perfectly blended mix of Jesus & Mary Chain psychedelia with echoes of UK wave and a Big Black-esque view of rock'n'roll. Oliver's vocals sound great and in each track there are many asymmetrical layers of distorted guitars delivering a divine flurry of violence and the result is not so far from Swervedriver's almighty "Raise". As written above, the most pervasive elements are guitars filtered through Oliver's own Death By Audio pedals. That creates an incredible tension between the trippy pop melodies and the powerful rhythms. "To Fix A Gash In My Head" has a high speed straight drum machine and some mind-blowing repetitions. "The Falling Sun" is a slower track and adds layers and layers of thick distortions to the amazing vocal lines. "I Know I'll see you" seems like a twisted version of the early New-Order - outstanding track, my favourite here. Despite the use of so many comparisons to describe their sound, all the ten songs here are awesome and fiercely original. Prepare to bleed with a grin on your face because violence has never sounded so lovely. Essential album.