Dark / Gothic / Wave / New Wave / Dark Wave / Industrial Gothic
Edit (4057)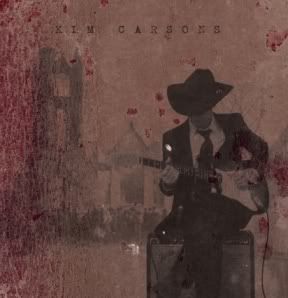 Artist:
KIM CARSONS
Title:
Kim Carsons
Format:
MCD (Mini CD)
Distributor:
HAURUCK! SPQR
Rated:
Limited to 222 copies Kim Carsons' self titled MCD contains four tracks in balance between Nick Cave, Spiritual Front and Clock DVA of the "Advantage" period. The first track, "Betty suicide" opens like Clock DVA's "Eternity In Paris" with Alessandro Manni's whispered and tortured vocals (he's the main one behind Kim Carsons) duetting with a trumpet. Just a minute and the track turns into an upbeat ballad dedicated to a suicide girl. Good opening songs with a nice atmosphere. The second track "1996", instead, is an acoustic one where guitar and piano are the main instruments. This one recalled me a little the Current 93 of the latest period on its first part but few moments and it turns into a dark ballad a la Spiritual Front with a certain cabaret attitude. "Summer snow" follows the same pattern of melancholic darkness and it is the one I appreciated less. "This is Kim" is the most "experimental" of the lot with its Texan sound and the recordings of William Burroughs reading his "The place of dead road". Good recordings and nice songs despite the tendency of turning each idea into a mid tempo ballad. Exclusively distributed by HAURUCK! SPQR...
Dark / Gothic / Wave / New Wave / Dark Wave / Industrial Gothic
Edit (4055)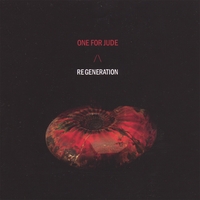 Artist:
ONE FOR JUDE
(@)
Title:
Re Generation
Format:
CD
Rated:
BUY from
Active since 1999 One For Jude are back after their 2004 E.P. "Helice" with a new album titled RE GENERATION. The new album presents ten new wave tracks which are in balance from electronic to acoustic arrangements with orchestrations and some particular instrumental moment. First of all, if you are looking for a perfect singer and for classic structured songs, I must say that the best thing is that you check some sound excerpts first. Instead, if you are a lover of goth/wave sound, you love French language, you like also particular arrangements (orchestrations with electronics and wave guitars and semi French folk atmospheres) and your main thing is to feel the band's involvement, RE GENERATION is an album that could interest you. The songs mix melancholy, coldness and despair with sincerity but sometimes the execution isn't perfect (it was hard to me to enjoy the singer).
Artist:
CULTURAL AMNESIA
(@)
Title:
Press My Hungry Button
Format:
12"
Label:
Vinyl On Demand
(@)
Rated:
I already introduced to our readers Cultural Amnesia on my Anna Logue Records article and after about a month from that article I'm here again talking about them because there's a new reissue of their old material released by Vinyl On Demand. PRESS MY HUNGRY BUTTON is a double compilation album (their subscribers will receive also an E.P. titled "Still hungry") which after "Enormous savages" bring to the attention of the lovers of the early 80's experimental/wave sound thirty tracks (plus four on the E.P.) which are coming from the three tapes album the band did during the 1980÷1983 period ("Video Rideo", "Sinclair's Luck" and "The Uncle Of The Boot") plus unreleased tracks of the latter period which where intended for their first album "Obscenity" which have never been released. First of all a warning for those of you who want to approach this kind of releases: on this record you won't find a homogeneous track list as well polished sounds. Instead you'll be able to feel three English kids' urge of creating something new and liberating. I remember you that after the hippie movement and after the '77 movement (social and musical), 80's were the Margaret Thatcher years. Years of cultural repression which saw a certain musical grew only during their first half. Cultural Amnesia as well as early Coil, Portion Control, Nocturnal Emissions, etc. absorbed the creative rebellion of early industrial music (T.G.) and if the three bands I mentioned extended their interest on the industrial side, Cultural Amnesia mixed it with the post punk sound/attitude. Any musical instrument was usable someway, no matter if it was a guitar, a synth or a drum machine. Cultural Amnesia embraced totally this kind of spirit and on PRESS MY HUNGRY BUTTON you can find early electronic experimentalism, post punk rawness as well as two covers (a delirious lecture of "Satisfaction" and a short electro/post punk version of Human League's "Being boiled"). Few songs of the previous collection released by Anna Logue are here with a different version and maybe only "Scars for e (alternate take 1)" and "Sacrebleu (original version)" (you find them on the extra E.P.) are the same. I'd like to remember to you that Cultural Amnesia are active again. I checked their new material on their website and I liked the new sound which keep alive the old spirit but updates it with the use of new technology.
Dark / Gothic / Wave / New Wave / Dark Wave / Industrial Gothic
Edit (4049)
Artist:
Colloquio
(@)
Title:
Si Muove E Ride
Format:
CD
Label:
Eibon Records
(@)
Rated:
"Si muove e ride" is the new album on Eibon records by Colloquio - the musical alter ego of singer Gianni Pedretti - with 2 guest musicians from Act Noir, Sergio Calzoni at guitars and Stefano Nieri with a great sound design. Gianni Pedretti gained a cult status in Italy with his first
works and his collaboration with Canaan with whom he plays in the project called Neronoia. The album's 10 tracks are soaked in a pitch-black atmosphere with some introspective lyrics in Italian language dealing mostly with the author's ghosts and unsolved problems. Musically I found some similarities with Andy Wilder's Recoil - they share the same new wave background, they deal with introspective music with a slightly experimental edge (the term post-wave sucks but it isn't wrong in this case). Another good record from Eibon.
Dark / Gothic / Wave / New Wave / Dark Wave / Industrial Gothic
Edit (4048)
Artist:
GOTTERDAMMERUNG
Title:
Of Whores And Culture
Format:
CD
Label:
Strobelight
(@)
Distributor:
Masterpiece Distribution
Rated:
OF WHORES AND CULTURE for Gotterdammerung is the album of the comeback, because since their 1996 E.P. "Purge" they released only the best of CD titled "Kin-Burst 9104" in 2004 (always for Strobelight). On this album the Dutch band surprise the lovers of classic goth/post punk sounds by gathering ten new songs (plus an hidden one) which are in balance between Bauhaus, Danse Society, Sex Gang Children, Sisters Of Mercy and Big Black (I know that Big Black ain't no goth or post punk, but the way Gotterdammerung use the drum machine, as well as its sounds, remember the first band of Steve Albini) thanks to their particular way of mixing styles. The opening track is a perfect example of this blend, because if the vocals can remember Peter Murphy, the semi Middle-Eastern melodies make you think about early European new wave bands and the final part of the song is arranged as the Danse Society version of "20000 light years from home". Gotterdammerung are good at the alternation of styles/arrangements and already on the second track "First-in-man" change the sound using a sequenced synth bass line creating a fresh song which finds its roots into the '80s post punk but with a modern arrangement. The trio is good at creating interesting tunes which gathers energy, melody and I appreciated their way of refreshing sounds I was used to listen to when I was a kid.