image not
available
anymore
Artist:
Von Liebenfels
(@)
Title:
Všter Unser Im Walhall
Format:
CD
Label:
SkullLine
(@)
Distributor:
SkullLine
Rated:
Another new addition to the musically very diverse roster of the German SkullLine mail order, your underground specialist when it comes to get serviced with all styles between Industrial, Powernoise, Martial, Neo-Classic, Military or Experimental music. With VON LIEBENFELLS the SkullLine label turns for the first time into the Neo-Classic style, here and there accomplished with some Ambient elements. Torsten von Liebenfells – yes, that's also his civil name – hails from New Zealand, but can for sure look on German ancestors. He calls classical compositions of Wagner, but also related artists like VON THRONSTAHL and ZHARK to be quells of inspiration. His dedication to ZHARK went that far, that he has decided to create a special tribute-track entitled "Neu-Schwabenland". Musically his form of Neo-Classic consists of orchestral-like layer sounds richly present over this whole album. Some classic tom-tom-like percussion elements and here and there some real piano tunes ("Vril I", which features also some spoken-word samples, "Night Of The Long Knifes") are complimented his musically outfit, which differs by far compared to the rather noisy and experimental-minded stuff released by SkullLine. This is musically a fine and sedating procedure and the artistically concept behind this release is enormous. Thumbs up for this release, which brings back to once recognized impression, that music can mean something more than the too often overrated "terror-noise-distort"-formula. Well done!
image not
available
anymore
Artist:
Blutengel
(@)
Title:
Labyrinth
Format:
CD
Label:
Out Of Line
(@)
Distributor:
SPV
Rated:
And once again a new full-length album for Germany's scene-leader when it comes on romantic Electro/Wave/Pop-music. At least also the still growing success of BLUTENGEL has meanwhile brought up a lot of copy-cats, but at least nothing matches the original. For Chris Pohl this project reflects rather more the electronic-driven sound compared to the Goth-Rock-infiltrated TERMINAL CHOICE – and BLUTENGEL gets more successfully than ever before. On "Labyrinth" BLUTENGEL still offering their known formula by offering classic compositions with catchy melodies, Futurepop-like easy-to-consume arrangements and the clear vocal performance by Chris and his two female counterparts, Constanze Rudert and Ulrike Goldmann. Why slapping that cow before it stops to give milk? Of course, the sound quality is top-notch and crystal-clear, so are the vocals and several tracks offer a great singing-along-the-chorus-attitude ("Dreamland", "Shame") – but stop! Before I start complaining that nothing changes this sultry program, the track "Body Move" differs the most from the usually BLUTENGEL-recordings. Quite harder bass lines and a manipulated vocal performance by Chris give this track the required mood to figure out the desire of the lyrics. Not a high-end layered composition of an Electro/EBM-track, but a difference to interrupt a bit the mood of the BLUTENGEL empire. At least and as a conclusion, BLUTENGEL can surely impress the 14-years-young Goth-newbies the most with their rather simple-minded song structures and arrangements, while others may accept this album as the right soundtrack to recover after a broken relation at a dark autumn day. Nothing to spectacular, simply a new BLUTENGEL-album. In latest news, this album could climb on some high positions in the German album sale charts, congrats.
image not
available
anymore
Artist:
SNOG
Title:
The Last Days Of Rome
Format:
CD
Label:
Hymen Records
(@)
Distributor:
ant-zen
Rated:
The Australian musician David Thrussel and his famous SNOG-project I surely don't need to introduce any nearer. Active now since more than 15 years in the Electro/Industrial genre, he also can't be musically sorted in to get a constant and remaining style description. On "The Last Days Of Rome" he offers some more or less subtle Electronica elements with a constant acoustic attitude through guitars and his still a bit strenuous sounding voice. Always and ever an eye-feast are Thrussel's essays referring on politically and social-critically themes, which he of course likes to point out through his lyrics, too. The art deals with the influence of promotion banners regarding new cars and status symbols, while his essay "A Capital Day" describes and exaggerates the routine of our affluent society. Thanks to some quite different license deals he has given out, this version of this album, released by the Ant-Zen companion label Hymen Records at least offers several bonus tracks, so on this release you'll get at least 20 tracks. Some have to be mentioned: "City" comes out calm and catchy, but with a melancholic mood. Also note, that it is "Christmas Everyday" for the freaks in the White House – what a fine track. It's fun to follow Thrussel's sarcasm richly spread through his lyrics, while it makes you think of on several things as well. You're wrong with it, if you look for a new and modern sounding Electronica/IDM/Ambient-release, for which the Hymen is otherwise an excellent resource for. This one has to be seen as poetry - fine work, keep on the vision of a better world!


Dark / Gothic / Wave / New Wave / Dark Wave / Industrial Gothic
Edit (4057)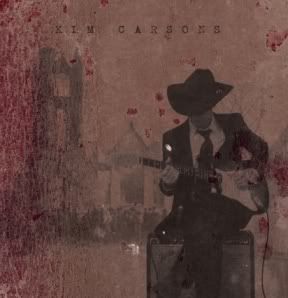 Artist:
KIM CARSONS
Title:
Kim Carsons
Format:
MCD (Mini CD)
Distributor:
HAURUCK! SPQR
Rated:
Limited to 222 copies Kim Carsons' self titled MCD contains four tracks in balance between Nick Cave, Spiritual Front and Clock DVA of the "Advantage" period. The first track, "Betty suicide" opens like Clock DVA's "Eternity In Paris" with Alessandro Manni's whispered and tortured vocals (he's the main one behind Kim Carsons) duetting with a trumpet. Just a minute and the track turns into an upbeat ballad dedicated to a suicide girl. Good opening songs with a nice atmosphere. The second track "1996", instead, is an acoustic one where guitar and piano are the main instruments. This one recalled me a little the Current 93 of the latest period on its first part but few moments and it turns into a dark ballad a la Spiritual Front with a certain cabaret attitude. "Summer snow" follows the same pattern of melancholic darkness and it is the one I appreciated less. "This is Kim" is the most "experimental" of the lot with its Texan sound and the recordings of William Burroughs reading his "The place of dead road". Good recordings and nice songs despite the tendency of turning each idea into a mid tempo ballad. Exclusively distributed by HAURUCK! SPQR...
Dark / Gothic / Wave / New Wave / Dark Wave / Industrial Gothic
Edit (4055)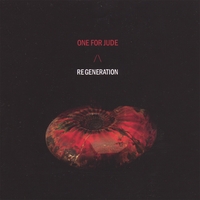 Artist:
ONE FOR JUDE
(@)
Title:
Re Generation
Format:
CD
Rated:
BUY from
Active since 1999 One For Jude are back after their 2004 E.P. "Helice" with a new album titled RE GENERATION. The new album presents ten new wave tracks which are in balance from electronic to acoustic arrangements with orchestrations and some particular instrumental moment. First of all, if you are looking for a perfect singer and for classic structured songs, I must say that the best thing is that you check some sound excerpts first. Instead, if you are a lover of goth/wave sound, you love French language, you like also particular arrangements (orchestrations with electronics and wave guitars and semi French folk atmospheres) and your main thing is to feel the band's involvement, RE GENERATION is an album that could interest you. The songs mix melancholy, coldness and despair with sincerity but sometimes the execution isn't perfect (it was hard to me to enjoy the singer).