image not
available
anymore
Artist:
ATTRITION
(@)
Title:
Etude
Format:
CD
Label:
Two Gods
(@)
Distributor:
Voiceprint
Rated:
BUY from
Having into their D.N.A. the experimental gene, Attrition after seventeen years from their born and thanks to Franck Dematteis, an Attrition fan and member of the Paris Opera who contacted the band and collaborated at viola on their "3 arms and a dead cert" album, did ETUDE, an album containing twelve old tracks revisited under the classical key using viola, violin, cello, organ, percussion and voice. Giving to the tracks a sort of baroque arrangement, Dematteis did a good work by enhancing the dramatic side of Attrition songs. In this way songs like "Cold genius" or "I am (Eternity)" are like naked in front of the listener showing their darkest decadent side becoming perfect for a Peter Greenaway movie. Originally released by Project in 1997 the album is for the first time distributed worldwide.
image not
available
anymore
Artist:
VV.AA.
Title:
Electro Arc Compilation Vol. 3
Format:
CD
Label:
Electro Arc
(@)
Distributor:
Nur Medien GmbH
Rated:
Third chapter of this Germany-based compilation series again compiled by Intrendent and ready to save a decent X-mas celebration. There's one problem I've got with this comp, because it features my own music project with an appearance. I of course can't review my own music efforts and it should be understandable if I leave a mantle of silence on it. However, it is also my "job" to write a review on this release and I hope that all of the featured artists have a sense of support for this. As usual for the "Electro-Arc" series, this third volume comes out musically quite diverse by discovering several styles and tendencies. It once again concentrates to collect only a few better known artists and several underground acts. The UK-based ATTRITION are sort of veterans and active since more than 20 years. Their track is a straight Tech-Dance piece accomplished with several voice samples. Also the Belgian-based project IC 434 aka Geert De Wilde is one of the better known and rather old-school EBM-like acts here. He offers with a Re-Take of the track "Ferghana" a first new audio sign of life, which will hopefully soon continue with a new full-length album. Oh, and Belgium has to be named here, because this compilation got compiled with the intention to collect the most appearances hailing out of this small European country – maybe to check and see, what the heirs of legends like FRONT 242, SIGNAL AOUT 42, NEON JUDGEMENT and others are capable to offer. I don't know from where TRANSTECH are hailing, however, their track is another straight and danceable tune with some decent vocoder effects. DHARMATA 101 then stands for the international guests, because they are hailing out of the United States. Stylistically they're sitting in between the chairs be offering a mixture out of Industrial, Electronica and Goth-elements. Their track "Outline (Of My Shadow)" is a quite good composition featuring a fair amount of acoustic guitars, Metal-guitar riffs and decent Electronic textures, while the natural sounding vocals need some more spins to earn acceptance. DEVOTED SYMBOLS then switch back to harder EBM a bit comparable with some up-to-date productions of SUICIDE COMMANDO. Also RECON are pretty much dedicated to EBM, but rather in a minimal style, while the vocals – as simple as the lyrics are – reminding hard on Claus Kruse of the German act PLASTIC NOISE EXPERIENCE. It follows with HYBRIDS (Daft Records, ant-zen) another better known act by offering a live recording, which turns this comp into a more experimental field. The best appearance got provided by the German duo NORDSCHLACHT, which we had recently presented with the release of their highly recommended debut "Silence, Beauty And Cruelty" (Klangdynamik Records). "Facts" is multi-layered Dark Electro in perfect conditions, danceable, but still with the sense to offer opulent synth pads. Another good thing on this track – it isn't available on their debut! SOLANACEAE TAU then offers a Goth-inspired work with mighty guitars and a female vocal performance, while BODY POLITICS offer a metallic live old-school EBM performance. Both last appearances on this comp got provided by the Belgian musician Peter Bonne with his both projects LINEAR MOVEMENTS and TWILIGHT RITUAL, which is again an excursion into some 80-like Italo-Pop/Wave-music culture. I may was expecting a more detailed presentation on some up and coming talents of the Belgian EBM-scene – in case there is one – where the fuck are IONIC VISION or DARKMEN for example? However, this compilation collects a lot of new talents and some older heroes as well, while the predecessor rather Dark Electro-inspired volume 2 of this series is still the favorite.

1. Attrition – The head of Gabriel (Pablo sonic terrorist mix)
2. Synaptic Defect – Devouring Hate (Electro d'Arc Mix)
3. IC 434 – Ferghana (Re-Take)
4. Transtech – Satellite
5. dharmata 101 – Outline (Of My Shadows)
6. Devoted Symbols – Hush
7. Recon – Rise of the dead
8. Hybryds – Babel (Live Paris)
9. Nostromo 7 – Longing
10. Nordschlacht – Facts
11. Solanaceae Tau – Riots lullaby
12. Body Politics – Lust (Live)
13. Linear Movement – To Another Soul
14. Twilight Ritual – Delay

Dark / Gothic / Wave / New Wave / Dark Wave / Industrial Gothic
Edit (4086)
image not
available
anymore
Artist:
BAIN WOLFKIND
(@)
Title:
Wasteland
Format:
MCD (Mini CD)
Label:
Hau Ruck!
(@)
Distributor:
Tesco Germany
Rated:
Coming from Australia just like Nick Cave and his fellow mates whom traveled the world with him as Boys Next Door first and The Birthday Party then, Bain Wolfkind, after his first album "Music For Lovers & Gangsters" and the following 7" "Confidential Report", released back in 2005 and 2006, bring to the audience a new four track MCD titled WASTELAND. Just like the title suggest, the new tracks have a certain sour taste that take their inspiration from film noir imaginary. Titles like "Butcher's daughter", "Bury me in a shallow grave", "Hang me high from that tree" and "The rivers runnin' dry" don't leave too much space to imagination and the acoustic/voice minimal approach help creating that suspended atmosphere made of despair, lost souls and sinners. Into only 11 minutes Bain Wolfkind is able to create his own aural world where crimes are the minimum you can wait for. If you loved early Nick Cave and you don't have found your faith yet (like he did), try these tracks.
Dark / Gothic / Wave / New Wave / Dark Wave / Industrial Gothic
Edit (4079)
Formed by active members of an extreme metal band called Pantheist (who are also members of Crippled Black Phoenix), Andy Semmens and Kostas Panagiotou formed Ereipia to give form to their neo-classical/operatic dreams. The seven tracks of their self titled album are built around Kostas' piano dreamy compositions (some tracks have also cello, guitar and drum inserts) and on semi operatic vocals of Andy. The vocals are the crucial point of Ereipia's musical style which will make you decide if this band is for you or not. I have to admit that I definitely prefer his voice during the spoken word of "Letter to a ghost" because when he pitches his voice to catch the desired tone, sometimes his voice sounds odd. It is strange to me but listening to the opening tracks "Dream in C minor" and "Whirlpool" I had the sensation to being listening to This Mortal Coil turned metal. Have you in mind those acoustic instrumental intermezzos of extreme metal records? A melancholic version of it...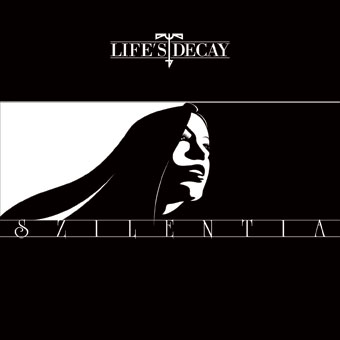 Artist:
LIFE'S DECAY
(@)
Title:
Szilentia
Format:
CD
Label:
Abstraktsens
Rated:
After last year's album, Life's Decay are back with a new one which shows a band with a most defined sound/tracklist. The twelve tracks of SZILENTIA have always that hybrid approach in balance between martial experimentations and electronic goth atmospheres but this time the tracks are equally distributed. Three or four instrumental tracks with orchestrations, drums and obsessive atmosphere are balanced by catchy dark songs with the female vocals of Alea in evidence (see "Inksterna", "Katalena", "Descence", "Claressa", "Lawsia" and "Ambvience"). These songs sound like dark ballads (with electronics and also some acoustic guitar sound) or more upbeat electronic ones. As far as I remember the previous album "Lysselia" didn't give me this impression or I remember it to be less immediately accessible. You can check some songs directly at the band's website. It's worth it...