Dark / Gothic / Wave / New Wave / Dark Wave / Industrial Gothic
Edit (4494)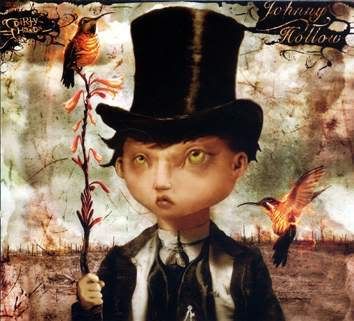 Artist:
Johnny Hollow
Title:
Dirty Hands
Format:
CD
Label:
The Organge Record Label
Rated:
Toronto-based Johnny Hollow is a very unique and interesting band for you to check out. I recall the name from years ago as one of those bands who left a good impression but from whom I haven't heard anything in a while. They are very hard to describe because they are a mixture of dark, electronica and orchestral arrangements, beautifully performed on piano and cello by the two main musical members (there is a third member who does all the graphics and video work live). This is not one of those average sounding goth mock-ups around, instead Johnny Hollow are a very original blend of what it would sound like if Dead Can Dance, Tool, Faith and the Muse, Depoche Mode, Portishead and Conjure One were to merge into one entity. Of course this is in no way a definitive nor accurate way to describe them, there's a lot more to it and there are many other influences one could mention. The fact is Johnny Hollow is so many things but not just one thing in particular: some call that originality! "Dirty Hands" is a very mature and great sounding record, thanks to Grammy winning mixer David Bottrill and Skinny Puppy member and producer Dave "Rave" Ogilvie.
So go ahead and do your research and your illegal downloading and once you figured out that this band is really cool and worth supporting, make an effort and buy their CD, you will enjoy a beautifully packaged digipack with gorgeous Tim Burton-esque art work and a folded poster and lyrics inside.
image not
available
anymore
A new DCD compilation set by the German SkullLine mail order service, which is pretty much dedicated to present you a wide-ranging overview through different rather underground-based music styles. Even if this compilation and ist participants follow pretty much a mutual main and Military-based theme (dedicated to document the loss of women during the world wars), the music remains diverse. Be it Military, Neo-Folk, Minimal, Electronica or Dark Ambient – you'll get it all and complete. And almost all of the signed label artists of SkullLine are featured on here, too. One of them, GRABSTEIN opens this comp with a Dark Ambient-tune, which follows after a sampled classic introduction. IN SCHERBEN stands for clear Neo-Folk music, while PARA-DIOXIN offer harsh and minimal Electro-Powernoise music. CHAOTICUM, a newcomer to SkullLine offer an extra-ordinary mix between Ambient, Experimental and Psychedelic elements and that rather on DIVE-related tune of BLEIBURG featuring Russian voice samples is one of the best tracks this act has produced so far! AYWASSCREAMING convinces with a staccato-like rhythm work wide driven in the stereo field and voice samples related on a battle at WWII at Sewastopol. The productive duo of TRITON 83 is still one of my personal favorites of the SkullLine roster, this new track "Alptraum" reminds strong on some classic recordings by PIERREPOINT for example. GENOCIDE LOLITA, well behind the cool band name hides a US-based project offering an Ambient/Experimental tune featuring a harsh and overdriven vocal performance. CD 2 starts with the Italian ZR.19.84 project with a new tune, and that harsh Japan-Noise-like tune of KADAVER – "Heart-Shaped Torture" doesn't take prisoners. Dark and ominous growling Dark Ambient pieces you'll get offered by both MANIFESTO and ZYANKALI, while the international known act FORTHCOMING FIRE offers a smooth and danceable Electronica tune. More and more Ambient tunes are following, some with Noise infiltrated (NOCTURNE, B-MACHINA, but all of them with that thematically fittig Military thing. Last but not least also KREPULEC, an act we had presented on here with an interview is featured as well und closes this satisfying DCD set. Nearly 150 minutes of exclusive music out of this wide field of different styles – this compilation reminds a lot on the last years "New World Order" compilation by the German collegues of Thonar Records. As usual it comes out strictly limited and only available at SkullLine directly, be it a normal 200 exemplar-edition, or the strictly limited release to 100 exemplars (including a special bag).

Track list:

CD1:

01. Grabstein - Kraft durch Freude
02. In Scherben - Ein letztes mal
03. Para-Dioxin - 1942
04. Kenji Siratori - Nietzsche Girl
05. Chaoticum - Occultique
06. Bleiburg - Mirogojske Svijece
07. Aywasscreaming - Sewastopol Bunkerlinie
08. Riccardo Z. - Einsamkeit
09. Triton 83 - Alptraum
10. Melek-tha - Le triumphe de la volontée
11. Waffenruhe - Todgeweihte (BDM Version)
12. Hybryds - White Snow (excerpt)
13. Heiliges Licht - Crime Against Humanity
14. Stormfagel - Mitt Hat (Fritz version)
15. Genocide Lolita - Bilderberg Silent Order
16. SnowWwhite - Der Fruehling

CD2:

01. Zr19.84 - Non Un Passo Indietro! (CCCP)
02. Kadaver - Heart shaped torture
03. Kammer Sieben - Altes Lied (piano) Musik: Butow Maler. Text: Heinrich Heine.
04. Rose Rovine E Amanti - False Priests and Homo Nazi
05. Manifesto - Discipline
06. Zyankali - Evakuierte Zone
07. Forthcoming Fire - Achtung Achtung (wir kommen wieder)
08. I Hatt einen Kameraden - Feilds of Honor
09. Der Feuerkreiner - Sie gehen daher wie ein Schemen
10. Nocturne - Winifred Wagner
11. B-Machina - Willkommen zur Gewalt
12. Lifes Decay - Orguanium
13. B.L.O. feat. The 120 Days - End Of The Game (Baader-Meinhof_Mix)
14. Exemtum - Infestus
15. The Pride of Wolves - Will you?
16. Fourniersches Gangraen - Steyrermühlener Klangdruck
17. Krepulec - Warschauer 1944


image not
available
anymore
Artist:
VESTIGIAL
(@)
Title:
Translucent Communion
Format:
CD
Label:
Cold Meat Industry
(@)
Distributor:
Audioglobe
Rated:
After releasing a self produced mini CD-r and a split EP with Penjaga Insaf the Italian dark ambient project, Vestigial is releasing through Cold Meat Industry its first full length album titled TRANSLUCENT COMMUNION. Thanks to the beautiful six panels digipack package (designed by Vestigial himself), you'll be able to start to experience Vestigial inner world. Evoking different kind of cultures and painting shades of a decaying world, the images are a perfect visual counterpart to the six tracks contained into the album. Based on light subtle melodies, few percussion parts, humming sounds, hisses, organ sounds, sampled vocals and synth pads the album creates an oneiric effect where titles like "Anthropic Uncreation", "The Coming", "The Geometry", "The Void", "Primordial Communication" and "Anthropic Resonance" make you think of a plan or of a presence of a re-creation process after the fall of the modern society. We'll try to discover something more into the upcoming CHAIN D.L.K. interview to Vestigial.
Dark / Gothic / Wave / New Wave / Dark Wave / Industrial Gothic
Edit (4486)
Artist:
Waves Under Water
(@)
Title:
Winter Garden
Format:
CD EP
Rated:
Stockholm, Sweden own Waves Under Water (formerly known as Hopscotch) gives us an ep containing of four beautiful tracks that's made to played in the time of autumn and winter. The songs are delivered in a darkwave and electronic form. Vocalist, Angelica Segerback, sings with an enchanting and mellow feel. Like a mother singing a lullaby to her baby to sleep. Johan Svardshammar handles the songwriting and instruments playing. All four tracks are emotionally bliss out with a haunting and powerful melodies. Lush synths layers and electro beats with bass and guitar used in the compositions as well. Johan plays the bass with an sickle. Precisely it can be done. We all have seen Jimmy Page played the guitar with an cello and violin bow. It takes a genius to think of something to combine something that may not make any sense to a person. Perfectly, the tracks are a club and dance waltz in a formal feel of romanticism. We are awash in a bright atmosphere and mind state by the cause of nature, dreams, religion and emotions. The "Winter Garden" ep brush out a snowy and cold landscape. Credit the Swedish duo for showing interest in their hard work to entice the listeners. Remarkably soothing, touching, consistent exploration of modern life. Waves Under Water is the next big thing in the gothic and electronic movement.

Track Listings:

1. Winter Garden
2. Thirsty
3. My Cup
4. I Am The Ocean
Artist:
VV.AA
Title:
Fairy World 4
Format:
CD
Label:
Prikosnovenie
(@)
Rated:
Gathering 17 bands of its roster and having 13 unreleased tracks, FAIRY WORLD 4 is the new Prikosnovenie compilation. Contained into a deluxe 20 pages color A5 booklet (containing artistic drawings and bands presentations) the CD offers a good view of what the label has to offer and also an indication of where it's heading. By reading the booklet there's a news about the label, they created four different divisions, each one dedicated to a kind of sound. Solaris is for the lovers of female heavenly voices and world music. Lunae gathers dark, melancholic, and romantic bands. Supernove is for the ones who like electro, pop, ethno and rock. Mandalia is for the relaxation and zen sounds. If you know only few of their bands of if you want to have a deeper view of what Prikosnovenie offer is, this budget compilation (it costs only 6.90 p+p included) is a good starting point.