Dark / Gothic / Wave / New Wave / Dark Wave / Industrial Gothic
Edit (4376)
Artist:
VV.AA.
Title:
Messthetics #104 enhanced CD: 'D.I.Y.' and indie postpunk from the South Wales and the Z-Block scene: 1977-81 (part 1)
Format:
CD
Label:
Hyped2Death
(@)
Rated:
Another essential chapter in the Messthetics collection of rare and forgotten tunes from the golden age of DIY. This one deals with the South Wales area, and you'll find a bunch of irreverent youngsters floating around the Z-Block label, a label set up in a disused student house in where Reptile Ranch installed themselves (check out their website ... they're still alive and spreding the DIY philosophy: www.zblock.co.uk) and playing various kind of do-it-yourself post-punk. As the previous Messthetics, along with those amazing tracks (24 songs + mp3s for a total of 90 minutes of music), you'll get a thick and detailed booklet with precious information, documents and interviews with the bands. Before this one, the only band I could remember from Wales were my beloved Young Marble Giants - quite obviously they're not here (even if I read that "someone" from YMG plays in the, here included, Table Table track) because they're well known and they've never been forgotten. So I discovered those rough diamonds with extreme pleasure - some highlights here: The Czechs track is like hearing Coxham's bass over a speed-fueled postpunk; What To Wear and Crash Action Winners both from Swansea and both more rough and punk-oriented; both tracks by Decadent Few that blend postpunk rhythms with softer psychedelic singing. A mention must be made to the work of the music archeologists at Hyped2Death, always after those lost b/w-cover 7"s - always caring to restore the sound avoiding tape hiss and vinyl crackles without compromising the full dynamic range of the originals (and that's where lots of re-issues fall short).

Formed by Carola Müller (composition, lyricys, vocals) and Marco Thomaschewski (composition, arrangement), Prospective worked the last two years into the making of their debut album THE DARK SIDE OF LIFE. Blending goth (see the melodies and Carola vocal style) and harsh e.b.m. (with some exceptions like the melancholic piano ballad "Angel dust" and the goth ballad "Path of life"), the duo composed ten tracks which paint their vision of nowadays. Even if the production is good and all these songs don't catch me. There's something that makes me skip the track after a couple of minutes. It could be the goth approach (I'm sorry but that isn't my cup of tea) or the Wumpscut approach to the genre (it's since after "Embryodead" that Wumpscut don't thrill me) or maybe this sensation of musical déjà vu that was making me know what was coming next forced me to skip to the next track. Unfortunately except the first part of "Deadly sins" (a song which could be the a dance-floor filler with a different way of singing) I didn't find a song I wanted to listen to twice but if you love melodic goth and e.b.m. you could enjoy it.
image not
available
anymore
Artist:
DIE PERLEN
(@)
Title:
Szenenwechsel
Format:
CD
Label:
Firezone Rec
(@)
Distributor:
Nova Media
Rated:
After releasing their first album "Telektroponk!" back in 2006, the German duo Die Perlen are back with SZENENWECHSEL. Published by Fire!Zone, a new Black Rain sub-label, SZENENWECHSEL contains sixteen new songs in balance from punk, electro and minimal wave with the add of tons or irony. Just look at the cover where Katja Hah and Ferdinand Ess are dressed like they have been catch by a time warp bringing them to a '20s party. Musically most of the tracks, that are sung in German, English and French (really nice "Jeudi noir", an electro song driven by an upfront bass guitar and a distorted drum machine and enriched by simple analog synth lines), are upbeat electro punk tunes with some exception like the minimal "Empty v" (which sounds like a electro punk version of Suicide looped style) or the following "Beweg dich" (which sound more electro than else), the mid-tempo "Mein stern" (it starts with a minimal approach of female vocals/picked guitar arpeggios just to end with a sort of melancholic atmosphere and guitar riffs/drums) or the semi techno approach of "Wir horen mit". The whole album sounds fresh and joyous and it is impossible to ignore the energy the duo is able to produce with songs based on few instruments but that immediately catch your ear.
Artist:
ROBE
Title:
the third cinder
Format:
CD
Label:
Snip-Snip records
(@)
Rated:
Some months ago while on the web I've come into Robe's myspace page and I've been positively impressed both by their sound and by the most of their song structures. This release came out on Snip-Snip that's David Reed's own label and let's say there's a sort of connection: actually Robe' sound, from what I've heard so far, in most of the cases is darker and heavier if compared to the music of Reed, but here it all has become more "foggy" and confirms the impression I've had they like to dissolve the drones in a magmatic scenario. It all makes me think to the movies of John Carpenter or David Lynch, but at the same time differently from many of their previous releases "the third cinder" paints a more abstract portrait of this band from Columbus. A simple selection of sounds and mainly drones surfacing and disappearing in suspension as shadows sucked in the mist, if some of the first noises may give the impression they've been influenced by some of the early experimental industrial masters (I was thinking to Death in June when leaving folk back home), I guarantee later the environment develops into a bad dream gone worse. Beside the peculiarity of having this deep cinematic feel, Robe have an interesting approach to dark ambient and post-industrial music that I don't find in that many bands of the genre. If you've never heard anything of this band from Indiana, remember they're quite heterogeneous thus you have releases where they've heavy guitars revealing Justin Broadrick/Final reminiscences and other recordings you could easily file under dark ambient. "The third cinder" is probably one of their most ethereal work but there's no doubt from what I've heard it doesn't betray Robe's identity and offer a good way to be introduced to the sound of this band.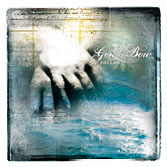 Six years after their second album titled "What's Beyond The Suns" the duo God's Bow is back with FOLLOW. Agnieszka Kornet (lyrics) and Krzysztof Pieczarka (music) on this album created a mixture of electronic goth music with classical and trip-hop influences. FOLLOW opens with "Empathy", a short dreamy track based on strings and Agnieszka's chants which introduce one of the best songs of the lot: "Tomorrow". This tune (along with "Mosaic") made me remember of some early Dead Can Dance atmospheres (see the use of percussions and the dreamy vocals) but mixed with new wave arrangements. The following one, "I know", is a bit more electronic and is able to create a sort of goth electronic mixture which sounds nice. "Helpline" is the main track of the single released before the album (the MCD contains different versions of the main track and of "This perfect time" but no unreleased tunes). The song is a mid tempo electronic goth tune with a strong refrain but to me it sounds less sensual paragoned to "Tomorrow". "Wave awakes" play with slow percussions, synth pads and Middle Eastern melodies but it doesn't sound that catchy to me. "This perfect time" is a bit more melancholic paragoned to "Helpline" and it fluctuate between synth pads and Agnieszka vocalises. The album somewhat follows with this scheme and along with "Mosaic" I'd point out to you "Under heavy sky". On this edition of the album there's a bonus CD with ten other remixes of "This perfect time" and "Helpline" (six and four). Of the lot I appreciated the ones which heavily reworked the tunes, these are: "This Perfect Time – remix by C.H.District", "Helpline – dead air mix by Weave", "This Perfect Time - remix by The Frozen Autumn" (not their top notch work, but a nice one) and "This Perfect Time – remix by Dark Territory".