Dark / Gothic / Wave / New Wave / Dark Wave / Industrial Gothic
Edit (4519)

Artist:
SUN PLEXUS 2
Title:
En souvenir de l'horreur
Format:
CD
Label:
Ronda
Rated:
A new full-length from this Rumanian-relocated-in-France trio, who's been active since 1993 without the "2" in their monicker. Take a look at their promo pictures and you'll start noticing something ugly, totally confirmed by their gloomy, neurotic "rock". Sun Plexus 2 seem to have absorbed 30 years of expressionist, dischordant, fucked-up music which could still be remotely connected with the corpse of rock'n'roll: early Sonic Youth, Einstürzende Neubauten, Jesus Lizard, Oxbow, Chrome, Mars, Contortions... all came to mind while listening, which doesn't imply that Sun Plexus 2 are mere copycats. My picks would be "Pussy purée", with its robotic moves and a cascade of jangly guitars, and the remarkable last three tracks ("Die pipipuppe", "A force de suce" and especially "Planète fiston"), which increase the feel of doomed desperation and mental meltdown of the album, with paranoid electronics and tortured vocal rants closer to a black metal style than to anything remotely "singalong". The psychic fogs of these final minutes are worth the whole ride.
Dark / Gothic / Wave / New Wave / Dark Wave / Industrial Gothic
Edit (4514)
Artist:
FEMME FATALITY
(@)
Title:
ONE'S NOT ENOUGH
Format:
CD
Label:
STICK FIGURE RECORDING
(@)
Distributor:
STICK FIGURE RECORDING
Rated:
FEMME FATALITY IS A FUN TWO PIECED BAND FROM ST LOUIS, CONSISTING OF ALEXANDER PALERMO WHO IS LEAD VOCALS, SNTH AND GUITARS. AND MONANANI PALERMO WHO DOES ALOT, VOCALS, PROGRAMMING, SYNTH AND GUITAR, THIS BAND PUTS THE NO WAVE BACK IN WAVE AND ROCKS HARD. THE ALBUM IS CALLED, " ONE'S NOT ENOUGH." WHICH IS TRUE, ONE IS NOT ENOUGH, WE WANT MORE FROM THIS BAND. WE OPEN WITH A DARK, DANCY INTRODUCTION TO THE DANSE DESTRUCTION CRAZE WAVE THIS BAND SETS FOR US. ONE PARTCUALR LYRIC THAT STOLE THE SHOW FOR ME WAS, " Y' ALL KNOW WHAT I DO ON THE STAGE, SO SHOW ME WHAT YOU DO ON THE FLOOR." TRUELY BRILLIANT AND CLEVER AS EVER. TRACK TWO ~ " LUCKY LOVER" WAS A TRUE SURE FIRE DANSE FLOOR HIT. ALEXANDER AND MONANANI SING TOGETHER, " LUCKY LADY, LUCKY, A LUCKY LADY, WE WERE BLOWN AT THE DISCO, SHAKIN LIKE A STIP SHOW. HOW MANY GUYS HAVE BEEN FEEDING YOU LINES." WIT ON TOP OF WIT TO MATCH THE DANSE OF THE TRACK. FUN, FUN FUN AND CLEVER AS EVER. LOVED IT AS I MOVED TRACK AFTER TRACK. WE MOVE ON TO TRACK 3 ~ " BULLET TRAIN" WHICH WAS AN CONCOCTION OF 80'S AND ADDICTIONS AND RHYMES. LOST IN TIME, LOST IN SPACE WITHOUT A TRACE, IN OUR FACE BUT FULL OF GRACE. OUR DYNAMIC DUO , ALEXANDER AND MONANANI SINGS, ' THESE ARE THE FLOORS I SLEEP ON, THIS IS THE RINGING IN MY EARS, THESE PRECIOUS THINGS I PRAY ON , JUST GET YOUR CREEP ON, AND IMA KEEP ON." TRUELY SO METAPHORICALLY MELANCHOLIC AND FASHIONABLY DECADENT. WE PROGRESS TO TRACK 4~ " COME ON, COME OUT" WHICH WAS ANOTHER PROMISING TRACKTO BURN THE DANSEFLOOR TO OBLIVION, LOVED IT FROM START TO FINISH. LYRIC AFTER LYRIC CALLED OUT TO ME THAT UNIQUENESS IS NOT DEAD. WOW THIS BANDS STANDS FOR KNOCK YOUR SOCKS OFF TO DANCE, DANCE, DANCE! IN THIS TRACK, ALEXANDER, AND MONANANI SING, " I CAN'T WAIT TO RUIN YOU FOR EVERYONE FOREVER." WHICH IN ITSELF TALES THE TALE, YOU GET WHAT YOU DESERVE. THIS BY FAR I THNK WAS MY FAVOURITE TRACK ON THIS ALBUM FOR JUST THE RAW ENERGY AND HARSHNESS IT DISHED OUT AND THE FACT WE CAN ALL RELATE TO. HELL YEAH! NEXT IS TRACK 5 " STILL ALIVE " WHICH IS THE DARK ANTHEM THAT QUESTIONS DEATH. A TRUE MASTERPIECE THAT IS PURE GENIUS. ALEXANDER AND MONANANI SINGS, " HOW THE HELL AM I STILL ALIVE, THEY TOLD ME NOT TO, I'M STILL BREATHING FINE." THIS SONG ROCKS HARD WITH DECADENCE AND TRUTH. THE REST OF THE ALBUM IS UNIQUE TRACK AFTER TRACK FOR ELECTRONICS AND DARK FASHION, FUSION AND ILLUSIONS OF FATE INFILTRATE THROUGH THE CORNERS OF THE DANSE FLOOE LIKE A CONECT THE DOTS GAME BACK TO US AND FAR BEYOND. FOR THE MINDS EYE TO SEE. IF I HAD TO SUM UP THIS CD, I WOULD SAY, GO IN COLD, OPEN YOUR MIND AND COME BACK TO CLONE YOUR LOVER AND EXPERIENCE A FEMME FATALITY AND BE FASHIONBLY LATE.. 4 STARS ~ MICHELLE RUSSO
image not
available
anymore
Artist:
Za Frūmi
Title:
Legends act 4 - Orders
Format:
CD
Label:
Waerloga Records
(@)
Rated:
It took almost four years between "Legends act 2 - Vampires" and "Legends act 3 - Cults". "Legends act 4 - Orders" is released on the same day as act 3 and it gives you even more in depth and varied music. Both albums are creating a smorgasbord of a total (11 on each) 22 delicious songs and the ones on this album impress me even more than on act 3 and that says a lot as I loved that album.

This release is a revelation. Za Frûmi is of the highest artistry. Fully in control of this difficult material, Za Frûmi has the technical equipment to let the music speak without impediment.

It is obvious how passionately the duo are with their music and how much of perfectionist´s they are. With this amazing album, Za Frûmi fully takes the plunge into the heady mix of musical traditions. Calling it"haunting" and "atmospheric" barely scratches even the initial surface of the album's power.

Za Frûmi evokes emotional esoteric and mystical life from nothingness. Deeply rooted in several historical traditions raging from (as far as I guess) Western European middle age, Eastern European folk and even Middle eastern intonations and incantations, Simon Kölle's voice draws the music up from a somber state, giving birth to an almost emotional drama.

The song titles are names of secret Orders in the world of Za Frûmi, a world the band seem to build up more and more which in itself is kind of unique, references to Latin, choirs, and other touches that make the album sound like it was recorded in an immense ancient cathedral. Or maybe in great mystical halls of the orders themselves.

While the elements being drawn on are certainly of an older range, the results owe as much to the technologies of arrangement, mixing, sound effects and production and a consciously cinematic feeling as much as they do antique pasts. Similarly, the feeling is not simply European but worldwide, with Kölle´s glossolalia intentionally reaching beyond easy understanding.

The overall feeling is of an great dark ancient religious service come to life with all kinds of dark soundscapes, strange instruments and some electronic , has stunning results.

If you already know Za Frûmi you must buy this CD. If you don´t know its music, try to imagine the best among fantasy film soundtracks such as LOTR with a varied instrumentation and with even more depth than the soundtracks. With the help of this magnificent album you create the"film" with your imagination.

I go so far to say "Legends act 4 - Orders" is the album of the year 2008 (so far).

This recording gives new hope to the continuance of Za Frûmi´s rich legacy.



image not
available
anymore
Artist:
Za Frūmi
Title:
Legends act 3 - Cults
Format:
CD
Label:
Waerloga Records
(@)
Rated:
The first thing that strikes one when hearing this album is how at home Za Frûmi is with the music. There is a palpable affinity with the rhythmic complexities, an ease with the difficult shifts of mood and tempo. The Vocals are very intimidating and sometimes (such as on "The Cult of Helzichor") beautiful. The music is harsh but not all the tracks. Some are complex and filled with extraordinary sound effects and intriguing music techniques.

The mood is constant and the always present dark fantasy feel is as good as it gets at times. I really enjoy the tracks that break off from the obvious apocalyptic sound like for an example with "The Cult of Mortalis". That´s when you hear the depth of Za Frûmi!

"Legends act 2 - Vampires" was all about the vampire and all what those stand for. The music this time out is much more aggressive...and more engaging. In comparison to the former albums in the series the music on "Cults" features a darker, more intense, and more fully developed "personality"... as well a greater number of action/suspense pieces. Apocalyptic moods, murderous sects of blood are what this album is all about!

"Legends act 3 - Cults" descends sometimes from the duo's usual nether atmospheres into a realm of tribal percussion and chant, casting a comprehensive net over various world music traditions. The tribal drums and the various interesting world music instruments used (as it seems it´s most of all not electronic instruments) are great.

One of the best surprises of the albums is the previous mentioned song "The cult of Helzichor" as it completely changes the style but yet feels true and not at all wrong. Very good.

Low male choir, deep percussion erupting with rambunctious brass and horns are present in many tracks. The album is more than action and tension as some of the tracks are creating "worlds" with the help of sounds, moods, chanting and invocations which Za Frûmi is so incredibly good at doing.

This is a must for all of you into dark ambient and all you who like world music bands such as Dead Can Dance.



Dark / Gothic / Wave / New Wave / Dark Wave / Industrial Gothic
Edit (4494)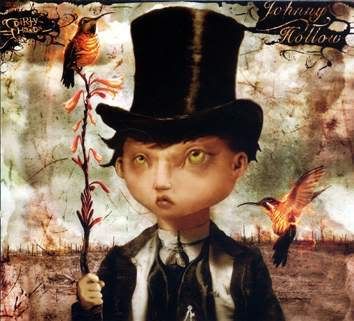 Artist:
Johnny Hollow
Title:
Dirty Hands
Format:
CD
Label:
The Organge Record Label
Rated:
Toronto-based Johnny Hollow is a very unique and interesting band for you to check out. I recall the name from years ago as one of those bands who left a good impression but from whom I haven't heard anything in a while. They are very hard to describe because they are a mixture of dark, electronica and orchestral arrangements, beautifully performed on piano and cello by the two main musical members (there is a third member who does all the graphics and video work live). This is not one of those average sounding goth mock-ups around, instead Johnny Hollow are a very original blend of what it would sound like if Dead Can Dance, Tool, Faith and the Muse, Depoche Mode, Portishead and Conjure One were to merge into one entity. Of course this is in no way a definitive nor accurate way to describe them, there's a lot more to it and there are many other influences one could mention. The fact is Johnny Hollow is so many things but not just one thing in particular: some call that originality! "Dirty Hands" is a very mature and great sounding record, thanks to Grammy winning mixer David Bottrill and Skinny Puppy member and producer Dave "Rave" Ogilvie.
So go ahead and do your research and your illegal downloading and once you figured out that this band is really cool and worth supporting, make an effort and buy their CD, you will enjoy a beautifully packaged digipack with gorgeous Tim Burton-esque art work and a folded poster and lyrics inside.