Artist:
ALEX TIUNIAEV
Title:
I Knew Her
Format:
CD
Label:
Cold Spring
(@)
Rated:
Electronic musician and producer from Moscow, Russia, Alex Tiuniaev with I KNEW HER delivers a really good atmospheric album full of melancholy and with a great cinematic sense of time progression. The album contains only one track that besides having a similar feeling of loss (the melodies and the images of the artwork make me think about a girl who died) for the whole forty minutes of its length, with the hypnotic cyclic repetition of a central musical theme it is able to involve the listener thanks to Alexander's ability of mixing the orchestral elements and the choirs. The suite starts slowly and calmly and little by little the choirs rise from a blanket of strings/synth pads crying out loud the pain and the despair painting everything of the person you won't be able to see again. Every instrument is like a hit of the brush on the painting that represent everything you missed. After a while also the strings duet with the choirs giving to the winds every word kept unspoken. At five minutes from the end the calmness of the music is showing that the energy, that shot of rage, has ended and everything remaining is a feeble sound...
Dark / Gothic / Wave / New Wave / Dark Wave / Industrial Gothic
Edit (4620)
Artist:
Scarlet Slipping
(@)
Title:
Hound
Format:
CD
Label:
Shinto
(@)
Rated:
Scarlet Slipping new debut is a haunting and creepy dark album. Fantastic beautiful and ethereal that will torment the mind and soul to keep you awake in the darkness. One of the most best gothic album release in 2008. Dawn Wagner, a talented young woman who is behind the project will take you on a hellish ride on a road that's narrow and then a twisted dead end where death occurs. The synths layers on the tracks are dynamically soft. Each track maintains a slow beat accept one, but the melodies are the highlight of the cd. All 12 tracks sets the perfect pace for the album. I considered "Hound" to be a dramatic theme for a motion picture soundtrack. It sets a mood and create an intense dark atmosphere. A suspense thriller and horror combination. The way Dawn sings is ghostly enchanting with emotions by telling a story. This young female performer is original. No other artist come to mind when one listen to this album. And that's a good thing. For the record, melancholic and sadness interlocks, which describes at its best.

The track "Paralyzed" will heave up a cold chilling feel in your spine. My most favorite track "Slow Death" is a suicide song. A cello that's synthesized is played slowly with feeling. So beautifully enchanting and enticing and hypnotized, which is great to listen to while taking a walk through the cemetary. The lovely "Firefly" sounds like a carousel song. I can picture it being played in an animation film. Through the music, perfect vocal harmonies, well-versed lyricism, the listener is taken to the depths of darkness of Scarlet Slipping on a dark journey experience. All Goths must purchase this cd.

Tracklistings:
1. Forward, You, Me
2. Paralyzed
3. Transend Now To Nebula
4. Light Invades
5. Shock & Glow
6. Hound
7. Slow Death
8. Firefly
9. Sleeping Ghosts
10.House of Stone
11. Breathe
12. Death Melody
Dark / Gothic / Wave / New Wave / Dark Wave / Industrial Gothic
Edit (4618)
image not
available
anymore
Artist:
NEONMAN
(@)
Title:
Knights Of Error
Format:
CD
Label:
Pale Music
Rated:
After a year from the release of their debut album Neonman are back with a new one titled KNIGHTS OF ERROR. The new album has very few electronic sounds and it has been recorded completely live in Kreuzberg, Berlin with the production of Cornelius Rapp, who worked with artists such as Peaches, Mocky, Gonzales and Planning To Rock. Listening to the eleven tracks it was a surprise to find also ska ("Poor 'n' drinking" or "Special friends"), indie rock and '77 UK punk influences (like on "Straight 'n' narrow"). Opening with "Quinine & Juniper", a song that will recall you the style of bands like Franz Ferdinand (band that is also influenced by the UK '80s indie music), the album span through different influences and styles presenting songs that aren't made especially for the dance floor. If you liked their old style there are also tracks like the funky punk shaped "July 7th", "Clash of cultures", "Peep show" or the closing "Too quick, too much" (they recall me the Gang Of Four and !!! and they are the ones I liked most because of their dissonant melodies) but there's also space for ballads with "Boat of glory" and "Nightclubbing". If you want me to point out a song that can easily find its way to the clubs, check the closing "Too quick, too much" first. That is a great one!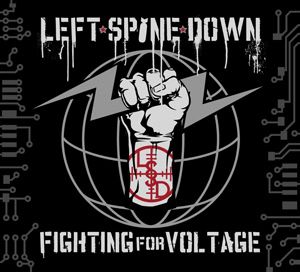 Artist:
LEFT SPINE DOWN
Title:
Fighting For Voltage
Format:
CD
Label:
Synthetic Entertainment
(@)
Rated:
Many bands took L.S.D. as a name acronym and this time it stands for Left Spine Down. They are a Canadian band and they have Jeremy Inkel of Front Line Assembly and Noise Unit and Denyss McKnight previously of The Black Halos on their line-up. FIGHTING FOR VOLTAGE is their first full length containing sixteen tracks that are in balance from cyber punk rock and metal industrial. Having melodies that sometimes recalled me the good Offspring tracks the band turned them into a voice/guitars/drums driven high energetic formula that goes at least at 140 bpm. For the whole album there isn't a lack of adrenalin, the melodies are quite simple and the songs work well. Take KMFDM or Skinny Puppy, remove from their sound the dark curtain, keep the speed pedal pushed down and you'll have an idea of Left Spine Down (practically a sort of cyber version of Misfits). They sing of the decay of human race and if you put in a row "U can't stop the bomb", "Last daze" and "Prozac nation" you'll remember them for your next car compilation. The album closes with an interesting 23 minutes industrial/synth outro. Not only good for M.T.V....
image not
available
anymore
Artist:
OVRO
Title:
Revisited
Format:
CD
Label:
Some Place Else
(@)
Rated:
Also active with Haeretici 7o74, Ovro with REVISITED is presenting her fourth album. Divided into seven different moments, REVISITED contains re-worked tracks already presented on the 2006 CDr "Estrainer". The original field recordings were taken during a trip from St. Petersberg to Moscow. On the inner cover of the CD Ovro explains what moment the recording covered and reading simple explanations like "Relocating to Moscow now by train, in Moscow by underground, with echoes of Turku traffic mixed in" and listening to a track that sounds like a trip to hell has a particular effect on me. It's like to be drugged and walking by the city. It's a strange aural experience as each sound float back and forth while you lose the sense of balance. Musically the album sounds dark and experimental mixing drones and field recordings collected in different locations (mostly city places) but in this case I won't talk about it like I would for an entertaining media. You have to experience it more than listen to it also because otherwise you would find that the overall atmosphere is pretty the same.