Dark / Gothic / Wave / New Wave / Dark Wave / Industrial Gothic
Edit (4787)
Artist:
Santogold
Title:
Santogold
Format:
CD
Label:
Downtown Records
(@)
Rated:
Who is Santogold? An African-American 32 year old woman, singer, songwriter and record producer. Born Santi White and held out of the City of Brotherly Love known as Philadelphia, Pennsylvania. This talented woman got her start in the music industry by working for a major label Epic Records as an A&R representative, but left the position to write and produce a song "How I Do", the debut from the singer Res. She also was a singer for the Philadelphia-based punk rock band Stiffed. While in this band, she was offered a solo contract. Her self-titled debut album breaks through the commercial music charts in the US & the UK. Santogold's album is a comparison to the sound of new wave 80's and punk and ska/reggae. Heavy synthesizers takes the toll with a rhythmic beat. Santogold vocals and vocal arrangments is reminder of Terri Bozio from Missing Persons and Siouxsie Sioux from Siouxsie & The Banshees. Her voice concocts in a soft haunting and wailing style.

The song "L.E.S. Artistes" kicks the disc off. A track similarly to the brushing tone vibe of Missing Persons and Blondie. The remix version is also included on this album. Composed and mixed with a dancehall feel. We get "You'll Find A Way", a new wave & ska combination that gives you an idea of the similar sound by The B-52's and British ska band English Beat (aka The Beat). Going deep for a joyride in the dub/ska/reggae genre format form, a deliver of "Shove It" with a slap in your face groovy funky tight kick ass bassline. Take a journey on a plane to Jamaica to dance. This reminds me of the five young black British boys Musical Youth, formed out of Birmingham, England back in the early 80's, who spun a hit "Pass The Dutchie" and video received a heavy rotation on MTV. Santogold gives us a punk reggae on "Say Aha". The Clash fans will love this one.

Entering the portal of electronic music genre, the progressive quirky bleeps and noises sparks out in "Creator" as Santogold adds rap on top of it. This song was used for a Bud Light Lime beer commercial here in the U.S. The seductive vocals stands out in "My Superman", as if we're wandering back in Berlin era of their first album "Pleasure Victim". In the 80's, remember those days at school there was a time when teenagers was dancing to music playing by live bands, especially in movies? Imagine Santogold existed in that time. Her songs "Lights Out" and "I'm A Lady" will be absolutely perfect featuring on a couple of film soundtracks. "Lights Out" has appeared in VO5 hair products commercials in the UK. Everytime I listen to it, I think of the all girl band The Go-Go's. The song is very well written, the singing and the background humming harmony is a reflection of female bass player Jane Wiedlin. "I'm A Lady" is thought provoking that goes down the line of Chrissy Hines and her band The Pretenders.

Sliding back in the electronic & synth-pop genre, the melodic "Star Struck" follows in the dark and shadowy steps of Depeche Mode, their darkwave era. We proceed on to another British band sound we all know, Bananarama. A personality of the female trio and a Jamaican accent added to make "Unstoppable" a complex track to make. Santogold did a superb job by pulling it off. The song is about a woman who's dangerous and carries a gun and different kinds of flammable sprays that is used to spray any attacker in the face. Furthermore, on the run, especially from the police. Finally we're now engulfed in the darkness and the ghost of "Anne" gives us the gothic and haunting reminiscent sound of Siouxsie & The Banshees. On this track, Santogold does sound like Siouxsie. Soft gloomy vocals will pull you in. The song will get alot of attention at a club where everyone wears black.

Despite today's mainstream music sucks and making people dementia in this day & time in the 21st century, Santogold wants to bring back real music that everyone can relate to and feel. She is rated as one of the top ten artists to look out for this year of 2008. Her music has already been receiving heavy rotation in clubs and airplay in urban Afghanistan. Her professional music skills is a promising in the near future.




Dark / Gothic / Wave / New Wave / Dark Wave / Industrial Gothic
Edit (4783)
image not
available
anymore
Artist:
RISE AND FALL OF A DECADE
Title:
Love It Or Leave It
Format:
2 x CD (double CD)
Label:
Ars Musica Diffundere
(@)
Rated:
Three years in the making and stopped due to the sad departure of Pierre François Maurin-Malet, singer and writer of Rise And Fall Of A Decade, LOVE IT OR LEAVE IT has been finished by Thierry Sintoni (one of the other two band's member), who succeeded also into assembling a track wrote by Carla Picchiantano (singer of Speaking Silence) who virtually duets with Pierre François on the ballad "In the time when". The twelve songs of the album shows a band really inspired and freed from any musical boundaries. The opening "Again" has medieval atmospheres (on its opening) mixed with breakbeat rhythms and wave melodies. "In the time when" musically recalls me early Dead Can Dance but under a pop key. "The federation of love" mix beautiful orchestral arrangements with electronics for a great upbeat pop song. "Bagdad is shining" mix lounge melodies with pop wave sensibility (it recalls me the fresh sensation felt with some old Scritti Politti songs). Another great track is "Don't save the museum" which behind its happy melancholy enriched by electronics and orchestral arrangement hide a critics to society (the riff says: "Protect what makes money, protect what makes us richer but please, don't save the museum"). LOVE IT OR LEAVE IT is a great album which shows a band that after twenty years had plenty of ideas and also succeeded into renewing their sound. The second CD of this release contains a tribute to Pierre François Maurin-Malet containing twelve reinterpretations of Rise And Fall Of A Decade songs made by Collection D´Arnell-Andrea, Nemo Sandman, 2square, Speaking Silence, Ben Born, Thierry, Hide and Seek, Richard Bontempi, O Quam Tristis... , Pierre-Francois & Thierry and Thierry & Ariane. The double package is sold at a bargain price of a single CD!
Dark / Gothic / Wave / New Wave / Dark Wave / Industrial Gothic
Edit (4782)
image not
available
anymore
Artist:
NAEVUS
(@)
Title:
Relatively Close To The Sea
Format:
CD
Label:
Hau Ruck!
(@)
Distributor:
Tesco Distribution
Rated:
After a year from their "Silent life" album, Naevus are back with their sixth full length CD titled RELATIVELY CLOSE TO THE SEA. The album opens with the beautiful and powerful title track. Apparently calm, the song, thanks to its slow and crawling rhythm explode on some parts thanks to a suffering guitar that with its controlled feedback gives to the track a dramatic touch. After this one we have three tracks where the the influence of folk (maybe Gaelic) is evident and it's mixed with Naevus post punk/neo-folk distinctive characteristic approach to sound. Violin, acoustic guitars and the great John Murphy drumming create great moments made of tension and dreamy atmospheres. The touchy moment comes with "The German", a track that behind its folk atmosphere hide the story of an homicide of an ex German soldier (my interpretation) who after the war moved from East Germany to find a new life but who ends killed hit by the shovels of the crowd he found going to a pub. After two other tracks ("Dented mess" and "The troubadour") we find a masterpiece titled "Go grow". It is a 18 minutes track where guitars, violin and accordion duet, making slowly increase the tension (see the Velvet Underground) without never losing the control or the boundaries of the song structure. Good one...
Dark / Gothic / Wave / New Wave / Dark Wave / Industrial Gothic
Edit (4781)
image not
available
anymore
Artist:
CARILLON DEL DOLORE
Title:
...Per Portarti Questo Scrigno
Format:
2 x CD (double CD)
Label:
In The Nigh Time
(@)
Rated:
Active from 1983 to 1986, Carillon Del Dolore released two demo tapes (of which the second one "Ritratti dal vero" have never been officially distributed), a self released MLP "Trasfigurazione" and an album titled "Capitolo IV" released under the Petali Del Cariglione moniker and heavily mis-produced by Valor (on an interview to the band I read that they had a really bad experience with him, because he was supposed to produce their sound but he wasn't able to and unfortunately the worst was that he acted like an asshole). PER PORTARTI QUESTO SCRIGNO gathers the remastered recordings contained into the two demos "Fiori malsani" and "Ritratti dal vero". About "Fiori malsani", you have to know that the tracks of the tape were the same of the "Trasfigurazione" MLP before the band decided to switch their lyrics from English to Italian. So basically these are the English recordings of those ones. Unfortunately, maybe because of copyright problems with Contempo (the label that distributed the first print of the MLP and then reissued it into a limited 500 copies run), you aren't able to check the Italian version which, in my opinion, sounds more dramatic. Along with the demos you can find plenty of unreleased tracks (eight tracks recorded during rehearsals that doesn't sound perfect but that are able to catch the moment and the atmosphere) plus twelve live tracks recorded during their whole activity (i.e. 1983÷1986) and three recorded on 2007 at their reunion gig (note that they are all crowd recordings and the quality sometimes isn't really good). With this compilation you have the chance to check one of the best goth Italian bands of the '80s. Maybe their technical skills weren't the best around but they were able to catch the decadent spirit of that scene. Their scenic impact was as much important as their musical one thanks to the theatrical performances of different artists/friends of the band. Check for example the graphics of their MLP and you'll have a good idea. Born under the punk impetuosity the band soon slowed down the rhythms creating in that way their peculiar sound.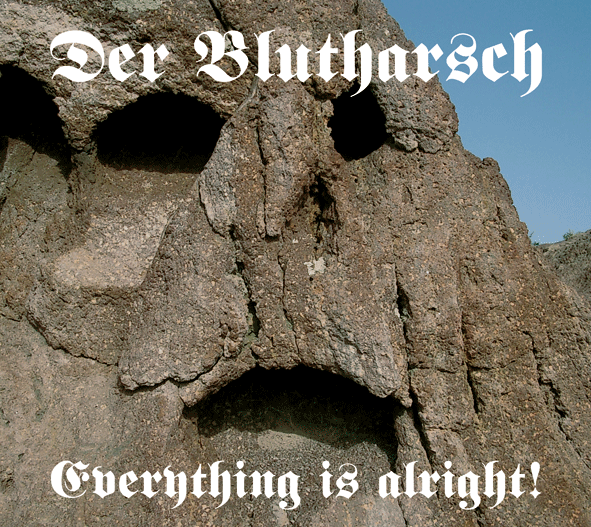 Artist:
DER BLUTHARSCH
Title:
Everything Is Alright
Format:
CD
Label:
HauRuck!
(@)
Distributor:
Tesco Distribution
Rated:
EVERYTHING IS ALRIGHT is the natural continuation of the "Fire danger season" release and it starts from where the old one left gathering compilation and limited vinyl releases tracks originally issued from 2002 and adding a couple of new songs: I think that the third and the ninth (a nice 30" 70's inspired creepy synth tune) tracks are new ones. Der Blutharsch has the peculiarity to have all untitled tracks so it is very hard to track down the informations about the original releases containing them. At this purpose the website Discogs is helping a lot by giving the informations we need. Anyway, considering that the album starts from 2002, at that time Der Blutharsch started to change the sound as on 2003 we have the "Time is thee enemy!" album which is the first to have a rock approach to military rhythms/atmospheres. Track 1 from the Reutoff vs Der Blutharsch Kreuzung Drei split CD. Track 2 from the Der Blutharsch/Nový Svet Cafe Mentone split 7". Track 4 from the Der Blutharsch/Zetazeroalfa split 7". Track 5 from the Yellow Leaf 7". Track 6 from the Time Is Thee Enemy 7". Tracks 7 & 8 from Farewell Tour 7". Tracks 10 is a cover of Death In June's "The Odin Hour" from Take Care And Control. Track 11 from the Vittoriale 7". Track 12 is a cover of a song from The Moon Lay Hidden Beneath A Cloud's The Smell Of Blood But Victory. Track 13 from the Looking For Europe compilation CD. Track 14 from the Der Blutharsch/Sottofasciasemplice split 7". Track 15 is a remix of :wumpscut:'s "Schäbiger Lump" from his Schädlingsbox 2xCD. Track 16 is a remix of :wumpscut:'s "Adonai, My Lord" from his Body Census Box 2xCD Box. Track 17 from is by Pacific 231 Vs Der Blutharsch and its titled "Heuristic Occlusions (Armoured Assault / Vino Nobile Mix)" and it's coming from the Danza De La Muerte - R.I.P. Syntactic compilation 2xCD. Even if the release is a compilation it isn't only intended for collectors as if you liked the latest band's releases, EVERYTHING IS ALRIGHT contains good tracks on the same vein but if you are a fan this is a must have release, because it gathers many treasures.