image not
available
anymore
After listening to the second volume of this intriguing musical summary coming from the obscure Romanian industrial and dark -ambient scene, someone could argue that Abraham Van Helsing, the famous Dutch old teacher with a passion for vampires'hunting in the novel by Bram Stoker which probably gave good fame to an almost unknown Carpathian region commonly known as Transilvania, now lives a brand new life out of those notorious papers in disguise of a talent-scout, searching for obscure electronic acts and grabbing demo-tapes from young virginal musicians or alternatively from skinny vampires which decided to suck blood from music machines instead of human bodies - maybe contemporary pollution turned even vampires' habits of consumption as human blood arguably turned into something disgusting! - throughout Romania! Joking aside, it really seems that something belonging to those literary stereotypes has been decanted from the well-crafted Draculian set of goblets to sound machinery and magnetic stripes. Just for instance, have a listen to tracks like Noverbia's Prime and you could imagine enchanting female girls bitten by Count Vlad whistling from a foggy crypt or little nice bats angrily squeaking! That's just an example on how the artists and bands from that land which is now sucked by a vampiresque crew of thirtsty (for money) businessmen could result into appreciated stamina for your imagination. Abbildung's Last Journey To the Hypersphere - one of the most interesting track included in this selection - shows a massive use of samples(there's also a train...!) on exquisite drones (not so dissimilar to those by Origami Galaktica), an hypnotic glassy chime and abstract sound suctions which are able to speak to the listener even by trascending words! Your senses're going to be ideally washed inside a mesmeric tub while listening to the suspensive and ethereal reflections by Koldvoid, while Ekasia's Urban Child looks like an obscure mixture of a sort of spell-rhyming and a narration about an intimate torture of the soul resolving into a state of consciousness!!! We know you know how this kind of things could play! Sketches of soporific Arabian flutes, funerary bells, Russian radio intercepts, crunched basses and industrial intermittances crowds Pământul (Planet Earth in Romanian language) in the anxious represantion by La Ghica Hainu, while a sort of anguished shriek saturate the noisy engine by the Transilvanean project Hunyadi P.H. Whoever loves nice tricks for mind will easily get in love with the two final tracks: the first one crafted by Narkoletpik, an enchanting drone with a sine-frequency finely described by the title itself ("Morbid Obsession"), while the latter is an intriguing blend of frequencies beginning with dark tinged atmospheres and attaining to tinkly psychotic placid setting. Those listeners seeking for involging emotional tracks are going to be grateful for this amazing compendium. It works well!
Dark / Gothic / Wave / New Wave / Dark Wave / Industrial Gothic
Edit (4996)
image not
available
anymore
Artist:
THE GREEN MAN
(@)
Title:
From Irem To Summerisle
Format:
CD
Label:
HauRuck! SPQR
(@)
Rated:
Originally self released four years ago, FROM IREM TO SUMMERISLE is the first band's album which contains also the four songs of the limited 10" titled "Irem" that have been released also by HauRuck! SPQR on the same year. The duo formed by Eliahu Giudice and Marco Garegnani on the first half of the album already showed the seed of their particular folk oriental sounding based spoken word. Style that on the following four tracks of the "Summerisle" part, finds its balance where the acoustic guitar is mixed with a good background structure made of synth sounds (strings, trumpets, etc) while Eliahu alternates spoken word and sung parts. Since the early days lyrics have been important as well as music was and already on this album the band dealt with religious or philosophic matters in a personal way. This lead them to compose the following album "The Teacher And The Man Of Lie" as a concept album (you can read more about the topic on the review I did). This new reissue contains full lyrics, a new graphics and two new songs: "Corn rigs" (an arrangement of Robert Burns ballads and Scottish, Irish, and English tunes) and "Liber Al", that is a partial version of Crowley's "Liber al vel legis" with a music commentary ("The book of the law" is the central sacred text of Thelema, written by Aleister Crowley in Cairo, Egypt in the year 1904. He claimed he wrote the text but the author was an entity named Aiwass, whom he later referred to as his personal Holy Guardian Angel).
Dark / Gothic / Wave / New Wave / Dark Wave / Industrial Gothic
Edit (4993)
Some bands are just like their band's name while the others are not. Mötley Crew was certainly a colorful bunch, whereas there were no clerics in Judas Priest. The Pussybats belong to the second type; there are no pussies in the quartet from Stuttgart.
When I heard their song "Dance with the Devils" for the first time two years ago I thought: "not bad for the start, but hopefully they will turn into more than merely a German The 69 Eyes clone". And voilà; my wish was fulfilled. The Pussybats play a genuinely great Gothic Rock capable to sweep even mopey goths away.
If one's heart was not amputated some lyrics will bring up memories and perhaps even traumas of the romantic sort to the listeners mind. This is the advantage of Rock over EBM. April and Most Beautiful Tales End Sadly are good examples of that. In No Romeo the lyric persona inquires why he is so utterly unromantic. Unfortunately no potential answers are suggested in the song. Well, I guess that is the way some dudes just are.
The title "Crimson Girl" even rhymes with "Poison Girl" by Her Inferential Majesty. Well, both songs are about a girl and the lyric personas do not tell of positive experiences in both cases. Nowadays it seems to be an absolute must to have a cover version on the debut album. Famous Last Songs is no exception. The Pussybats (or chiropterae vaginae in Latin) pimped Your Woman by White Town and provided it with some considerable rocker attitude. It is rather cool when a definitely masculine voice goes like: "I should never be your woman". Such ambiguities are usually welcomed by the gothic audience. Strangely enough Sean Brennan (London after Midnight) changed the lyrics of Sally's Song into the masculine genus in spite of his "overloaded with testosterone" image.
One of the very few negative things to mention about the album is the refrain of Banshee's Blues; it may start getting on your nerves after you listen to it for a couple of times.
The CD was produced by Chai Deveraux (Jesus on Extasy) and Hahn & Hahn, who worked with Nena and Kim Wilde in the past. It sounds like Chai is to hold responsible for the spoken vocals on Your Woman; it sounds very much like the ones on Assassinate me (from JOE debut album). The compositions are rather simplistic but still the ballads reach the listener and the high-tempo songs will give you a kick. Sid van Sin's baritone is in fact comparable with the voices of Rob Vitacca (Lacrimas Profundere) and Jyrki (The 69 Eyes) but not mistakable for them. You can certainly assume that Famous Last Songs is an album title of an ironic nature and we are going to get to hear a lot from The Pussybats in the future.
image not
available
anymore
Artist:
ANIMA VIRUS
Title:
End Of The Eden
Format:
CD
Label:
Decadance Records
(@)
Rated:
Born in 1996 from the fervid mind of Aurelio Gioia after the disband of The Vacuum, Anima Virus is his personal musical project/vision. Starting from his love for goth music, Alessio succeeded into giving a new sound to a genre that sometimes is too focused on the visual aspect. Mixing the early classic Christian Death atmospheres with electro sounds and sometimes with upbeat tempos and danceable atmospheres, he made a really good album titled END OF THE EDEN. The album contains fourteen songs composed and played by Aurelio (some songs have some guest musicians but I can't say who they are) and since from the bass distortions of the opening "Days of ice" you realize that something good is gonna happen... finally you're going to enjoy a revived version of the atmospheres that made the fortunes of Sisters Of Mercy, March Violets, the aforementioned Christian Death, etc. Actually END OF THE EDEN sounds like someone found a Christian Death lost album of the "Catastrophe ballet" era and decided to update the sound. We have always the classic mysterious guitar sound with long sustained notes but we also have semi industrial ambients sounds, electro sounds, sequenced bass sounds along with real bass guitar sounds and so on. You know that cool sounds aren't enough for having a good record and in this case we have also catchy melodies, good vocals and also a semi acoustic version of Echo & The Bunnymen song "The killing moon" where Aurelio mixed the dreamy atmospheres of the original tune with darker ones and he also changed a little the refrain and added razor like guitar sounds. Check it!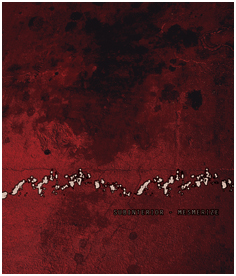 Artist:
Subinterior
(@)
Title:
mesmerize
Format:
CD
Label:
Afe
(@)
Rated:
Have you ever tasted this guy from Milan? No? If you're into dark ambient I highly recommend you to give him a try since as I've said a couple of weeks ago for Harvest Reed (aka Luasa Raelon), even if the world is so over-packed of dark ambient wishy-washy projects there's still a bunch of good artist able to put out interesting material. The comparison with Luasa Raelon is just functional for good taste sake, infact differently from Reed this guy (some of you may know for the fact he pays duty in Canaan and Konau) put together releases which are dark ambient to the bone but his atmospheres are less heavy and every here and there he's put some alienating melodies that made the whole sup easier to be digested. If compared to his previous work on Afe I find it more melodic and way more ethereal due to the fact you have less field recordings and more melodies coming in and out just to say bye. Ok, this' an interesting point of this album, infact Subinterior introduced more and more guitar samples (ambient style - drones) but first he didn't fall in the "droooooooooonnnees-caaaaan-bbeeee-sssooooo-looooong" category, second: he adopted fade in and out damn smartly he pulls the melodic carpet from under your feet so elegantly you hardly have the time to realize it. The five episodes in which this release can be divided can be easily listened as a continuum, infact this dropping in and out of sounds and short litanies during the whole length turns the work into a very discrete and catchy listening.