image not
available
anymore
Artist:
ATTRITION
(@)
Title:
Smiling, At the Hypogonder Club
Format:
CD
Label:
Two Gods
(@)
Distributor:
Voice Print
Rated:
SMILING, AT THE HYPOGONDER CLUB is an album I'm fond of. Firstly because my brother used to receive Third Mind records and I was checking the releases I liked most (and Attrition along with Bushido were the ones I appreciated most along with the "Rising from the red sand" tape compilations) and secondly because the album along with the "Shrinkwrap" 12" is able to mix dark atmospheres, dancey attitude and electronic sounds. This reissue will satisfy all the people out there that like me dug these two releases, because this remastered CD collects them both along with "Fusillade III" originally released on the "For your ears only" compilation. Here with an expanded line up including Alex Novak (Venus Fly Trap), Pete Morris (later of Psychic TV), and Dutch singer Marianne Teunissen, Attrition were at their first high budget production and they didn't spoil the chance of doing a good album able to show their less experimental dark side (on this CD it stars with "Fusillade Pt.1" and originally it was the first song of the album B side) and also to make songs like "Mind drop" or "Pendulum turns" (also included into the "Shrinkwrap" 12") which mix electro dance attitude, dark atmospheres and catchy melodies. Here with Alex Novak on vocals (check his particular deep hoarse voice) Attrition reached a new level where tracks like "My eyes" (a semi ambient dreamy spoken word) or "Hallucinator" (a claustrophobic energetic electronic cold wave tune) are coupled by electro wave gems like "The game is up" or the aforementioned "Mind drop" and "Pendulum turns".
Dark / Gothic / Wave / New Wave / Dark Wave / Industrial Gothic
Edit (4735)
Artist:
THE EFFIGIES
Title:
Reside
Format:
CD
Label:
Criminal I.Q. Records
Distributor:
Criminal I.Q. Records
Rated:
Just saw The Effigies last night at club Damaged and it was history in the making. The Effigies have been around since the early 80's and have played throughout the circuit for years and years. They took a break for a while and now are back older but better than ever! The album called, " Reside " and it rocks. we open with Track one, " The Full Weight of Failure" is a fun guitar oriented track about the art of failing. John sings to us, " There once was sky, hope was high, now full weight and is just heavy on the eyes ." Truth to be told and told well to teach us a lesson that the chips may be up but sometimes they are down. Next we move on to Track two, " Night Train " which is an all out dance assault to begin with. In your face and ready for action to get you moving and dancing the beat of this great band. John sings to us , " Once was hoped for it's now too late, once was worked for it's now too late, once was planned for it's now too late, once was loved towards it's now too late. " John things of the grim things in life how they don't stay the same and how sometimes it's not for the best. I personally got up to dance to this then resumed on this review. Still progressing on we move to Track 3, " Cold Plate" which is a track I see racing against time. A pure mission track to be played in the car for that long drive to your destination through pure rock and roll. John sings to us, " Do you remember we met? , a better man would forget? This track had balls of steel and really told the tale and well to the many that wanted to listen to this dark tale of past and present. One particular track that stuck out was Track 6. " The Guv'ner " which was one hell of a political track that really had some blood, sweat and tears poured into it. John sings, " Cause this is war, we've had enough, if you need more, this is the place where I live." I admire anyone that can sing about the concept where it stands, too much war and to tell it like it really is, kudos to that.! All the tracks on this album have a continuing thread of chapters in this mans life through good and bad and great challenges and ricks that make up life. I really can appreciate a singer who tells it like it is no matter how bad the truth hurts, rock on to that aspect. The rest of this album is just pure heavy energy all mixed up in a ball waiting to burst out and get you rocking to the beat and leaving home with something to remember. See this band, buy there album and burn the effigy and celebrate history like it should be, in your face and telling its tale to be written again. 4 stars ~ Michelle Russo
image not
available
anymore
Artist:
VV.AA.
Title:
Incendium II
Format:
CD
Label:
Loki Foundation
(@)
Distributor:
Audioglobe
Rated:
Along with Cold Meat Industry, Loki Foundation is since 1991 one of the best labels into the dark ambient/industrial genre and INCENDIUM II is a great way to discover why. Spanning through the last three years of Loki and Power & Steel releases (there are no unreleased tracks but here you can find tracks previously released only on vinyl and it costs only 3 euros) INCENDIUM II presents the main label's acts with representative tracks. Herbst9 are here with a track from their "Buried under time and sand" and with one from their collaboration with Z'ev, Antlers Mulm present "Sunflowers" (a beautiful minimal electronic melodic track picked from the "Of withered sparks" album). First Law, Inade and Ionosphere are present with two tracks for each of them (some of them are excerpts of long tracks). You can also find excerpts from the Vestigial/Penjaga Insaf great split 12" and if you missed it, by listening to these three minutes from each track, you'll ask for more. Good label compilation, your curiosity could be fulfilled for a cheap price! Here's the whole tracklist:

CIRCULAR The Triangular Center
FJERNLYS Intermediate Nature
ANTLERS MULM Sunflowers
HERBST9 4000 Years Of Damascus
PREDOMINANCE Quantum Statics
FIR§T LAW Bad Influence (excerpt)
INADE Divine Hybrid (excerpt)
INADE Kwa Non Se Part II (excerpt)
LAND:FIRE Space Interferometry Mission (excerpt)
IONOSPHERE Gravitation In The Mind
FIR§T LAW Creating Worlds (excerpt)
INADE Uninhabited Red
VESTIGIAL Summoned By Panopticonian Flames (excerpt)
PENJAGA INSAF Tenangan (excerpt)
IONOSPHERE Meta III
HERBST9 vs Z'EV Enshrinement (Maschinenkult pt.2)
EX.ORDER Skillful Killing
image not
available
anymore
Personal project of Jack Harris, Plan 29 in 2004 released for Unschooled Records a MCD titled "What is a threat", EP that was more industrial influenced compared to this new album PERNICIOUS LULLABIES. Released as a download only album (if you want a CD copy of it, Ekleipsi offer also this service) PERNICIOUS LULLABIES is a good album made of dark electronic ambient tracks. Do you remember the unused "Hellraiser" themes Coil did? Well, most of the tracks of this album recalled to me those atmospheres (check "Dollhouse" first if you want a cinematic track full of tension and great sounds/melodies). Jack uses different layers of melodic synth sounds where the atmosphere created is the main thing. We have tracks with few rhythmical sounds like "Lost" or the electronic/experimental "Syrup 2 empty" as well others ("Die todesstrafe" or "Nowhere train" to name a couple) where rhythms are often industrial oriented and underline the tension created. Plan 29 is influenced by electronic and industrial music (with a bit of post-punk) but here those genres are reprocessed and enhanced. Good one! Check it... it's for free!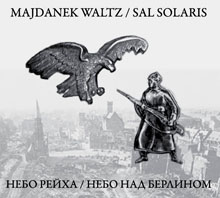 Artist:
MAJDANEK WALTZ / SAL SOLARIS
(@)
Title:
The Sky Of Reich / The Sky Over Berlin
Format:
CD
Label:
Kult Front
Rated:
THE SKY OVER REICH/THE SKY OVER BERLIN is a reissue of one Majdanek Waltz MCD released two years ago with the add of four Sal Solaris' tracks (one of them have been previously released on a 10"). The split album continues the theme that Madjanek Waltz started on their MCD "Cranes": the war between East and West Germany troops. The tracks want to underline the absurdity of a war which involved people coming from the same country. "Democracy", "The Sky Of Reich", "We" and "City" blend folk atmospheres with industrial sounds and theatrical/neo-classical/martial intuitions. The first three tracks see the band using spoken word, snare drums, strings, acoustic guitar, industrial noises and samples just to create a convincing atmosphere of despair (effect that it's even more emphasized on the fourth track thanks to a distorted guitar which create an industrial grinding sound). Sal Solaris on "The Sky Above Berlin", "Trembling", "Suspence (In Danger)" and "Start" chose a more experimental/cinematic approach using reversed sounds and guitar feedbacks. Their approach is less theatrical and more ambient industrial and their aim seem to be the creation of industrial suites where noise layers are mixed with strings and samples. A more extreme approach to sound compared to Majdanek Waltz that made me prefer the first ones but an approach which undoubtedly is able to create a good tense atmosphere.