Dark / Gothic / Wave / New Wave / Dark Wave / Industrial Gothic
Edit (9356)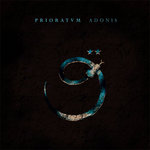 Artist:
Prioratvm
(@)
Title:
Adonis
Format:
CD
Label:
Final Muzik
(@)
Rated:
Prioratvm is the project by Mirko B. based on a form of neofolk in the vein of the gothic oriented form. So, while the classical guitar is often the main instruments used, the synth are mostly used to obtain atmospheres as sentimental as solemn which are far enough from being mawkish. As the genre's code imposes, the album is based on an ancient myth revolving around beauty.
After an initial atmospheric part, the opening track of this release, "Chajat", focuses on an almost oriental melody. "Belus at Biltis" is closer to some gothic or neofolk music as the classical guitar has the role to expose the main theme of the track. "Adonis" features an apparently different track structure as the synth is the main element instead of having an accompaniment's role. The voice of Maria Cristina Anzola on "Didusch" is able to carry all the musical content as the guitar does in "L'Age D'Or". The spoken words of "La Chute D'Adonis" marks an incursion into more experimental and evocative territories based on the used of more sustained tones as "L'arbre Interdit" partially continues with his hypnotic melody. While "Esvaba L'Usurpateur" partially continues on the same path, the return of the guitar marks the return into more neoclassical path so "Le Serpent Et La Sagesse" closes this release with a guitar melody.
Obviously it doesn't make sense to talk about any innovation when genres as neofolk or chamber are used, instead the quality of writing and the equilibrium of musical elements are the main points for the critical discussion. Adonis is a solid release, probably due also to the sonic equilibrium obtained by the mastering work, and the brilliant tracks make Prioratvm a name to keep an eye on for all fans of this musical genre.
Dark / Gothic / Wave / New Wave / Dark Wave / Industrial Gothic
Edit (9345)
Wrangler have an unquestionable electronic pedigree- Cabaret Voltaire, Tunng, John Foxx & The Maths. With anything sonically possible in experimental electronics today, "White Glue" is pop music by comparison. The processed vocals and squealing TB-303-like noises were avantgarde in the 1980's but in 2016 it won't raise my eyebrows for being 'out there'. There are verses and choruses aplenty. On tracks like "Dirty" and the lead single "Stupid" there are immoderate doses of funk and some truly sexy synthesizers.

Only a few reverberant and sinister touches in the EQ stop some of these tracks drifting into Hot Chip territory. There's times at which you suspect this is what Depeche Mode would have sounded like if Vince Clarke had stayed in the band but Dave Gahan had still gone gothy. These might seem like throwaway pop comparisons but they're not unjustified.

"Clockwork" is a nod to Kraftwerk as far as the possibly-tongue-in-cheek vocal and the slowly ebbing pads, but not an all-out motorik tribute. "Stop" has similarly on-the-nose lyrics that leave you wondering whether Stephen Mallinder is singing them with his tongue just slightly in his cheek. "Real Life" is more authentically dark in the vocal experimentation, but still underpinned by a Giorgio Moroder-esque pulsing, poppy bassline.

In the final trio of tracks "Days" "Superset" and "Colliding" the lyrics thin out substantially, leaving more room for the atmospherics to shine through in some somewhat more chilled-out music that's a hard-to-pin-down blend of synthwave, early 90's ambient house and an 80's analogue synth society.

"White Glue" is the sound of some big names in electronic music, who may be slightly in denial about the extent to which they have mellowed with age.

This is also one of those releases where the artwork, reminiscent of early 90's acid house, doesn't seem to match the music.
Dark / Gothic / Wave / New Wave / Dark Wave / Industrial Gothic
Edit (9324)
Artist:
Pure Ground
Title:
Giftgarten
Format:
LP
Label:
Avant! Records
"Giftgarten" is Pure Ground's third LP.

The production throughout the album strips the industrial sonics down to an analogue-heavy minimalism that feels like a rewind to Kraftwerk (with a stop-off at Depeche Mode on the way). But rather than taking us on extended journeys, most of these tracks stick very close to the three-minute mark and borrow verse-chorus structures from mainstream pop music. The result is an album that's a lot more accessible, and arguably more sanitised, than the dark gothic branding implies.

Lyrically it's all quite familiar territory too- a sometimes indiscernible poetry of digital dystopias, sinister thoughts, impending dooms, and talk of "scream and rage" in a calm deep voice. The more introspective moments like "The Meager Arms Of Sleep" somehow feel slightly more authentic than the measured fury of tracks like "Flood".

First side closer "No voice of angels" is a deeper, more experimental number that makes me wonder what these guys could sound like if they left pop music influences behind and immersed themselves in experiments and drones- potentially rather good, on this evidence.

There are some deft production touches here but unfortunately the overall package is too steeped in over-familiarities bordering on clichés. Heartfelt and accomplished it may be, but sadly original it isn't much.
Dark / Gothic / Wave / New Wave / Dark Wave / Industrial Gothic
Edit (9317)
Artist:
Noise Unit
Title:
Deceit / Struktur
Format:
Download Only (MP3 + Lossless)
Label:
Artoffact
This digital re-release of a 1989 Wax Trax 12" feels strangely transitional in hindsight. The angsty, vaguely gothic, barely-distinguishable vocals of 80's unrest are tempered by a bright, energetic production which feels like it's beginning to transform into 90's pop and house music. Bill Leeb has changed musical direction a few times in his career and these two 27-year-old tracks feel like they were recorded in the middle of a musical re-think. Unfortunately it's a curiosity rather than essential listening though, but a welcome way to fill a gap in a collection.
Dark / Gothic / Wave / New Wave / Dark Wave / Industrial Gothic
Edit (9311)
Artist:
Pleasure Symbols
Title:
Pleasure Symbols
Format:
12"
Label:
Avant
This is the debut EP from the Australian duo of Phoebe Paradise and Jasmine Dunn. The tracks on the flip side, "Ultra Violence" and "Control", were released digitally in 2014, but technically it's still a debut.

It's pop music but not as most people would know it. While their promo photos suggest something a little more modern and alt-pop, sonically this owes a lot to 1980's alternative music- thick, cold guitar twangs channeling Joy Division, uber-simple drum patterns, distinctly analogue-ish synths and a raw, live feel to the use of reverb in the production. The lyrics are barely distinguishable and it's deeply sincere and straight-faced. It's "Control" that shows the greatest pop sensibility of the set and leaves you wondering what would happen if you pumped this band full of caffeine and let them loose.

It's not oozing in originality either in the sonic arrangement or the songwriting, but it's still a worthy, deeply chin-stroking lo-fi release full of angst and nihilism, for teenagers who've inherited their parents' genetic disposition towards post-punk rebellious goth-pop, regardless of whether their parents have admitted it to them yet or not.