image not
available
anymore
Artist:
Life Cried
(@)
Title:
Banished Psalms
Format:
CD
Label:
NoiTekk
(@)
Rated:
One of the most difficultly reachable goal of a plenty of ebm-gothic and electro dark bands consists mainly not only in finding a personal style, but keep on developing it without appearing banal and repetitive and carefully avoiding clichés and boring imitations. That's the goal Life Cried, the electro act led by the American musician Chris Reject (what a guessed nickname for such an artistic identity!), seems to have been reached in spite of the apparent stasis of the genre and that's maybe the reason they're not so prolific as other bands crossing the same musical fields: Banished Psalms is just their second full length album issued on the renowned German label Noitekk added to their discography even if the band's active since 1999 as it was necessary some ears to refine their sound which looks quite recognizable nowadays even if some tracks remind repertoires belonging to acknowledged mile stones and new levers of the scene such as Combichrist, Hocico, Dawn Of Ashes or Psyclon Nine.

The spellbound play of these banished psalms begin with a catching seraphic chorus and a tonal fragmentation on pianos introducing on the desperate self-tribulation of Another Sacrifice, which seems to narrate the psychological drama of an evil person divided between consciousness of guilt and the impossibility to avoid evil. Some chunky metallic screams and a bulldozing snare and bass-drum sequenced march of Bloodstained looks more accessible than similar electro-dark movements by other bands, while you'll easily appreciate the controversial between the harsh "rotulation" of kicks as well as the dirty percussive sets and the lull traced by piano and atmospheric sounds on the lush Dressed In Filth as well as the well-crafted hybrid of traditional Industrial style and brutal metal splinters exhibited in Bound In Hate, a track featuring the appearance of Nero Bellum (Psyclon Nine) on the keyboards (you'll get aware about the fact you should learn the art of refusing from Mr Reject when you're going to listen the scratchy guttural way he uses to sing "Hey, is this what you want from me? Oh that isn't enough, now bleed nut I said no, but I said No, this isn't what I want.."... really freezing and persuasive!!!). The evocative piano pieces Alone with realistic and dramatic samples of a weeping woman looks like a sort of prelude for the smashing fury of Preacher, whose infernal aura spitting fire and violence from a metallic 4/4 techno groove perfectly fits the ferocious and conscious '"stricken tormented words of the song reaching the peak when the shouting screams of the singer sing "we are crawling in ruins/ripped up inside/I've seen me insane/I felt my head fall/it took me to bleed"... words which look copied from a page of an imaginary notebook describing a fatal but temporary irritation. It seems the singer abandons its ferocious mood in the more melodic More To Tarnish, even if the lyrics oozes with desires of revenge and destructive purposes ("I used to hate myself for what I have done/Now I save myself from what went wrong/I destroy everything that comes my way"). Procession, Rigor Mortis stands as another prelude of the hard-hitting 5-minutes long Solemn, while Forbidden walks on the same path of the mentioned moods standing like an execration of the damages caused by despair and blind fury deriving from a blinded reason ("you fight the disease but you're causing the war/you fight the disease but you're causing more" are praiseful and prophetic words!). The enchanting and more experimental moody Derelict ends an interesting album which is going to disclose something deeply embedded in your memory!

image not
available
anymore
Some colleagues of the music press experienced some troubles in attempts of labelling the Parisian band One for Jude's style, maybe �cause it's not so important the percentage of dream- folk, cold wave, French pop, indie rock, electronic or psychedelic scraped together in their musical formula: it's a matter that record owners are going to successfully afford indeed! What counts is the fact that the band made up of Billy Amzal (voice, guitar and producer), Yonathan Ebguy (voice and guitar) and Benoit Sellam (bass and keyboards) manages to interpret in a sufficiently convincing way the lyrics they use to play. After 5 release, 2 LPs, some concerts (they also shared live stages with renowned musicians such as Clan Of Xymox, Yann Tiersen and In My Rosary) as well as some spotted presences in different compilations (the most remarkable among them is maybe the one tribute to Sol Invictus by the neo-folk label connected to the nu folk fan-zine Cynnfeird), One for Jude celebrates their 10th birthday with a new album, Bonheur Dynamique, showing a more mature approach to the composition and melody building as well as some slices of interesting psychotic narrations on the presumable dynamics of happiness. Piano fillings, chiming electronics, lightly distorted guitars and moaning atmospheres cross over the nine tracks of this album.

They alternate French and (French-stressed) English in their wordy hood trying to sneak in listener's good graces with fanciful melodies and smokeproof rocky postludes and we have to remark that even the foolishly ill-treated voice of the singer (sometimes rushing, sometimes growling, sometimes snatching looks like a Gardenale-treatment's young boy, moaning for having dramatically awaken by a work-team of noisy bricklayers invading his quiet space!!!) could have a sense if you analyze the sometimes hermetic lyrics (the reverie of the nice character depicted by the song The Rational Dreamer?!?!?), often diverting towards bizarre intimate cameos (what an astonishing assertion standing behind phrases and quotes such as the one you could hear at the end of the title-track: "En peintre du destin il dessine à l'exil des courbes de les reves"!!!) and pert attitude (exhibited in some songs such as Une fois '" "Allow me to insist/I could have killed or loved/Or forgotten all the world/For a penny of that love" '" or John Is Dead '" "Hey you, won't you be my lil cocoon/And my dreams and my dearest moon?"). And well, they show great compositional skills '" nicely refined tracks such as Bonheur Des Hommes, the lovely A Toi Qui Passes (you'll easily produce reveries while listening to the "ritournelle" featuring a crystalline guitar arpeggio... ) or the crafty Reine Du Passe '" here and there and that's enough to justify their decennial existence. Snappishly snaky and exquisitely doomy!
Dark / Gothic / Wave / New Wave / Dark Wave / Industrial Gothic
Edit (5378)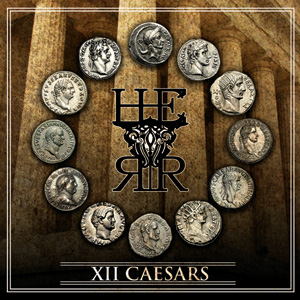 Artist:
H.E.R.R.
Title:
XII Caesars
Format:
CD
Label:
Cold Spring
(@)
Rated:
Based on "Suetonius' De Vita Caesarum", one of the greatest historical sources about the first Twelve Caesars of Rome from the fall of the Republic which has been written in 121 AD, XII CAESARS is the newest H.E.R.R. album that comes two years after ""Fire And Glass: A Norwood Tragedy. Each song is a chapter dedicated to one of the Caesars and the lyrics are focused on the rise and fall of people such as the cruel Tiberius, fat Vitellius and the insane Caligula. The band, as usual, offer in depth lyrics that make you paint a vivid picture of the theme they chose. So Nero's thoughts are the main theme on "Neroica" as well as Vespasian's story is the one on "The eagle standard". Musically this album differs from the previous ones as the tracks are less bombastic and Troy's vocals now are sounding more melodic and less spoken word like. Also musically, even if they have still their characteristic orchestral based sound, now they also used on songs like "Saturnalia Caligula" baroque-like influences. The whole album sounds less epic but H.E.R.R.'s sound didn't lose its charm confirming them as one of the best neo-classical bands. The release comes with a deluxe 16 pages booklet with all the lyrics. Check some songs at H.E.R.R.'s myspace page www.myspace.com/herrenliga.
Dark / Gothic / Wave / New Wave / Dark Wave / Industrial Gothic
Edit (5370)
image not
available
anymore
The new album coming from the German band Place4Tears (formerly known as Blurred Lipstick) is not exactly a new one, as Tyvers Oben '" the singer and composer which could be considered the mayor of this imaginative place collecting tears like an artificial lake could make with raindrops and turning them into whispering dark oblique music... - previously issued it as a self-made album three years ago. Afterwards, they gained an agreement with Echozone and they decided to re-issue it with just a little difference, the absence of the only German-speaking track, Tödliche freiheit, and presumably an improved master. From a strictly stylistic viewpoint, it's clear they try to avoid any cliché, even if they seems intimately related to the most ethereal and dark-tinged side of 80s wave music (we could mention notorious names such as those of Cocteau Twins '" above all the first darkest ones '" and the entrancing effected guitars of the main craftsman of their sound, the highly inventive and emotional Robin Guthrie, as well as the very first steps of Dead Can Dance and any conglomeration between these two bands... you could imagine a sort of transposition of Faith & The Muse into something which could alternatively be turned into Faith & The Speller or Faith & The Satyr!) and '"yes!- it seems there are some slices of figurative theatre encrypted in some tracks such as the distorted beauty and the deep sadness of princess Valium, where the plucky guitars seems to say good bye to a depressed girl, treated with tranquilizers and anti-depressive pills (a Lynch-ian mood seems to pervade the musical space after a female voice ensigns last salutations: "you went away/you left this life/you chose the pills/out of pain... .you went away/from darken sky/I will miss you/and say good bye") as well as some narrative links to an imaginary journey into sea's depths as well as some "natural" and symbolic descriptions perfectly fitted to the anguished and melancholic mood soaking the whole album '" in particular tracks such as the hypnotic Septembers breath , the nostalgic Keep Me Back and the leading astray Lovesick). Drum rhythms will gradually hypnotize you as well as the entrancing female voices by Sabine and Julia through a wooden (but intimately desolate) place where dreamy states and obscure moods intertwines and all these elements substantially clearify what's standing under the wordy way someone used to describe their style, i.e.Cold Heavenly Goth...

By the way, you could definitively argue Place4Tears' sound could be even more entrancing and psychedelic after you'll listen to the "remixes" proposed at the end of this record: the gentle touch added by Sean Bowley, the singer of the cult-band Eden, in the catching interpretation of Tears Of Avalon as well the suffocating slow-mo sad core in the re-interpretation of Septembers Breath by Ashley Dayour '" the singer of Whispers in The Shadow '" could be considered as possible paths this interesting goth-wave band should walk to innovate their style. They introduce their music saying its' based on (and recorded for) life, love, fear, death and loneliness (... existential themes whose gothic followers' minds are crowded with... )... The listener could sentence about this magniloquent declaration of intent indeed!
Dark / Gothic / Wave / New Wave / Dark Wave / Industrial Gothic
Edit (5363)
image not
available
anymore
Artist:
SPLINTERSKIN
(@)
Title:
Wayward Souls
Format:
CD
Label:
Cold Spring Records
(@)
Rated:
Recorded in Oregon, Ohio, from Autumn 2006 to Autumn 2008 Splinterskin's debut album WAYWARD SOULS bring to the attention of dark folk music lovers a new storyteller. The mysterious solo project of Saint John with the seventeen songs of the album is able to create a personal world made of creeping tales whispered into your ears with the aid of a classic guitar and a violin here and there (like on the opening tune "Chanting bells call shadows" or on "The thing that wasn't). What pop out immediately when you hold in your hands the CD is the beautiful booklet which with its great paintings/graphics it's making of Splinterskin a sort of multimedia project headed by a bearded giant with eyes on fire. If you are keen to modern dark folk music prepare yourself to something different from the Odin tales or the medieval influences, because WAYWARD SOULS sounds like a Poe tale sung by a leper. "Calmly, it said to me, through the darkened hallway in my home. I heard a rhythm of tapping, or maybe a scraping in my walls. A crackling of a throat perhaps, from my closet behind my hats, could it be? Birds bending a branch, my cat in the attic, or maybe the leaves. But my mind starts to... shiver, like my bones in the winter" (from "Something in the walls").