Dark / Gothic / Wave / New Wave / Dark Wave / Industrial Gothic
Edit (5431)
image not
available
anymore
Artist:
NONMUSIC
Title:
NOT EVERYTHING IS MADE IN CHINA
Format:
CD
Label:
ECHOZONE
Distributor:
MASTERPIECE
Rated:
Slovenian music project, electronic rock, with a great pressure, ready for MOVIES sound tracks. They aren't only electronic is easy to hear a lot of acid sounds especially in the cover of "It's no good"...something Placebo-like but less friendly and definitely more hungry. NONM is a band that does want to like simply, their aim is to create some sound scape non properly rock-Indie based they have a world made of electronics vibes, straight drums and acid voice. In a word they are SPECIAL and not so common as they appears in a first sight, they are walking in a space they have already focused, very well focused. Gender Changer is a manifesto of this approach to stay in the rules but making out a sort of alteration of them. Best track DIGITAL CRY, that makes me aware that's true: Not everything is made in China and this Slovenian band is telling to us acidly.
Dark / Gothic / Wave / New Wave / Dark Wave / Industrial Gothic
Edit (5428)
image not
available
anymore
Artist:
Wayne Hussey
Title:
BARE
Format:
CD
Label:
echozone
Distributor:
MASTERPIECE
Rated:
The Art of Wayne Hussey has the sure aim to focus over a simple status of mind where his voice and thoughts are really able to guide in his own world, he admits in fact that this work is an epitaph of his artistic past with the music project called The Mission. It's the art of the greatest artist to manipulate audience's mind and Wayne has this honest and great power. For sure I am not an easy-to- melancholy-person but Wayne brought me in inside a realm of hidden and secret minds, his personal changing world is revealed by his songs and it's easy to feel empathy about that; everyone of us has had similar experience to twist our life to reach a new adventure. His ballads and poems are subtle suggestions to try to get out the noise around us, for sure is a work very useful after a 4hours in the middle of chaos of our highways. The challenge of track 4 is not something easy: Whit or Without you is an absolute masterpiece and Wayne remembers that to us with passion and the art to play the guitar with his heart. Wayne is a pure WAVE singer, the deepness of his voice, the scenarios he suggest and his dark side are so evident that I strongly suggest thiswork to Spiritual Front's audience.
Artist:
VV.AA.
Title:
Captain Woof Woofs Guitar
Format:
CD
Label:
Bearsuit Records
CAPTAIN WOOF WOOFS' GUITAR is an international low price compilation released by Bearsuit Records. It gathers fourteen bands/tracks that play songs in balance from pop experimentalism (check The Artificial Sea's "Gloryhole" where you find a mix of early Cocteau Twins, digital noises and a great female voice or Milenka's "Atta atta remix" where a voice similar to Bjork sing a particular dissonant tune made with acoustic guitar, violins, synths and a sound similar to a fretless bass), extravagant music (see the instrumental piano/guitar melancholic "I've heard giants" by Harold Nono, the tribal ride made of distorted bass/guitar, percussions and accordion of the opening Port Mone's "River" or the cut-up pop craziness of Kirameki and the opera experimental mix on Per Olund's "The crippled court jester") and shoegaze music (check the Japanese/English Anata Wa Sukkari Tsukarete Shimai tune). A nice compilation where melody and experimentation meet, which will introduce you to new bands. Check some tunes at the label's myspace page.
Dark / Gothic / Wave / New Wave / Dark Wave / Industrial Gothic
Edit (5417)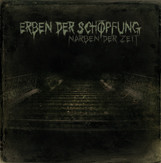 Artist:
ERBEN DER SCHOPFUNG
(@)
Title:
Narben Der Zeit
Format:
CD
Label:
Mystic Of Soul Records
Distributor:
Soulfood
Rated:
Originally formed by Oliver Falk, member of Weltenbrand, Sabine Dünser and Pete Streit, Erben Der Shopfung recorded in 2001 their first album "Twilight". After some copyright issues between the original members (you can read more about this on the band's website) Falk reformed the new Erben Der Shopfung in 2005 with guitarist Rino Vetsch and singer Dina Falk. During the following three years other three people joined: guitarist Flo Riederer, bassist Jens Wagner and drummer Pady Margadant. Finally the band was ready to record the new album NARBEN DER ZEIT with new energy and a new sound. The ten tracks of the second album present a multifaceted sound influenced by goth, metal, industrial e.b.m. and piano ballads. Leaded by the charming voice of Dina, Erben Der Shopfung alternate energetic goth metal songs with electronic inserts (often they use synth bass lines along with synth leads) to piano/vocal ballads (check the beautiful "Homeless") or they mix all the influences like on "Freeze my soul" where we have a beginning with voice/piano/acoustic/strings guitar then, after a minute, distorted guitar riffs and drums join in. After the alternation of the this formula synth bass lines enrich the sound and we have electronic goth stops and go just to end in a sort of 4/4 industrial metal crescendo. Usually I don't love this kind of sounds but I must admit that this band coming from Lichtenstein surprised me. If you are into the goth genre you'll love them. The album is also available in a deluxe edition box with a bonus DVD, a lighter, a patch and stickers.
Artist:
VV.AA.
Title:
Songs for a Child - A Tribute to PIER PAOLO PASOLINI
Format:
CD
Label:
Rustblade
(@)
Distributor:
Masterpiece
Rated:
Some Italian journalists have tried to make a great fuss about nothing related to this interesting issue and right and proper tribute by the Italian label Rustblade to the most prominent Italian poet and intellectual of the previous century, Pier Paolo Pasolini, whose death by mysterious homicide dated to back to 34 years ago (it was 2nd November 1975 when his body was found on the beach of Ostia, nearby Rome, being run over his own car by Giuseppe Pelosi, a 17yrs old hustler, even if the way events occurred is still substantially unexplained) has been recently remembered by some media (sometimes inaccurately). The uselessness of the above-mentioned polemics being about the presumable lack of suitability between a collection of songs belonging to the so-called avant-garde music scene and the poet's hostility towards some futile excesses of some avant-garde forms of art and literature consists in the "genetic" defect some reviewers show when they didn't manage to contextualize expression as they look too self-confident in arguing that contemporary musical languages are just a product belonging to our days. Are they so sure that Pasolini would not have appreciated this tribute as well? As I'd like to exclude the hypothesis those reviewers act like mediums chatting with the souls of dead bodies (requiescat in pacem!), I think these polemics are quite fruitless. It's even longer sensible to them asking what should be the ideal arrangement of Pasolini's thinking (in particular his ardent critic to consumerism running side-by-side to the one against bourgeois values and ambitions standing behind the picaresque neo-realism, standing out among his flunkey contemporaries) nowadays.


An elegant artwork with images provided by the portrayer Saturno Buttò and the painter Alessia Catanuto for a selection of 14 tracks (hurry up if you're interested in it as it's another strictly limited edition... just 696 copies issued... ) signed by an interesting roster of European underground scene, ranging from the renowned Coil '" whose track Ostia (The Death Of Pasolini) propelled by an entrancing string session composed by Billy McGee, a sort of musical epigraph on the death of this illuminating as well as troublesome intellectual , was already issued in their intriguing apocalypse-inspired Horse Rotorvator '" to the foggy dark-ambient by Bahntier '" project by the label head of Rustblade, Stefano Rossello '", from the touching and crystalline folk-pop by Spiritual Front to the lopsided fractured drops of diapasonic guitar of Les Mille Et Une Nuits by Ah Cama-Sotz to the corrupted string sonata on the subliming vocal samples by Pasolini himself reciting the so-called "civil poems" propelled by the creativity by Alio Die, from the electrified oddities by Teatro Satanico in Ppppetrolio and the esoteric choirs combined with ritual sound hooks by In Slaughter Natives, from the stinging dark pulsations of the obsessive downbeat by Condanna to the grand droning with some famous samples by the poet attacking fascists depicted as criminals thirsty of power by Sandblasting and so on... And even if the Supplica by Black Sun Productions could not easily be compared to the most famous one by Diamanda Galas, we have some evidence to say that maybe Pier Paolo Pasolini could appreciate it if still living as one of the most intriguing musical memorial and summary of the highlights of his scathing thought...