Dark / Gothic / Wave / New Wave / Dark Wave / Industrial Gothic
Edit (11039)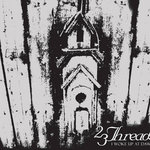 Artist:
23 Threads (@)
Title:
I woke up at dawn
Format:
CD
Label:
Zoharum
(@)
Distributor:
Alchembria
Rated:
While their previous release were approximately based on neofolk, "I woke up at dawn" is presented as "a tribute to the protoplasts of heavy music" by the label and classified as "occult macabre doom" by the band. This new album is an act of courage since it marks a change of musical direction and it reveals how the band is not used to repeat itself.
After an introduction about chaos magick, the album starts with a distorted guitar which almost hide the voice of Ingrid Swen. The musical form is somehow close to doom or stoner metal but with experimental breaches which loose the oppressive sound which evolves upon a slow and heavy rhythm. There's also more meditative moments, as "Hidden between the spaces", where the repetitions is effectively used. The saxophone driven interlude of "Cosmic Monuments" is a way to break the slow pace of the music to obtain a more multifaceted palette which is further enhanced by the remix "Atavistic" by Zenial with its danceable rhythm.
The band has set aside their erratic attitude for form releasing an album which has been conceived in an evidently more coherent manner while it exploits various tricks to escape the pit of boredom tied to the monolithic structure of the genre. It's a really nice release that could be well received not only by fans of the genre.
Dark / Gothic / Wave / New Wave / Dark Wave / Industrial Gothic
Edit (11030)
Artist:
Johnathan|Christian
(@)
Title:
Dark Hallways
Format:
Download Only (MP3 + Lossless)
Label:
self-released
Rated:
Here is a review that is somewhat overdue (the album having been released in May) but that's what happens here when you only release your work in digital download format only, at least in my world; it takes a back seat to physical product I get sent. In this digital age anyone can put nearly anything easily on the web, and I'm of the (old school) belief that if you've got a worthy product you really care about and believe in , you will make it available physically as well as digitally. I know, I know, it's expensive to do that but there are plenty of independent artists (likely just poor as you) who are putting out physical product one way or another, so just deal with it. Anyway, enough of that.

'Dark Hallways' is Johnathan|Christian's third (full length) release after 'The Nothing I Feel' from 2015 which I reviewed here. The group is Johnathan Mooney (synths, keys, composition) from the U.S., and Christian Granquist (Vocals, lyrics) from Stockholm, Sweden, with the addition of Tiger Koehn (percussive battery). To a certain extent this new album is more polished, consistent and homogenous than their previous works, but that doesn't necessarily guarantee a better result. The opener, "Deeper" is supposed to be a mood setter, paving the way for an introspective excursion, and although it does set one, it's a rather dour and depressing trip. Christian's gruffer than Peter Murphy vocals are well suited for this kind of thing, but the angst can only be stretched so far before it becomes tedious. "Car Crash Romance" should have been a nice angry kicker but it tends to wallow in self despair more than anything else. As nicely orchestrated as title track "Dark Hallways" is, it comes off as morosely blasé. The next couple of tracks seem equally prosaic. Then there is a cover of that old Kate Bush chestnut, "Running Up That Hill," a chance for redemption squandered in an overblown orchestration of the original, with little to add (the children's voices at the beginning don't count), and no nuance to speak of. Half the album gone, and this was not going so well.

I was just about ready to throw in the towel when "One Last Night" picked up the pace and revived my interest. FINALLY, a song with some oomph, a decent hook and panache. Gimme more! The followup, "Built" is pretty cool too, vocally reminiscent of PM's side-project, Dali's Car. Next up we have another cover, this time Pink Floyd/Roger Waters' "Nobody Home" from 'The Wall' album. To me, an odd choice for a cover. 'The Wall' is one of my least favorite PF albums, but there are tons of people out there who love it. This is a much better than average cover of the song, and Christian is equally as expressive as Waters on it, maybe even moreso, so in that sense, it's a winner. The last three tracks are remixes of a couple of previous songs on the album- "Car Crash Romance" (LeaetherStrip, Electropoint) and "Clearer" (Joe Letz of Combichrist). Usually I'm not a big fan of remixes, but in this case Claus Larsen makes "Car Crash Romance" a super-psychodrama dancefloor driver. "Clearer" (Letz Be Friends Mix) is a rather bodacious take on the original than not only serves as good club fodder but makes its mark with a highly adventurous and interesting arrangement. The Electric Auto Mix of "Car Crash Romance" sets it to a 4-onthe-floor beat but adds in a variety of effective electro elements that kick it over the top.

As you can tell, I didn't care much for the first half of the album, but the second half has a lot going for it. I think it could have been boiled down to a really good EP. Available lots of places, so you should check it out for yourself.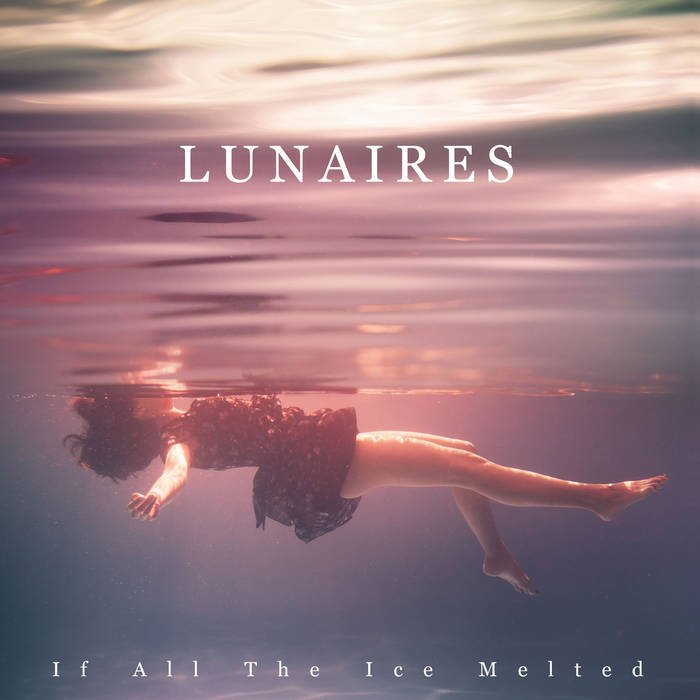 Artist:
Lunaires
Title:
If All The Ice Melted
Format:
CD
Label:
Shades of Sound
Rated:
"If All the Ice Melted" is the debut album by Lunaires but the people behind this project are no rookies at all. Patrizia Tranchina (vocals) and Danilo Carnevale (guitars, programming, synths, soundscapes) are active since the early 80s as members of Jeunesse d'Ivoire first (you can find their tracks on different compilations released by Spittle that reissue original 80s music by Italian bands and I think that their demo and their participation to compilations have been reissued completely) and from 2010 to 2016 as Ivories (with this project they released a live album, a mini and an album). With Lunaires, Patrizia and Danilo redefined their sound: if with Ivories the sound was more direct and influenced by post punk and new wave, with Lunaires the axis is moving or better, it's morphing including electronic and shoegaze atmosphere to the mix. The eight tracks of the new album are more electronic based (all the bass lines are now synth sequences) and to me are sounding like a mix of Cocteau Twins and Slowdive with electronic arrangements. I don't know if you know an Italian project called Planetfunk, well they were using guitars and electronics with a similar approach but with a different background. Patrizia's vocals are always upfront and she's talented as usual (imagine a mix of the early and late Elizabeth Frazer) and are well supported by the rich lush sounds produced by Danilo. His guitar is there but now it's filtered/treated and then it's creating distorted melodic arpeggios. Compared to Ivories the tracks are less direct and the sound richer but it's only a matter of time as they are growing on you little by little. On the information about the album, they wrote: "It's an emotional album about challenging struggles and definitive departures and how to live with them".
You can check the new album at the label's Bandcamp page here https://shadesofsound.bandcamp.com/album/sos03-lunaires-if-all-the-ice-melted. Let Lunaries seduce you...
Artist:
Arktau Eos
Title:
Erēmos
Format:
CD
Label:
Aural Hypnox
(@)
Rated:
As I recently mentioned Aural Hypnox to introduce the output of another Finnish sound artist, I checked in the pile of releases that reached my desk to something by this knowingly interesting imprint and I found this awesome release, that got released by the end of 2018 in a strictly limited edition of 440 units. I sincerely hope some of them are available yet, as the delight that lovers of ritual dark-tinged ambient sonorities by listening to Eremos, Coptic word for 'desert' and title of this album by Arktau Eos, a bicephalous Oulu-based project whose makers, A.I.H. and A.I.L., besides hiding their real identity, describe as a pact, could be boosted by its evocative sounds. Some followers of the label and the Helixes Collective consider it as the most important project under Aural Hypnox label at the moment, and the quality of this artifact can not be but a confirmation of its good reputation. As you can easily guess, the conceptual framework, to say it so, is solitude, seen as an almost necessary passageway to transcendence, intuition or as a transitional state to a higher level of consciousness and awareness, as the title, the inscription in the in-lay ('Per Solitvdinem Ad Astra'), the title tracks and the whole dynamics of the album, whose moments sound like the aural translation of a spiritual process departing from the catching "The Liminal Pilgrim" - the evoking track by which Arktau Eos let slip their out by delayed bleeps, electronic slithering, a sinister chant and other aural entities - and the eloquently titled interplay of "Facing The Exarchs of Desolation" to the final "Eden", chorally seem to suggest. The description they made about this album and a comparison against their previous outputs got provided by their author and is pretty eloquent: "As has been the testimony of wise men and women of all faiths, solitude bestows its own distinct gifts upon the seeker, a process here treated in less intimate terms than on the voice-led Catacomb Resonator. Ermos is more expansive; the desert that opens before the listener is not a locus of temptations or simple retreat, but a vivid inner mindscape of dramatic confrontations and transformations between flora, fauna, stellar matter, earth, and stone. Gradually they shed away the humanness in its most banal sense, until man identifies with the scorpionic voice of power that carries to the ends of the earth – and cosmos". One of the most interesting feature is the double bridge they inoculated: a "time" bridge between archaic and modern as they combined (sometimes easily recognizable by trained ears) old synthesizers and ritual acoustics and a "space" bridge as they injected some fields recordings in this release, grabbed in two different moments in the woods of Northern Finland and in the steppes of Mongolia.
In order to have an idea of what you can expect before starting the listening of this self-released album by self-taught sound artist Kenneth Kovasin, I could refer to something in between the outputs of Helixes Collective's imprint Aural Hypnox (considering both of them come from Finland or from some inter dimensional gate in that area of the planet!), Phurpa ritual performances and the atmosphere of tracks like Jocelyn Pook's 'Masked Ball' (the track of most famous lodge scene of 'Eyes Wide Shut'), to pick something more generally known. The above-mentioned references are just clues to find more or less the statistical area on the wider map of what could be labeled as experimental ambient or dark-ambient, but Kenneth's project, called [ówt krì] (the phonetic writing of the word 'outcry'), has its own peculiarities, in spite of any possible similarities. Honestly he doesn't show any relevant instrumental skill, but as far as I know, Kenneth doesn't describe himself as a musician. He prefers to focus on human voice on this act, that he manages to place with some interesting conceptual fences. The title of the album is a reference to Ximenes de Cisneros, one of the more controversial and extremely austere reformer and inquisitor of the Spanish catholic church. During his life he promoted massacres of Muslims in Southern Spain and crusades during which his army killed and enslaved thousands of African Muslims, but he hardly criticized the spreading of slavery between the American natives after the "discovery" of Americas by Colombo and prosecuted some Catholic Spanish priests, who didn't observe the compulsory celibacy and preferred to convert to Islam and escape to Africa instead of breaking their unions. Such a bizarre duality gets mirrored by the dynamics of the album that departs by the sinister obscurity of tracks like "Sacra Tenebris" and "Resurrexit Dominus" to the gradual ascension of "Salve Regina" and the oblique catharsis of "Ad Caelum", passing through tracks like "Parce Domine" or "Veni Creator Spiritus", where Kenneth gets closer to the style of the above-mentioned composition by Pook. All lyrics got taken from historical catholic chants.