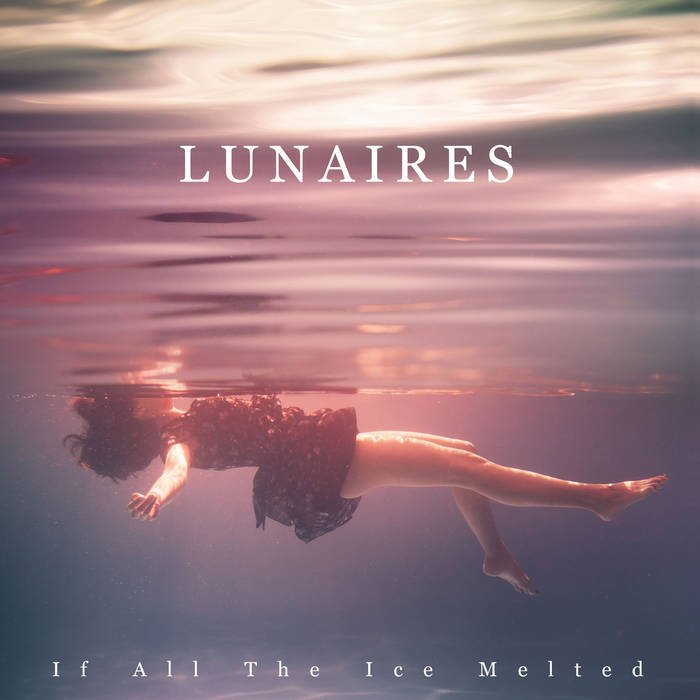 Artist:
Lunaires
Title:
If All The Ice Melted
Format:
CD
Label:
Shades of Sound
Rated:
"If All the Ice Melted" is the debut album by Lunaires but the people behind this project are no rookies at all. Patrizia Tranchina (vocals) and Danilo Carnevale (guitars, programming, synths, soundscapes) are active since the early 80s as members of Jeunesse d'Ivoire first (you can find their tracks on different compilations released by Spittle that reissue original 80s music by Italian bands and I think that their demo and their participation to compilations have been reissued completely) and from 2010 to 2016 as Ivories (with this project they released a live album, a mini and an album). With Lunaires, Patrizia and Danilo redefined their sound: if with Ivories the sound was more direct and influenced by post punk and new wave, with Lunaires the axis is moving or better, it's morphing including electronic and shoegaze atmosphere to the mix. The eight tracks of the new album are more electronic based (all the bass lines are now synth sequences) and to me are sounding like a mix of Cocteau Twins and Slowdive with electronic arrangements. I don't know if you know an Italian project called Planetfunk, well they were using guitars and electronics with a similar approach but with a different background. Patrizia's vocals are always upfront and she's talented as usual (imagine a mix of the early and late Elizabeth Frazer) and are well supported by the rich lush sounds produced by Danilo. His guitar is there but now it's filtered/treated and then it's creating distorted melodic arpeggios. Compared to Ivories the tracks are less direct and the sound richer but it's only a matter of time as they are growing on you little by little. On the information about the album, they wrote: "It's an emotional album about challenging struggles and definitive departures and how to live with them".
You can check the new album at the label's Bandcamp page here https://shadesofsound.bandcamp.com/album/sos03-lunaires-if-all-the-ice-melted. Let Lunaries seduce you...
Artist:
Arktau Eos
Title:
Erēmos
Format:
CD
Label:
Aural Hypnox
(@)
Rated:
As I recently mentioned Aural Hypnox to introduce the output of another Finnish sound artist, I checked in the pile of releases that reached my desk to something by this knowingly interesting imprint and I found this awesome release, that got released by the end of 2018 in a strictly limited edition of 440 units. I sincerely hope some of them are available yet, as the delight that lovers of ritual dark-tinged ambient sonorities by listening to Eremos, Coptic word for 'desert' and title of this album by Arktau Eos, a bicephalous Oulu-based project whose makers, A.I.H. and A.I.L., besides hiding their real identity, describe as a pact, could be boosted by its evocative sounds. Some followers of the label and the Helixes Collective consider it as the most important project under Aural Hypnox label at the moment, and the quality of this artifact can not be but a confirmation of its good reputation. As you can easily guess, the conceptual framework, to say it so, is solitude, seen as an almost necessary passageway to transcendence, intuition or as a transitional state to a higher level of consciousness and awareness, as the title, the inscription in the in-lay ('Per Solitvdinem Ad Astra'), the title tracks and the whole dynamics of the album, whose moments sound like the aural translation of a spiritual process departing from the catching "The Liminal Pilgrim" - the evoking track by which Arktau Eos let slip their out by delayed bleeps, electronic slithering, a sinister chant and other aural entities - and the eloquently titled interplay of "Facing The Exarchs of Desolation" to the final "Eden", chorally seem to suggest. The description they made about this album and a comparison against their previous outputs got provided by their author and is pretty eloquent: "As has been the testimony of wise men and women of all faiths, solitude bestows its own distinct gifts upon the seeker, a process here treated in less intimate terms than on the voice-led Catacomb Resonator. Ermos is more expansive; the desert that opens before the listener is not a locus of temptations or simple retreat, but a vivid inner mindscape of dramatic confrontations and transformations between flora, fauna, stellar matter, earth, and stone. Gradually they shed away the humanness in its most banal sense, until man identifies with the scorpionic voice of power that carries to the ends of the earth – and cosmos". One of the most interesting feature is the double bridge they inoculated: a "time" bridge between archaic and modern as they combined (sometimes easily recognizable by trained ears) old synthesizers and ritual acoustics and a "space" bridge as they injected some fields recordings in this release, grabbed in two different moments in the woods of Northern Finland and in the steppes of Mongolia.
In order to have an idea of what you can expect before starting the listening of this self-released album by self-taught sound artist Kenneth Kovasin, I could refer to something in between the outputs of Helixes Collective's imprint Aural Hypnox (considering both of them come from Finland or from some inter dimensional gate in that area of the planet!), Phurpa ritual performances and the atmosphere of tracks like Jocelyn Pook's 'Masked Ball' (the track of most famous lodge scene of 'Eyes Wide Shut'), to pick something more generally known. The above-mentioned references are just clues to find more or less the statistical area on the wider map of what could be labeled as experimental ambient or dark-ambient, but Kenneth's project, called [ówt krì] (the phonetic writing of the word 'outcry'), has its own peculiarities, in spite of any possible similarities. Honestly he doesn't show any relevant instrumental skill, but as far as I know, Kenneth doesn't describe himself as a musician. He prefers to focus on human voice on this act, that he manages to place with some interesting conceptual fences. The title of the album is a reference to Ximenes de Cisneros, one of the more controversial and extremely austere reformer and inquisitor of the Spanish catholic church. During his life he promoted massacres of Muslims in Southern Spain and crusades during which his army killed and enslaved thousands of African Muslims, but he hardly criticized the spreading of slavery between the American natives after the "discovery" of Americas by Colombo and prosecuted some Catholic Spanish priests, who didn't observe the compulsory celibacy and preferred to convert to Islam and escape to Africa instead of breaking their unions. Such a bizarre duality gets mirrored by the dynamics of the album that departs by the sinister obscurity of tracks like "Sacra Tenebris" and "Resurrexit Dominus" to the gradual ascension of "Salve Regina" and the oblique catharsis of "Ad Caelum", passing through tracks like "Parce Domine" or "Veni Creator Spiritus", where Kenneth gets closer to the style of the above-mentioned composition by Pook. All lyrics got taken from historical catholic chants.
Dark / Gothic / Wave / New Wave / Dark Wave / Industrial Gothic
Edit (10967)
Artist:
Nexus
(@)
Title:
The Taint
Format:
CD + Download
Label:
Agoge Records
(@)
Rated:
Here's another band from the Italian Agoge Records label called Nexus, and this time they really are gothic rock, well, sort of a goth-metal hybrid. Formed in late 2009 by vocalist/guitarist/composer Vlad Voicu and bassist Tony Di Marzio, they added keyboardist Lorenzo "Il Diverso" Mastracci a short time later and put out an EP called 'Death of Art' in 2013. So 'The Taint' is Nexus's first full album, augmented by live guitarist Diego Aureli and drummer Daniele DiGasbarro. One listen to 'The Taint' and you can tell this is a young band still finding their footing as they go, with some moments of awkwardness in song arrangements, and lacking in sonic variety to a degree. Still, you can also tell the band has potential, and an affinity for the darker side, which is requisite if you're going to call yourself gothic. Melodically the band harkens back to some of the goth-tropes of the '90s but doesn't wallow in the overwrought melodrama that could often be symptomatic of bands of that era. As a vocalist Vlad is pretty good when in melodic mode, but the few times he tries to "gruff it up" (for the harsher side of goth-metal) it doesn't quite cut it. His voice is a bit different than what you might be used to in goth-industrial music, but in this case, that's actually a good thing and works to the band's advantage. Guitars are full industrial strength, but the keys/synths, although nearly omni-present, seem to rely too much on certain similar (melody) sounds throughout. I'm guessing this may be remedied by their next outing. Most of the songs are catchy enough, but you still get the feeling than in time, this band can do better. They seem to have the ability to create the perfect hit single, and even an epic track, but not on this album. The atmospherics just aren't in place yet, and the album seems to have a "live in the studio" sound that leans more towards 'demo' than full-blown production. Still, Nexus is worth a listen, especially since good new goth bands that don't sound like generic alternative ones are hard to come by these days.
Dark / Gothic / Wave / New Wave / Dark Wave / Industrial Gothic
Edit (10959)
Artist:
This Void Inside
(@)
Title:
My Second Birth/My Only Death
Format:
CD + Download
Label:
Agoge Records
(@)
Rated:
This Void Inside was originally formed in 2003 by Dave Shadow (ex front man of Italian gothic act My Sixth Shadow) as a one man band experimenting new sounds and concepts composing new songs. In 2008 Dave decided to form a real band, put out an album called 'Dust,' played around a bit, then went dark. Flash-forward to 2016, he stated writing again and came up with a new band lineup- guitarists Frank Marrelli and Alberto Sempreboni, and drummer Simone Gerbasi joined the former members Dave Shadow and the bass player Saji Connor, releasing a new album titled 'My Second Birth/My Only Death'.

So this is Gothic Rock, eh? Well you could have fooled me. I suppose the cover looks gothic enough, and the band looks gothic enough dressed in black, with some skull T-shirts, but I guess any band could affect that look. So if this isn't goth-rock what is it? Plain and simple, alternative melodic pop metal. Not a bad thing in its own right I suppose, but it ain't goth. The 14 tracks on this album are just too bright, peppy, slick, polished and um, yes, too mainstream to be gothic in any way at all. Dave Shadow is a very good vocalist, and the rest of the band plays the material to the hilt, but you can't pass 'My Second Birth/My Only Death' off as gothic rock. Even as an alt-melodic-pop-metal band the majority of the material presented here sounds quite derivative. Nowhere is this more evident than on the song "Memories' Dust," with a chorus melody I feel like I've heard a hundred times before. Maybe that's enough to get these guys the commercial attention they're undoubtedly craving, but when it comes to gothic rock, I'm really expecting more. It's the same kind of not-so spooky material you might equate with Sweden's GHOST, which in spite of the costumes, masks and makeup are not goth. Yes, there are electro touches (synthesizers, keyboards) here and there in the music but what band (besides the guitar purists) hasn't been doing that? It doesn't make it goth. So if you want to keep calling your band gothic, that's your business, and saying "eh, not so much" is mine.