Experimental / Avantgarde / Weird & Wired / Glitch / Noise / Field Recording
Edit (9297)
Artist:
Psicopompo
(@)
Title:
Synchronicity (Theory of Carl Jung)
Format:
CD
Label:
4iB Records
(@)
Rated:
Psicopompo is the work of German composer and musician Hermann Kopp on violin, tambourine, and electronics, and Italian noise artist Lorenzo Abattoir, who plays the Shruti Box, Timbal & electronics. According to the label, they took for their inspiration Psicopompo, the death guide that accompanies the dying to the afterworld, and synchronicity, the occurrence of two or more events that appear to be meaningfully related but not causally related. In this composition, they left the results "entirely to chance." Kopp explains this process further: "In no more than a week we recorded several eight-minute-long improvisations – one of us recording the 'rhythmic' part, the other one the 'melodic' part, without knowing what would be the final result. The mixing was realized with hardly any effects or post-production, two tracks him, two tracks me." Cool premise – let's see what it sounds like. Lorenzo Abattoir opens the disc with "Blackfrock," a track of static mingled with dissonant drone. Kopp counters with "Trovatore," which increases the dissonance significantly. Like a bag of angry cats with a hornet's nest thrown in. These two tracks set the stage for what will come next in the collaborative tracks. "PP1" keeps the dissonance going with the addition of sparse junk percussion, then shifts to quiet, plucked strings before getting noisy again. "PP2" shifts gears with a simple, calm, hypnotic synth line, but with sawtooth waves that still give it an edge. This would almost be peaceful if it were it not for the jagged waveforms. Then the percussion comes crashing in to remind you that you're walking with a supernatural entity into the afterlife. There is some spoken word buried in the mix, but it is difficult to make out anything. Nicely done. "PP3" is a calmer track, with droning tones interspersed with strings and snare drum. "PP4" finishes the disc off with more strings for a nice, calm ending. Overall, this is an interesting disc that brings some of the experiment into experimental music. The music is engaging and interesting and manages to keep you guessing as to where it will go next. Just when you think that it is starting to mellow out, the noise comes back in. But this is not harsh wall noise. Instead, there is considerable restraint shown here. Well done. This album weighs in at around 67 minutes and is limited to 250 copies.
Experimental / Avantgarde / Weird & Wired / Glitch / Noise / Field Recording
Edit (9296)
Artist:
Shroud of Vapour
(@)
Title:
Suicide Forest Sessions
Format:
CD
Label:
4iB Records
(@)
Rated:
Shroud of Vapour is the work of four musicians: Hiroshi Hasegawa (Astro), Hiroko Hasegawa (Rohco), Daniel Sine (L'eclipse Nue), and Yoshiko Honda. I was already familiar with Hiroko Hasegawa and Hiroshi Hasegawa's work in the legendary noise ensemble C.C.C.C., but the others are new to me. I must admit that my first thought on seeing the title and the cover art was that this would be pretentious neo-folk or worse, but it seems that the title is drawn from the actual place in which the recordings took place, The Suicide Forest in Aokigahara, Japan. According to the label, "The dense forest and its still quiet void of almost all wildlife bring out the very nature of the artists' true intent, reflecting the atmosphere of desolation and despair of a haunted suicide ground. The weaving in and out of distant female wails and ambient like soundscapes seem to echo the lost spirits of those that have chosen to take their own lives here." Sounds promising, so let's get into it. "In Memory Of" is a 49 minute slab of intense soundscape. It opens with a woman singing simple tones (rather than words) This continues throughout the track, giving the composition an otherworldly, mournful feeling (which complements the title well). The music, however, becomes increasingly more forceful, with waves of gritty noise threatening at times to drown out the vocalist. This ebbs and flows, with noise giving way to burbling electronics and static. This track does a lot with the tension between calm, peaceful passages and static-laden, aggressive noise. In some ways, you know that one will follow the other; it's just a matter of waiting for it to happen. The vocalist gives no clues either, as I could not understand any of her words, making it just more of the composition. Later on in the track, we have some male chanting, but this is just as difficult to decipher. The track eventually ends with a slow decrescendo of noise. Well done, if perhaps a bit too long for my tastes. "If it Pleases the Deceased" keeps the female vocals, but then buries them under a nice wall of noise. Like the previous track, there is a battle between dissonance and quiet, and although the winner seems to be static, the calm wins out in the end. Overall this is a nice blend of noise and ambiance, with just a hint of dread thrown in for good measure. This album weighs in at around 67 minutes and is limited to 250 copies.
Experimental / Avantgarde / Weird & Wired / Glitch / Noise / Field Recording
Edit (9295)
Arpatle is the work of Dutch artist Patrick Bossink, who has been active since 2009, but this is the first I have heard from him. In the press sheet that came with the disc, one thing caught my eye: "For this project, I experimented a lot with granular synthesis, 'acoustic' feedback loops, and some programmed effects. Although the album sounds fairly obscure and sometimes even psychotic and aggressive, there's no concrete meaning behind it. I intended it as a mere sound sculpture." I have a lot of respect for this approach – no pretentious manifesto here! So let's put it on and see what we have. "Little Red Cap" starts us off on a mellow note, allowing the listener to simply sit back and enjoy the music. I almost didn't notice it moving into "Zombie Boat," which features a lot of noisy synth blips and clicks over a slow, mellow groove. "Tunnel" is a microcosm of the album as a whole though – it's noisy but not noise. For example, "Ionized" closes out the disc with slow moving walls of sound interspersed with high pitched, modulated waveforms and "Labrynth Hub" features pulsing crescendos of noisy soundscapes. Others, like "Piano Flower," are sort of peaceful, with random guitar mixed with noisy synth. Overall, this is what I like to file under "easy listening for the difficult music set." Sometimes you don't want ear-shredding noise, but pop music gets pretty boring and predictable. Arpatle has no intentions of hurting the listener. He just wants to take you for a ride. It won't be to where you planned to go, but you'll enjoy the ride nonetheless and the scenery is interesting and pretty. This album weighs in at around 47 minutes.
Experimental / Avantgarde / Weird & Wired / Glitch / Noise / Field Recording
Edit (9292)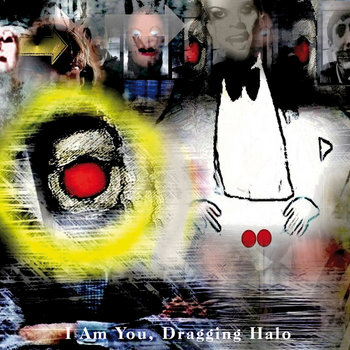 Artist:
Murmurists
Title:
I Am You, Dragging Halo
Format:
CD
Label:
Zoharum
(@)
Distributor:
Alchembria
Rated:
This new release from Murmurists, the project from Antony Donovan aided by a bunch of collaborators which adds levels of complexity to a rather intricate composition. Apparently, as there's any published lyrics and is should exists a libretto according to the liner notes, it seems to talk about immigrant's life in a western city but it's a strictly personal impression. It sounds as a really evocative journey where reflexive moments and action ones come in a succession.
"I Am You, Dragging Halo" is a single track which seems centered upon a sort of plot as almost all voices are speaking but it seems to be fragmented and evocative rather narrative. The music is mostly a background for the voices and tries to evoke the noises of everyday life when it doesn't expand into cinematic moments when it seems to happen something. When almost rock moments follows narrative ones and are interrupted by long electronic interludes, there's that sort of film editing applied to music which creates a sort of abstract radio drama.
It's a really demanding listening that could be enjoyed by fans of avant-garde or, perhaps, even improvised music and will have precious moments of amazing playing and creative writing. The casual listener will be perplexed but the others will love it.
Experimental / Avantgarde / Weird & Wired / Glitch / Noise / Field Recording
Edit (9291)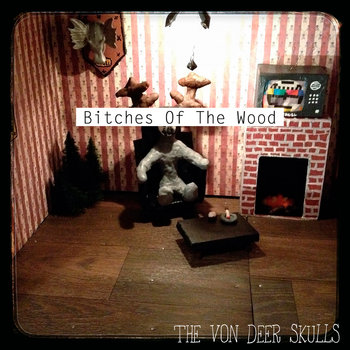 Artist:
The Von Deer Skulls
Title:
Bitches Of The Wood
Format:
Download Only (MP3 + Lossless)
Label:
Wraith Productions
(@)
Rated:
Apparently the Von Deer Skulls is a strange band whose members come from France, Germany and Canada and their free form rock is aided by a visual artist, Peter Skull, to create a visual experience declaratively influenced by filmmakers as David Lynch and Tim Burton. Musically speaking it's a sort of crossover between psychedelic rock and noise nock that seems almost instrumental as the voice is pretty inaudible.
The spoken words of "Bitches of the Wood" open this release as a background for a mutating sonic foreground oscillating between quiet accompaniment, furious rock explosion and even an electronic interlude to a second part of the track which is based on slow an hypnotic arpeggios until the return of the electronic starts the final noisy seconds of the track. "The Way To The Shadow" is a musical pendulum where one pole is hypnotic guitar notes and the other is the energic riff. "Outro" closes this release with sparse noises accompanied by a piano.
Odd enough to be interesting and brief enough to be enjoyable even by ears unaccustomed to such free forms, it's a perfect introduction for a band which could produce really interesting stuff. It's really worth a listen.