Experimental / Avantgarde / Weird & Wired / Glitch / Noise / Field Recording
Edit (10359)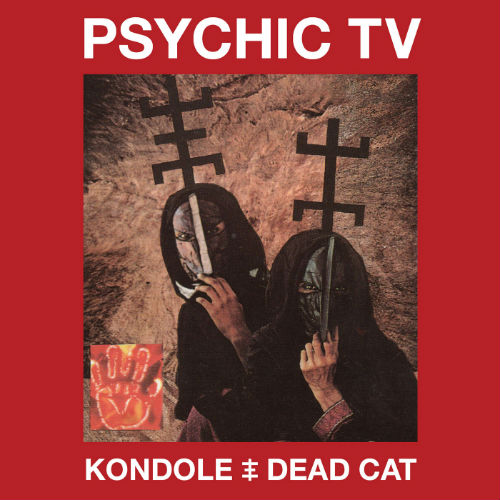 Artist:
Psychic TV
(@)
Title:
Kondole / Dead Cat
Format:
CD + DVD
Label:
Cold Spring
(@)
Rated:
This release is centered around 'Dead Cat' by David Lewis, a short movie shot in black & white, which is developed upon strange rituals and awkward characters and is a small gems for fans of underground British cinema. As Psychic TV made the OST for this movie, this release features also a track conceived for another Lewis's movie which was never made according to the liner notes.
The long version of "Dead Cat" occupies the first CD and is almost a canonical example of "furniture music" as, while small parts of it are able to add a layer of mystery and charm to the movie, its long and static sections, repeated sometimes in a rather dull and trivial way, obscure the ideas and the research for an hypnotic and ritualistic environment.
A long and hypnotic meditation and a soundtrack for an unmade film, "Thee Whale", opens the second CD and, after a first meditative section, evolves in a crescendo that generate a sort of ritualistic dance music. The lo-fi recordings of "Thee Shadow Creatures" emphasize the noises juxtaposed to the loop that almost implacable is the skeleton of the track. The short version of "Dead Cat" closes this release and thanks to the editing is far more enjoyable than the long version as the long and static sections are removed.
Apart from the consideration that the DVD is worth the price of this release, this is a not a release only for fans and collectors of the band as the music even if it has all the pros and cons of this band. Not a masterpiece but it's worth a listen.
Experimental / Avantgarde / Weird & Wired / Glitch / Noise / Field Recording
Edit (10357)
Artist:
Kink Gong
Title:
Dian Long - Soundscape China / Destruction of Chinese Pop Songs
Format:
2 x 12" vinyl
Label:
Discrepant
This is two distinct old 2000-2002 works from Laurent Jeanneau bundled together into one 76-minute release, but they have a common theme, that of twisting Chinese pop music and pop culture sounds based on what Jeanneau describes as a "love-hate relationship".

"Soundscape", originally released under the alternative alias Dian Long, comprises two twenty-minute processed soundscapes constructed from city noises, but with a particular emphasis on seeking out pop culture sounds- music playing, groups of kids watching TV, news reports. As they progress the processing, glitching, retriggering and effects shift from being delicate ornamentation to being the whole sonic focus, and then away again. The second half makes extensive use of the CD-stuttering effect found in CD DJ decks of the time, used extensively in work by Strange Country for example. Not what most people would expect from the name "Soundscape China", it's an unusual culturally detailed sonic postcard, seemingly sent by somebody who may not be wholly impressed by the place they're visiting.

"Destruction Of Chinese Pop Songs" is, as the title suggests, more abrasive. Across ten short pieces, Jeanneau uses the glitching, stuttering and rough timestretching effects heard more subtly in "Soundscape" in a much more raw and obvious way, taking mostly mellow Chinese pop music and consciously mangling it (in a way that, at times, must be hoping to fly under the radar in terms of copyright). The songs themselves, when allowed to breathe, provide the respite from the edgy noise work. The points at which Jeanneau adds his own thin synth-electronic elements are teases of great promise left slightly under-realised.

To non-Chinese ears there's a definite novelty to this unusual cultural twisting that keeps the listener's attention even when the slightly dated-sounding production touches are not, perhaps, as clever as they think they are.
Experimental / Avantgarde / Weird & Wired / Glitch / Noise / Field Recording
Edit (10356)
Artist:
Ursula K. Le Guin & Todd Barton
Title:
Music and Poetry Of The Kesh
Format:
LP
Label:
Freedom To Spend
The story behind "Music And Poetry Of The Kesh" is a fantastically elaborate one, the tale of late sci-fi author Ursula K. Le Guin's five-hundred page book describing the anthropological history of the Kesh, an invented race who first appeared in her novel "Always Coming Home". A cassette of made-up field recordings and indigenous songs accompanied early editions of the book. Oregon-based experimental musician Todd Barton had, it seems, followed Le Guin's text about the Kesh's native instruments and built some of them himself, to her specification, then taught himself how to play them. Both Le Guin and Barton clearly immersed themselves very deeply into the Kesh mythology. Now, over thirty years later, the contents of that cassette are remastered and officially reissued for the first time.

Mythology aside, what does it sound like? It's a curious collection. Across thirteen short tracks we get something that really does sound like field recordings and ambient sounds from the folk music history of an indigenous people that is hard to pinpoint yet is strangely convincing at times.

Despite the information about Barton building a lot of original and invented instruments, large parts of this work are solely vocal. The chant-singing of "Yes" (despite the giggling fit that calls it to a halt) has a certain Russian or Mongolian twang to hit that's hard to explain. "Long Singing" is like a lighter-edged semi-choral take on group throat singing exercises, and really rather beautiful. "The Quail" is a more Gaelic-ish folk arrangement over a very simple soft drumming.

Pieces like "Dragonfly Song" and "A Homesick Song" are less authentically staged, the former the sound of a babbling brook with a studio-quality solo female folk song laid on top, the latter an in-the-round mantra of multiple voices that sounds a bit more like 1960's experimental theatre work.

Of the few instrumental pieces, highlights include the rather pretty "River Song" with its soft mesmeric sort-of-glockenspiel tapping patterns. "A Music Of The Eighth House" uses synthesized sounds in a very delicate way for an extraordinarily mellow wrap-up.

This vinyl release retains some attachment to the original book via using some of the original illustrations. But if it had been initially released in 2018 it would be easy to think of this as an in-game soundtrack, as we're far more accustomed now to immersive and extensively realised made-up environments in the world of gaming. By 1985 standards it's something of an anomaly but an interesting and maybe ahead-of-its-time concept worth being introduced to.
Experimental / Avantgarde / Weird & Wired / Glitch / Noise / Field Recording
Edit (10354)
Artist:
Havnes.Järmyr.Serries
Title:
Distant Curving Horizon. The Primal Broken Passage. Beneath the Scorching Sun
Format:
CD + Download
Label:
Midira Records
Drummer Tomas JÄrmyr is in a variety of different groups- The Void Of Expansion, Yodok, Zu, Motorpsycho, Werl, Sunswitch, Saw- and here he gets together guitarists Dirk Serries and Eirik Havnes for a three-way long unplanned improvisation made up of long drawn-out floating guitar sounds, long sustained ambiences, and decidedly prog-rock-ish drumming that undulates between manic and mellow somewhat independently of the guitar work going on above.

It's one 55-minute piece, ostensibly divided into three parts though it's not immediately obvious where the divide or distinction lies. Instead it plays more like one consistent rise and fall affair playing heavily on the pull between arhythmic reverberating guitar and complex, very accomplished drumming.

A bundled twelve-minute-long "radio edit" of the central section doesn't serve great purpose but would serve as a neat way to sample the mood of the whole thing without committing yourself to an hour of it.

There's a certain timeless to it, an organic effects-pedal feel to the production and a slight dampened tone to the drums that make it feel like this could've been recorded at almost any point in the last twenty or thirty years. It was in fact recorded in 2015 in Trondheim, if you're interested.

While it pushes no boundaries, this is the sound of three accomplished musicians with a very confident but moderated outlook enjoying the world of long freeform soundscaping improv, and it's enjoyable to listen to too.
Experimental / Avantgarde / Weird & Wired / Glitch / Noise / Field Recording
Edit (10351)
Artist:
Porch Nap
(@)
Title:
Antidot (Selected Works 2007-2017)
Format:
CD
Label:
Fulldozer Records
(@)
Distributor:
Zhelezobeton
Rated:
For this artist and release, I really have to reproduce the lengthy quote from the labels: "During the last ten years this moderately active figure of the St. Petersburg underground has been engaged in acoustic research, almost invisible for most people but passionate in its cosmologic nature. The result of these experiments turned into a fusion of seemingly incompatible genres of modern music – techno and improvised noise. However in the interpretation of Porch Nap this paradoxical combination sounds quite natural. The album features selected tracks of Porch Nap dated 2007-2017, most of which were reworked in recent years. For five compositions additional parts were recorded by honored figures of the Russian experimental scene: Fedor Svolotch, Alexei Borisov, Kryptogen Rundfunk, Brompton's Cocktail, as well as by the famous American noise musician Phillip Klingler aka PBK. And the final track "Intelligent Noise Monday" was remixed live by Alexander Zaitsev, known as a member of the band EU. The edition is released in 2 versions: Regular edition includes: CD in digisleeve with two cards. Limited to 175 copies. Special edition includes: CD in digisleeve with two cards, bonus mini-CD-R in cardboard sleeve with an alternative version of the title track Porch Nap feat Fedor Svolotch "Antidot" and two additional compositions, Porch Nap "Ordo Ordinans" audio-tape (reissue of the 2001 album), all packed in white rag bag with silk-screen printing. Limited to 35 copies."

I will be reviewing the regular edition because that's what they sent me. Yes, this is deep underground St. Peterburg experimental electronica. The techno aspect surfaces more in the rhythms (when present) than anything else, with repetition playing a major role in that regard. A good portion of it could be called industrial. The temperament of the ten pieces on this album ranges from curiously intriguing to excruciatingly annoying. The opening and title track "Antidot" is a subdued exercise in techno minimalism with a soft electronic kick tone carrying the beat while fussy and fuzzy electronic noises fill in the gaps. Fedor Svolotch is featured on this one. Kryptogen Rundfunk's electronic contributions on "Verisimilitude Recurrences" makes for very uneasy listening, and at over 9 minutes you're going to need all the audial stamina you can muster. On "E nego Rework" all sonics seem processed around the beat with liquidy, squiggly bird-like sounds. "Freq Out," a lengthy track at over 10 minutes features PBK and sounds like some automated wire brush scrubber feverishly working over a filthy tank in an alien workshop environment. "Anti-Social Ultra-Pop Pt.1" is a cute little rhythmic number that sounds like processed finger-thrumming with electronic embellishments. It isn't hard to imagine what "Non-Linear Bass Metronome" might sound like for it's title; just add pitched noise and you're good to go. "Signal" is the lengthiest piece on the album at 11:48, and for over half of it, the most difficult one to listen to- a seemingly endless bleep-tone repetition with interjections of squeak and squeals until it morphs a bit into something else but still maintaining the monotonous rhythm. "Cliffhanger' featuring Brompton's Cocktail is my favorite piece on 'Antidot' not only because its the most musical of the lot, but also because it offers dramatic tension and a relentless drive that could easily lend intself to cinematic uses. Alexei Borisov contributes voices, noises and guitar to the monotone beat "Granular Liminal Beat" but you will have to listen pretty closely to catch it as that rhythm overides nearly everything else. Final track, "Intelligent Noise Monday" (Alexander Zaitsev Live Remix) is a scattershot affair that goes through numerous, sometimes awkward changes underscored by a constant beat, but as it was done live, it's really not too bad. 'Antidot' is an uneven album but considering it is representative of a span of 10 years work, that's understandable. Those who enjoy noisy experimental electronics with beat and rhythm will be happy with this one. Those who don't just won't.