Experimental / Avantgarde / Weird & Wired / Glitch / Noise / Field Recording
Edit (10740)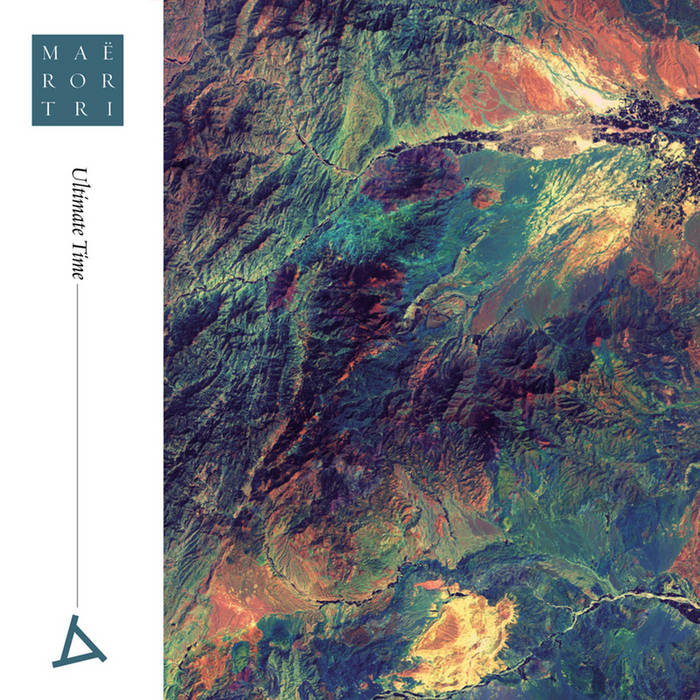 "Ultimate Time" is the part of Maeror Tri's discography which was released only on cassette and, probably as a result of the characterics of the medium, this is the most irksome part of their discography. According to the band this tape collects tracks from 1990 to 1991 that was never released as the labels lacked interest while Old Europa Cafe and SPH released them in 1994. This is one of the few releases of the band which has a considerable use of noise.
As "Dolor" starts, it seems that the framework of the release stands in the field of a quiet dark ambient with his drone but, as the tape seems to stop, noise enters and the track evolves with an effective use of echo. "Lost Paradise" alternates a quiet and almost melodic introduction and ending with a central noisy part. After this short track, the release features four long tracks: "A Deeper Hell" which is a crescendo from a low frequency drone to high frequency noise which is more meditated than the furious assault of the first track. "Middle of the Earth" is based upon lumpy low frequency noises which is as underdeveloped as paradoxically evocative. "Droning Souls" is more tied with their mature production with a suspended atmosphere with sounds rounding among the listener environment. Suggesting that the track are lined up by their production value, "The Reckoning Space" is a track with carefully crafted resonances which creates a real contrast with the messy sound of the first track with the result that is underlined the ability of the band to use loop and repetitions. "A Dream within Fear" closes the original tape with a quiet and low volume soundscape interleaved by explosions of sounds.
A bonus track, "Explosions of Silence", is an edit of a 12 hour concert in Arnehem and is characterized by a static soundscape with an hypnotic crescendo and isolated simple melodic lines.
Apart from any consideration about the sound quality which is due to the original format of this release, this is not a simple fill in for collectors but reveal how Maeror Tri were able to use various registers and sources for their sound in search of their particular voice and vision of industrial music. A piece of history after all.
Experimental / Avantgarde / Weird & Wired / Glitch / Noise / Field Recording
Edit (10738)
Masami Akita as Merzbow has been a big name on the experimental noise front for decades and "MONOAkuma" continues to grow the discography without pulling any surprises. It's almost exactly fifty minutes of extreme noise, distortion and grind, blending analogue and digital elements into an affronting wall.

New elements arrive with varying levels of abruptness throughout to keep you on your toes, most notably the more structured pulsing that comes and goes quite abruptly from around the 32-minute mark, and the almost quirky foghorn-like feedback sound that flits briefly across the plain a few minutes later.

Somehow it manages to carry you along with it, transforming the baseline of your sonic perception throughout. It leaves you, at the end, feeling like you've just had a nearly-hour-long sonic bath in electrified gravel- an experience that ought to have been horrible but which in practice is inexplicably gratifying.

Some of the biggest names in 'new music' are associated with the Darmstadt school- Stockhausen, Cage, Boulez, Ligeti, Messiaen and many more. The school's Summer Courses for New Music have a recorded archive stretching back 70 years, and in true 'new' fashion, instead of drily reissuing archival recordings 'as is' and making them seem stuffy and no longer avantgarde by context, instead Hanno Leichtmann has been let loose on the recordings in order to not collate them but sample them, twist them, create homages to them and generally freshen them up into a work that's both old and new.

Sometimes we revel not in the lectures but in the music itself. The theatrics and bold tape manipulations of the 1960's are most notably on display in tracks like "Substanzsuche", with pieces like "Klangfigur (fur Klavier, Stimmen und Regler" openly melodic. There are elements of spoken word recordings dropped in, as short snippets or as elements looping into abstraction, in a manner that strangely recalls the Monkees movie "Head" (a reference that may seem obtuse but which will become apparent to people who've listened to both), especially when the accents are American.

At other times, pieces like "Einheit von Maß und Zahl" are more faithful to the lecture format, inserting a large chunk of spoken word explanation about feeding a music score into a computer and underpinning it with drone and spontaneous percussion in a manner reminiscent of Johann Johannson's "IBM 1401".

It's a very refreshing way to revisit and rework an archive. A movement of artists whose core work involved challenging preconceptions would, I presume, be generally satisfied that their work has been reappropriated in such a manner. What we have here, in effect, is an intriguing and high-quality bit of music history that's also brand new.
In this short concept piece, Monty Adkins "paints over" acoustic pieces performed by Sarah-Jane Summers and the Bozzini Quartet. The original performance was inspired by Norwegian landscapes, and Scottish and Norwegian folk traditions. Adkins has stripped away the performance elements, smothering them in processing and reverb, stretching and washing them until only the atmospheres and broad tones remain.

After "Hollow" and "Distant Waters", two pieces of slightly more generic cold-yet-positive drone from which the origins would be very hard to guess, it's in third piece "Spiral Paths" that more of the original source material is exposed and the unique reworking approach really clicks. The plaintive violin work rolling across the melodic slow bass drone in a much more cinematic fashion.

It's a curious concept piece that feels like it's not given enough time to really breathe as a drone work, and in "Spiral Paths", just hints at what award-winning soundtrack album could be conceived if this area was delved into more deeply.
Experimental / Avantgarde / Weird & Wired / Glitch / Noise / Field Recording
Edit (10731)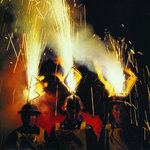 Artist:
Bow Gamelan Ensemble
Title:
Great Noises That Fill The Air
Format:
CD
Label:
Cold Spring
(@)
Rated:
Bow Gamelan Ensemble was an unfortunately little known group formed in 1983 by Richard Wilson with Paul Burwell and Anne Bean which tried to adapt gamelan music to the industrial scene which was establishing in those times. So, they used instruments made by metal or motors or common domestic objects. They aimed to adapt the music to the environment where they performed and they challenged, inspired perhaps by canonical avant-garde, the notion of musical instruments.
So, a track ad "Snappits/Hooter" creates music from the elements that make noise in everyday car traffic while "Horse/Bells/Hubcaps" is hypnotic in its use of metallic sounds and treat percussion as an element of musical language instead of something that beat the time. "Take III" shows how they use wind instruments to achieve sonic nuances uncommon in a period where this kind of music was challenging the listener with physicality while they take this path in a track like "Thundersheets/Sirens/Baths" of impressive sonic mass. However, the next track, "Pyrophones", is a sequence of subtle and meditative low volume tones.
For the quality of the music and the originality of the musical opus, this reissue is a a way to remind than the music scene is filled by great project that never had the spotlight but their opus hasn't aged a bit instead of most group which are on the magazines' cover in this times of retromania. Almost essential.