Experimental / Avantgarde / Weird & Wired / Glitch / Noise / Field Recording
Edit (9469)
Artist:
Rocky B
(@)
Title:
Animals, Things and Human Beings
Format:
Tape
Label:
Das Andere Selbst
(@)
Rated:
I have reviewed a few releases from Das Andere Selbst and one thing they seemed to have in common was an element of fun. This release by Rocky B is no exception. Rocky B is the brainchild of Berlin-based artist Roi Assayag, who the label describes as "co-founder of the Jerusalem underground hip-hop scene" and a member of Neft and the Arabstazy Collective. He also records under the name Tropikal Camel. As for this release, the label describes the tape this way: "Animals, Things And Human Beings is a 13 minutes concrète-hop love song recorded on a four track in Berlin on springtime 2014 it was originally composed as a soundtrack for a fashion collection by Nicole Gütl." If this is the case, it certainly makes me wonder what the clothes looked like because I really can't imagine a bunch of gaunt, unsmiling models walking down the catwalk to this. But I would like to imagine it. This sounds like a toy factory where all of the sound modules have come alive and started speaking in their own musical language. 8-bit synth is the order of the day here, and the music is not quite random but definitely improvised. This is some weird stuff, but fun. Kind of like fashion. This tape is limited to 50 copies.
Experimental / Avantgarde / Weird & Wired / Glitch / Noise / Field Recording
Edit (9463)
According to the bio sheet, Darkrad is the work of Jana Komaritsa, who hails from Russia, but currently resides in the United States. I had not heard of her work, but her debut album was released by Cold Meat Industry in 2012, so that should give you some inkling of what you're in for. The label describes the music of Darkrad as "a combination of Dark Ambient and Noise, which is accompanied by quiet but threatening whispered vocals." Sounds promising; let's get into it. "Chernota" opens with heavy bass and the standard power electronics distorted vocals a la Genocide Organ. Thankfully this shifts in the next few tracks as the vocals become slightly more intelligible (although still distorted) over throbbing bass and analog stabs. "Someone Beneath" features rumbling bass and snippets of voice that serve mainly as texture rather than as vocals. My 5-year-old loved it and said that it sounded like being in a spaceship (yes, my kids will have great taste in music). But this is not all grinding drone and machinery. "Horizont" is nice spacey dark ambient, "All Is Wrong" is almost mellow, with its muffled bass and percussion, and "Rasshelina" has moaning drones that sound like the pains of the fallen. Some of the tracks tended to become a bit repetitive though, as in the case of "Burn The Eyes." As for the remixes, "Feel The Blood" by Dirk Geiger really brings in the drums with a vengeance while "Rasshelina" remixed by Spherical Disrupted remains pretty faithful to the original with the addition of drums and minor tweaks, only changing direction toward the end. Overall this is a good mix of noise and atmosphere. This album weighs in at around 69 minutes.
Experimental / Avantgarde / Weird & Wired / Glitch / Noise / Field Recording
Edit (9462)
Artist:
Radio Free Clear Light
(@)
Title:
The Matter
Format:
CD
Label:
Black Note Music
(@)
Rated:
I had previously reviewed "Joyful Noise Vol. 2 - Nomina Nuda Tenemus" by Radio Free Clear Light, so I had some idea of what I was in for. This disc is meant to accompany a graphic poem by the same name, although sadly it was not included. However, they note that it should stand on its own. The press sheet describes the album thus: "The Matter is a sonic interpretation of themes of Gnosis and questions of consciousness and autonomy. Found sounds collide and combine in surprising new ways, culminating in 6 original tracks." Sounds good, although I really wish that I could have the visuals to accompany the music. "Something Lies Hidden" opens with percussion and clicks, with a feeling of forward motion, over a bed of rumbling bass. Random loops of disembodied voices keep the composition interesting. If there was hope for humanity in the first track, the machine has completely taken over in "Something Is Not You." Sewing machines, dot-matrix printers, 1950's science fiction sound effects, and a voice repeating "something is not you" keeps it noisy and disconcerting. "What Is Inside" keeps the noisiness going until it all dissolves into a soup of spacey ambient. "Warzone" brings the weirdness I would expect from RFCL; if I had to describe it in one line, it would be 1950's sci-fi meets 1980's video games. It is an analog and 8-bit extravaganza. "Behind the Symbols" shifts the focus to rhythm, with percussion brought to the forefront. "Beneath the Surface" brings it to a close with more chaotic machinery, like a factory run amok. Overall, this was a good time and an interesting listen. Another good installment from this project. This album weighs in at around 65 minutes.
Artist:
Leighton Craig
Title:
Green Coronet
Format:
Tape
Label:
A Guide To Saints
(@)
Rated:
Eight years after "11 Easy Pieces", his debut album on Room40, Brisbane-based sound artist Leighton Craig comes back on A Guide To Saints, subsidiary magnetic tape-focused label of Room40 itself, by an album that got named after the Phase 2 amplifier by the Australian company Coronet, whose fuzzy tones got used during Craig's home studio recording. The four long suites he recorded features are just apparently narcotic, as listeners will soon understand that he lets collide and merge the gently melodic lullabies with the field recordings he grabbed by means of microphone who stole mostly natural (but also "artificial") sounds in the places where Leighton recorded them (Kindling House, Brisbane, Australia, in August 2015 and Taupo Bay, Aotearoa, in January 2015). This process of amalgamation gradually bring to a sort of contamination of the unnatural narcosis, induced by the aquatic loop of the opening "Green Shroud", the hypnotical almost flat tones of a kind of synth-organ and a line that resembles something in between a clarinet and an ocarina of "Drowned World", the caressing touch of the ethereal loops of "Arc The Solar Causeways" (whose quiet sonorities seems to get gradually polarized) and the bizarre dizziness of the final "Divided by Zero", the track where the contrast between a kind of unreal subtropical laziness and a disturbing scream-like noise escalates. I could describe the idea that such a listening could inspire by portraying a guy, who leads a life of so clouding bliss in his own tropical isle, that he doesn't consciously care if the poison of a scorpion could paralyze his body, the jaws of a shark could tear it to pieces or a forest fire reducing it to ashes, even while one of these tragic happenings will occur.
Experimental / Avantgarde / Weird & Wired / Glitch / Noise / Field Recording
Edit (9452)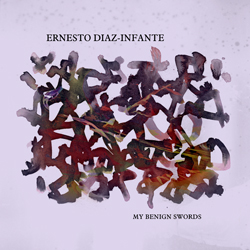 Artist:
Ernesto Diaz-Infante
Title:
My Benign Swords
Format:
CD
Label:
Public Eyesore
(@)
Rated:
"My Benign Swords" marks a partial depart by this guitarist from his previous release as, instead of his usual strumming, he tries a more complex framework. From this point of view, "My Forgotten Stars" sounds as traumatic start with his unidiomatic lines. The extended technique that opens "Fear of Love" introduces sparse notes as a distorted version of some romantic tune so, when the strumming returns in "Fear of Going Crazy", there's a sense of confort as an expectation fulfilled but it's suddenly ended at the middle of the track when, with a sort of tapping, he returns to unorthodox territories. The quiet lines of "Yin" sound as a sort of rest while "Moving Away From My Mind" returns to his recent style based on the sustain of his guitar and "The Inside Answers" returns to his strumming playing mode able to hypnotize the listener while "Where are you? Hope you're okay?" sounds as a glitch version of his music but without a laptop involved and the brief "See you soon" quietly closes this release with some questions about where he's going to go.
Experimental enough with his courage to go into new territories, he escapes those vague sense of repetition which could arise in his last release to puzzle the listener if he's thinking to go into even free jazz territories. It's really a surprise.