Experimental / Avantgarde / Weird & Wired / Glitch / Noise / Field Recording
Edit (9134)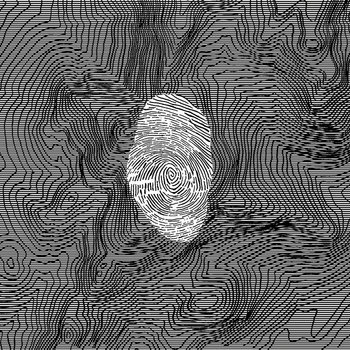 Artist:
Strom Noir / Micromelancolié
(@)
Title:
49°05'19,3"N 22°34'04,0"E
Format:
CD
Label:
Zoharum
(@)
Distributor:
Alchembria
Rated:
The coordinates of the enigmatic title "49°05'19,3"N22°34'04,0'E", according to Google Maps, refers to a place at the borders between Poland and Ukraine or it could be a place between Poland and Slovakia, the countries of the two artists responsible from this release, Strom Noir and Micromelancolié. The cover art is an hint on fingerprint as the theme of the release, not only cartography as it's based on an altimetric chart, so it could be a metaphor of security concerns related to migratory flux.
The first track, or part, of this release starts with a drone which is juxtaposed by field recording from something walking and a whistle introduces the first sparse note of the guitar of Strom Noir and suddenly the atmosphere became darker and a sense of stillness pervades the listening as something has to happen. In fact, there the depiction of the exploration of an uninhabited area or a moving from a city and, so, the track ends with sparse noise and the reverberated sound of the guitar upon a bright drone which slowly evolves and fades. The second part of this release starts with a drone that evolves on a crescendo while the underlying field recordings continues to generate that sense of exploration and, after its peak, it became to descend upon some metallic samples as someone plants a pole or a fence as this recording is present when the drone ends to close this release with the last beat on the fence.
The sense of work of art is on the ambiguity which alludes to something outside of it and challenges the listener. This release could be a report of an exploration or about a reflection on borders that are strengthening every day passing. This is obtained from a series of subtle interactions between samples, sound and artwork and it's something aiming to something else than a mere work on a codified form. Almost a masterpiece.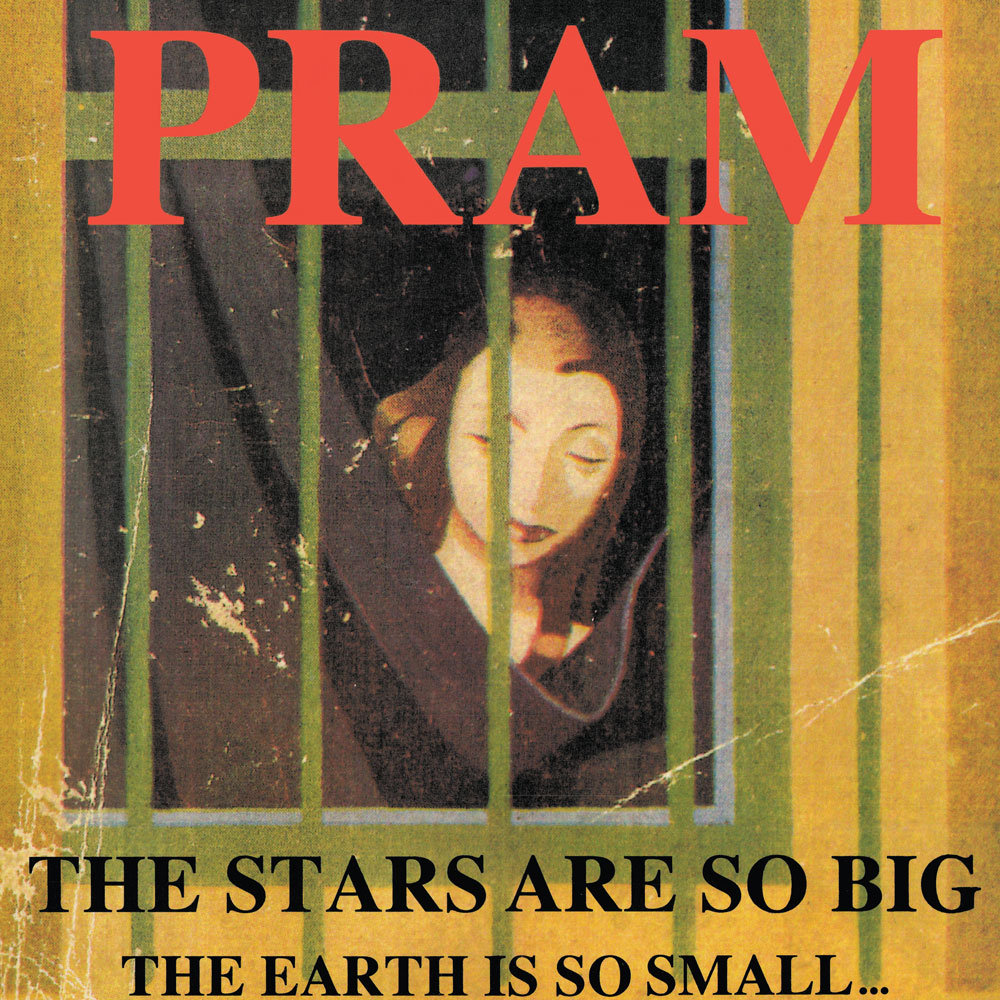 Artist:
Pram
Title:
The Stars Are So Big... The Earth Is So Small... Stay As You Are
Format:
12"
Label:
Medical Records
I missed this album the first time around, being four years old, and managed never in the years since to come into contact with the works of Pram at all. Now, thanks to present circumstances, I can at last get to know and enjoy this English band, who have turned out to be pretty superb.

First released in 1993 by Too Pure (also home to Stereolab and PJ Harvey), The Stars Are So Big... The Earth Is So Small... Stay As You Are was Pram's second LP. It's the first of two to have been reissued this year by Seattle's Medical Records, as part of a continuing project by the label to celebrate "seminal works" put out by Too Pure in the 1990s. In the case of The Stars Are So Big..., this reissue project takes the form of a red 180g vinyl repress, which I have not yet seen, but expect is a worthy labour of love.

Immediately evident when listening to this reissue is that it has not been remastered. This is distinct from some of Medical Records' other reissues, whose remasters have even been laudably restrained and clearly sensitive to the production of the original audio - showing taste and trustworthiness on the part of the label.
However, in this case, somebody involved decided a remaster wasn't necessary. The timbre of The Stars Are So Big... sounds soft and dated, muffled and a bit flat. It's possible that this sound was intentional even at the time, and that retaining it now is a conscious goal of the band's. I must agree, in any case, that there is no need to modernise these recordings. And this is likely true in most cases of reissuing music, however it was supposed to sound originally, unless we admit to participating in this period's fetishism for loudness and reappropriation, or devoting excessive energy to our commercial interests (if there's a difference). There is no 'right' way at all to do these things. But a listener's active acclimatisation to different kinds of recording and production styles, with their distinct historical and other kinds of grain, can be of great significance to the basic analyses and pleasures of musical experience. Both the process and any respect for it carry with them aesthetic as well as ethical importance.

To get to a more pertinent matter - the music itself - this album feels like a faintly twee, but rather opaque, mixture of dreamy art rock, kraut-like psychedelia and a little shoegaze. Through a filter of what sounds like no-budget, living-room production, the band's attention to detail and sonic experimentation are quite evident. Most generally, the album comprises distinct articulations of bass, guitar, electronics and drums, as well as the voice of Rosie Cuckson. On the opener 'Loco', she is nearly drowned out by noisy guitar and a throbbing, stop-start bassline. For the next tune, 'Radio Freak in a Storm', she spends the verses competing with a brilliant, metallic mallet synth motif; the guitar, this time, manifests as muted plucking. The sixteen-minute "In Dreams You Too Can Fly" is a splendid, relaxed jam. It falls quietly somewhere between jazzy stoner rock and what would later become known as post-rock, with horns provided by a guest musician known only as Verdigris. 'Milky' and the final piece 'Cape St. Vincent' are sweet and dreamy numbers, with Cuckson accompanied by cute melodies on glockenspiel, sprightly sinewave synth and, in the latter track, furry filtered piano.

Cuckson is often quite low in the mix on this record, a feature vaguely reminiscent of Belinder Butcher on MBV's Loveless. Another similarity is a prevalent emotional ambiguity, which at times Pram seem to take into outright obfuscation. Cuckson sings with an airy, aloof and shy manner, as if murmuring absently to herself. Particularly on 'Loredo Venus' and 'Dorothy', she conspires with the rest of the instrumentation to produce a beguiling, awkward and unsettling tone. It all feels fun and heartfelt, but also wry and quite uneasy. Somehow impenetrable, but deeply varied and enjoyable altogether.
Artist:
Mauoq & Medika
(@)
Title:
The First/Equator/Clusterfunk
Format:
Download Only (MP3 + Lossless)
Label:
Aluminium Shiny Shin Side Shack Out Music
Rated:
Many bass-driven music fans guessed that the so-called drumstep should have been another passing fad, but more or less hidden outputs like the one that recently come out on the newborn label Aluminium Shiny Shin Side Shack Out are suggestive of the fact that many reviewers announced the death of this branch too hastily. This short ammo of drumstep bullets is co-signed by Rome-born Mauro Campana aka Maouq - I firstly met his name and his sound on labels like Diffrent and Dispatch - and Brixtonian DJ and VJ Milena Lukic aka Medika - I've honestly never heard her name before - and includes three very good tracks (two solo and one bicephalous) that could fade the above-described premature obit out. "Clusterfunk", the first tune by lady Medika, features somehow claustrophobic sonorities by means of a catchy blend of rising breaks running like a rusty train over cracks, hits, splitting rails and alien growls, where the insertion of a spooky female voice (Medika's one?) could let you think she made this tune after setting a VPN up in order to chat with the ghost of a girl found dead under a train in some peripheral station of the subway. The (bass)line by Mauoq on his solo tune "Equator" seems to render a sort of sonic parade through the imaginary red-hot belt of our planet by a sequence of liquefying sounds, muffled metallic hits and more or less disguised clues from inhabitants of equatorial forests. A couple of good tunes, but the best moment of this sonic cookie, in my opinion, is "The First", the co-signed one, even if its somehow creepy nuance could remind the thrilling atmosphere of the scariest videogames by Monolith.
Experimental / Avantgarde / Weird & Wired / Glitch / Noise / Field Recording
Edit (9125)
Artist:
Simon Christensen
(@)
Title:
MANIFEST - But There's No Need To Shout
Format:
CD
Label:
Dacapo Records
(@)
Rated:
Simon Christensen is a Danish modern music composer educated at the Royal Danish Academy of Music and Conservatoire de Paris. He is also an active musician in his own duo Mono Duo and the trio, Kundi Bombo, perfrming on the zither, a handful of percussion and a small arsenal of analogue modules. Over the years he has numerous releases to his credit as well as collaborations with American filmmakers, and commissions by Danish National Symphony Orchestra, Athelas Sinfonietta, Danish National Vocal Ensemble and The Silesian String Quartet. His ouevre seems to fall into the avant-garde abstract from what I can tell of
some of the pieces I've heard by him previously. There is no doubt that Christensen is seeking to push the boundaries of music and the perception of it to something completely fresh and new.

'MANIFEST - But There's No Need To Shout' is his latest work, a 72 minute excusrsion into the world of drone untilizing only a string quartet - Birgitte Baerentzen Phil - violin; Signe Madsen - violin; Mina Fred - viola; Sofia Olsson - cello. Now before I give you my assessment, I need to quote composer Jexper Holmen for his take on the piece, which includes some technical as well as aesthetic values.

"...would just like to say that Simon Christensen's string quartet Manifest – But There's No Need To Shout, which I heard this afternoon at Frederiksberg Palace Chapel, was a revelation. A work that played for more than an hour without dramatic progression and without ascending and descending motions. A work that exclusively used the open strings of the instruments, retuned to micro-intervals. In addition each string had a fixed rhythmic figure that reappeared each time the string was used. The combination of the rich world of harmonics in the open strings and the harshly and richly dissonant chords that constituted the work resulted in a unique, dark and lustrous sound. The fixed rhythms gave each chord a pulsating inner life. The absence of melody and dramatic effect provided rich scope for absorption in this original universe. Manifest is beautiful in a way music has never been
beautiful before."

Now mind you Mr. Holmen experieced this piece live. I did not. Still, it is the same piece of music and few readers will ever get to hear hear it live. A number of factors may have contributed to his enamourment with the piece; the live acoustics for one; experiencing the musicians performing it right there for another. One's attention is focused directly on the performance in that environment, and there is no escaping, save to leave, or plug your ears, but what would be the point of that? What I am saying is that this kind of music could have an entrancing effect in the right environment. Yet, there are problems.

'MANIFEST' is a drone piece comprised of numerous segments, each lasting for a period of time (about a minute or less in most cases, some segments being a little longer) with a very brief interval between them. There are often sublte variations in timbre between the segments causing a dominant tonality to emerge at times. And yes, the chordal formations are mostly dissonant. The casual listener may not neccessarily discern these subtleties and chalk it up to "just a series of dissonant drones," and therein lies the problem. My wife, who does not share my appreciation for avant-garde new music commented - "So they keep tuning up, when are they going to play something?" Okay, so that would likely be the conventional listener's take on this but what about us new music afficionados? Well, for me the piece was overly long testing my patience, especially the first time around. It seemed to go quicker the second time, yet ennui still set in eventually. The dissonance eventually gets tedious as well, and I think this has something to do with the pauses between segments. If the segments were longer, ears and perception could adjust to them before experiencing the next one. The pauses set up a certain anxiety about what is coming next, how long it will be and how (the next) dominant tone will affect you.

It is likely Mr. Christensen had this in mind when he composed this piece, and to what effect he was striving is a mystery to me. Personally, I like my minimalist drone music lengthy, something that I can settle into. 'MANIFEST' is not that kind of duck. Patience is required, and also attention to detail to appreciate it fully. In that regard, 'MANIFEST' may be the most challenging piece of drone music I've ever experienced, but I cannot count it among the composer's more engaging works.
Artist:
Yiorgis Sakellariou
(@)
Title:
Everything Emanating From The Sun
Format:
Download Only (MP3 + Lossless)
Label:
Crónica
(@)
Rated:
"Everything emanating from the Sun which is Divine Love is called spiritual; everything emanating from the sun which is fire is natural.". Greek electronic music composer Yiorgis Sakellariou took the first sentence of these lines by which Swedish scientist, mystic, theologian and philosopher Emanuel Swedenborg tried to explain the link between spiritual world and natural one - he used the term 'correspondence' or 'relation' to describe it - as well as the Divine in his essay "Life in Animals and Plants", a sort of revisitation of Christian belief of Creation by means of ideas, which were close to Neoplatonist outlook, as a title for this release, the first one of Corollaries, a new series by which Portuguese label Cronica is going to compile some works that got produced during the Active Crossover: Mooste, the last (but not least) residency of Active Crossover, a sort of permanent cross-cultural laboratory British sound artist Simon Whetham established in Tallinn, Estonia in 2009 in order to search new performative sound-focused strategies and possibilities for a series of workshops and sessions, where a selection of sound artist could check new working methods - an interesting idea that got hosted in many different locations such as England, Chile, Colombia, Germany, Norway, Argentina and Australia and got already documented by a compilation on Cronica in 2012 -. On that occasion, MoKS studios and space opened his gates to the brilliant Greek sound artist, known by field recordings fans for many interesting essays of digitally manipulated environmental sounds that he sometimes performed in completely dark places - I like to think he tries to emulate the "veil" of Pythagorean akousmatikoi, in order to let listeners focus on sounds without any other sensory distractions -; he didn't make this 31 minutes and 13 seconds lasting field recordings-based composition as an aural postcard of his experience in Estonia, but it seems that his amazing way of compressing and decompressing concrete sounds got inspired by an idea that Igor Stravinski expressed in 1941, according to which natural sounds cannot become music until they are put into order and organized as "conscious human act", even if he can't explain the reason of the time-stretching, the pitch-shifting and the filtering of the sounds grabbed at Mooste. According to his own words, "it is about effectively placing sonic events in time and not submitting to any kind of pre-fixed rules about recorded sound". The dilation over time intervals of sounds is maybe the most relevant aspects: the first similarity I noticed is the one with some experiments on overdubbing of tapes that many performers tried and if you play this composition by changing tempo, what could sound like the slowed noise of a train could turn into the obsessive mechanical hammering of a power loom for example. At the end of his introductory words, Yiorgis returns to Stravinsky's thoughts by stating that maybe the conscious human act that he required could simply be the act of listening: "this activity, potentially profound and meaningful, establishes a form of communication between the listener and the environment but remains a personal experience. Music, besides making a connection to the cosmos, additionally sets a relationship between human beings, it is a social construction. As a shared activity, music brings together composer and listeners in a transitory time and space.". His words could even summarize the spirit of Active Crossover...