Experimental / Avantgarde / Weird & Wired / Glitch / Noise / Field Recording
Edit (10230)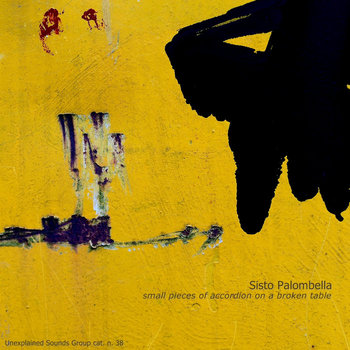 Artist:
Sisto Palombella
Title:
Small pieces of accordion on a broken table
Format:
Download Only (MP3 + Lossless)
Label:
Unexplained Sounds Group
(@)
Rated:
While he's sometimes defined as minimalist, Sisto Palombella has a personal identity: first of all he use an instrument, the accordion, which is closer to the traditional, or folk, approach to music than to the avant-garde one; then, his music a sort of tie to the song form or the accompaniment to silent film so it's something that, even in his complexity, sounds familiar.
As the first track, "L'Airone", starts, the listener is immediately introduced in the typical minimalistic environment where small melodic cells are repeated until their phases created a sort of inner melody during the loop. While "El spacolo" continues in the same vein, "Natureverse" is able to create a rhythmic pattern from an instrument which is not a percussion. "Flop" is a catchy song while "The second subversive trip" denotes an impressive control for the timbre. While "Cervo Zoppo" and "Entrapped in a pop blues" are returns of the minimalist patterns, "Sartascn' sfrasciat'" uses a series of tricks to subverts his own from from the inside. "Il Condor", "L'Aquila" and "Bloody Christmas" close this release as variation around a form that is as multifaceted as apparently identical to itself.
In his commitment to form and his writing ability is able to let the listener forget, at least for a moment, to his evident and almost calligraphic reference to Terry Riley and, perhaps, this is the best compliment someone could write about his music. Truly recommended for fans of classic minimalism.
Following four (really interesting) releases as Noisedelik, the solo-project through which he also tested many self-built instruments (grouped by the [d]Ronin general name, referring to different instruments, based on amplified sets of strings, metal plates and chords as well as to a sort of table-set that generate somehow scary hyoer-reverberated drones) between 2012 and 2016 and established many collaborations (the ones with Gianluca Becuzzi is maybe the one which had more visibility, but interesting outputs came out of the ones with Dream Weapon Ritual, sc9, Lyke Wake, Uncodified, Moreno Padoan, Paolo Bandera and Maurizio Bianchi), Massimo Olla signed his first album by its own name on Simon Balestrazzi's imprint Azoth. Such a change isn't only a matter of signatures, but it's also stylistic, as Olla's strategy sounds like mirroring the austerity law of many social and economic current systems: maximizing the outputs by minimizing the inputs. The inputs are mainly raw materials and found objects mainly made of plastic, wood, and metal, while the process to maximize the outputs gets supported by his amplifiers and wisely trademarked instruments. Most of Olla's seven structures are built by sinister resounding entities, grasped into likewise sinister ultra-low frequencies-driven substrates. Each entity could potentially evoke images, nightmarish situations and other creatures belonging to the cream of the crop of the industrial (or post-industrial) Italian scene (Sigillum S, Nightmare Lodge, T.A.C.), but also to many other contemporary amenities: for instance "Structure 3" resembles many outputs by Phurpa or by some output by Aural Hypnox/Helixes collective, "Structure 4" gets closer to some scary sonic freaks by Pierre Henry, while "Structure 6" is something in between some recent outputs by Zeitkratzer and the abstrast side of so-called rhythmic noise, whose ritualistic declensions get sidelined on the sevent structure.
Experimental / Avantgarde / Weird & Wired / Glitch / Noise / Field Recording
Edit (10221)
Artist:
Tarab + Artificial Memory Trace
Title:
Obex
Format:
Tape
Label:
Crónica
Sonic experimenters Slavek Kwi (Artificial Memory Trance) and Tarab have engaged in a kind of cultural exchange whereby they provided objects and activity sounds to one another, irregularly transforming them into amended sonic products that would then be recycled into other noises. The result is a hard-edged, heavily-processed hour long collection of processed noises, often metallic, hard, percussive and deep, sprinkled with glitches, crackles and breathing noises.

Many of the 14 tracks are just short interludes that sound like messing around with a sound effects library, but there are three much longer pieces that give this cassette a solidity. "Entimorf 3", at 17 minutes long, is a piece of many stages, a dynamic collection of rumbles and industrial surprises that at times opens up into hollow spaces with rolling lava-like rumbles, where metallic bends and stretches are morphed into something that almost sounds like pining wolves.

"Transform 1" seems to revel in harshly counterpointing two environments, one akin to a forest where trees are being felled distantly, the other a heavy industrial space with overwhelming pneumatic power.

Final track "Lampsh" follows a slightly more trodden noise path with reverberent tones and deep EQ'ing giving everything an underground feeling, with sharp and rapidly cut hits and bangs giving a sense of panic and claustrophobia.

Some of the shorter pieces are not quite so short, "Transform 2" for example a slightly more sci-fi five-minute development of "Transform 1", "Transform 2B" four more minutes of the same material sources rustling tighter and closer..

Overall "Obex" has a raw, gritty quality to it that's reminiscent of some of the darker sonic experiments of the 60's and 70's, delighting in its own avantgarde harshness. It's a release that will particularly appeal to experimental enjoyers of sounds with a more distinct physical pedigree.
Experimental / Avantgarde / Weird & Wired / Glitch / Noise / Field Recording
Edit (10220)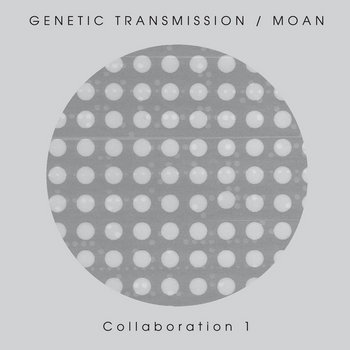 Artist:
Genetic Transmission / Moan
(@)
Title:
Collaboration 1
Format:
CD
Label:
Zoharum
(@)
Distributor:
Alchembria
Rated:
As usual for this label, the reissue plans for selected artists are carefully done: this time is the turn of Genetic Transmission and his collaboration with Moan. This release was conceived as a sort of split release were they contributed their own sonic vision and their track even if they conceived together the sound sources and exchanged their results.
Track 1,3 and 5 were arranged by Tomasz Twardawa (GT) and the first one disposes the sound in the audial spectrum in such a way to properly define a space were an environment unfolds while the second one is more concerned with the sound details and their evocativeness and the third evolves by accumulation of sounds until a more sparse framework closes this release.
Track 2 and 4 were arranged by Rafa Sdej and the first one is focused of the surrounding of the listener with the construction of thick drones upon which small noises generates movement and became the focus of the second part of the track and this framework is further developed in the long other track where this form is expanded not only in time but also in the depth of the musical elements.
An impressive release were especially the Moan's track reveal the level of craft involved in the release of such masterpieces of experimental music. It's not the writing involved in this release, but the manipulation of the sound until the listener has not to follow a sort of discourse but he's placed in an environment in which his mind can move. Truly recommended for fans of the genre.
The same-named debut album by this combo of Swiss musicians - the long-lasting mates Bernard Trontin on drums and Michel Wintsch ("strumming" on a piano and a synth and caring composition on this output), the vocalist and lyricist Antoine Lang and Raphael Ortis on electric bass - explores inner visions and the sometimes paradoxical mazed of dream states and oniric visions, but I guess the outer visions of Swiss landscapes and environment could have heavily influenced a style that sounds oblique like the steep cliffs and the rugged terrain of that land. I also guess these folks are aware of such an obliquity or they maybe yearn to sound oblique, as someone could argue by looking at the cover artwork, highlighted the above-mentioned cliffs. They generically labelled their style as "experimental pop", a tag that hides the clot of influences of their sound: Antoine's voice (and sometimes lyrics) could resemble some crooners of contemporary jazz, easygoing off-key teeny pop-rock singers or my little adorable 4-yrs old niece during pitchy interpretation of Frozen theme songs; Bernard's drumming ranging from hard-bop jazzy sessions to pressing rockish lines, from slow riding to dubby "upholstery" as well as from trivial and interesting techniques. Similarly, Wintsch synth and piano-driven entities and Ortis basslines feature such a constant ambiguity, but they want to run the risk that such an ambiguity couldn't satisfy listeners whose ears experienced different workout (to call it so). It could sound odd, but Innlaandds' sound is consistent with what these Swiss folks try to represent.