Experimental / Avantgarde / Weird & Wired / Glitch / Noise / Field Recording
Edit (10543)
Artist:
deNeuve
(@)
Title:
Light Heeled Fleet Footed Cheap Artists
Format:
CD
Label:
Blowpipe Records
(@)
Rated:
If there's one thing you can say about deNeuve's André Bach & Mark Tegefoss is that they have a pretty cool warped sense of humor. Just take a look at the mugs on these geezers the CD cover with its title - 'Light Heeled Fleet Footed Cheap Artists'. What deNeuve have come up with here is 10 tracks of looped madness. Conceptually, the elements employed consist of some sort of rhythm, or rhythms; some electro-acoustic ambience; film dialogue samples (which the one-sheet described as "cinephonic voices"), guitar samples and sometimes something resembling a melody. Not really much more than that. The results are often quite beguiling, likely because the way these pieces are constructed. No two pieces are alike, and each seems to resemble a different mood or concept. While some might feel these tracks are experimental, I can tell deNeuve have done plenty of experimenting in their time, and by now their modus-operandi is time-tested and their methods are sound. Put simply, this is just what they do. To an extent, this is similar to Brian Eno's 'Music for Films' but filtered through the lens of The Residents. On each of the tracks there is plenty of repetition but certainly that is the point. It is not always done in the same manner, and they seem to strive to make it as interesting as possible. The flavor can range from alien/abrasive ("Four Bouncers in the Alley"), to strangely eerie and foreboding ("Red Kiloherz"), to weirdly bizarre ("Gorky Toys"), to hallucinatory jogging ("Very Happy"), to bad band night at the Haunt ("Cheap Artists"). Okay, well the last one is sort of an "in joke," but you get the drift. Those cinephonic voices samples used in these pieces were never meant to be understood in their original context here, and are usually manipulated sonically well beyond comprehension anyway. They're just another element of the track they are incorporated into. While not every track is a fun-filled phantasmagoria (some are creepy to the point of perhaps being evil), this may be as "pop" as deNeuve ever gets. Six of the track off this album are remixes of the LP by the same name deNeuve released last year making it a fresh product from the original LP. Playfully industrial, and definitely worth a listen or three.


Experimental / Avantgarde / Weird & Wired / Glitch / Noise / Field Recording
Edit (10534)
Artist:
dormir dans la chambre froide ?
Title:
Taboulet Razzia
Format:
3" MiniCD
Label:
Inner Demons Records
Rated:
The band describes themselves as psychedelic / no wave, and their biography states, "Oublie tout. Ce sera mieux que de tout oublier," which Google Translate tells me means "Forget everything. It will be better than forgetting everything." So let's get into this and see how this translates into sound. If the description was supposed to set us up for weird, I was a bit unprepared for the level of weirdness I was about to encounter. "Le Monde A Grandi" opens the disc with a slow moving, grooving track. Slightly distorted spoken word (in French?) permeates the track, as the bassline is punctuated by analog sci-fi bleeps and squalls. "Rewind Me" keeps the weirdness coming with more of that analogue goodness with a heavy dose of reverb for good measure. It sounds like they decided to sample an old 8-bit video game soundtrack and reconstruct it in new and different ways through a circuit bent Casio synth. And, of course, there is the obligatory cassette rewinding sounds in the middle. Overall, this is a lot of fun, and fun is sometimes in short supply in the experimental scene. All I can tell you is that I had a smile on my face listening to this, and I suspect that they put on a great show. The closest comparison that I could come up with here is The Residents. I totally didn't expect to find something like this among the Inner Demons roster, but that is certainly not a bad thing. For a good time, pick this up. This album weighs in at around 19 minutes and is limited to 42 copies.
Experimental / Avantgarde / Weird & Wired / Glitch / Noise / Field Recording
Edit (10531)
Artist:
prd
(@)
Title:
LEGO Amy Hair
Format:
3" MiniCD
Label:
Inner Demons Records
Rated:
prd is the work of Oakland based Dave Oleksy, who describes this as "'Music' project dedicated to live studio recordings with no overdubs in the noise and dark ambient traditions." The liner notes explain that this was recorded live in studio with no overdubs, so let's see what happened. This album consists of one 18-minute track, entitled "LEGO Amy Hair," which opens with a quiet drone punctuated by evenly spaced tones. This soon gives way to drone with just a hint of dissonance. This then shifts to deep rumbling soundscape with hints of noise emerging from the dense fog of drone. Overall, this was excellent soundscape that would be right at home alongside bands like Terra Sancta and Yen Pox. If you like your dark ambient with a jagged edge to it, this is definitely one to pick up. This disc is limited to 42 copies.
Experimental / Avantgarde / Weird & Wired / Glitch / Noise / Field Recording
Edit (10526)
Artist:
Narishkeit
Title:
s/t
Format:
3" MiniCD
Label:
Inner Demons Records
Rated:
I had heard Narishkeit when they submitted a track to this past year's Zaftig Research holiday compilation entitled "Fonduen in een Bioscoop." Other than that exposure, I was unfamiliar with this project, so I was interested to see what a longer release would be like (as sometimes people can do drastically different kinds of work for compilation tracks). "Dr. Sylvia" opens this up with a scraping metal sounds buried under a wall of noisy drone. Hints of voice peek through the noise and become more pronounced as the track progresses. Still, you cannot make out the words that the man is yelling, but you get the sense that this is some kind of political rally, as the noise shifts to have a marching feel. "Worn Out And Washed Up" shifts things considerably, with piercing tones that sweep across an octave and back. This evolves over time, with buzzing drones and warbling tones keeping the whole thing moving. As with the other track, we hear a man speaking towards the end, but cannot make out what he is saying. In each, the voice seems to be just another sound in the composition, and functions more as atmosphere. Well done. This disc weighs in at around 17 minutes.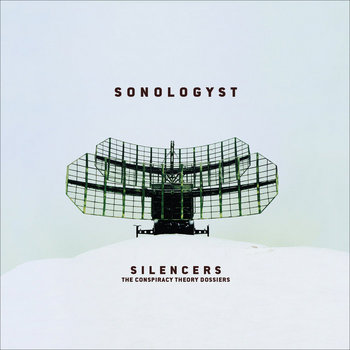 Artist:
Sonologyst
(@)
Title:
Silencers
Format:
CD
Label:
Cold Spring
(@)
Rated:
This new release by Raffaele Pezzella is introduced by the long story of the booklet which informs the listener of the story of the so called "Men in Black". As the underlying theme, the alien invasion, is a canonical topic of sci-fi even today, there's a risk of déjà-vu in the overall project and this is overtaken with recurring structures along the tracks so there's a sense of a concept album which is usually absent in the genre today.
The drone and the loop that are the main elements of "Singularity", the quiet track that opens this release, introduce the listener into an audio space vaguely reminiscent of certain sci-fi atmospheres. A pulsating noise is the glue that tie together the elements of "Monotape" so the transition from drone to noise has a narrative while "Nocturnal Anomalies" begins to have a more structured approach instead of relying on the nuances of sound. "Deep Black Programs" is a guitar, processed to sound like a synth, interlude to "Silencers" whose juxtaposition of drone and loops create an evocative atmosphere which is menacing and quiet while "Close Circuit" with his use of processed string is more oriented towards drama. "Anamorfismo" is a slow but implacable crescendo while "Infrared" with his use of oscillators is a link to the tradition of this sound. With his use of voice declared in the title, "Secret Societies. The Kennedy Speech", is the more stratified and interesting track of this release. "NASA Classified Tapes" closes this release as a coda of the previous track.
The main quality of this release is the use of sound as a function of the message and the imaginary evoked in the booklet of this release. Instead of a relentless research of a cool sound or a sonic special effects, this is a tale. Recommended for fans of the genre.