Artist:
Gunnar Lettow & Korhan Erel
Title:
Bad Falling Bostel
Format:
CD
Label:
Creative Sources
(@)
Rated:
I got attracted by the name of this aged output within the huge pile of releases from Portuguese label Creative Sources before discovering the German guys behind its named it after the name of a small village between Hamburg and Hannover in Lower Saxony, Germany, they usually visit twice a year. What is more, Gunnar Lettow (prepared bass guitar, electronics, found objects) and Kohran Erel (computer, controllers) decided to title each of the twelve bizarre tracks they included in this output by likewise odd names of districts and almost unknown towns all over Germany - I could wonder in discovering the name of the inhabitants of cities/villages such as Dickfeitzen, Zacking, Grilling or Salderatzen! -. Their style, as you can easily guess, is experimental, as they mainly combine sets of microsounds, percussions, little electronic sounds and hits on many different objects that could easily tickle your imagination. For instance, I finally found a possible soundtrack for those educational posters I saw in many studios of dentists to explain the importance of brushing teeth every day, where grinning microbes set their building site to demolish molars while listening to tracks like "Heirengen" or "Urschalling". I could even match stuff like "Zacking" or Middefeitz" to the amplified noises of the digestive system of a woodworm after a bleeding bellyful of furniture! Check these funny experiments out to understand what I mean!
The series of anthologies, which followed the seven volumes of "An Anthology of Noise and Electronic Music" (released between 2000 and 2012) and the subsequent "Early Electronic" collection (focusing on tracks composed between the 50ies and the 80ies), keeps on expanding over the geographical ones. Following the surprising Anthology of Chinese Experimental Music, the title of this new one about Turkish electronic and experimental scene could be a little bit confusing as the only aged track is the opening one of the first cd, but the importance of its author go beyond Turkish boundaries. Such a temporal gap could be mainly explained by the fact that the interest in electronic music arrived relatively late in Turkey, thanks to the academic teachings by composers, who got in touch with electronic devices out of their native country and Bülent Arel, the composer of the above-mentioned "Postlude From Music For A Sacred Service" (1961), was one of those eminent expats. In reality, he just received many mouthwatering proposals from foreign countries, including the one by the Rockefeller Foundation, which invited him to join the Columbia-Princeton Electronic Music Center, and Yale University, where he projected and installed its electronic music laboratory and taught from 1961 to 1970, before being recognized as one of the most brilliant innovators of looping techniques. Another key figure of this almost unknown 'exotic' scene, lhan Mimarolu, the son of the notorious architect Mimar Kemaleddin Bey (a famous face on 20 Turkish lira banknote), moved to the USA after a Rockefeller Scholarship and studied at the Columbia-Princeton Electronic Music Center as well, under Vladimir Ussachevsky; his contribution to music, in general, is also related to his record label, Finnadar Records, his precious contribution to the OST of Fellini's "Satyricon" and his role in the release of "Changes One" and "Changes Two" by Charles Mingus and its experience in the field of soundtrack and contemporary classical music is evident on the evocative track that got included in this compilation "Prelude No.17 [Istanbul Fog]". The boom of electronic music occurred later both within academies and universities (Cenk Ergün, Koray Tahiroglu, Mehmet Can Özer) and the noise-oriented avantgarde (Mete Sezgin, Nilüfer Ormanl, Utku Tavil), but the Turkish experimental scene is more complex and opulent than many could imagine. This anthology, compiled by Batur Sönmez and Erdem Helvacioglu and split into two CDs, tries to embrace such a complexity and multifaceted scene. CD1 includes more 'academic' stuff that often get close to serialism and concrete musique, while the second covers a wide range of ambient music, samplers, and even stuff with references to political issues such as the impressive "Democracy Lessons" by Asaf Zeki Yuksel, the gorgeous abstract glitch ambient of "The Monopoly Of Victim Status" and the traditional folk-spotted "I Want To Be A Suicide Bomber" by Sifir, but I'm pretty sure that many listeners will get impressed by the broad stylistic range of this selection and the quality of these mostly unknown (to the masses) Turkish forward-looking musicians.
Experimental / Avantgarde / Weird & Wired / Glitch / Noise / Field Recording
Edit (9188)
An existentialist listen in an increasingly existential world, Russia-based Umpio's meditative Opium Electronix Vol IV edition renders the meaning of life, meaningless. A cursory visit to the Umpio website proclaims, "There's no scene like no scene!", now how existential is that? Or let us take the project name, Umpio, which means 'Vacuum' in Finnish, we are constantly directed to The Emptiness. Listening to this album is probably what being a part of the SETI Institute must be like, scanning the vast, endless heavens for an echo of a signal from some sentient civilization. Sure, you get the odd, random burst of radiation fluctuations, the flutter from a distant quasar, or probe signals bouncing off natural satellites. However, if you listen to deep space ambience long enough , you eventually get struck with the realization that whether there are other sentient beings or not is moot, we are all pulsing along with the Universe in unison, regardless of cognizance, a blip in the infinite. Opium Electronix IV is a live recording (in Finland) of a noise session by Pentti Dassum, the front man behind Umpio, culled from improvised feedback noise, electrical contacts, radio static, and tape loops, among other equipment. The results straddle the line between noise and ambient and what at first listen seems like empty static yields microcosms of life during deeper listens. These noises ebb and flow like tides against a cosmic shore with chirps and hums not different from crickets and other insects on a beach at night. A case where art unwittingly reflects nature, we are all a part of the void and the void is within us. A not unpleasant listen that facilitates meditative thought and deep insights.
Experimental / Avantgarde / Weird & Wired / Glitch / Noise / Field Recording
Edit (9183)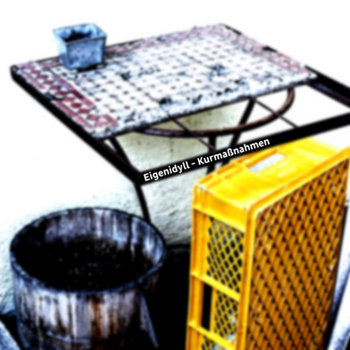 Artist:
Eigenidyll
Title:
Kurmaßnahmen
Format:
CD
Label:
attenuation circuit
(@)
Rated:
Eigenidyll is the project by Tobias Schmitt and Sascha Stadlmeier using guitar as sound source. As the guitar is heavily processed, it's not a virtuoso duo but the result is something closer to EAI as it try to let the guitar escape the cliché of rock to create an aural landscape where the listener has to find some sounds instead of having all notes fight to impose themselves.
The track start quietly as an interplay between a sort of drone and some sparse guitar notes, then it starts to evolve into a dialogue between notes and noises upon a silence which let emerge every nuance of sound. This part is the central part of this release and result in a meditative framework owing sometimes to some reductionism an, sometimes to certain form of noise. The introduction of bass, played by Stadlmeier, is the start of the final part of this release which ends with a sort of guitar strumming, heavily processed, sounding almost as a percussion as his metallic formant is exalted and it's ended by the sound of the bass.
It's not a ground breaking release as it rework an already codified language but it tries to escape the obvious trap of it i.e., boredom. For all fans of EAI it's something truly enjoyable and for the other could be an exercise for listening.
Experimental / Avantgarde / Weird & Wired / Glitch / Noise / Field Recording
Edit (9181)
image not
available
anymore
Artist:
Giovanni Lami
(@)
Title:
Bias
Format:
CD
Label:
consumer waste
(@)
Rated:
Bias is something that could be called as "documentary release" as, instead of being a traditionally composed music, it's a sonic document of a physical artifact. The basic material of this release are tapes buried to alter their chemical composition so, in a certain perspective, were ruined or degraded. When the role of the tape is the recording a sonic source that has to be faithfully reproduced, how has to sound if tape is the source in itself? GIovanni Lami answers this question using tape players as projectors without a visible film.
The original recording of "KRR5" could be a gentle soundscape but it now a representation of bits of music buried upon hisses and noises and a vague background noise. "BHHH" became a deconstructed piece of music, "INZZ" a dark interlude based on a drone able to let the noises act the sudden noise of an horror film which alarm the listener. "PPK1" is a piece based on a sort of foreground noise above which there's the phantom of the recording. "PPK4" starts with a quiet background noise and ends with an high pitch noise. "PPK2" sounds almost as an avant dark ambient track as it's the clearer recording of this release. "LRR3" closes this release with a dialectic between quieter moments and noisier ones where the degradation of the tape is more evident.
An evidently courageous release where there's the search of a personal sound dealing with the concept of legacy and degradation as an inevitable aspect of time, and life. The audible result of this process questions how a culture based on progress could deal with his past and shows the paradox that the medium with the higher fidelity is perfect to reproduce noise as it was music. An excellent release and a work of art.