If you just focus on the supposed result on body and mind of music, you could label this older entry in Andreas Ubersetz'z imprint Klanggold, the last one I listened of a package sent by Andreas himself, could be quickly labeled as relaxing. A careful listener will notice how many interesting details this collaborative project by label owner and Gregor Quade barely camouflaged behind their seemingly placid sonic streams: most of the tracks seems to have been roughly live-recorded by external mics instead of typical recorders, as if they virtually tried to render the experience of improvisational sessions genuinely without regarding of possible sonic deburring as well as sneezes, coughs, cracking objects, sonic overpressures, outdoor pouring rain and other (supposedly unexpected) interferences. They gave preference to the imperfection of immediacy and unpredictability to the icy perfection of artificially clean recording techniques, and such a choice turned the smooth piano tones and the peaceful frequencies by Gregor, that got gently modified by Andreas, who also cared field recordings, strangely enchanting. Join them in their sonic garden!
Experimental / Avantgarde / Weird & Wired / Glitch / Noise / Field Recording
Edit (9274)
image not
available
anymore
Artist:
Godlesstate
Title:
Godlesstate
Format:
CD
Label:
Hagshadow
Rated:
I think that if I name to you Patrick Leagas, there's no need to explain his history... you know... Death In June, Sixth Comm, Mother Destruction, etc. Well, as far as we know, Patrick decided to close the Sixth Comm chapter with the "One Mans Hel" album (here reviewed time ago, so make a search on the reviews section) and now he's focusing on the new project called Godlesstate. With this one, he just released a self named CD on Hagshadow containing eleven new tracks.. Influenced by his interest in archeology and social/spiritual history of mankind, Patrick created something deeply connected to nature. Frequently he takes his bike and travels through England just to stop into places that he feels connected to and, there, he passes some time to take inspiration. Because of this process, I see him like a shaman which is creating his own way to talk to gods and tracks like "Cedar Forest" or the following "Enkidu's Wildness" are the proof that he's good into that, because they have an hypnotic effect on me. Most of the track are based on many percussive sounds with layers of electronic effects, blow instruments and chants. "Ice Voyage", instead, is a track on its own, because it's based on orchestral sounds, natural sounds, spoken word and it's really taking you somewhere else. If I should picture it, it's like looking to the ocean from a cliff. Also "Doggerland", is another track where orchestrations are mixed with synth frequencies and it's really breathtaking with its ten minutes of length where a apparent calm is taking you to a journey through time. You know, after listening to "Godlesstate" for the third time, I'm finding myself writing sparse sentences because I'm really into the sounds and into the atmospheres created and this is what music should provoke: a total absorption.
Experimental / Avantgarde / Weird & Wired / Glitch / Noise / Field Recording
Edit (9269)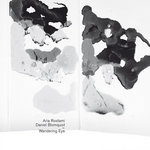 Artist:
Aria Rostami & Daniel Blomquist
(@)
Title:
Wandering Eye
Format:
CD
Label:
Glacial Movements
(@)
Rated:
This new release from Glacial Movement is the result of the collaboration between Aria Rostami and Daniel Blomquist whose working process lasted over a year and a half. The various sound materials which were created using sources as samples, filed recordings, piano and synthesizer were sometimes played live and sometimes constructed sending files back and forth. The result is something between ambient and certain modern classical, as sometimes they try to develop proper melodies rather than rely on the impact of a predictable structure for crafted sounds, and takes song titles by a paper which highlights the best places to observe space with sharpness and clarity.
The first track, "Dome A 80.37° S 77.53° E 4083m", juxtaposes a gentle melodic synth line and crackles from, perhaps, field recordings so the result balances the quietness of the sound with the movement of the noises. The first part of "Dome C 75.06° S 123.23° E 3233m" relies on old recordings of piano to generate a sense of displacement on the first part while in the second part relies on rarefied drones. "Dome F 77.19° S 39.42° E 3810m" tries some distorted sounds, probably guitar sounds, prior to return to quiet and clear soundscapes. "Ridge B ~76° S ~94.75° E ~3750m" starts with subtle windy sounds upon sparse note and seems to develop in a noisy track until they decide to act with subtractions instead of additions. "Dome B 79.0° S 93.6° E 3809m" is a gentle ambient watercolor until a background noise emerges to end the track in a dissolving silence. The first part of "Ridge A 81.5° S 73.5° E 4053m" is based on detuned samples whose small noises generate a sense of distance interrupted by the emergence of field recordings.
Quite impressive in the aspect of sound craft, it's able to give the impression to recreate the place where it was composed. Pure cinema for the ears.
Experimental / Avantgarde / Weird & Wired / Glitch / Noise / Field Recording
Edit (9262)
Artist:
Fe
(@)
Title:
Sucker Mule's Dreadful Murder
Format:
12"
Label:
Suitcase AudioVisual
(@)
Rated:
Fe-male Fou is Italian artist Filomena Rubino, formerly of Rome, Italy, now relocated to Atlanta, Georgia. She began this project in 2013, and the music is dissonant atonal avant garde guitar and voice using ambient drones, lo-fi melodies, and likely lots of electronic processing. Previously she's had a string of CDr releases and cassettes, but this limited (to 300) vinyl release might be construed as Fe-male Fou's first official release. Once you get past the abrasive "nails on a chalkboard" opener "Pagan Revelry," the songs on the A-side of this album are a strange mix of improvised sing-song psychedelia with Velvet Underground drones and Alice down the rabbit hole vocals. It's a nightmare vision that penetrates deep into your psyche, far more frightening than any horror flick you may have seen recently. Fe-male Fou's guitar style is rudimentary but twisted into some gordian knot for which there is no solution. The more you listen to it, the more intriguing it becomes. I shudder to think what this might sound like on hallucinogenics.

While side the A-side is kind of a no-wave extravaganza, the B-side is far more industrial and noise-oriented. In some ways it is reminiscent of Lou Reed's 'Metal Machine Music,' or parts of it anyway. Rubino's looping techniques are an essential component to the compositions on this side, especially "Slaughterhouse Overdose," and the lo-fi methods of achieving Fe-male Fou's sound produces results that probably couldn't have been done any other way. Rubino's voice, where used on this side seems to blend in as an instrument, perhaps more for effect than anything else. For industrial noise, these pieces aren't quite as abrasive as you might think, and become an ambient sound sculpture that sounds cohesive and powerful in its own right. Sometimes lurching, sometimes slithering and oozing, it's like a demonic train headed for an unspeakable destination. I found that listening to it from a distance (in another room) actually seemd to enhance the audial experience rather than confronting it head on.

Because of its diversity, unusual nature, and released on limited vinyl, I do believe Fe-male Fou's 'Sucker Mule's Dreadful Murder' is destined to become a collector's item. If this intrigues you, you better hurry up and purchase a copy before they're all gone.
Experimental / Avantgarde / Weird & Wired / Glitch / Noise / Field Recording
Edit (9258)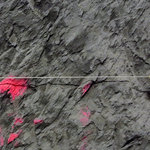 Artist:
Stefano De Ponti
(@)
Title:
Calce
Format:
CD
Label:
Kohlhaas
(@)
Rated:
The title of this project, the italian term for lime, reminds of the building material that is obtained by a relatively long process in which various materials are used. So, this releases is made by two distinct elements a book made by Nina Haab where black and white pictures, color images of stones and texts remind of a period when the extraction of limestone, the primary element for lime, was a source of income as well as related with a tough life. The same elements are used in the audio part made by Stefano De Ponti.
The material's noise that is the base of "le premier son qui vient", the first track of this release, is the background of a complex track where various samples are used to generate a tension between sounds from a time which was and the noises, so it mirrors the structure of the book in some way. While the beat in the first part of "il ronzio degli insetti" remind to the extraction's work, the final voice of the track with the words "scream" and "whisper" announce the final part of the track whose complex sinewaves introduce "K'AN / airy abysmal" whose second part is focused on the words "stay at the peak of the jam if you wanna see" ("stay at the top of the cliff, if you wanna see" is one of the topic of the book) screamed upon a soundscape of great impact resolved in a sort of jazz session. "Spoken stones" is a long track developed upon sounds of stones, a sort of slowly moving drone and sparse samples in the first part while the second is focused on a suspended atmosphere generated by the tones which was in the background in the first part. "HSÜ / haunt of waiting and nourishment" closes this release as a song, for a bunch of seconds, interrupted by stone's samples in a quiet silence until a string quartet seems to close this release only to leave space to a final stone's sound.
It's not usual to write about a release whose visual and audio part are so intertwined but with a meaning dealed with separately. The continuos correspondences between the two works create layers of meanings that have to be discovered with a committed approach of contemplation. Absolutely essential.