Once upon a time, the weirdly glorious cassette was almost a fetish for teenagers, and we could say that a similar importantly cohesive significance had some toy keyboards and first computers, which became a sort of medium of any kind of physical and mental disease in a rising capitalist greed society. Whether you consider such objects as shuttles for spiritual journeys or carriers of youngish escapism, many interesting stylistic languages got developed on the more or less hot ashes of punk and electronic music. One of the most unusual and less known ones emerged in the shadows of improvised cassette label and "nursery" of West Germany besides punk and krautrock by the inelegant fancy of really young rudimentary sound artists. This precious document belongs to that historical moment in the 80ies, when wave and industrial begin to meet synths in the rooms of well-fed and particularly skilled boys. You maybe won't imagine that the source of this 80-minutes lasting tape is the collection of formerly unreleased experiments on shoddy Casio synths, drum machines and synth emulators by many youngsters (mainly aged between 9 and 15...you will recognize their age by the teeny voices you're going to listen) that Grotesk, the tape label that Felix Kubin and his brother Max founded in their parents' house in Bergedorf when they were their mindless years as children of a supposedly opulent West Germany on Chromedioxid II 60 BASF cassettes. Considering their limited tools, you won't believe how cheeky babies - many reviewers labelled the scene as "Kinderbandszene" -, who named their neurotic and really bizarre experiments in likewise odd ways such as x2 - they signed some of the most incredible tracks of this collection, including astonishing intersections with "mature" classical music...tracks like "Bach", "Klavierstuck", "Gesang Badadam" are really excellent -, Intensive Styroporsymbole, Universalanschluss, Die Egozentrischen 2 - featuring a baffling stridency between the acerbic roughness of 8bit and electrocrappy sounds and the intrinsic meaning of their content - could have done...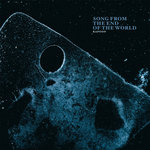 Artist:
Rapoon
(@)
Title:
Song from the end of the world
Format:
CD
Label:
Glacial Movements
(@)
Rated:
This new release from Robin Storey, known as Rapoon, is based upon an experiment to revive a mega-virus dormant for 30,000 years that French scientists discovered in the permafrost of the Russian Arctic. As this experiments awaken the fear that dangerous viruses could be dormant in Permafrosts and could be released as an effect of climate change, the starting point of this release sounds as an almost perfect subject inserted in the imaginary of Glacial Movements.
Under an atmospheric soundscape, the piano loop of "We travelled in waves" opens this release setting the sad mood of a voyage towards the unknown signed by the bell samples; the loop evolves in a second part developed around whistles and hums which are resolved by the return of the loop. "A listening ice" juxtaposes hums and drones to create a menacing soundscape. With "A sky beckons down" the album start to traverse dark ambient territories while "Call of tongues" is a vocal interlude to "A prophecy lies under" which juxtaposes drones and samples until a dulcimer recalls memories of the well known Storey's past; so "Call of deliverance" is an hypnotic track based on loops while "An answer in ice" is almost abstract with his construction based on noises. "Ancestors talk in lands of darkness" is a synth melody upon an evolving noise in the background. "The sky dances in green" starts as a field recording track of a snowfall that acts as a background to the returns of samples from the previous tracks modified to generate a track that gives the creeps for an adverse profecy.
The subject of this release is developed in such a way that let astonished as Robin Storey seems able to develop again a truly evocative musical output and sound again fresh after decades of releases which established a genre. Another great release from a real craftsman.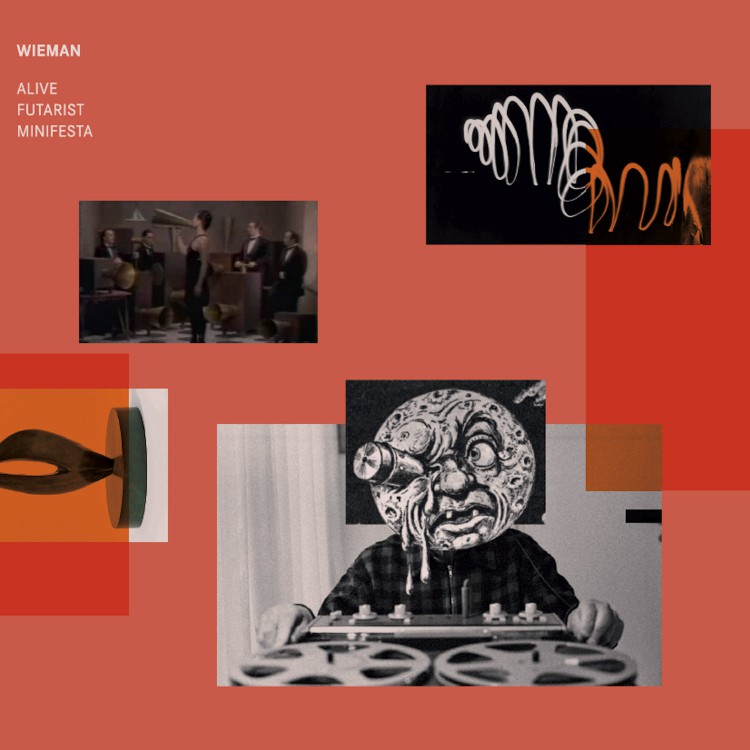 Artist:
Wieman
(@)
Title:
Alive Futarist Minifesta
Format:
CD
Label:
attenuation circuit
(@)
Rated:
This release starts from a performance in Tilburg to celebrate the 100th anniversary of 'Futurism' and, for this effort, the duo of Roel Meelkop & Frans de Waard was joined by Jos Smolders. From a musical perspective, Wieman sounds as a logical continuation of the path taken by Goem but, while this project was almost rigorous in their form, this release is seeking ways to sneak off from rigid structures with detours to other paths and "épater l'auditeur".
The sound of an airplane, under a pounding beat, opens this release and set the musical tone at the crossroad of futurist's fetishes and, obviously, noises. The second part of the track is a sort of dance interlude centered upon Smolders synth where a spoken work recording, mostly taken from 2001: a space odyssey, adds that sense of estrangement which is the character of last century's avant-garde. The third part is closer to the classic Goem form as it completely centered upon minimal beats and sparse noises that suddenly takes the foreground for an harsh interlude featuring in the background war sirens as a probable reference to upcoming war. Almost unexpectedly a meditative fourth part starts as a sort of danceable (?) interlude to an atmospheric part acting as a bridge to the closing noises that ends the piece.
It's another work that confirms the even creative status of this artists which continue to seek new ways to expand their now codified language. A remarkable work of art.
Artist:
Andrew Reddy
(@)
Title:
Spitting broken teeth and mistranslations
Format:
Download Only (MP3 + Lossless)
Label:
self-released
Rated:
Andrew Reddy the creator of this work describes this as an album of amorphous noisescape tracks and cacophonous minimalist drones. It is hard to argue with this, the listener is bombarded by an onslaught of manipulated electronic and guitar sounds dominated by fuzzy interference, harsh scraping, crackling and buzzing with the odd field sample thrown in for good measure. Some tracks veer to dark ambient and are more immediate and compelling allowing faint glimmers of reflection, but in the main the the overriding ethos is less dynamic, bleak and suffocating. However, a highly stylised and scientific approach is evident in the crafting of these cold, harsh sounds. The track " precession" is apparently created from a system of examining molecular structure using their resonant frequencies, in this case Hydrogen. Strangely enough this track portrays a more cavernous and eerie atmosphere more reminiscent of deep space ambient with its ominous tones and distant crackling emerging from its blackness. The overall sound is not an easy listen, this was never the objective, it's more suited to dedicated noise fanatics who could enjoy dissecting the various dissonant elements. In a more poetic sense however it could be the soundtrack to an ongoing fundamental, chemical process or experiment where random elementary particles scream, burn, explode and die.
Artist:
France Jobin
(@)
Title:
Singulum
Format:
CD
Label:
Line
(@)
Rated:
Electronic music composers get portrayed or portray themselves as icy mannequins, ataractic or ghostly entities or robotic hybrids. Even if there's always a reason of similar (self)portraits and more or less aware representations, a certain humanity could look like a disrupting element of such a cliche, particularly when the technical canon seems coherent to a desired idea of excellence. When Montreal-based minimalist composer and sound artist France Jobin will gradually make her way into your eardrums, she doesn't opt for brute attacks or epic introduction, but she lets a glimmering breathe of piano tones and light electronic buzzes peep out by a strategy that you'll be tempted to label as shy. But such a shyness got matched to a grace, that is going to magnetically attract towards her surprisingly interesting sonic world, where sonic particles gently flow till the moment they sound like sparkling a significant process in a rarefied environment. France's way to organize these fascinating sonic particles seems to have been inspired by quantum physics: in her own words, "quantum physics inspires me to draw a parallel between the fundamental building blocks of physics, sounds and music. I put field recordings through a series of editing and manipulation processes which result in very different sounds from their origins. These manipulations affect time, timbre, harmonics and the essence of each sound, whereas composition influences how they relate to each other.". I don't really know how these scientific matters influenced her sound, but I'm pretty sure that she managed to find a path by which minimal electronic music can gracefully sound even more immersive than over-stuffed sonic outputs.