Experimental / Avantgarde / Weird & Wired / Glitch / Noise / Field Recording
Edit (9349)
image not
available
anymore
Artist:
Column One
(@)
Title:
Boiling Pool
Format:
12"
Label:
90% Wasser
(@)
Rated:
As stated in the liner notes, this new release from Column One "consists of 953 fragments, 722 situations, 952 interruptions & countless sources, intensions & beings" and, while it's not completely original the idea of underline the modular nature of writing, this historic collective takes the concept on a new level. Instead of doing a condensed version of their discography, they create an entire new opus with a sort of self-plunderphonia or a new joke for the listener.
The first side of this release, "Pooling", is a frenetic cut-up where voices are used to unify samples of drums, saxophones, field recording and quiet moments with long fragments relaxes the rapid succession of sources, mostly resulting in a deliberate mockery of the expectation of the listener and are even able to laugh it off. The second side, "Boiling", is instead more experimental and results in a sort of reflection on the nature of juxtaposition as they tied parts where they explore meditative moments with drones and resonance with parts of impressive movement.
When phrases as "so we need to do another soundcheck with you again" recur on both sides of this vinyl and mark precise moments in the development of this release, the Burroughs' quote assumes a precise meaning for this release. Compressing elements from a time period of 45 years is a result of a concern about writing and time: something that was discarded years ago, it's suitable to the musical content now and therefore what is written is not separable from when it's done as what's used is tied to what's said. When a record is able to raise this questions, there's only one critical judgement: masterpiece.
Artist:
The International Nothing (...and something)
(@)
Title:
The Power Of Negative Thinking
Format:
CD
Label:
Monotype
(@)
Rated:
Flaubert dreamt of writing a book about nothing, the Berlin-based clarinet players Kai Fagaschinki and Michael Thieke managed to create a band referring to the idea that charmed the mind of the French writer. Kai and Micheal overreached this idea: they've given a sort of global dimension by calling their collaborative project, involving the precious contributions by bass player Christian Weber and drummer Eric Schaefer, 'The International Nothing (...and something)'. By means of the persuasive power of the language, they even coined an unusual title for this release, possibly subverting the dogma of contemporary sentimental education (please excuse this further quotation), according to which the so-called negative thinking is something that must be condemned and combated by any possible expensive means by a flimflam psychotherapist. Besides any possible matching, "The Power Of Negative Thinking" features seven bizarre sessions, where the sound of clarinet, together with crooked stressing by bass and drum, looking like belonging to a dark-jazz ensemble in slow-motion, portrays sinister and somehow deviant soundscapes in between melting elongations on single tones, gently sneaking grooves, bipolar microtonal clarinet beatings, softened hits and other helpful tricks that succeed in rendering a mysterious atmosphere, reaching its acme in the almost disturbing choked crescendo of "Long Bow Glowing", the hypnotic minimalism of "What You Need To Know About Drowning" and the thin and almost lulling dissonance spurting in tracks like "The Golden Age Of Miscommunication" and the final "Nothing's Gonna Last Forever".
Artist:
thisGREY Hates The Sun
(@)
Title:
s/t
Format:
CD
Label:
Final Muzik
(@)
Rated:
The first full length album by thisGrey Hates The Sun is a sonic journey wandering between noise and ambient where the author manages influences from various field of experimental music into an almost coherent view. This album is based upon two long track, the first and the last, and short tracks which explore elements from them so Giordano Rivolta, the mind behind the project, even if he uses mostly synth and guitar he doesn't rely on a single formula but achieves a reasonable level of variety.
The minimal pulse of "In" introduces the listener into a sonic framework where the author proceeds by accumulation creating a soundscape able to deflect the attention from the foreground to the background. "201.2b" is a short assault for samples and feedback. After the first part of "Broken", based on a noisy guitar, the track has an interlude based on silence and samples to return on the territories of the first part. "No Good Situation" is a minimal track based on drones and sinewaves while "From" use the same structure using noises. "The End Of The Labyrinth" is an apparently simple track based on sparse synth notes generating the sense of being played in a distant place. "Trying To Metabolize A Tragedy" is a slowly evolving track whose sonic nuances require attention. "There Is A Message Here" oscillates between quiet moments and noisier ones. "Austen" is an introduction to "Moments & Directions" whose guitar drones, with an heavy reverb,hypnotize the listener awakened by the solemn notes of "With Other Eyes".
An uneasy listening, even if it moves along almost familiar path, as some of the musical content is not rooted on sound but on how it sounds and so it requires a proper listening habit and a clear mind. It's really worth a bunch of listening until all details are discovered.
Artist:
Claire M Singer
(@)
Title:
Solas
Format:
2 x CD (double CD)
Label:
Touch
(@)
Rated:
Two facts - one exquisitely discographic and the other merely curricular - could inspire immediate associations while trying to describe how Scottish composer and audio-visual artist Claire M Singer is going to fill your eardrums. The appearance on the excellent Touch label catalogue could inspire a bridge with Phil Niblock's minimalism and her skills on church organ as well as the fact she works as Music Director of Union Chapel - the organ she played in three of the eight tracks on this release is the recently restored one built by Henry Willis in 1877 for the Chapel, described as a rare instrument "with a fully working original hydraulic blowing system, which can be used as an alternative to the electric blowers" on Union Chapel website - could inspire a likewise immediate matching to ecclesiastical music, which could surely have been a source of inspiration for the general halo of tracks like "Wrangham", one of the most entrancing organ-driven suite of this output, collecting tracks composed in a period of almost 15 years. There's one relevant - this time, directly biographical - fact missing in the list, as most of her minimal, devotional and luminous ('Solas' is a Gaelic word for 'light') tracks evoke the magical landscapes of her land and such a connection will supposedly be clearer soon, as Touch already announced the inclusion of her film A'Fàs Soilleir in the series Touchlight, where many scenes seem to have a strict relation to Scottish landscapes. In the meanwhile, try to fly over it and the soothing sounds by Claire over the slightly trembling choruses and the sumptuously mantling diluted tones of organ of the 25-minutes lasting "The Molendinar" - maybe the highest moment of the whole album, coming as a co-commissioned work by Union Chapel London and Glasgow-based art gallery Civic Room to musicalize the route of the Molendinar, a hidden burn upon which St Mungo founded the city of Glasgow in the sixth century -, the somehow pastoral warmth of the title-track "Solas" and the lovely "Eilean" or the blissfully entrancing electronics (originally recorded over 8 channels) of the bonus track "Aisir".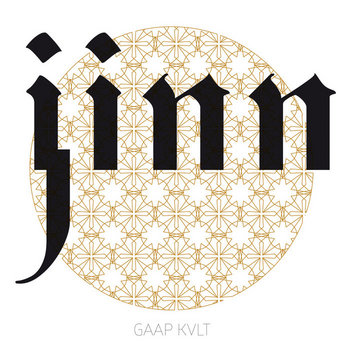 Artist:
Gaap Kvlt
Title:
Jinn
Format:
CD
Label:
Zoharum
(@)
Distributor:
Alchembria
Rated:
his release from Gaap Kvlt, a mysterious Polish project, is inspired by the climate of the Moroccan deserts, hot during the day, very cold at night and so it's a two faces release. One part of this release is based upon drones while the other is based upon beats so the listener oscillates between ambient moments and minimal techno ones and this characteristic blurs the sense of boring that often arises with release too focused on the canon of a particular genre.
The drone of "Prayer" opens this release slowly developing, with the insertion of the sample of an oriental prayer, into an evocative sonic meditation. "Abu Kamal" is, instead, a rhythmic track closer to some minimal techno using the aural space to generate a sense of immersion into an abstract space. "Bou Rattat" starts as an ambient track but slowly adds hypnotic elements as beats and loops. "Peninsula" is a soundscape slowly evolving into a drone track. "Prayer 8 (Death)" takes the elements of the first to track but in an almost industrial way creating a track of great impact. "Larache" returns into minimal techno territories while "Tangsir" plays with the disposition in space of the samples. "Ovidius" tries to be an evocative track using synth lines to obtain a cinematic effect. "Vient" closes this release with a quiet track which uses gentle layers of quiet drones until the return of the rhythm reminds to the north Africa inspiration of this work.
Wandering between ambient and techno with a great production, it's the typical release to be heard with headphones to enjoy the various subtleties of the music. It's really worth a listen.