Experimental / Avantgarde / Weird & Wired / Glitch / Noise / Field Recording
Edit (9316)
Artist:
Chvad SB
Title:
Phenomenalism, Cartesian Doubt and Bomb #20
Format:
Download Only (MP3 + Lossless)
Label:
Silber Records
(@)
Despite album artwork that seems to channel Heath Robinson, or Henrique Alvim Corrêa's HG Wells illustrations, sonically this experimental album is firmly routed in the 1950's, citing the 1956 soundtrack to "Forbidden Planet" as an influence and sounding very akin to early BBC Radiophonic Workshop pieces.

The single 73-minute piece is programmed, in the sense that it is generated by a series of rules and loops rather than in the more common sense of programming a synthesizer. It's difficult to spot these patterns though, and the 'lead' element strongly sounds like a human being noodling experimentally on an old analogue synth in a freeform jazz style. Despite apparently being entirely generated by patterns, recognisable musical patterns are difficult to spot in the output, to the extent that I'm not completely convinced that it was algorithmically generated; I could easily believe that somebody performed this live, but that's not to its detriment. The progression throughout is very subtle and slight, and again it feels more organic than mathematical.

There's an accompanying video "response", which encompasses the whole work and which may or may not be available online (it's unclear whether this will be made public). While the audio may have strong roots in the 1950's, the video belongs in the 1980's- cheesy kaleidoscope effects, strobing video feedback loops, plasma balls and Amiga-generated graphics combine to create a visual that reacts to, but fails to compliment, the audio. The video element is expendable.

The album however is a really listenable, extremely retro-facing experimental work and a marvellous way to chill out.
Experimental / Avantgarde / Weird & Wired / Glitch / Noise / Field Recording
Edit (9313)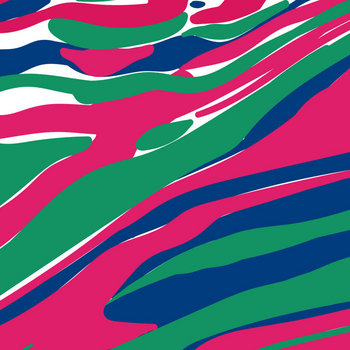 Artist:
WIDT
(@)
Title:
s/t
Format:
CD + DVD
Label:
Zoharum
(@)
Distributor:
Alchembria
Rated:
WIDT is an audiovisual project of two sisters, Antonina Nowacka and Bogumila Piotrowska, so the visual part of this release is not separable from the audio part. This work is based upon a fixed structure for both his parts: the audio track is based on voice upon an electronic background based on noises and synth while the video part is based on simple geometric figure and color manipulation. The result is as old fashioned as coherent as it's a way to construct an artistic experience with the minimum of the means.
The audio part of "Soma" based on the evocative processed voice of Antonina Nowacka is interpreted by Bogumila Piotrowska with abstract geometric movement originated by a central blue line. "Bogurodzica" is based upon modification of a blue screen almost synced with the transformation of the track when noises begin to interfere with the voice and (ir)regular shapes with the appearence of other colors. "Sole Thithu" is focused on modification of a circular figure obtained by his movement matching the audio structure based on the dialectic between the voice and the noisy accompaniment. "Bardo" is apparently using the same structure but with a rectangle and it's slower as it has to deal with a rhythmic track whose obscurity is broken when the voice appear and the screen begin to be noisier as the audio spectrum. "Bharpa" alternates minimalistic parts with a black background and a red point with moving colors so it's the background moving instead of the red point while the audio part moves from an ascetic minimalism to an hypnotic second part based on rhythmic noises and tones. The figure of a rhombus is the base of "Joleusa" an evocative tunes based on resonant tones and voice and, while the sound begin more stratified, the changes in the colors begin to blur the figure until it became no more identifiable. "Ailaja" features a triangle which appears and disappear while the audio track unfold as the voice takes the track from a pulsing quietness to a noisy stasis.
While reworking old artistic codes, it unfold the concern that it's not a release that aims to be ground breaking but an idea of art based on few element to be creatively used rather to impress the listener with void special effects. To be enjoyed without any expectation but with a clear mind. A radical release.
Experimental / Avantgarde / Weird & Wired / Glitch / Noise / Field Recording
Edit (9308)
Artist:
Jib Kidder
(@)
Title:
New Works for Realistic Mixer
Format:
12"
Label:
Care of Editions
(@)
Rated:
'New Works for Realistic Mixer' is artist Jib Kidder's (Sean Schuster-Craig) eighteenth release since 2006 not counting compilations, mixtapes, and other mixes, in a variety of formats including cassette, digital download, vinyl, CD and CD-R. This one is available on 12" vinyl or digital download, but my review copy is a CD-R, probably because it's too expensive for very small labels to send vinyl from a European country (Germany) although Jib is from the U.S., bouncing between California and New York, but I have no idea where he is now. Haven't heard any of his other stuff previously, but just for shits and giggles I checked a couple of his tracks on YouTube. They were along the indie avant-pop lines, songs with instruments, drums, vocals. Nothing like this at all. What this is, is no-input mixer sequenced with drum machine. What does it sound like? Well, electronics with drum machine is the simple answer. Forget the song format though, this ain't pop; this is electronic experimentalism. Nothing warm and fuzzy about it either and track titles like "01 VT2005058", "09 w1118 (isoCJ1)", "08 fmn;+", and "10 KC-gain" bear that out. The electronics are generally minimal and primitive, utilizing a lot of sample & hold and planned random noises. While the label and/or artist describes this as "an uncanny dance LP..." it is much closer to IDM, which I've rarely found to be danceable. Just about anyone can generate electronic sounds from a no-input mixer by following a YouTube tutorial (and having a mixer, of course), but it takes a bit of skill and practice to make something interesting out of it, and 'New Works' indicates that Kidder has put the time into it to make it interesting. That's not to say it's all-golden. The first few tracks are cute-but-clunky downtempo rhytmic IDM pieces that sound like an 80's arcade game soundtrack. Further on down the line ("08 fmn+") things get a bit more chaotic, and even head into experimental noise territory. Jib does come yup with some groovy looped sequences, as on "07 KC-abp", that could serve as a soundtrack segment in an indie sci-fi film. There is definitely a mechanical (or is that mechanized?) aspect to the music on 'New Works' partially due to the repetition, and also due to the sounds employed. There are surprises as well- was that a baby crying, a yowling cat, or just some creative electronic sound I heard on track 9, "02 PPL-ab" ? For the experimental electronics aficionado 'New Works for Realistic Mixer' is likely to be an engaging listen, but if your tastes are entrenched in more traditional formats, the creativity here is likely to be lost on you.

A note about the label- Berlin, Germany-based Care of Editions uses a negative-money format, using their profits from selling vinyl to pay people for downloading the same music. The amount one receives in dollars is equal to the download edition number. As records sell, more downloads become available. Interesting concept.
Artist:
Imaginary Forces
(@)
Title:
Visitation
Format:
12"
Label:
Fang Bomb
(@)
Rated:
Even if the genre has reached a level of saturation, there are still many impressive outputs in the highly contaminated basins of minimal techno, such as this nice one by Imaginary Forces, the brainchild of London-based Anthony J Hart, who isn't certainly a newcomer due to some notoriety he particularly gained in the underground scene of the British capital city by means of some good releases where he mainly threw drum 'n' bass, jungle or techno sonorities on the barbed wires of power electronics and noise. This record on Swedish label Fang Bomb could get tagged as minimal due to the fact he melts together not so many sounds and noises in each single track, but he did it by following many different strategies where the main glue of these elements got based on a series of subtly stunning and slowly thundering bass pulsations. They could be considered as appropriately thundering in the opening track "Preternatural," whose sound seems to render one of those epic scenes, where listeners could imagine like on the edge of a storm, fed by mysteriously destructive (imaginary) forces. Likewise roaring clangs ignite the hypnotical swirling, the dark trotting and the menacingly sneaking distorted brass of "Enlightenment", while these Imaginary Forces get closer to the abstract alien techno I heard by some artists on Sounds Never Seen, Rephlex and Plasmek on "Visitation" (the looped electrical strains over what could be to matched to the disquieting cries by an alien hymenopterans on this track are simply amazing) and to the deranged overclocking on some "old" experimental techno outputs by Electric Light, Rechenzentrum or Column One on the final (A Drift), whose crosses between convulsive ticking, ligneous and prettily numbing hits and alien frequencies perfectly fits to the lyrical content of the spoken words by Closed Circuits.
Experimental / Avantgarde / Weird & Wired / Glitch / Noise / Field Recording
Edit (9302)
Artist:
Slobodan Kajkut
Title:
Terrible Fake
Format:
12"
Label:
God Records
(@)
Rated:
According to the linear notes by the label, this output by Slobodan Kajkut - the brilliant man behind GOD Records - "explores rhythmic relationships between drums and piano in the context of the somewhat crippled art of trip-hop". Maybe tagging it as "trip-hop" could be deceitful, but this exploration is somehow trippy. The very first seconds could perhaps resemble the exercises on piano (played by Anton Polk) and drums (hit by Istok Klemen) of someone who never played them before with a vague (almost unexisting) sense of rhythm and melody, but the deeper you get into it, the more pleasantly unsettling us the listening experience he offered. The above-sketched element - the supposed musical illiteracy of the composer - could be the very first fake one of this release, as Slobodan studied composition with quite a renown Austrian music theorists and academic teachers such as Clemens GadenstÄtter, Gerd Kühr, and Georg Friedrich Haas. The most genuinely controversial aspect lays in the fact he artificially unmatched piano and drums, which are considered two "harmonizing" instruments in a composition (their presence could let a listener perceive even a bunch of nonsensical noises as something appropriately musical). Piano and drums got turned into two entities, whose sparse and disarticulated voices seem to mirror the lack of communication as well as their intimate isolation. By reprising the explanatory linear notes about the first of the two 20-minutes lasting part of this release: "[Terrible Fake] is mostly based on irregular beats to create kind of fragmented groove. Different characters are also emphasized through mostly chromatic movements of the piano in various registers, producing either undefined tonal system or droning wall of sound". The presence of compositional elements in the second part, titled "terrible Dub", are even more rarefied, as it "is nevertheless a "dub" version of the piece which minimizes Terrible Fake to its fundamentals regarding time and pitch, where both parameters are stretched. A slow movement based on the core of dub music itself, which are bass and drums...". The crippling sense of detachment, which oozes out of the first part, is remarkably stressed in this second half by every single rarefied percussive or tonal blip to the extent that a listener could be not so sure these resounding entities could be accurately labeled as tones or beats.