Artist:
Daniele Bogon
(@)
Title:
17 Encores
Format:
CD
Label:
New Model Label
(@)
Rated:
The perturbed pads and the rising dissonant electrical interference of the opening "Ex Nihilo" are the sparkling aural events of this interesting album by Padua-born sound artist and academically trained musician Daniele Bogon, named after the already published album "17" in the guise of Alley and including the 10 tracks of this first output plus five additional tracks. Some of Bogon's musical background composition is manifested over the whole album, as on the following "Piano Song #177" - aptly intimate piano melody, that sounds perfect to follow the maidenly intro -, the intimately touchingintertwine of an imperfect minimal piano (recorded through close-mic), pads and brass of "The Tide" or on "Opono No Piano", whose piano elongations - recalling a piano refrain on Sebastian Tellier's "Le Ritournelle" or some moments of oldest compositions of other minimalists like Max Richter or Arturo Stalteri - closes the first part of the album, the one that retraces the tracks of the above-mentioned original release. By the way, I'm pretty sure that what is going to hit listener's eardrums more prominently are Bogon's electronic artifacts since the blurred fragments of conversation and the evoked a vague sense of bewilderment of "Airport" (far away from the known Brian Eno's sound in spite of the dry piano melody could sound 'Enoesque') or the harsh electromechanical spasms of "Insectx" - something closest to that branch of techno known as rhythmic noise -. Some tracks in the second part for some mysterious reason are somehow faltering, but what really hits in Bogon's music is the dangerous riding on a wire between anxiety and a sort of artificial calm, that he often translates into a sort of unstable stylistic balance between electronic ambient and typical OST music ("Wolverine", "Batman is Bruce Wayne"), that often embraces unconventional strategies in many moments of the second (previously unreleased) part.
After meeting at an arts residency (in the canteen), Gregor Riddell and Adam Teixeira bonded over each of their field recordings, and for their debut album "Unda" much is made of the role fusing together these recordings plays in the 38-minute work. In practice, though, these field recordings are almost incidental textures or bookends at times. It's an acoustic set-up of cello and percussion that really forms the core of this album, performing fairly energetic and jazzy duo numbers that flow with an underlying sense of good feeling.

Tracks like "WP" are good examples of the breadth of tone, packing a series of different moods into a five minute show of musical virtuosity. "Partials" and "Svifa" also shine, wrapping up the album in a broody fashion. This is firmly a studio album, overdubs and layering allowing the players to accompany themselves and create arrangements that are both bigger and more polished-sounding than any 'true' live performance would allow.

The most intriguing contribution from the field recordings is when they are used as vocals. What sounds like (possibly) language learning vowel sounds form a kind of mantra in "Fem mønster", while "Choko" is a fun bit of chanting with varying levels of pitch and urgency. Less playfully, the male choir and extremely earnest spoken word tones of "Omaggio alla bellezza" very much has its serious face on.

Unfortunately this is one of those releases that doesn't quite live up to its hype, for me. There's a confident musical talent at play, for sure, and it's a duo clearly reading from the same page in musical metaphor terms, but there's something missing somehow in the innovation or inspiration stakes. If you're looking to be calmed rather than challenged though, your take may be very different.
Experimental / Avantgarde / Weird & Wired / Glitch / Noise / Field Recording
Edit (11073)
Okay, as soon as I saw the name(s) on the return address label on the package holding this CD, I knew there was going to be trouble. Squid/Bugs Crawling out of People doesn't exactly inspire good feelings and positive vibrations. Then again, most of what we review here at Chain D.L.K. doesn't come from happy bunny land, so while not totally bizarre, the name is a bit unusual for a record label. 'Endless Meaningless Unhelpful and Uncalled for Drivel' is a collaboration between it-clings (Squid) and Nerve War (Brandon Duncan). it-clings supplies the vocal rants, and Nerve War supplies the electronic sonics. That's pretty much it...oh...you were expecting some sort of review? Commentary? Evaluation? Pffft...well, if you really need one... it-clings' ranty agenda is fueled by angry, cynical sarcasm ranting about everything and nothing all at once, over the entirety of 10 tracks for a duration of 37 minutes. All the while Nerve War provides an unsteady stream of minimal industrial electronics and rhythms (synths and drum machine) which is fairly effective as accompaniment to these diatribes, but would be worthless alone. After a few minutes of this verbal onslaught you will probably thinking to yourself- "Is this guy fucking serious, or is this some sort of sick joke?" it-clings would likely answer affirmatively to both. Social/anti-social commentary as entertainment, and entertainment as social/anti-social commentary.

Sewn throughout it-clings rants are grains of truth as well as a big heaping helping of bullshit. One particular passage on the track "Other People" goes "...they're always greeting people, wishing people well and good times ahead; their rotten blank lives of smeared shit-stained irrelevance...and how are you? and how are you? and how are you? Everyone wants to know how everyone is, but everyone just wants confirmation that everything and everyone shares their same meaningless bland upbeat contentment. Everyone is good. We're fine. Everyone hides cringing behind this shallow lie of mild satisfaction..." Ain't that the truth, or something like it. There are no 'sacred cows' in it-clings world; neither the good, the bad, nor the ugly are spared. Fans of it-clings are scourged as mercilessly as the people, places and things it-clings hates, and even it-clings himself is beaten-up in the process, with an unhealthy does of self-deprecation and self-loathing upon occasion. To a certain extent it-clings exhibits all the charm of an insult-clown at a carnival dunk tank booth, and might be really good at it too, but it seems unlikely that Squid could muster up the enthusiasm or reliability for such an undertaking. There is nothing new about this kind of nihilistic verbal tirade and it-clings admits it as well. (This is actually it-clings third album release, and he's had upteen guest appearances on the projects of others. Brandon Duncan has about 14 releases himself under various project names.) In fact, this country has a pretty nasty ranter-in-chief in that big White House, and although his spiel is markedly different from what we have here, it still, goes on and on and on every single fucking day of the year.

So I suppose we're in the age of rants, or rantz of you prefer, and it makes perfect sense that somebody, somewhere (Toronto, Canada, if you're interested) had to put something like this out. Also, it happens to be in all formats - Vinyl, CD, tape and digital, which I think is fairly surprising. I also know people who would absolutely LOVE THIS, being largely misanthropic and always looking for those who share their world view of contempt and loathing. For me, it's a little much, unless I'm having a really, really bad day, and truth be told, I'm trying to get away from wallowing in that sort of thing.

I'm not going to give this any kind of star (*) rating not because I don't like it, or think it doesn't have merit, or whatever, but just because I don't think you can put a value judgement on this. It is what it is, so to speak. The time and effort I've spent describing it is all the validation it really needs anyway. The interesting and amusing artwork is by Steph Dumais and the album was mastered by Famine, a highly capable and eclectic electronic music produced whose work I've reviewed here in the past. One thing further though- I strongly recommend you visit the Bugs Crawling out of People website. There you will find about 30 releases (including books) you can read about and audition (the audio ones, anyway), including these guys and Famine. It's worth the time spent, and gets my vote for the best fringe music site award of the year, if there ever was such an award given.

Artist:
Ale Hop
Title:
Apophenia
Format:
12" vinyl + Download
Label:
Buh Records
Across the 33 minutes of "Apophenia", Peruvian-born but Germany-based artist Ale Hop offers up an interpretation of her memories and impressions of Peru. It's presented as a landscape, but constructed from a diverse set of sonic sources- heavily processed or miniscule field recordings, electronic glitches, sombre stretched guitar tones, and gritty textures create landscapes that, like the artwork, are portraits thick with emotive interpretation rather than anything literal.

Across eight tracks, there's a broad range of approaches. Some are predominantly ambient, such as the thick claustrophobic texture of the title track, or drone-based like the brooding "Onomatopoeia". "El beso" adopts a subtle rhythm pattern to give a soft temporary backbone, that contrasts against the thick lo-fi drum rumbles of "Marches". The plucky guitar sounds of "Punales" make it sound positively folky.

Longest track "Lima" is the most complex, a self-contained seven minute minidrama that starts off with soporific, melodic calm and gradually builds through tension into a warlike percussive barrage. My interpretation of its meaning isn't subtle or complex, but emotionally these tracks certainly carry some deliberate weight.

Overall I would suggest that this sounds more like an interpretation of Berlin than it does like Peru, not least thanks to the English-language, German-accented spoken word elements in tracks like "Side Effects", and the prevalence of glitchy electronica and some borderline EDM elements.
Experimental / Avantgarde / Weird & Wired / Glitch / Noise / Field Recording
Edit (11062)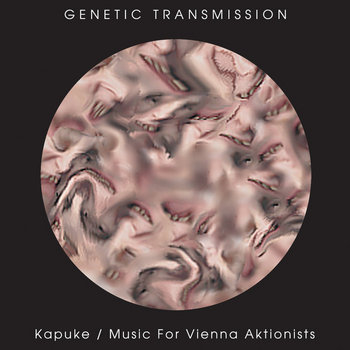 Artist:
Genetic Transmission
(@)
Title:
Kapuke / Music For Vienna Aktionists
Format:
CD
Label:
Zoharum
(@)
Distributor:
Alchembria
Rated:
This new step in the reissue of the music by Genetic Transmission started by Zoharum is made out of two releases: "Kapuke" originally credited to Twardawa and Jankowski and Music For Vienna Aktionists which is a proper Genetic Transmission CDr. Both releases are tied by the fact that are based on recorded performances.
"Kapuke" is a long track based on three improvisation session, made by Tomasz Twardawa and Piotr Jankowski, which were recorded and later prepared by Tardawa. The result is an almost surrealist collage where the relation between voices (notably there's also Barbara as a guest), noises and sounds generates a sort of narrative as it was the sound track of a movie.
"Music for Vienna Aktionists" is an attempt to create a soundtrack for the Kurt Kren's movies whose source materials were the performances of Otto Muehl and Gunther Brus. As the movies, all eight track are relatively short, and are arguably harsher to match the provocative situation which was devised by the Aktionists.
This album shows how the music of Tomasz Twardawa was able to evoke images to the listener using noise in its relation to everyday sounds rather to a way to have physical confrontation to the listener. Cinema for the ears.