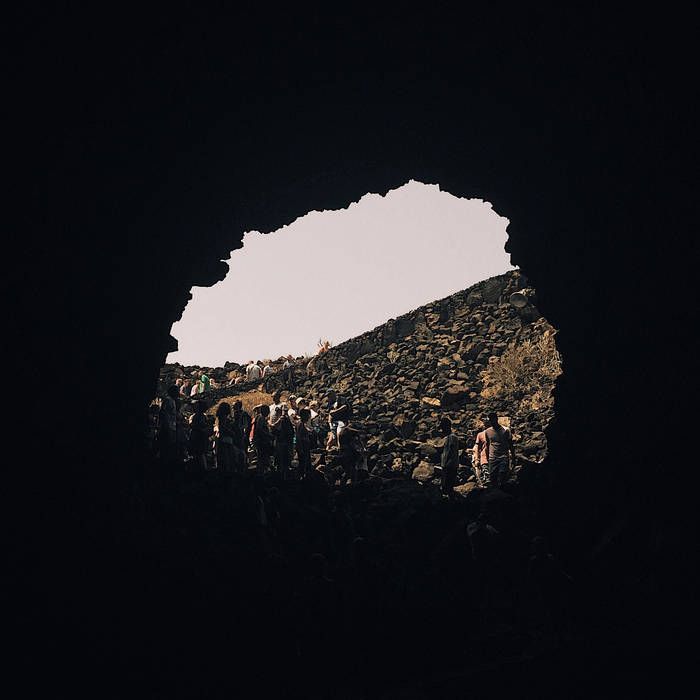 Artist:
Luton
(@)
Title:
Black Box Animals
Format:
CD
Label:
Lost Tribe Sound
(@)
Rated:
Luton is the Italian duo of Roberto P. Siguera and Attilio Novellino whose electroacoustic music is something at the edge between modern classical and ambient. As they use traditional instruments as strings, woodwinds, brass and percussion and they reportedly wrote their pieces in various venues, this release sounds as a sort of journey diary with his impressive diversity.
"Mount Kenya Imperial" opens this release with a field recordings which is juxtaposed to drones generated by strings used to add a subjective mood to an objective landscape. "Spectres of Mark" is a minimal and hypnotic track developed upon a drone and a simple synth line. "Södermalm Phantom Cab" is instead a sort of jazz tune introduced by a field recording followed by the entrance of the single musical lines. "Eternal Now" is a short interlude where all elements of Luton's music are compressed to the essential. "Black Concrete" alternates noisy moments to ethereal ones. "Archipelago" in an evocative catchy tune where the clear arpeggio of the guitar and the melancholic trumpet line capture the listener. "Night Avalanche" is a drone crescendo interrupted only for another one using instruments. "Elk Talk" is a dialogue between a piano and a violin while "Submergence" uses editing techniques to escape catchy melodies. The melodic elements of "Ice Museum" emerge from the drone background and "Silent Firework" closes this release bordering on the edge of modern classical.
The clever and rather romantic use of melody let this release depart the rather pop territories of modern classical as the electroacoustic element appears to add an element of noise which is functional to avoid the sense of déjà vu while retaining the catchy elements. Highly recommended.
Experimental / Avantgarde / Weird & Wired / Glitch / Noise / Field Recording
Edit (10599)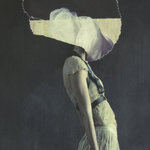 Artist:
Attilio Novellino & Collin McKelvey
(@)
Title:
Métaphysiques cannibales
Format:
12" vinyl + Download
Label:
Kohlhaas
(@)
Rated:
This new release by Attilio Novellino and Collin McKelvey takes its title by the essay by the anthropologist Eduardo Viveiros de Castro which seems based around the concept that, for fully understand another culture, it's necessary not to see it behind the screen of western culture. So, it's understandable the liner notes claim that "sound organization is here conceived as both as a apparatus of creation and a practice of knowledge" i.e., it's not derived by an abstract system but it's closer to a physical exploration.
This release is divided in two parts: the first one, "Métaphysiques cannibales I", starts quietly with the juxtaposition of pulsating sinewaves in the background and various noises in the foreground, then the track evolves alternating moments where the noises generate a sound field reminiscent of the city's background noise to more static one where the drone acts as a moment of rest during a long journey. Those sense for path planning escapes the dull accumulation of samples for fake complexity.
The second one "Métaphysiques cannibales II" is instead a subtler track starting with a quiet and almost inaudible drone which slowly introduces other drones until at half his length this framework is repeated with noisier elements as a study for sonic accumulation.
A well developed release where a narrative sense removes that patina of self indulgent experimentation which is ejectable for the fans of the genre. It's really worth more than a listen to fully appreciate it.
Experimental / Avantgarde / Weird & Wired / Glitch / Noise / Field Recording
Edit (10596)
Artist:
Federico Dal Pozzo
Title:
Untitled_VNZ
Format:
CD
Label:
KrysaliSound
(@)
Rated:
Besides an almost scientific approach to recording techniques and the general "sonic strategy" based on the idea that music can be squeezed from matter, one of the linking ring between this "Untitled_" (the tag that starts any title of his outputs) and the previous one ("Untitled_TeVeT") on Francis M.Fri's imprint KrysaliSound by Venetian musician and concrete performer Federico Dal Pozzo is maybe only water: the one turning into a 380 kilos weigh ice block on the latter, and the mini acousmatic concert of delays, echoes and a series of odd reverberations and mutations (where the liquid sonic source paradoxically seems to turn into a hiss or a fire crackle) of the dropping ones on the former. The other one could be its detachment into two related parts: as for "Untitled_TeVeT", "Untitled_VNZ" (being VNZ, a sort of code derived from the first three consonants of Venezia, Italian for Venice, the conceptual and the material framework of this release) sounds like a bipartite acousmatic progression, whose watershed (occurring after 20-21 minutes) is an Italian sentence by a female voice, that appeared shredded in the first part saying something meaning "one second before I ask myself how it will be, one second after I think to the next time, but when I do that, it's nice and I don't think to anything else". As the dropping water is the sparkle element of this first progression, the sparkle of the second part is another concrete distinguishing element of the sonic landscape of Venice, the toll of some church bells (I guess they're the ones of St Mark's Basilica), gradually re-morphed and melting with the likewise transformed sound of chirping birds; this intriguing amalgamation sounds like fading into an obscure synth pad, that Federico suddenly turns off, as if he can control the voltage of this sonic electric film. The isolated resounding frequencies, wisely extracted from the initial tolling bells, will soon fade into a maze of hissing noises, similar to the white noise related to broadcast of no signals on TV screens or radio, a disturbing chaos that Federico channels into a "balancing" sound before the final minutes where he seems to give voice to poltergeist musicians of Venetian ghosts, who seems to play a classical romanza in between the dying atoms of Federico's pulverization. It's everything but a cliched romantic sonic postcard of Venice, that maybe mirrors the shadow on that same cliche.
Experimental / Avantgarde / Weird & Wired / Glitch / Noise / Field Recording
Edit (10581)
Artist:
Swans
(@)
Title:
Soundtracks For The Blind (4LP)
Format:
LP
Label:
Young God Records
(@)
Rated:
Swans - an iconic, legendary band that defies simple categorization or classification. They've been called experimental, noise, post rock, post punk, goth, industrial, avant-garde, no wave, and more. They are all of these and none of them in particular. The Swans are "sui generis," in a class of their own. Their history goes back to 1982, and the Michael Gira led band continues on today. 'Soundtracks For The Blind' was the last (pre-2010 revival) Swans studio album from 1996, when Gira and Jarboe fronted this outfit. To quote Mr. Gira - "This album has everything in there – all the ideas from Swans' initial 15 years of work. There's some contemporary recordings of the band as it existed in '96/7, with Larry Mullins on drums/percussion, Jarboe singing and playing keyboards, Vudi playing electric guitar, and Joe Goldring playing bass and electric guitar, and me singing and playing electric and acoustic guitar, but there's also a huge amount of sounds and recordings that Jarboe and I collected over the years. These are reassembled, looped, mangled, and in many cases overdubbed upon to create new pieces of music…" Originally released as a double CD set only, this work has just now been made available in a remastered limited edition of 4,000 copies on a 4 vinyl LP box set, with a poster, insert and download card, and signed by M. Gira. What's on the records is really no different than the original CD release, and I wasn't sent the album package to review (because it's damn expensive for a small indie label like Young God to send out unsolicited product of this magnitude, although I wish they had), just a private link to streaming the album online. So am I going to review an album that's been around for over 20 years? Well, no...yes...sort of. There is history here. In 1984 (or maybe 1985) I inadvertently and informally met M Gira and Jarboe at a radio station interview. (I wasn't the one doing the interviewing.) I remember them being intense people with a high intimidation factor. I don't know if we even spoke to each other than to maybe mumble a "hello" at the time. We were in musically opposing genres - me in synthpop/new wave, and them...well, you know. I had heard a little of their music at the time and didn't much care for it. (I had been involved in New York No Wave in the mid/late 70s, and by 1980 had enough of that.) Over the years things change- breakups and breakdowns, misdirection and new directions, so by 1990 or so I was beginning to become more interested in goth-industrial and dark ambient. A friend of mine had purchased some Swans albums, and I liked what I heard. Not all of it, but a good deal of it. Soon I began buying some of their stuff myself. When I first heard 'Soundtracks For The Blind' I wasn't wild about it. It seemed excessive, overly long, and draggy and dreary. If I had bought it, I must have sold it or given it away because I don't have it now. Listening to it again these many years later I realize just how vital it is. It really summarizes everything the Swans were, not succinctly but distinctly. There are songs, there are non-songs, drones, noise, loops, lengthy dialogue samples (personal, not from movies), mystical psychedelic instrumentals and more. For a Swans fan, this is the shit. Way back when, I thought this could have been boiled down to a single album of essential material. Now I realize it was all essential and not a thing should have been changed. This 26-track album still holds up well after all these years. The four LP set comes at a price though- 70 bucks is a hefty music investment for most. Dither about buying it and it will be gone, and the after-market (collectible) price is sure to be much higher. Fear not though, Young God is planning a later 2018 vinyl release of it in a gatefold LP album, and a CD reissue as well. So what was this- a review, an advertisement, or just anecdotal bullshit? I don't know, maybe all three, maybe none. I just know there are a lot of Swans fans who might not have known about it, but surely do now. Worthy for those who can afford it.

Experimental / Avantgarde / Weird & Wired / Glitch / Noise / Field Recording
Edit (10580)
Artist:
Vincent Glanzmann
(@)
Title:
Z/Rzw-Shiiiiiii
Format:
3 x CD (triple CD)
Label:
Through States of Matter
(@)
Rated:
Between the last winter and springtime, a new discographic label blossomed in cold Switzerland, the experimental label Through States of Matter, whose founder Tobias Meier decided to start its catalog up by the signature of Vincent Glanzmann. I met the name and the sound of this Tokyo-born Zurich-based drummer, whose bizarre and playful ways of forging unconventional sonorities brought him to collaborate in various different stylistic areas of Swiss scene (particularly improv, pop, and jazz), on the collaborative project This Difficult Tree (pushed by Wide Ear Records). Vincent's skills in forging new sonic languages and intriguing sound-set often focused on likewise unconventional conceptual frameworks, got confirmed on the first brick by this label. The first of the three suites (each of them has been recorded on a single CD of this box-set), titled "Z", is the longest one (lasting more than 17 minutes), and got inspired by a large subject of cognitive sciences, the so-called "cyclic thought processes" and their relation to mental growth; Vincent's handling of the topic, developed through fixed compositional tools and a wisely built musical matrix, is an amazing evolution (or involution), alternating cycles of many different rinsing of abstract rubbing on drum surfaces and granulated mingling on one side and lovely phases of intimate attenuations in the twinkling matrix of music box-like matrix. The nine minutes of "Rzw-Shiiiiiii" is an entrancing tonal puzzle, whose building blocks are single tone vocals (and vowels...mostly 'o' and 'a') and modulated in different ways, addressing "the differentiation between 'soul' and 'spirit'", and exploring "the question of how these two aspects of the human being might be purposefully conveyed through the voice", according to the attached introductory words (...and I'd add that it could resemble some 'classic' experiments on voice by some master of GRM). The last piece "---thehidden" (conceived as a tribute to Iannis Xenakis' "Concrete PH") is an experiment on sound compression, as Vincent packed sounds made through percussions, oral noises, a mini-amp feedback and a couple of violin bows into a very narrow interval of high-frequency ranges.