Experimental / Avantgarde / Weird & Wired / Glitch / Noise / Field Recording
Edit (10437)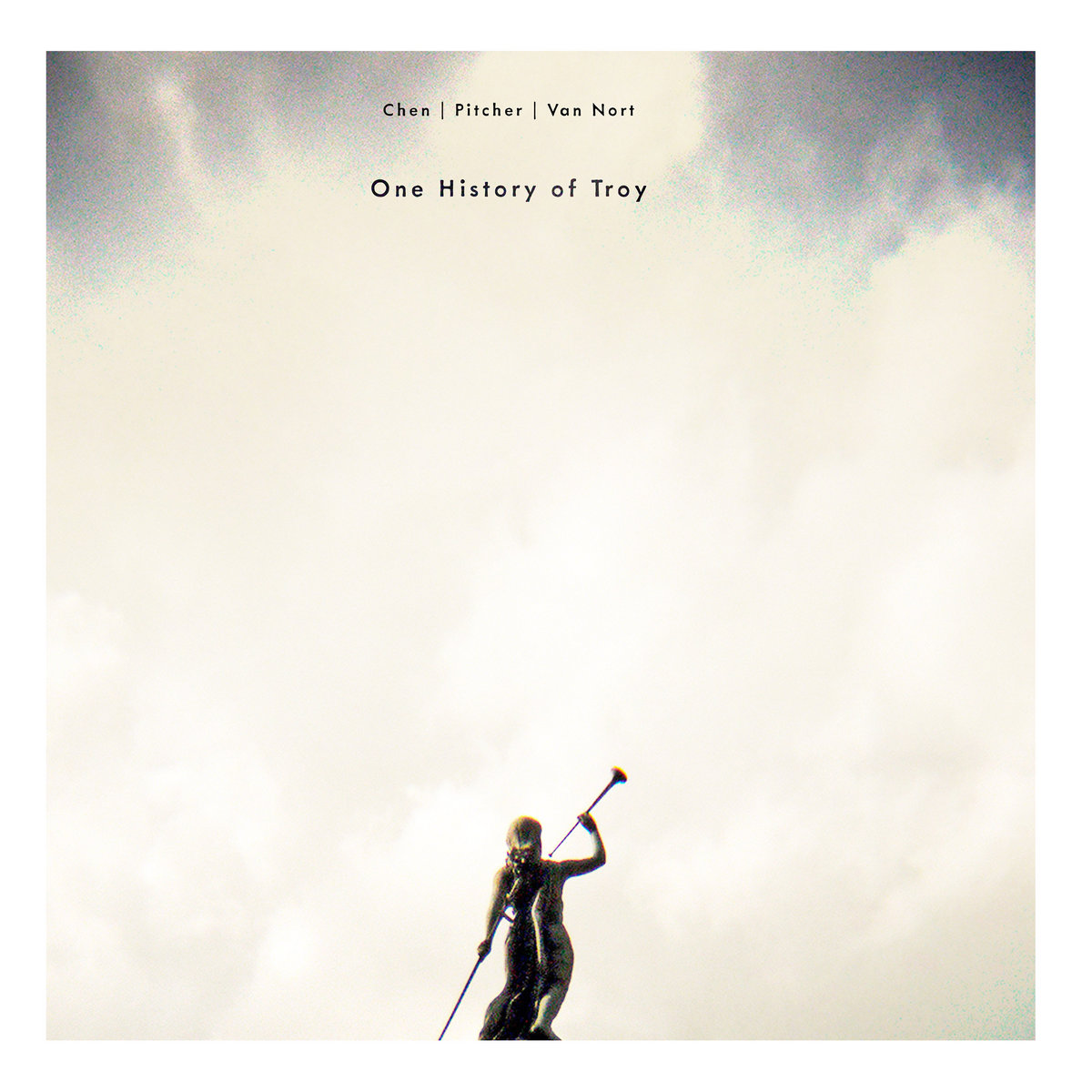 Artist:
Chen I Pitcher I Van Nort
(@)
Title:
One History of Troy
Format:
LP
Label:
Attenuation Circuit
(@)
Rated:
This release is based on a compromise between composition and improvisation made by Jonathan Chen on violin and viola, Jefferson Pitcher on guitar, clarinet and field recordings and Doug Van Nort on GREIS which is a custom patch made in Max/MSP to process live sound input. This kind of open form i.e., a written composition with large margins for improvisation, could be a little hard to follow but lets to the performers the musical space to disorient the listener.
The first track "Sailing I Open Water I Land" is obtained by a rhythmic first part, a second part based mostly on field recordings and a quiet third part based on guitar notes. Strings are the main element of "Moving I Stone" with both guitar and violin while the electronic element is of tie and underline the parts. The voices of the field recordings that open "Residue I European Bells" introduces droning elements which are juxtaposed in a meditative way to let the listener enjoy the subtle tone's nuance. "The Hudson" oscillates between quiet parts and more lyrical ones. "Northern White Pine" uses silence to focus on various small noises generated by the instruments. "Chefchaouen Province I American Town" closes this release with a sort of long crescendo where all players has his moment of focus until they begin to juxtapose their line to close this release fading each other.
A relatively short but dense release based on a subtle interplay which requires a certain listener's commitment to be fully appreciated. Fans of EAI will enjoy this release but the others should be aware of its content.
Artist:
Venetian Snares x Daniel Lanois
Title:
Venetian Snares x Daniel Lanois
Format:
12" vinyl + CD
Label:
Timesig / Planet Mu
Neither Venetian Snares nor Daniel Lanois should need any introduction, and this first full (albeit short) album collaboration is exactly what you might think the sum of its parts would form. Bringing Lanois' atmospheres and slow reverberant guitar work alongside Aaron Funk's hard-and-fast unpredictable rhythms, frequency leaps and sample twisting creates something that manages to be both lush and raw at the same time.

Longest track "United P92" is a highlight- a deep and mesmerising affair with a melodic, Eno-like ambient environment seemingly confining and subduing the glitch-laden beats, which gradually begin to grow in confidence and control in a way that technically ought to be described as aggressive yet manages to actually sound genuinely bright and enthusiastic- might Mr. Snares be mellowing with age?- before proceedings get sparser, with sounds imitating distant explosions and the sense that the sonic honeymoon may be over.

Shorter pieces like "Bernard Revisit P81" sometimes have something of a sparser, old-school electronic experimental flavour, all random synth notes, sinister sci-fi pads and harsh hit noises. I might dare to suggest that "Best P54", with its hardcore acid elements and deeply melancholic guitar atmos, sounds like two tracks from radically different artists that just happen to be playing at the same time, and yet despite that, it still manages to sound brilliant.

People who know exactly what to expect here will be far from disappointed. It's a powerful and effective collaboration that brings out the best of both worlds.
Experimental / Avantgarde / Weird & Wired / Glitch / Noise / Field Recording
Edit (10430)
Artist:
Ragnar Johnson
Title:
Crying Bamboos: Ceremonial Flute Music from New Guinea Madang
Format:
2 x 12" vinyl
Label:
Ideologic Organ
Recorded in 1979 but never released until now, "Crying Bamboos" is a 100-minute set of traditional ceremonial flute recordings from Guinea presented, as the Instragram generation might say, with "hashtag no filter".

Across thirteen relatively long and mostly solo pieces, flutes are played in patterns mostly quite alien to the ear of someone used to traditional Western music. Forgive my limited musicology here, but there's a tendency towards alternating between two notes for quite a long time, before catching you out with the sudden introduction of third and fourth notes that dance around, rather than replace, the first two. A little like Finnish yoik music, the tempo shifts almost constantly on the whim of the performer, making speed rather than melody the dominant method of expression much of the time- understandably from flutes which seem to have relatively small tonal options.

Listeners who enjoy spotting common threads and patterns that run through music worldwide might or might not agree with me that "Tomung Gingong, Bosmun" has the makings of a techno track in a parallel universe.

It was originally recorded on quarter-inch magnetic tape- if you're interested, here are some details:.. at a professional speed of seven and a half inches per second on a Uher Report L Stereo tape recorder using two high quality directional microphones fixed in an isosceles triangle formation.

It's been transferred and mastered by Dave Hunt in London, and while I haven't heard the original quality to compare, this seems to be an excellent mastering job- sounding bright and balanced, with audible birdsong often in the background yet no apparent tape hiss or muffled EQ throughout. A modern field recording of the same performance may perhaps have been punchier but for a 1979 recording the result is extremely good.

It's a properly authentic bit of field recording that will appeal to anyone looking for ethnic musical diversity that hasn't been bent into Western structures or cheesily bundled as relaxation music.
Artist:
VV.AA.
Title:
Pavilion / Paviljonas
Format:
CD + Download
Label:
MIC Lithuania
A compilation of selected excerpts from sound art pieces and field recordings made for audio-visual art installations, "Pavilion / Paviljonas" is a interesting sampler package with a good range of variety across 8 tracks that range in length from 18 seconds to over 10 minutes.

Every track and the release itself has both an English title and a Lithuanian title, I'm using the English titles here solely for brevity and since this is an English review, no disrespect to the Lithuanian titles is intended.

Viktorija Damerell's opener "I Force Myself" loops some poetic English-language vocal mantras seek your attention and empathy but many of the other pieces are more incidental, more ambient and decidedly more sparse- Ramnas Motiekaitis's "I Can't Get Through to You" a lightweight and unpredictable bubbly percussive disorientation, and Kristina Inirait's "Mother" an exercise in close-set field recording of everyday actions, full of small metal door opening and conversation and reminiscent of some Art Of Noise incidental elements. While described in the press release as 'an exercise in active listening', this isn't necessarily required, and you can, if you prefer, engage with these works purely as background and environmental pieces.

After Emilija Škarnulyt's "Ablation Zone", an unsettling cold environment of distant wolf howls, it feels very appropriate to meet the campfire sounds, warm conversation and (again distant) ethnic flutesong of Arturas Bumšteinas' "Year of the Catdog". It's followed by Gail Gricit's "some of all of that" that seems to hybridise gentle lapping wave noises and breathing into a very soporific and relaxing result.

The inclusion of Julijonas Urbonas's "Sounding Door"- literally just an 18 second sound effect of a very creaky door- seems somewhat tongue-in-cheek, yet not actually out of context, as it works as a prelude for final piece "numbers" by Darius iuta which, with its short violin notes, wodden percussive noises (rowing boats? More campfires?) and high pitched electric whining, somes as close to conventional music as this compilation dares to wander- which, in truth, is not very close at all.

The Music Information Centre Lithuania (now seemingly just calling themselves MIC Lithuania) have put out some fascinating and exemplary pieces of modern experimental music, and while this collection is a sampler built from extracts and therefore maybe not as coherent as some, this is nevertheless a very strong work in its own right.
Experimental / Avantgarde / Weird & Wired / Glitch / Noise / Field Recording
Edit (10428)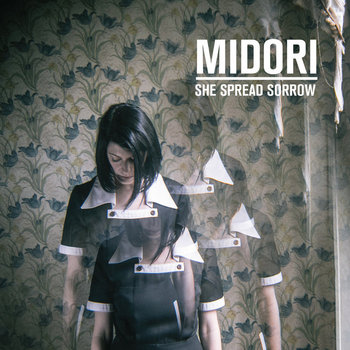 Artist:
She Spread Sorrow
Title:
Midori
Format:
CD
Label:
Cold Spring
(@)
Rated:
After her previous releases, She Spread Sorrow, the musical project of Alice Kudalini, change direction a bit. First of all, Midori is presented by the label a sort of concept album as it "tells a story, the escape from a harsh reality", and it's clearly audible as this release is based upon a narration which seems evolving as the tracks goes by and it revolves around lyrics.
As the first track, "Escape", starts, there's the immediate feeling that sonically something is changed as, instead of a noise-oriented framework, there's a quiet but uncomfortable ambient background for the voice of Alice Kundalini. "Night One" is, instead, a sort of return to her canonical style with abrasive sonic interludes to the narration. The evocative soundscape of "The House" has a theatrical quality which seems from field recordings instead of electronic instruments. The piano resonances and the synth's crescendo of "Who Are You, Midori?" is remarkable in its equilibrium. The sharp flashes of noise of "To The Light" mirrors the quietness of the underlining drone. "End Of Midori" closes this release with a sequence of musical movements ranging from pop songs to cinematic soundscape and noise interludes.
Multifaceted and full of movement to be a release lasting only 41 minutes, it's a real improvement from this artist and perhaps it will ends in some end of the year playlist. Truly recommended.