Experimental / Avantgarde / Weird & Wired / Glitch / Noise / Field Recording
Edit (572)
The Focus Quintet is Anita DeChellis (voice), Don DeChellis (piano, keyboard), Ernesto Diaz-Infante (acoustic guitar & voice), Chris Forsyth (electric guitar) and Jeff Arnal (percussion) - five friends who have performed together under various forms (duets, tours, etc.), now gathered to offer this 8-track, 56-minute work. Now, you've read the line-up's instrumentation, but try to forget it. Because this is very radical, flowing improvisation with a droning quality, close to electroacoustic or minimalistic ensembles (memories of Olivia Block, the Deep Listening Band or Osso Exótico have come to my mind); if you think of "jazz", try to think of its most daring and informal manifestations. The listening experience is very demanding, but equally rewarding: there's a mesmeric quality in these clusters of sparse notes, rumblings, scrapes and ecstatic vocal melodies; actually, Anita DeChellis' performance (Pauline Oliveros and Bjork have been quoted, to give you a hint) is one of the strongest points of this cd.
Experimental / Avantgarde / Weird & Wired / Glitch / Noise / Field Recording
Edit (570)
Artist:
Darling Kandie
Title:
People Next Door
Format:
CD
Label:
Underground, Inc.
BUY from
or BUY from
This is one psychotic yet hard hitting head trip collaboration between TKK's Groovie Mann and William Tucker known mostly for his work with Ministry but also worked with KMFDM and Pigface. Groovie Mann's photography is featured in the CD and as Underground, Inc. puts it, "instantly underlines him as a twisted agent provocateur. The photos form a crispy creme kocktail party of lust, decadence & indulgence.". This album musically is a strange mix of lounge, swing, industrial, rock, and psychedelica. Vocally it is somewhere in between TKK and RevCo with a taste of Daniel Ash at times. Big synth heavy bass carries many of the tunes and you'll hear lot of the horn interludes similar to what you might hear in TKK only bigger and less 'sampled' sounding. This is a very dark album with a psychotic and sexual twist. Imagine several individuals an alone in their respective apartment rooms - lonely and half insane, not to mention likely a bit sex crazed. That might give you taste of the psychological tone of the album. Take that and amplify it to a Big Swing beat and Industrial technique and you might get an idea of the sound. No TKK fan's collection should be without this. Amazing, I've always like Groovie Mann live and wondered what he'd do on his own and we finally have a taste of his own twisted toxic cocktail concoction. A huge twist on this release begins when you get to "Secret Ceremony" which is more of a 70's psychedelic rock tune with some Indian belly dance to it. I especially love the hysterical sample at the end, "This is no dream, this is really happening." With this and the title track especially you can hear the Underground, Inc. influence with the Indian drumming and other sound structures combined with industrial experimentation. The title track vocally is nothing but samples which when combined create a practically mystical perspective - things like, "Open your mind to me", "one spirit", "come to me now", "they have one mind", "one will", "you are the one", "I am the way", "I'm you and you're me", "the dark side", "this is your eternity". All of these come from a wide array of places like different movies and such - and are all chopped together and looped. Very cool!! I have to remember that for one of my next pagan broadcasts. "Randy Road" is a hilarious track because it's all female samples saying stuff like "will do me a favor and eat my pussy for me please". Oh and "Younglam" sounds like it is VERY T-Rex inspired - fuck yeah. This is just a fraction of the album. The whole thing is one crazy mind fuck!! You'll love it and the last track will likely give you chills.
Experimental / Avantgarde / Weird & Wired / Glitch / Noise / Field Recording
Edit (566)
image not
available
anymore
New Zeland based kRkRkRk recordings has just put out this "compilation of christchurch underground music" by the unpronounceable title of "Strch Prst Skrz Krk" (a Czech tongue-twister that means "Stick your finger in your throat"!) featuring 18 contributions. Fortunately for us Christchurch is the name of a town and not the name of some holy premises that wanna make sure people know what religion they are there for. This small indie label has been around for ten years in 2002 and has probably decided to celebrate with a label-sampler that gives you a taste of the over 30 CD-R's available from them on what is also their first "real" CD.
Here's a quick run through:
Label founders Peter Wright and J-mz Robinson open the sampler with their project Brainlego, presenting a nice art-noise piece that sounds like one of those wicked NIN slow motion dirty ballads;
MiG-21 are more into the post-punk art-rock thing with slow beats and much of the attention around the vocal parts;
Mikel Goodwin's concrete-pop project Wormwood focuses around his eccentric and theatrical post-goth vocals a la Das Ich but plays fonky old kinky background music alla Kapotte Muziek;
Antibody are more into the Staalplaat sphere of experimental electro-noise (Ed Wilson, J-mz Robinson of Brainlego and Charles Horn);
Nick Hodgson also could be a Staalplaat/Soleilmoon artist, but what differentiates him is the use of occasional Zornian improvisational no-wave free-jazz extravaganzas;
Lahar (featuring Antibody's Ed Wilson and Scott McCaslan on guitars and drums) play slow experimental art-rock with Velvets or Sonic Youth, among others, in mind;
Strap Ons (Don Gone & Nova Technova) continue where Lahar left off adding some fuzzy distortion and a female vocal that makes it even more "english", more "revolutionary" or "riot-ish" and more "artsy-fartsy", all in a good way, even though they are a little on the low-down side, kinda un-energetic;
NoTV is J-mz Robinson's solo thing where he plays passionate musique concrete muzak with an incessant piano and toy instruments;
KYN (Charles Horn) is throbbing and intermittent experimental-noise with use of vocals;
Megan Gallacher (ex-Bocctahne) plays an interesting airy mixture of clean but heavily delayed electric guitar parts floating over ethereal mid-low-frequency floor sounds that reminds me of the band Bethany Curve;
David Khan's solo project Drawing Room is where he expresses himself with dark ballads of piano and vocals with organic (as opposed to synthetic, since they are derived and processed from natural sources) pads in the background;
Placenta Cookbook (Goodwin & Robinson) play instrumental future-pop with a bumpy bass line and hopping happy guitar parts;
Full Force Loving Machine (if it wasn't for Nick Hodgson we'd have a new line up here: Richard Neave, Lynton Denovan are the other two thirds) play post-punk garbage-noise with loads of distortion and a drummer that just carelessly bangs his way through the thick cloud of unnecessary guitar noise (the info sheet brings you this funny description: they «immediately displayed a remarkable facility for emptying venues»);
Sirlordme (Lynton Denovan) is not quite as loud as he is with the above mentioned trio but continues the tradition of post-punk nowave-ish garage psychedelia;
Early Bioneers, a five-piece formed by Jason Tamihana-Bryce and Matt Davis and now also including Hodgson, Scott McCaslan, Diana Mckay, play experimental psychedelic-rock with a prominent crunch bass and a distant reverberated free-jazz saxophone;
Peter Wright celebrates his own personal 11 years of music-making with more electro-acoustic experimental music that might fit well into the Russian Electroshock label's catalogue but that seems to have found a home on the Apoplexy label (which I believe is his own too);
Ed Wilson explores the «link between human creativity and cognition» with a collage of found sounds, radical experimentation and noise diving;
Laudanum (Nick Hodgson again, along with Rustle Covini, Danny Bame, Karl Jenkins) see fit to close this exotic sampler with some pretty cosmic dream-pop music with lush guitars and reverberated open-snare eighties drumming that could be described as a mixture of Lycia and Krankheit Der Jugend;
I better stop here and now before this review becomes a book. This is like a family record. It certainly shows lots of creativity and is witness to an emerging New Zeland scene made of eclectic experimental musicians and their incestuous audiophile cross-breeding. Most of the bands are relatively new (1999-2001), so I just hope that all this young blood will prove to be consistent and will live up to the expectations in the uncertain future.
Experimental / Avantgarde / Weird & Wired / Glitch / Noise / Field Recording
Edit (558)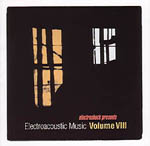 Artist:
VV.AA.
Title:
Electroacoustic Music Vol. VIII
Format:
2 x CD (double CD)
Label:
Electroshock
(@)
Distributor:
Eurock
What better way to close the batch of new releases from Electroshock than with one of their "Electroacoustic Music" series compilation? It's time for the eight volume and it gets quite freaky and experimental on this one. The songs are mostly from the last couple of years by artists such as: Lisa Walker [Canada] and her underwater violin performance with whale sounds; Claire Laronde [France] and her crazy pitched and improvised chaotic piano playing; NY-based Milica Paranosic [Yugoslavia] (also member of D'Divaz) and her short four-compositions suite "Lulla" that portrays jazzy and vanguardish experimental work with a vivid folk heritage; Vivian Adelberg Rudow [US] and the circus-ish sounds of e-space-ri-mental galactic nowave; Jukka Ruohomaki [Finland] and the escalating four-part airy and windy ambient-trance "Necromancer Suite"; Robin Julian Heifetz [US] and the political improvisational experimental piece that symbolizes the tragic oppression brought upon the American Indians by the US government; Christopher Andrew Arrell [US] and his voice-only experiment based on triggered sampled parts of speech in different languages including Italian, German, French, English, Spanish and maybe more I didn't recognize; Diego Minciacchi [Italy] and his twelve and a half minutes long sophisticated sonic mosaic of found sounds, field recordings, modulating waveforms, voices and synthesized sounds; Gary Di Benedetto [US] and his experiment entitled "A Drop in the Bucket" uniquely based on the sound of a water drop repeatedly falling in a bucket for more than twelve minutes dynamically inserting differently pitched or different kind of drops samples and underlaying ambience noises; and Chaos As Shelter [Israel] (aka Vadim Gusin) and his "Death of Bellflower" song with prominent bell-sounding metallic sounds, oniric floor noises, low screeching disturbances etc. Another open window on the international variety of how electro-acoustic music is perceived and interpreted.
Experimental / Avantgarde / Weird & Wired / Glitch / Noise / Field Recording
Edit (548)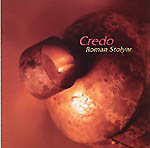 Roman Stolyar's "Credo" CD is probably one of the most free-jazz releases to have seen the light on Electroshock records. Progressive, jazz, fusion, electronics, experimental, ambient, traditional and world music all find a way to be heard on this release, with compositions spanning from '93 to 2000 that prove Stolyar's eclecticism and talent. The Jethro Tullish flute along with the marked seventies' progressive art-rock structures, the freeform jazz improvisations of piano, flute and other instruments, the unusual mixing of the standard ensamble's voices, the nice electronics that lays the grounds for acoustic instruments' improvisation, the occasional quasi middle-age/new-wave/celtic tunes, reverberated lush atmospheres, the almost Zornish nowave bursts of energy, the cheap found fake sounds (bells, brasses, strings, drums), the cymbal-generous fusion drumming, the experimental overall veil, the female vocals and lyrics of William Blake are but some of the pieces of this intricate and sophisticated puzzle. As always the art work is simply superb but this time probably even superior to the contents it represents. I am not going to argue with the choice of the sounds if indeed it was a choice, but I personally wasn't to enthusiast about those above-mentioned fake sounds (maybe live musicians would fix that) and some of the prog-jazz-rock passages of this CD. I am into and around a lot of jazz so it's not a matter of genres. There obviously are several good ideas and nice parts in this CD (for example the first and third of the three-part vocal suite "Songs of the Seasons"), I just didn't seem to find the key to understand it completely. This is the Russian composer's first solo CD but I am sure he's got an extensive background in jazz improvisation so I will look forward to see where this new direction will bring him and how he will develop his newly found electro-acoustic soul.