Experimental / Avantgarde / Weird & Wired / Glitch / Noise / Field Recording
Edit (10044)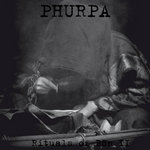 The exploration of the the traditions of Bön, a Tibetan religion antecedent to Buddhism, done by Phurpa is presented in this sequel to last year's previous excellent 12". Once again, their cultural relevance is the idea of music not as something with an aesthetic or economic value but as a central part of religious ritual. In this conception, music has to facilitate and induce mystical trance and introspection, so it's not something to consume or evaluate at an intellectual level.
In "Yan-Drub II", After the first part based on a chant, the suspension generated by the silence and the sparse beat of the bells and their resonances is breath taking and mystical and introduces another part based of the deep drones, generated by the chant and traditional instrument, that are even moving instead of being still and pauses indicating a sort of prosody.
In "Long Life II", the first part part sounds as something between a drone and a chant and it's something as simple to hear in theory as difficult to hear to catch all the small modification of the sound in practice until someone simply decide to use the music for what it was conceived: as an abject of contemplation and an aid to meditation; the second part is based on aerophones and could be seen as a pure droning part and the final one is a short return to the beginning of this side.
Once again this release is unratable as it manifests the side of the project so connected to a complete different listening habits that could be irksome to someone used to see music as pure art. Otherwise all others, with a proper attitude, will play this music until the vinyl is consumed.
Experimental / Avantgarde / Weird & Wired / Glitch / Noise / Field Recording
Edit (10043)
"Vitriol" is presented in the press sheet as the result of more than one year of work by Pier Alfeo using both analogue and synthetic sound sources. His music is something between dubstep and dark ambient and it's characterized by the underlining of sonic details and the regular musical structure so it's something simple and demanding to hear at the same time.
With "Visita" the listener is introduced into a sound field apparently minimal but, with a process of addition, elements are juxtaposed until all spaces are occupied in the central part and, with a process of subtraction, the track returns to the beginning. This process is used, with few variants, for roughly the first half of this release as the core of his research seems focused on sound rather than on structures, so "Interiora" is based on more noisy and menacing sounds while the previous track was more concerned with space and "Columba" with metallic sounds. "Tectum", the longest track of this release, marks a partial change of direction as the first part is developed around an almost IDM beat and feature an interlude based on piano prior to the return to the final remind to the start of the track. "Terrae" is based on the dialectic between synthetic and concrète sounds. With "Invenies" starts the second half of this release where the rhythmic element is essential, at least as the sound properties of the metallic percussions are the core of the track. "Rectificando" starts as an ambient track with his quiet and slowly developing sounds until the beat underlines them. "Dives" is based on the same structure but with an higher speed. "Occultum" is almost a classic IDM track and "Lapidem" is a return to the structure exposed on "Visita" to explore the hypnotic properties of metallic sounds and resonances.
Impressive at a technical level as there's a remarkable clarity of sound, it's perhaps a little too long as the same writing's ideas aren't used for hypnotic effects but to underline the sound properties so a more concise forms could be more effective. However, it's a release not to miss for fans of experimental and post-industrial music.
Experimental / Avantgarde / Weird & Wired / Glitch / Noise / Field Recording
Edit (10041)
Artist:
Dafna Naphtali and Gordon Beeferman
Title:
Pulsing Dot
Format:
Download Only (MP3 + Lossless)
Label:
clang
"Pulsing Dot" represents a truly interesting collaboration that takes Gordon Beeferman's avantgarde and edgy piano playing and feeds it to Dafna Naphtali who uses live processing and electronics to twist and compliment it on the fly. Naphtali also adds sparse and sympathetic vocalised elements.

Five lengthy pieces each evolve with ebbing levels from quiet to cacophony. Opener "Transmission" is imbued with a very sinister and foreboding tone, the alien bass notes and tensely hammered high piano keys feeling very suspenseful. "Surface Disturbances" is a more staccato affair, both voice and piano being used in a more spontaneous and percussive manner that's rather theatrical. That attitude continues through "Ozone Tongues" which explores the lower registers more resonantly, adding warbling, slightly throat-singing-esque vocal wails as it progresses.

The well-thought-out evolution continues into "Elegy For Bones", where the rumbling becomes more bubbly, the piano notes more pure and the vocal more operatic as it slowly unfolds into something more like a sonic daylight. "Orbiter" loops us back to a more frantic and again quite theatrical environment of short and fast-triggered vocals racing against relentless piano runs, which towards the end feels like it's slowing, before a U-turn and build to a chaotic climax.

The result overall has the essence and energy of 1960's experimental classical and electronic music, when this kind of performance would truly have felt like a new frontier, but baked with modern sharp-edged digital production touches that make it modern. It travels quite deep and doesn't always brim with energy, but nevertheless it's an interesting ride and a very successful collaboration.
Experimental / Avantgarde / Weird & Wired / Glitch / Noise / Field Recording
Edit (10026)
From Bratislava, Slovakia comes this release by Hlukar titled 'Unspoken Misanthropic Narrator'. The accompanying one-sheet was vague and broad to say the least so I have no idea who is behind Hlukar, whether they have any previous releases etc. First you have to admit that 'Unspoken Misanthropic Narrator' has a strange and interesting cover, sort of alien-organic. Track tiles are intriguing as well - "Innsmouthan Necrofunk," "Satanic Colostomy of the Unholy Ulnar Nerve," "Dethroned Demonic Mass Hiding in the Closet," etc., etc. So...what does it sound like you ask. Well, the simple answer is instrumental experimental electronics. There is a lot of analogue synth, wild oscillations, and things of that nature. Some tracks have a rhythmic base, and some don't but rhythms incorporated don't dominate. Sometimes this stuff can get noisy but I wouldn't call it noise per se. Abstract and often dense, Hlukar's music can often fill up your head to the point of overload. There'; one track - "Deathstroke of the Funeral Pyre" that sounds like a dozen pairs of tennis shoes thumping around in a dryer (Maybe somebody should actually sample that...then send me the results) looped with electronic birds. As creative as Hlukar often is on much of this album, it gets wearisome after a while, so you will either need a good amount of stamina, or a lot of tolerance, even though it is only a little over 30 minutes. Still, if you love atonal non-melodic noisy experimental electronics that is neither light nor dark, you will probably like this.
Experimental / Avantgarde / Weird & Wired / Glitch / Noise / Field Recording
Edit (10024)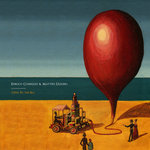 This collaboration between Enrico Coniglio and Matteo Uggeri conducted by e-mail as stated in the liner notes of this release is the result of two complementary forces behind the development of the track. One is the construction of soundscapes based on field recording and samples whose structure is delineated by the beats, the other is the development of melody using acoustic instruments mostly guitar, piano and trumpet. The result is neither abstruse as some experimental music neither trivial as certain pop music.
When "Open To The Sea" starts, there's a sort of displacement happening as, while someone could expect an experimental release, the structure of the track is rooted in the song structure even if in a really oblique way. "Jessaias de reduire mes medicaments" is a delicate sound watercolor introduced by a radio voice. Introduced by some guitar chords, "Up Over The Harbours Lights" is developed upon a piano melody with a beat giving an element of easy listening to an overall structure of evocative romanticism. The voice of Violeta Paivankakkara in "I Am The Sea" marks the start of the first proper song of this album developed with remarkable refinement while "Floating Metal Sheets" is a return of more unstructured form. The soundscape of "Dutch Street Theatre" is an accompaniment for the voice of John Guilor. After a quiet introduction "Now I'm Silent" evolves in a divertissement for guitar and trumpet. "Allarme" is based on the precarious equilibrium between the concrète background and the acoustic foreground. "I Say I May Be Back" closes this release with a proper lied constructed around the voice of Francesca Amato.
Almost impressive in some sonic details (the field recording requires headphones to be fully appreciated in their relationship with the other sound elements), this release in his balance between traditional forms and experimental aims is perhaps one of the albums of the year. Excellent.