Experimental / Avantgarde / Weird & Wired / Glitch / Noise / Field Recording
Edit (9524)
Artist:
St. Francis Duo
(@)
Title:
Peacemaker Assembly
Format:
CD
Label:
Trost Records
(@)
Rated:
St. Francis Duo is a collaboration between Stephen O'Malley (best known as the guitarist of SUNN O)))) and UK drummer Steve Noble. The press sheet doesn't give a whole lot of info on the release, but when the only instruments credited are drums, percussion, guitars, and amplifiers, you have some sense of where this is headed. This album consists of two untitled tracks, so let's jump right in. I'm a drummer, so I enjoyed the opening, which amounts to a long drum solo over sustained guitar drone. After about 5 minutes, the drumming becomes less frantic, but no less interesting. Although the guitar seems to play only one note, it shifts over time and toward the end takes a more active role in the composition. Well done. The second track takes a similar approach in style while retaining its own identity. Guitar and drums vie for attention while never seeming in competition. This is a good illustration of how sometimes less truly is more. Well worth picking up. This album weighs in at around 38 minutes.
Experimental / Avantgarde / Weird & Wired / Glitch / Noise / Field Recording
Edit (9521)
Artist:
VV.AA.
Title:
Anti-Mimesis
Format:
Tape
Label:
Das Andere Selbst
(@)
Rated:
I was familiar with some of the artists on this sampler, having reviewed albums by Delmore FX, Blodfet & DJ Lonely, and Rocky B, so I was looking forward to seeing what other weirdness we could expect from Das Andere Selbst. Compilations tend to either showcase the diversity of the label or the unity of the label and this one definitely tends toward unity. But before I get into the music itself, let's talk about why I am only reviewing half of the album. Either they decided to put everything on one side (but I my count was pretty consistent with the track listing, so this does not seem to be the case) or I got the bonus tape that didn't record side 2. I even figured that they may have decided to be tricky and put them in random places on the tape, so I listened to the sound of blank tape to make sure. Nope. No hidden tracks. Maybe mine will be worth something someday to completists who want the extra-limited edition mispressing, but for now it means that I can't physically review the entire tape. Still, I was able to listen to the missing tracks at the bandcamp page for the compilation, so the side B artists will st ill get some love. There are no song titles listed in the liner notes, so let's see what these artists have for us. The Lost and Found Sound opens it up with a mellow composition that sounds like a folk singer with a circuit bent synth. Sea Urchin sounds like 1990s chillout ambient played on a bad tape recorder over a glitchy drum machine. Rocky B takes samples and slices and reassembles them to make a kind of a beat. Novo Line brings bass and beats together for a hypnotic effect. Blodfet & DJ Lonely really need a beer, as they sing about brewski and brewha over bright synth, which then shifts to female vocals of weird poetry about "budget creams" and "teenagers from Uranus" over a Casiotone synth line. This is weird and fantastic. Blue Stork is repetitive and glitchy with a fast drum beat. brings more pitch shifting fun with distorted voice and a slow, grooving beat. Multitasking is a bit repetitive for my tastes. It shifts ever so slowly until it gets more interesting at the end. Oto Borus is a slow-moving drum machine compositon that evokes the feeling of someone walking behind you, stalking you. Jealousy Party sounds is a frantic, fun track of weird jazz. Woodwinds squawk and rip through solos as the drums keep it all together (somewhat). If you like your jazz weird or loved the John Zorn snippets on Bob Ostertag's "Attention Span," you need this. Steinzeit is more drum machine and analogue synth goodness. Marimba gives us a swirling, hypnotic slab of synth drone. Trema gives us some minimalist crackling noise which then adds some spastic analog weirdness halfway through. Delmore FX is a bank of sci-fi sound effects and synth run through miles and miles of reverb. It's a lot of fun. Cuma 10000 throws down a peaceful, hypnotic track. Overall, this compilation is a lot of fun. If you like it weird and fun, this is one well worth getting. Just make sure that you get the whole tape. This tape is limited to 50 copies.
Experimental / Avantgarde / Weird & Wired / Glitch / Noise / Field Recording
Edit (9519)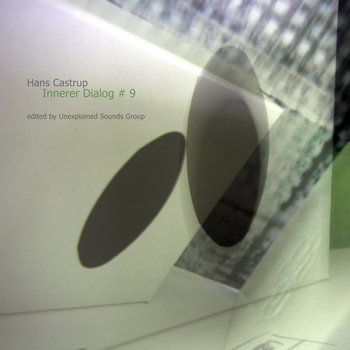 Artist:
Hans Castrup
(@)
Title:
Innerer Dialog #9
Format:
Download Only (MP3 + Lossless)
Label:
Unexplained Sounds Group
Rated:
Hans Castrup is an artist whose research embrace various fields trying to apply a technique of multiple layers to different media. This release could be seen as a sort of renovation of the German avant-garde tradition as the sound sources are often reminiscent of the typical oscillator based sound of the '60 but obviously this is mixed with the richer spectrum that is obtainable with modern technologies and this aspect settles this release into modernity.
The first seconds of "Prefusion" introduce the listener into an apparently clear sound spectrum which is obfuscated by some seconds of noises; a further listening reveals how he apply avant-garde sounds to a more free-form structure. So, "257 Noments", seems constructed upon a fistful of loops but his real development is applied to the soundscape in the background. "Conspective" is a meticulous collage able to oscillate between quiet moments and noisy ones searching a precarious equilibrium. When the listener seems to be aware of the rhythmic structure of "Compulse" this is suddenly changed and when it seems that "Devention" is based on drones, there's a layer changing this pattern. The glitch oriented structure of "Involution" is balanced by the inserts of old style synthetic sounds and "Expulse" starts as an abstract track to evolve exposing something similar to a theme. "Late Transionisation" starts as a sort on field recording track but it ends with evocative layers of synth.
The use of various sound sources is balanced by a structure with is more or less the same in most of the tracks, so a sense of cohesion emerges from the apparent mess of sound which is a challenge to audience used to hear without listen. A really nice release but not for everyone.
Experimental / Avantgarde / Weird & Wired / Glitch / Noise / Field Recording
Edit (9518)
Artist:
Small Life Form
Title:
Late
Format:
Download Only (MP3 + Lossless)
Label:
Silber Records
(@)
I'm completing my trilogy of reviews of supposedly Christmas-themed releases from Silber, and this is the only one that has a genuine Christmas theme in the instrumentation. Jingle bells? No. Reindeer hooves? No. Found sound of sherry drinking? Not even that. It's the noise of an optical theremin being played by Christmas lights. Naturally.

As the lights change, the tone in "Days Late" switches between two base notes every three or four seconds initially, over which there's distortion, FX and a subtle pink-noise-ish wash. As it progresses there's gating and gradually accelerating filter-twiddling, which eventually plateaus to an almost-calm that indicates the listener has adopted the baseline distortion as their new normality.

"A Ride Home" is like a purist reinterpretation of the first track, still rooted in the gradually alternating theremin but without the distortion and with the drone replaced by a more choral hum, thickly layered with cathedral-esque reverb. It treads an awkward line between composed soundscape and a homemade sci-fi siren effect.

After twenty-two minutes of interpreted Christmas lights, there's a 'bonus track' of sorts in "A Request From Dad", an eight minute piece where the only sound sources are music boxes- a cacophony of out-of-sync and under-wound music boxes distorting and looping into and out of uncomfortable patterns. There's a hint of horror movie cliché about it perhaps but it's a well-rounded standalone avantgarde piece with a strangely 1960's feel to it.

"Late" is an excellent last-minute Christmas present download for the lover of lo-fi distorted drones in your family. It'll make you wish you hadn't bought that aftershave / beard wash set.
Experimental / Avantgarde / Weird & Wired / Glitch / Noise / Field Recording
Edit (9515)
Artist:
Fatal Casualties
(@)
Title:
Filter
Format:
CD
Label:
Seja Records
(@)
Rated:
Stockholm, Sweden band Fatal Casualties - Stefan Ljungdahl (synths/drum machines) and Ivan Hirvonen (vocals) began in 1986 and were active from 1986-1991. During that time they recorded a bunch of (unreleased) demos and did live performances. Likely their music then was only heard locally. After a 21 year hiatus they reformed and put out a an EP called 'Paria' in 2012, and followed it up with an album titled 'Psalm' in 2014. Prior to this endeavor they could be categorized as experimental abrasive dark electronica. Here on 'Filter' there are some abrasive moments but it is far less reliant on harshness than it is on weirdness. The album consists of 10 tracks, and no two of them are alike, except that they're all strange; really really, strange. When I first popped the CD into my player, from the look on the cover I was expecting another one of those cynical and serious Scandinavian synthpop bands. Boy, was I ever in for a shock! On the opening track, "home from home" it sounds like Ivan is singing a bluesy murder ballad from the bottom of a well. Then, an intense drone takes over heralding in some abrasive semi-pop electronics. It's like Suicide meets The Residents with nodding approval by Tuxedo Moon! Damn, this is bizarre. One moment things are full on and the next minimal with a few notes being played. Ivan's vocals range from a maudlin whisper to plaintively deranged. Track 2, with one of the longest titles I have ever seen - "Jag Är Inte RÄdd För Dig, Men Jag Är RÄdd För Vad Du Gör Med Mig," is a medium-slow descent into nightmarish madness. From what I could make out of the lyrics though, they seem to be sung primarily in English. Not the case with all of the songs though; some are in Swedish, and I believable there is a little Finnish in there as well. "drown" is done a bit in the more pop traditional dark electro mode instrumentally but this is quite far afield from anything commercial. Ivan's voice is often processed with effects, but not so much that it becomes electronic itself. To a degree I'm reminded of the Legendary Pink Dots, especially in some of their lyrics, as on "drown" ("Once upon a time in a fairy tale, we used to laugh...") full of dark whimsy, hinting at something possibly more sinister. It only gets stranger as it goes on. "kramp' has voices that sound like they were channeled from beyond over a semi-industrial rhythmic background. The nightmarish world on the majority of 'Filter' is not of the gruesome or horrific kind; it is much more subtle- disorienting, disturbing and insanity inducing. I can't say that I liked everything on 'Filter' but there is enough that makes this really unique and worthy. Fatal Casualties' fan base is likely to be a small but dedicated one.