Experimental / Avantgarde / Weird & Wired / Glitch / Noise / Field Recording
Edit (9833)
Artist:
Nytt Land
(@)
Title:
Fimbulvinter
Format:
CD
Label:
Cold Spring
(@)
Rated:
As most project associated with tradition genres, bands as Nytt Land are relatively unknown until they were published by a label with some visibility. This Russian project is based on ritual Northern music using traditional hand-crafted instruments and their lyrics are based on the sources from Poetic Edda, performed in original Old Islandic. So, all tracks are named with the poem, usually Völuspá, perhaps to help the listener with his research. While this kind of music is associated with the lied, in western European tradition, and his dependance from the text, this album reminds how, in other traditions, music is a central part of rituals and so, in certain tracks, the rhythmic element, associated with the dance, emerges as a key element and in other the low frequencies of the jow harp are tied to the spiritual element of music as they are closer to the didgeridoo's one perhaps with the use of some effect.
The first track, "Dauði Balder (Völuspá, 31-35)", is based on a jow harp and a spoken word with a structure to the typical ritual music based on drones. "Gullinkambi (Völuspá, 42-44)" is instead a folk track whose rhythm is marked by the drum and the melody underlined by the tin whistle. In tracks as "Ár Var Alda (Helgakviða Hundingsbana I, 1-4)" emerge how there's electronics in the background to add a layer of modernity. "Fimbulvinter" is based on the dialogue between the jow harp and the cantle whose mystical attitude is balanced by a track as "Gjallarhorni (Völuspá, 46-48)" which is basically a dance track while "Fenris Kinder (Völuspá, 40-41)" and "Hittusk Æsir (Völuspá, 7-10)" try to juxtapose the two path of their music. Under a drone, "Sal Sér Hon Standa (Völuspá, 64-66)" is a return to the song form. If "Surtr Ferr Sunnan (Völuspá, 52,57)" oscillates between dance moments and the declamation of the text, "Bróðurbana Sínum (Hávamál, 89-91)" closes this release with a form that could be even defined as rock. "The Last War" and "Winter Day" are instrumental bonus track exploring the structure used in the title track which leaves the path of a traditional song.
Certain subtleties and the use of electronics create a release that, under the curtain of the traditional form, has some elements that create a bridge with other form as dark ambient or ritual music so it could be enjoyed by a wider audience than expected. A nice release.
Experimental / Avantgarde / Weird & Wired / Glitch / Noise / Field Recording
Edit (9817)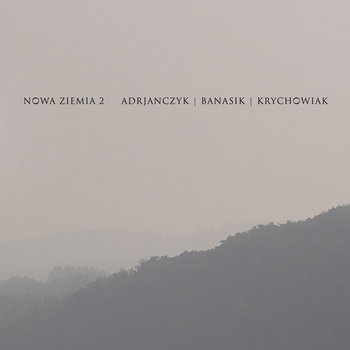 Artist:
Nowa Ziemia 2
Title:
Adrjanczyk | Banasik | Krychowiak
Format:
CD
Label:
Zoharum
(@)
Distributor:
Alchembria
Rated:
Nowa Ziemia is the project of Artur Krychowiak, a guitarist who seems somehow influenced by certain post-rock. After his first obscure releases, Nowa Ziemia 2 is the name of this collaboration whose result is two duet with Dawid Adrjanczyk and Micha Banasik. This music stands on the path of some post-minimalism where the basic form is modified with the introduction of elements from ambient and especially EAI.
The first track, "Banasik & Krychowiak", starts quietly with a drone in the background and a sort of guitar loop and it evolves slowly as the noises in the background starts to emerge from the musical settings, the guitar begin to articulate small phrases and the drone continues his evolution. The field recordings which close the track introduce the listener into the second track of this release, "Adrjanczyk & Krychowiak", which starts as an abstract track based of continuos mass of sounds, closer to continuous tones rather than drones, and during this evolution the guitar evolves into a strumming until, at half of his length, the track returns to a drone and reverberated chords of the guitar and goes into a sort of meditative psychedelic rock.
Apart from some lenghtiness, this tracks shows some ideas to escape the limits of a writing that is derivative of his models and underline how improvisation could be useful to add some color to a grey palette. Nice but only for collectors.
Experimental / Avantgarde / Weird & Wired / Glitch / Noise / Field Recording
Edit (9816)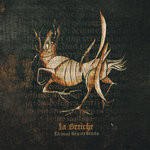 Artist:
La Breiche
(@)
Title:
Le Mal Des Ardents
Format:
CD
Label:
Cold Spring
(@)
Rated:
La Breiche is a project that could be classified in the Pagan Folk's genre but their music is not rooted in the canonical form of song, so they are clearly more inspired by ancient form of European music whose minimalism arose by the sound palette of instruments like the hurdy gurdy; so, "Le Mal Des Ardents" is a mostly instrumental album and it remembers how music was an accompaniment to other ritual activities rather than a form of entertaiment.
When the hurdy gurdy starts "Le Mal Des Ardents", the listener is introduced into something that is as tradition as not usual folk music as it's intended today as it's something tied to the usual form of song using voice and guitar. La Breiche use instead relatively complex melodies bound to a regular rhythmic structure. The hypnotic chant of "La Nef Des Fous" reveals the sense of atmosphere which is at the core of writing at the tension towards the creation of drones. "Apôtres Du Chaos" is an obsessive introduction to "Froide Lune" whose large section of quietness enhance the resonances of the gong while "Enfers" seems experimental as they border dark ambient territories using acoustic instruments. "L'Oracle Du Soleil" is an harmonic chant that creates a sinister atmosphere and "L'Antre Du Pesteux" closes this release with a sense of sound with is a traditional characteristic of electronic music rather than folk even if its final part return to a more canonical folk form.
Honestly, this is not a record for everyone especially those who expect to hear songs after reading the word folk in the description but it's recommended to curious ears that could find how the seed of minimalism, now narrated as a result of modernity, has a much longer story. Listen with care.
Artist:
People Like Us
Title:
Abridged Too Far
Format:
LP
Label:
Discrepant
(@)
Rated:
One of the funniest release that recently got pushed by the excellent Discrepant imprint comes from Vicki Bennett - the wise woman behind the moniker People Like Us -, whose sonic art is in between the collagism of plunderphonics masters like Negativland and that kind of cruelty you could expect in an imaginary nightmare where you find out that God is, in reality, the clown of McDonald. This release consolidated the amazing aesthetics she built over years by a plenty of radio broadcasts, releases on CD, DVD and vinyl, gallery exhibitions and online streaming, focused on amazing intersections of folk and popular sketches that she wisely uses like patterns to be knitted in a way that triggers memories or deeper (sometimes hazy or even gloomier) thoughts. The collages by which Discrepant filled "Abridged Too Far" tend to focus and give voice to the sardonically hilarious side of her production, so that your daydreaming while listening could be crowded by nihilist hypnotists coming to a sermon in between Swiss cows ("Nothing"), merry celebrations between bizarre freaks and former members of sinister carnivals and drunk yodelers ("The Doody Waltz") or those same yodelers being chased by exasperated gunslingers ("Abridged Too Far"), alien baby monsters born after a romantic night by Frank Sinatra (singing "I've Got You Under My Sing" some seconds before spreading his seed) and Doris Day (singing "Que Sera Sera" after she got pleased) whose crying results into a messy jumble of Hawaiian sonorities and salsa/rumba rumbling ("I've Got You"), a bug in the firmware of HAL9000 following the conversion into mp3 of old Dolly Parton's tunes ("Dolly Pardon"), really funny music-driven controls at the gate of some imaginary airport ("Nobody Does") and many more. Focus on the amusing details Vicki used to stitch in his collages, and you'll understand why people like her are so rare and precious for contemporary music! Highly recommended!
Experimental / Avantgarde / Weird & Wired / Glitch / Noise / Field Recording
Edit (9809)
Artist:
Stephan Meidell
Title:
Metrics
Format:
CD & Vinyl
Label:
Hubro Music
Stephan Meidell is a guitarist, but the guitar is just one of many elements floating around in the melting pot of "Metrics" and you'd be hard pushed to identify his primary instrument. Blending extremely mellow electronic beats and synthetic drones with spontaneous and freeform improvised performances from a range of organic instrumentation ranging from fiddles to prepared pianos to clarinets, this is a wide ensemble piece that's almost misleadingly released under one man's name.

Opening with the two parts of "Baroque" which as you'd expect has a predominant harpsichord, there's a sinister tension throughout that gives the whole thing a very filmic quality. The three parts of "State" are more plaintive, with layered violins describing a more sorrowful outlook and the rumbling droning underbelly stripped back.

Longest piece "Biotop" brings analogue electronic noises to the fore, opening like a 1950's Tom Dissevelt groove before evolving into a piece of slow techno with sporadic guitar strums littered lightly on top. In a way this is the straightest piece, with a deep regularity to it that's very compelling. Final track "Tauchgang" is similarly strong with its experimental, retro-tinged electronics, but with a much more freeform structure and a strangely gloopy ambience.

"Metrics" is a succinct package of very emotive atmospheres built out of a broad variety of instrumentation. It's impeccably polished and exemplary for its type, or it would be if it was easy to work out which type to pigeonhole it in.