Experimental / Avantgarde / Weird & Wired / Glitch / Noise / Field Recording
Edit (10275)
Artist:
Tiziano Milani
(@)
Title:
She
Format:
CD
Label:
Setola di Maiale
(@)
Rated:
Almost three year after "Materia", Tiziano Milani returns with a release constructed using field recordings, found objects, tools for working wood and acoustic instruments which were processed using computer. This time, instead of a collection of track, the artist proposes a a track divided in three distinct movement where it's audible the cohesive idea behind it: using a relatively small palette of sound and developing them working on structure and nuance.
"She" is divided in three parts. The first one opens with strings and piano and evolves in a crescendo where, at his peak, there's something almost new for the artist: noise, which creates a tension with the bell in the background so there's a true dialectic between the musical elements. The second part is the center of this release where the drone is used a glue that tie together sparse sound elements as concrète sounds, piano, bells and even a quiet, pulsating noise creating a sense of narrative as demanding as charming. The third one is a quiet crescendo starting with silence, evolving with a drone and closing with small sounds, all searching the listener's attention rather than overwhelming it.
Long, complex and quiet, it's a release that could be arduous in times where there's a trend of user-oriented sound for the infinite amount of like in a social network. This is music that reconciles with the concept of "development in time" not "entertainment". Necessary as air. Chapeau.
Experimental / Avantgarde / Weird & Wired / Glitch / Noise / Field Recording
Edit (10274)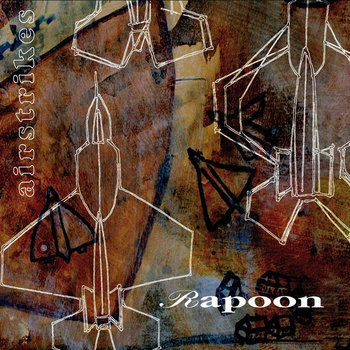 Artist:
Rapoon
Title:
Airstrikes
Format:
CD
Label:
Zoharum
(@)
Distributor:
Alchembria
Rated:
Robin Storey returns with a new release on Zoharum, after three years from his previous "Blue Days", with longer tracks and more political influence. Samples referring war and fake news are as sparsely used as highly evocative and are a sign that, even if not as innovative as some years ago, his inspiration remains almost intact.
The juxtaposition of complex rhythms and the classic oriental music samples is the base of "Airstrikes (Disaster... Fake News)" where, as the title suggests, a sort of commentary about political facts emerges. Despite his canonical elements, "I Hold You" takes full advantage of his short duration to grab the listener's attention while "We Pray for Rain" is perhaps too long for his sparse musical material. Only a simple sample from perhaps a movie gives a sense of evocativeness to "Drones". Even if a little too predictable, the oriental flavor of "Whisper in the Suk" is emotional while "We Watch in Wonder" revolves around his complex rhythmic pattern. The intersections between all the elements of the previous track makes "We Are Such Stuff…" a long and evocative journey around the confusion of modern world especially in the central part were the voices float upon the minimal background.
A little too stretched out in some moment, this release is sustained however by the indisputable class and craft of his author. Perhaps not among his best efforts but his fans will have another moments of enjoyment. Nice.
Experimental / Avantgarde / Weird & Wired / Glitch / Noise / Field Recording
Edit (10273)
Artist:
Rutger Zuydervelt with Ilia Blorukov and René Aquarius
Title:
The Red Soul
Format:
CD + Download
Label:
Sofamusic
"The Red Soul" is the soundtrack album to a documentary of the same name, the film being an attempt to portray the psyche of modern Russia. Zuydervelt offers up a selection of avantgarde sonic atmospheres formed primarily of hums, drones and light arhythmic percussive sounds (from René Aquarius of Dead Neanderthals), diced and sliced with occasional bakelite Stalin recordings, looped sections of folksy old choral recordings and other brief found sounds. On top of this, Ilia Belorukov contributes some very occasional, solitary and breathy saxophone sounds, that flirt with but never fully engage as a melody. In the second half some of the synth tones border on structured electronica, fleetingly.

The single 34-minute piece feels like a series of sketches, no one environment lasting more than a couple of minutes before fading away. Perhaps this is in response to the pictures that it was intended to accompany, but as an audio-only experience it gives it a particularly staccato feel that prevents the listener from getting properly entranced- more like a sampler EP than a fully-formed work, it leaves you wanting more, with in this case is mostly but not wholly a good thing.
Experimental / Avantgarde / Weird & Wired / Glitch / Noise / Field Recording
Edit (10267)
Artist:
Mathias Delplanque
Title:
Témoins
Format:
Tape
Label:
Crónica
"Témoins" comprises three pieces of sound art composed and compiled between 2011 and 2014- or just the first two pieces if you opt for the cassette rather than the download. Conceptually they are post-production-light layerings of organic recordings from three different locations that were given to Delplanque as though they were instructions, on top of which Delplanque played some 'real' instruments in situ to sit within or atop those environments.

Initially, "Roz" has a pure-sounding bit of improvised glockenspiel for its musical core, spouting occasional formless and pleasant notes that surf the mixed rural exterior sounds- birdsong, sheep, distant wind and traffic etc. A surprise cacophony of spontaneous percussion heralds an unexpected shift into the second half, which is brasher, littered with odd backwards-sounds, mumbling voices and nearby rapid watercourses- perhaps exposing the 'workshops for schools' element of the original commission. This settles almost as abruptly as it begins as we loop back to the calmer and more ambient world we first came in on.

"Bruz" is a sharper and more indoors piece, sampling percussive door slams, loud air conditioning units, passing conversational snippets, catering noises, drilling and distant vacuum cleaners all from a college campus. It's described as a 'sound postcard' and as that, it's a postcard from a situation from where nobody would ever send a real postcard- frankly it would be fundamentally dull if it were not for the glockenspiel-like sound which, again, wanders gently over the top to provide the impression of structure into an otherwise fairly shapeless arrangement of found sounds more fitting of a sound effects library than a curated piece of sound art. This melody morphs into a softer, more accordion-like arrangement towards the end.

Shorter digital-only track "TU" rolls with the same environmental tones as "Bruz" but with more instrumentation, unfolding out of piano, acoustic guitar and other ensemble instruments as though they are warming up to perform traditionally, but instead they begin to sustain indefinitely. When paying attention rather than treating this release as background noise, this track- despite being tacked on- is absolutely the strongest and most detailed of the three, thanks in part but not entirely to its closer relationship with a more traditional performance. At times when the piano plucks away idly it feels structurally similar to Jean-Michael Jarre's "Waiting For Cousteau" but with college sounds instead of water.

Elements of this sound art feel like walking a path very well trodden before. Some of the environmental sounds are certainly cliché and conceptually there's nothing that could be described as challenging in particular. It's the soft, chilled out melodies at the top end that make this collection worthwhile.
Experimental / Avantgarde / Weird & Wired / Glitch / Noise / Field Recording
Edit (10263)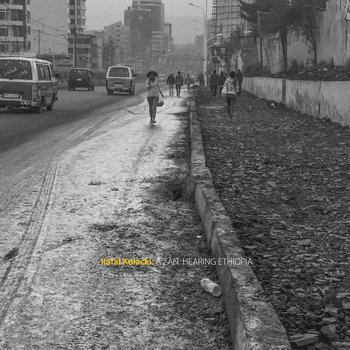 Artist:
Rafał Kołacki
(@)
Title:
Ā'zan. Hearing Ethiopia
Format:
CD
Label:
Zoharum
(@)
Distributor:
Alchembria
Rated:
As its previous "Hijra. Noise from the Jungle", this new release by this Polish artist is a set of field recordings; they were made in Addis Abeba and this city was chosen as there are many different languages and different forms of religious activity. So, there's again a cultural and political concept in this recording: the possibility of coexistence of different cultures in the same place.
As the first seconds of "'zan" are heard, the listener is immediately placed in Ethiopia, and there's an audio feeling of a postcard, as there's the sound of the environment, more precisely bird's singing, along with the recording of a song from the radio or tv. As the release develops, it's clear how there's any interest in documenting the musical scene of the place but to capture the sound of everyday life. While there are anyway tracks like "'gar" devoted to the music of this place, it's mostly, if not entirely, singing as if they were recorded from a religious rite. Instead, as in "R... 's", music emerges as a phenomenon as just another sound i.e., a clacson, and where is completely absent, as in "Ab", there's a perceptible evocation in the recordings. So, as the of voice of "Faras" end his chant, and the release, there's a sense of a journey's end.
Absolutely impressive in his ability to capture the soul of a place, it's completely different from the typical release of field recording more concerned with the precise audio details; so it's absolutely necessary.